Back to TRAVELS Page
Faces of Simple Living BLOG Year 1.5
California 2 #56-72
Colorado #73-82
Kansas City #83-87
Chicago-MI-OH #88-106
St. Louis-Sn IL #107-119
Omaha/Lincoln #120-124
To find a specific Blog Post, SCROLL Down or use FIND (Command-F).
---
California Tour 2
---
POST #55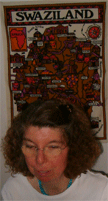 Marilyn at her computer
Deliberate conservation in the suburbs
We stayed two nights. We took a nice morning walk to gather vegetables for supper. Marilyn and David are almost completely vegetarian and she prepares most meals from scratch.

She plays piano and helps an immigrant with English (as she improves her Spanish). He likes to ski at Tahoe in the winter.

She's deliberate about how she chooses not to pollute and to conserve water, washing dishes in a pot and then watering plants outside with the left over water. They use a bucket in the shower to catch and reuse water for gardening. Landscaping in front and back is planned to fit dry weather.

She's very well read and both need their private time. She gives talks on simple living. She lives and thinks simply as a deliberate decision. Both of their families do not understand or appreciate their lifestyle.

See Marilyn's Simple Living Tips below.

Next time:

Why this blog? Visit Post #1.

Simple Livers need to support each other, even if they are far apart.
---
COMING UP: Urban Observations, Simple Living Athlete, Raising Chickens in the City, Bay Area Simplicity Circles, Presbyterian Hippies, Church near Stanford, Christian Ed workshop, Life in the Valley, Living Communally, Friends in Fresno
---
POST #56

Karin M. at St. Paul
Urban Observations
St. Paul's Lutheran Church, Piedmont, California (surrounded by Oakland), was having their Vacation Bible School, so we saw their closing skit. After lunch I spoke briefly. They freely gave feedback.

The pastor was very straightforward. He does not have computer, says, "I'm a Luddite." He gets so much junk mail that he would not even look through our material.

Pastor Craig Minich serves as Youth Minster for six congregations. He emphasized using inclusive, relevant language. Whose Birthday? might ask another question, such as, "Is Christmas only about presents and stuff?"

Mike: Network with young adults in developing countries, maybe via Internet.

Karin M. (our host): Learn from the world community through dialog. Direct the discussion on simple living issues.

Pastor: Contact the denominational Offices of Governmental Policies.

Craig: How about a game called Turn the Tables (like Jesus did) where people can explore alternatives.

The church focuses on suburban strategies; urban society is more diverse.

The media are closely targeting groups. As we recognize that, does Alternatives stay broad or become more specific, focusing on age groups?

Can we build community when Latchkey kids are raised to be suspicious?

Mary: Parents want life to be better for their kids. Parents need skills -- discipline with dignity, set boundaries and limits, inclusivity while keeping oneself safe.

Karin: Reach poor people through movie stars. How about a "poor" version of Whose Birthday? -- simpler, practical?

Ask the Lutheran Volunteer Corps to critique our materials, boil them down. Contact ELCA Youth Workers Assoc. Visit GlobalVolunteers.org (St. Paul, MN)

Next time: Simple Living Athlete

Why this blog? Visit post #1.

Simple Livers need to support each other, even if they are far apart.
---
POST #57
Simple Living Athlete
Patty S. invited us for a simple vegetarian lunch in San Rafael, CA. She and her husband retired several years ago and sold their furniture store to their daughter. John calls himself a typical capitalist, believing that technology will solve all our problems. He did not stay for lunch. He has many expensive toys, such as a huge RV and motorcycle. The garage was packed with stuff.

Patty invited her friend Nancy B. (in her 70's, no children) who had always lived frugally and seemed to have little empathy for people who didn't. She is involved in traditional Bible studies and is putting all her time into a new ecumenical program for seekers called Alpha. She has been a positive influence on Patty.

I met Patty at the Bread for the World conference in DC when she was a Presbyterian Hunger Action Enabler. She is very athletic, focused on triathlon (biking especially). She is an amateur watercolorist.

Patty can see using our The Good Life curriculum at retreats. She has two adult stepchildren. Her pastor, Renee R., worked for the EPA (Environmental Protection Agency) and is now active in Presbyterians Restoring Creation, including a seminary student group.

How about listening to Alternatives on an iPod while working out?

Next time: Raising Chickens in the City

Why this blog? Visit post #1.

Simple Livers need to support each other, even if they are far apart.
---
POST #58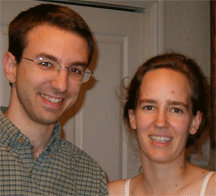 Sheila, Paul and Ann in Alameda
Raising Chickens in the City
Paul C. and Ann N. live in Alameda, hemmed in between Oakland and the San Francisco Bay. They are both Catholic vegetarians in the mid-to-late 20's and seem honestly interested in serving on our board of directors. Ann serves as education director for a parish; Paul is a software engineer. They raise chickens and a few vegetables and are getting bees.

They had a simple wedding about a year ago, wrote their own Rule of Life (like the monastic orders). See Wedding Alternatives supplement.

Ann has a graduate degree in theology, served in the Jesuit Volunteer Corps, has worked with the Northwest Earth Institute. Paul is finishing his graduate degree in Religious Ed and wants eventually to work in the church. They plan to have children.

They belong to The Beloved Community, a small support group of musicians, including Bryan Sirchio and Michael Avolicino. The web site for Jesse Manibusan.com (some social justice songs) at PaulAndAnn.org or Paul.Canavese.org (professional site). Also Harvest Time, a Ministry of Money for the wealthy.

Contact Jesuit Colleges Campus ministries and Pax Christi Young Adult Ministry.

Paul: Since housing is so high, young adults are getting interest-only loans on home. This is highly speculative.

Ann recommends Just Action for Affordable Housing.

Paul: See the Curing Affluenza video series. He's writing an Introduction to Stewardship thesis project -- everyday discipleship in a catholic context. He wants to include preaching and small groups. As parishes close, catholic mega parishes are forming.

They've been asked by Resource Publications, San Jose, to write book on simple weddings.

Sheila H. is very gracious. She retired as a nurse after 27 years. Though a Protestant, she has served on the board of San Damiano.org Retreat Center for 20 years, headed by Sr. Michelle LAllier. She suggested we submit articles in newsletters for the ecumenical Retreats International. Her husband, who did not attend, has been a church musician in a catholic church for 33 years.

Next time: Bay Area Simplicity Circles

Why this blog? Visit post #1.

Simple Livers need to support each other, even if they are far apart.
---
0911
POST #59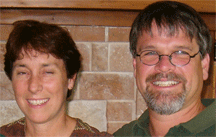 Anna Maria & Bob
Bay Area Simplicity Circles
Saturday lunch was in Oakland with Anna (AH-nah) Maria S. and husband Bob R. Their precocious kindergartner Amy took a liking to Rita. Anna Marie served in the Mennonite Service Corps. She now works in the health field, commuting three days a week. Bob is a civil engineer consultant who works from home.

Jan S. received my email and forwarded it to Barb L. Both came. Jan came with Noland O., both probation officers. Jan organizes a Thursday Simplicity Forum in Berkley. They were involved in an event in April, 2005, with simplicity leaders Cecile Andrews, Duane Elgin, Vicki Robin and Carol Holst in the East Bay. 250 attended, though it received little media support. A reporter from Newsweeks San Francisco office came.

Nolan O. runs Marin Co. Simplicity Circle, two in Oakland, one in Berkley, and one San Francisco. On Oct. 30th they are holding an all circle potluck at Lake Merritt United Methodist Church.

Anna: Young people are craving community and stewardship of the planet, though the Christian label can be a turnoff. They need financial assistance/literacy education.

Barb: Clutter's an issue. Even simple livers don't all get along. They form cliques.

Jan recommend The Table Where Rich People Sit.

Nolan: For Simple Living to survive, we need to ask people how much does it take? Focus on the New Ownership Society. Share money-making-money from Your Money or Your Life. One of the greatest fears now is homelessness. Ask, Simple Living -- What Does It Look Like?

Jan: Happiness is relative to others' incomes. The Simple Living movement is for the freethinking, intellectuals. Others need a formula, such as Janet Luhrs' Ten Steps. Must simple living become a moral issue, as many feminist issues did? Let's take pride in simplicity (One-down-manship?)

Originally 20% of people in Simple Living movement considered themselves environmentalists. Later 70%. They saw how everything is connected.

Jan: An Un-LIFE board game would be less subtle than our proposed Simple Choices. Play LIFE in reverse. Learn why we must let go of things.

Barb: Simple Living may come from pain, e.g. change after a divorce, depression, when were running to keep the pain at bay. Crisis wakes us up.

How to move the poor up to the survival level -- here and abroad? They have to ask, which bill to pay? How to get them resources so they can make good decisions?

Make Middle Class cut backs a status symbol.

Place our material at the national Green Fest and other events, such Simple Living reunions.

Anna attends a Presbyterian Church for wounded Christians, a wealthy church with young families and belongs to eco-stewardship committee.

Note: Greed was not discussed.

After the meeting, Rita and I visited a primarily African-American Flea Market in Oakland. Fun.

Next time: Presbyterian Hippies

Why this blog? Visit post #1.

Simple Livers need to support each other, even if they are far apart.
---
0914
POST #60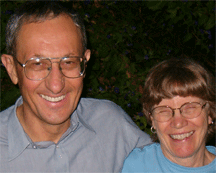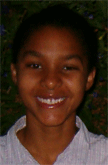 Mike and Patty with friend Maisha
Presbyterian Hippies
We had a vegetarian Saturday supper with Patty and Mike B. in Fremont with their friend Jeanette O. and her college sophomore daughter Maisha (UC Davis). They have sizable gardens.

They were hippies when they married, dropped out of graduate school, bought a piece of land, built a house and survived by teaching twelve students. They were converted to Christianity by the Jesus Movement. She eventually finished her PhD in Ag Economics. He did not, went to seminary and became a Presbyterian minister. He's British. They home schooled their children. He's a woodworker; she's retired.

He has served as head of a missionary society. She teaches wherever they move and he's about ready to retire. They have two adult frugal children with families; six grandchildren. All three families have no TV.

Read Contrary Farmer by Gene Logsdan; also, Learned Optimism and Authentic Happiness. Use Palestinian soap.

Mikes' impressed with Alternatives' Honorary Board of Directors. Whose Birthday? needs good writers and editors more than big names. She preferred digest size.

Read J.P. Yohannan. "Send" Magazine uses volunteer snazzers -- people who snaz up the prose. Read Wartime Lifestyle by Ralph Winter from US Center for World Mission.

Next time: Church near Stanford

Why this blog? Visit post #1.

Simple Livers need to support each other, even if they are far apart.
---
POST #61

Donna at Ladera
Church near Stanford
We drove across the San Francisco Bay to Menlo Park to stay with Donna and Jim L. She's very outgoing. He's pleasant. Their cozy, tidy little house contains her several collections of dolls and commemorative Coke bottles and many, many framed pictures of relatives.

Their two adult daughters, one married, one not, are both into consumerism.

Donna offers good insights. As Director of Christian Ed, she had to hire a Sunday School teacher.

Sunday morning I delivered a ten-minute sermon and then was well received at an unusually large group adult forum at Ladera Community Church. This is a wealthy, intelligent congregation near Stanford University.

Jim and Donna showed us sights Sunday afternoon after a lunch of tomato sandwiches -- walking along the San Francisco Embarcadero, Palace of the Legion of Honor, Fort Point (under the Golden Gate Bridge), etc.

Next time: Christian Ed workshop

Why this blog? Visit post #1.

Simple Livers need to support each other, even if they are far apart.
---
POST #62
Christian Ed workshop
Monday morning we had a Christian Education workshop at Ladera Community Church. Some congregational members came who hadn't attended the Sunday morning forum.

I introduced the five life standards of voluntary simplicity by going through The Good Life curriculum. We had so much discussion that I didn't get to play any examples from our CDs.

Michelle W., associate pastor at Foothills United Church of Christ, has a two-year old daughter and a stay-at-home husband. She is late 20's and working to transform the postmodern Church.

Ingrid Q., a 52-year-old teacher has a son, 22, and daughter, 16. She belongs to a Methodist church but gets her spiritual support form an interfaith church.

Michelle: Ask, "What cant you live without? Simple livers lose weight more easily than others; stress holds on to food (KGO report).

Donna: Children react against parents who say, "We have no money," when they find out otherwise. Young adults are in a squirrel cage running faster to have what they had as a child.

Ingrid: View MTV "short video" award about statistics of life. (See Aug. 28th, 2005, video awards.)

Michelle: MTV carries a program about life in a 70's house (living without) called The Real World. That relates to Nurture People.

We're abandoning teens. Their busyness is not productive for the family or community. Focus on volunteering.

The High School message in worship is the same as the adult message but different medium -- from literate to visual, from thinking to experiential. Include physical movement and interaction. (Talking to your neighbor is OK.)

Laura: WIFM -- What's in It for Me? Take a group to Burning Man (or smaller events in San Francisco) to learn about gifting (not barter).

Ingrid: Put Spirit of Simplicity Journal in the church library for members (and teens) to use, like a guest book.

Michelle: At a Hunger banquet, people selected at random get different supplies and space to make meal.

Meditation is experiential.

Ingrid worships outside of church family at an interfaith group.

Michelle: Read Virtual Faith by Bodeen to learn about engagement with the pop culture and Gen X spirituality. We are separating the generations instead of engaging them.

She's into Christian Ed and faith formation. She has a teaching certificate but left teaching because she couldn't touch kids and it lacked the spiritual component.

Next time: Life in the Valley

Why this blog? Visit post #1.

Simple Livers need to support each other, even if they are far apart.
---
POST #63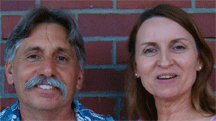 Al & Roxanna
Life in the Valley
Monday Mexican supper with Roxanna and Al S. in Brentwood, CA. They run a family appliance repair business. She has been disappointed with her church but sends out copies of Whose Birthday? each year to her friends.

Al has strong opinions and is politically active. He has given up on California. Newcomers buy huge houses but now want to preserve the orchards to keep others out. Hypocrisy!

Next time: Living Communally

Why this blog? Visit post #1.

Simple Livers need to support each other, even if they are far apart.
---
POST #64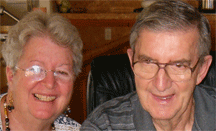 Gretchen and Joe live communally with some of their children and grandchildren.
Living Communally
Gretchen and Joe S. built a communal house for two of their five daughters and their families (a total of 11 people) on five acres in Fairfield, CA. He's retired City Administrator. She is hospice chaplain. they are members of St. Francis parish.

She's planning an Abundance Fair, on a Saturday in early Nov. for the community. Share and exchange for the holidays; give leftovers to the St. Vincent de Paul Society. No money involved (except donations). Raise consciousness of consumption. Show a video about interfaith Heather House for homeless during the event. Display Alternatives books? Use our bulletin inserts to promote the event?

George, daughter Bernadette's husband, serves on the Adult Ed. and Social Justice committees. Gretchen formerly was Religion Ed for Diocese of Sacramento.

Joe gave us a tour of the complex.

Next time: Friends in Fresno

Why this blog? Visit post #1.

Simple Livers need to support each other, even if they are far apart.
---
POST #65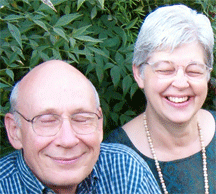 Stan and Delores
Friends in Fresno
Delores and Stan F. invited several friends from the local Mennonite seminary to drop in.

The Unitarians started a co-housing project in Fresno.

Fresno Pacific University now has a Green House (student housing for six).

Stan: Our generation thought that resources were infinite. Now the younger generation knows that resources are not infinite and we're going to get our share before they are all gone.

Delores: The students attitude is hedonistic. Push yourself to the extreme (such as ministering to tsunami victims), yet miss classes while paying their own way.

Their call is because "I admire Jesus" (like praise songs) but not to follow Jesus (like passion, experiential).

The college and seminary now focus more on worship and less on Christian Ed.

Contact Ryan Wilson about his senior seminar paper on consumerism. He was a popular youth minister; his spouse a serious musician. Now they live in Beatrice, NE.

Visit classes at Fresno Pacific Univ. Dialog there with my spouse Rita about simple living. Things they didn't teach you in teacher ed. Stumbling blocks to Simple Living that we've had or others have told us, e.g. Delores has a closet full of clothes but no time to sort it. How to live simply in the middle of wealth in Calif.?

Delores, author of the Study/Action Guide to the classic Living More with Less, has a new book concept that we might consider publishing on web site or CD-ROM.

Former missionaries, they are very hospitable with a broad worldview. He smiles and tells short jokes. They may retire in Goshan, IN. They are having a hard time giving up their simple home with a whirlpool in the backyard.

Next time: Military Recruitment Activist

Why this blog? Visit post #1.

Simple Livers need to support each other, even if they are far apart.
---
POST #66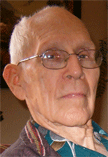 Gerald is an 80-year-old activist.
Military Recruitment Activist
After visiting friends in Paso Robles, Calif., we drove to Claremont, East of L.A. to have lunch with Gerald H., 80. His wife of 52 years, Edith, died June 8, 2005. He reads The Catholic Worker and wears a shirt from Guatemala. He volunteers protesting military recruitment, especially at High Schools, wearing a hat that says, "Opt-Out." A retired teacher, he eats no red meat.

He retired at 60, some 20 years ago. They have three children (two adopted). Gerald, a Quaker, participates in and benefits from peer-counseling, co-counseling, reevaluation counseling (RC.org) to deal with childhood issues. This international movement offers classes and then uses equal-time discussion between two people but no socializing. One speaks for a designated time (10-30 minutes), while the other listens and affirms; then they switch roles for an equal amount of time.

He's considering a life membership in his wife's memory. We had a pleasant lunch with his 95 year-old table mate.

Next time: Doing, not talking

Why this blog? Visit POST #1.
---
POST #67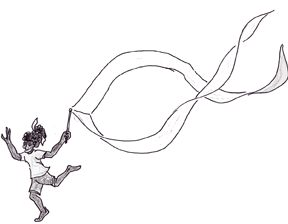 Using The Good Life curriculum for a family event.
Doing, not talking
We were able to squeeze in a quick visit with RoseMary D. at Claremont United Methodist Church. She was very complimentary of our materials, which her church has used for years.

They hold a Memorial Weekend Fellowship Camp for families; about 35-40 adults and kids, where they may use parts of The Good Life curriculum.

Young adults are looking for important things to do, not just talk about it.

Slow down, break the cycle, she said.

Next time: Womens Christian Temperance Union

Why this blog? Visit POST #1.
---
POST #68
Women's Christian Temperance Union
Friendship Baptist Church (ABC), Pasadena, CA, mostly African-American, has about 200 in worship. The area is changing through gentrification.

Alice P. is involved in WCTU -- Womens Christian Temperance Union -- which focuses on alcohol, drugs, tobacco and sexual abstinence. The national convention was recently in L.A. She serves as Treasurer for Southern Calif.

Teens don't need to waste money on the latest fashions. Young need to learn to budget; save, then buy; not buy then pay. Clutter's a problem for her. She's a maximizer. Recommends The Giving Book for parents. As librarian she gets most books from eBay.

She's also active with Child Evangelism Fellowship (in 100 countries), including Good News Club and Five Day Club (summer), which produces its own materials.

Next time: Environmental Radio & TV Producer

Why this blog? Visit POST #1.
---
POST #69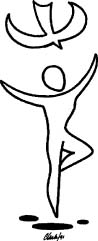 Spirit of Simplicity
Environmental Radio & TV Producer
Nancy P. (Educational Communications, Inc.) drove to Pasadena for our radio interview. She's an elected official for the LA County College District and a volunteer radio and TV producer for environmental programs on government, education and public access channels. Shes Jewish and Christian.

Her TV show's on 100 channels. It can be produced for only $1000 for distribution costs.

She produces the Environmental Directory (6000 organizations) for $30. She will include a page in her Compendium newsletter for us. I gave her Spirit of Simplicity: Quotes and Art CD to use in her work.

Next time: Disneyland mentality

Why this blog? Visit POST #1.
---
POST #70
Disneyland Mentality
Kirk of the Valley Presbyterian Church, Reseda, CA, has a K-5 school. We had a salad potluck for eight.

Comments: Europeans understand INTERdependence (a sense of the commons) that takes responsibility for one's community. In our Disneyland mentality, somebody else will pick up our litter. We have a problem with planned obsolescence things aren't built to be fixed.

Frank:If you have anything you can't give up, you don't own it, it owns you.

Strive to make a living, not a killing.

In divorced families, how does a distance parent maintain a relationship without stuff?

Suggestions: Get on The Daily Show. Become part of the Middle School inventory. Have a volunteer conduct a focus group or presentation to the Yuppie parents PTA at the church's school. List simple living info on Channel 7 Weekly Planner. Contact UMHE -- United Ministries for Higher Education.

Fundamentalist mega churches have large groups. They bring in speakers, e.g. Crown Financial Services.

Young adults fall into two groups -- materialistic and non-materialistic, each requiring a different approach. The Bling approach (shiny) requires a Power Point presentation.

Next time: Beyond Guilt and Powerlessness

Why this blog? Visit POST #1.
---
POST #71
George in Tiajuana
Beyond Guilt and Powerlessness
We stayed with George and Vivian J. in San Marcos, about 30 miles north of San Diego. He was director of the American Lutheran Hunger Program before the ELCA was formed. He served congregations in Minnesota and then they retired in Southern Calif. to be close to their children.

Vivian has written four biographies. She serves on the call and social ministry committees at San Marcos Lutheran.

George has written Beyond Guilt and Powerlessness, which we recommend. He's recently contributed to Bread for the World "Hungering for the World" Lectionary series B.

He has served as director of Third World Opportunities for four years. He has sent 35 groups to Mexico this summer for a week -- 80% of the groups are teenagers who serve and learn. He's retiring again this year but will continue to coordinate the annual conference in Mexico in February.

He gave me many contacts and referrals, including Harold N., who funded our video in the 80's "Have Yourself a Merry Little Christmas," and also an orphanage in Mexico.

Their daughter is a teacher, married to a Presbyterian Pastor; three kids. The second daughter is a therapist; two kids.

George could be my mentor.

See a paper on justice by George below - GRACE YES, BUT NOT ONLY GRACE

Next time: Ecumenical Home Church

Why this blog? Visit POST #1.
---
POST #72
Ecumenical Home Church
LaurEL Gray conducts a three-point support ministry in El Cajon, CA.

1) e-group of 70 receives questions before each meeting and then a review afterward.
2) The face-to-face discussion twice per month for three years.
3) Ecumenical Home Church for 12 members meets twice a month.

Some people are in both groups, some in one. Four burned-out ministers are in the group for support.

He gets more members when people like Borg and Spong are in town, and from the Westar Institute.

The Lutherans also have a weekly "text study" that is half worship and half interpersonal or thematic (actual text study has gone away).

He recommends the ELCA Welfare Simulation Game. He thinks our Simple Choices game may work for an affinity group.

As former director of Third World Opportunities, he feels that experiential learning accomplishes more than workshops in churches.

St. Andrew's Lutheran has an annual giving fair.

Next time: Building Support

Why this blog? Visit POST #1.
---
END California Tour 2
---
Return to Table of Contents (top)
---
Colorado Tour
POST #73

Rosie honors Mel for his service on Alternatives' board.
Building Support
Mel L. has served on our board of directors for over a year as the official representative of UMCOR (United Methodist Committee on Relief). He has recently retired from UMCOR and is therefore no longer on the board. But he has agreed to continue helping in a limited way (following the model of calling on people in his area for his seminary).

Mel's pastoral career has included Campus ministry in Lincoln, NE; chair of CROP Walks for Church World Service (CWS) in Elkhart, IN; and assistant to the bishop of the Nebraska Conference.

UMCOR had a Major Donor Event in New York. Each donor came at their own expense to meet Methodist leaders from around the world who were meeting at the same time. UMCOR provided three meals and arranged for rooms, which the donors paid for.

One way to build an endowment is to ask donors to change the beneficiary on a life insurance policy. Donors like the privacy.

I met Mel's wife of three years, Nancy, who is a social worker. She cares for a 53-year-old who stays at their rural home in Murdock, NE. She's working to start a resident home in Lincoln for a few of her clients.

Green Day rock group sings Jesus of Suburbia and American Idiot.

Next time: Ron's Straw Bale House

Why this blog? Visit POST #1.
---
POST #74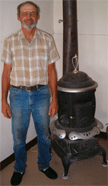 Ron built his own straw bale house in Nebraska.
Ron's Straw Bale House
Ron M., a Viet Nam vet, was a Republican until Bush. An ELCA member, he hasn't attended church since 9/11. He gets spiritual sustenance from Central Nebraska Peace Workers (CNPW.org), attending monthly meetings and vigils 80 miles away in his pickup that has a Green Party bumper sticker.

Lois, his Presbyterian, English teacher girlfriend has children 20 and 22. The son joined the army to his and her chagrin. She now attends the Church of Christ.

Ron's never been married, has no children. He built his straw bale house using his own hay from his 80 acres of alfalfa and other feeds. He has a composting toilet and a cow/calf herd. He has a retaining wall of used tires.

He has made two trips to Central America with the Lutheran Hunger Program. He's considering helping the Heifer Project when he retires.

Lunch was almost all home grown, including the meat. He is one of our longest members -- 13 years.

Misc. NOTES: Beyond War is now Foundation for Global Community, Palo Alto, CA. MediaVentures.org produce Ethical Marketplace

Next time: Simplicity Forum

Why this blog? Visit POST #1.
---
POST #75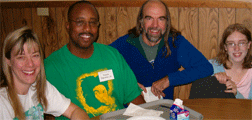 The Simplicity Forum meets annually here in Estes Park, Colorado.
Simplicity Forum
Alternatives is a founding member of The Simplicity Forum, an international initiative of nonprofits, authors and academics to promote voluntary simplicity.

Here are some of the leaders: Simple Living Network; Rebecca Gould, Middlebury College; Tim Kasser; Kari Neufeld; Vicki Robin, author of Your Money or Your Life; John de Graaf, producer of the Affluenza videos and coordinator of Take Back Your Time Day; and Nathan Dugan (Christian stewardship).

We had Tracks on strategies, Peace and Simple Living, Ecology, and The Next Generation.

Did you know that Dartmouth College has committed to becoming a sustainable institution?

Here are my notes from the three-day conference.. They are full of more fascinating ideas than I can share here.

Vicki Robin's inspiring audio description of an earlier Simplicity Forum conference.

Next time: Eco-Justice Ministries

Why this blog? Visit POST #1.

# # # # #

COMING UP

POST #76
Eco-Justice Ministries
POST #77
Prospects at Iliff
POST #78
Leadville, Colorado
POST #79
Leadville Talk
POST #80
Yoga in Vail
POST #81
Scottsbluff
POST #82
Columbus
POST #83
KC report
POST #84
KC Thanks
POST #85
Meeting the Conscience in Independence
# # # #

POST #76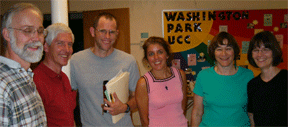 Guests at First Plymouth UCC
Eco-Justice Ministries
Peter and Allyson S. moved from First Congregational Church in Sioux City 17 years ago to Denver. Peter founded Eco-Justice Ministries, a membership organization that works locally and now nationally with churches on issues where ecology and justice intersect. Their son attends college and is interested in film-making.

The discussion group included eight church workers and Stuart, a non-religious social activist (part-time CPA). Although 40-ish Stuart did not speak much, he gave a new perspective to this group of insiders. He works only when he wants or needs to. His parents were simple livers and he carries on their tradition with great satisfaction.

Stuart: Actions have consequences. He attended the Northwest Earth Institute series twice and became disappointed with Simplicity Circles that are basically support groups.

Amy, 38 year old Iliff Seminary grad, leads Music Arts, Drama and Dance (MADD) for 130 United Church of Christ (UCC) high schoolers and 24 counselors. MADD now also includes creative writing and culinary arts.

First Plymouth United Church of Christ has a group on consumerism. Adrian focuses on raising kids in a consumer culture. In November the church plans to have a diverse alternative gift fair and mall with three aisles.

Aaron (mid 30's), Allyson (50's) and Margit (late 30's) are all willing to test our "Simple Choices" game soon. Teresa (50's) says, Get It done!

Amy: How to have a life that's meaningful, balanced and happy instead of working oneself into oblivion? She admits to being a gear junkie, like most young adults. Every kid seems to have ADD (attention deficit disorder) -- "I'm bored" -- from being over scheduled and stimulated. At MADD in three days they are relaxed. 50% can't go to sleep without headphones. They experience, then debrief. Some attend family camp.

Stuart: Freek-enomics

Phil: Businesses co-opting simple living is problematic.

Margit: How to transition to Simple Living when your life's already hectic? How to get out of the box? How much does money and job matter?

Aaron: Things we enjoy, stick. Take small steps.

Amy: Consume Less, Share More bumper sticker gets comments. We lack practical information. I know I don't want to be driven by TV commercials. I need models. What would simple living look like? Choose one.

Allyson: We need community -- getting beyond me. Support is crucial. A group to hold you accountable. It's hard to buck culture. Students need others whose parents are weird too.

Amy: Kids after camp feel like theyve gone from utopia back to prison.

Phil: Can we reinforce community on the web with a chat room? Come face-to-face with simple living by associating it with something else. Integrate it into other events, like committee meetings. Socialize with people who have similar views/values.

The Alternative fair may succeed because it is not a new event. It has been merged with the church's monthly Arts series. Do something different, an alternative, not in addition to.

Phil: Send local names for a quarterly meeting. A group will reinforce values more than establishing them. Keep names in Yahoo Groups to minimize administration.

Stuart: Go beyond an intellectual exercise.

Amy: Switching topics constantly deflates adult education -- no depth. We need to include simple living topics into worship, etc.

A group of extended families meets once a month without a program. Small groups need a book so no leadership development is needed.

Stuart: In a Socratic discussion group each member brings something to provoke the others.

Phil: We need both personal and social transformation. How does the personal affect the social?

Aaron: We need leadership and peer pressure for a successful group. Conflict leads to failure. Build bridges beyond the Greens. We must work through guilt.

Young adult activist groups deal with many issues. Go to their events, e.g. Colorado Hip Hop Coalition. Secular activist youth groups assume that you have to leave the church to accomplish anything.

Amy: After 15 years in business culture, she advises Alternatives to stay in our niche or we may dilute your message.

Next time: Prospects at Iliff

Why this blog? Visit POST #1.

Simple Livers need to support each other, even if they are far apart.
---
POST #77
Prospects at Iliff
Teresa C. is the part-time director of the Church Media Center in Denver. Phil C. is moving from a pastorate to Director of Ministry at Iliff Seminary.

Iliff, a United Methodist Seminary with 40% UMC student, offers several options for Alternatives.

Gerald was invited to a weekend of workshops there in April, 2007. (See BLOGs 221-223, Year 3.)

Fellowship Congregational Church in Tulsa, OK has a small Fair Trade Market each Sunday. They have an Alternative dinner group with 8-10 in the core group.

Teresa and Phils daughter Kate works for Seeking Common Ground, a people-to-people, Israel and Palestine organization.

Allyson S. works with Faith Trek, funded by Lilly Foundation for High Schoolers. It came to Iliff from Candler School of Theology at Emory University in Atlanta, GA.

Next time: Leadville, Colorado

Why this blog? Visit post #1.

Simple Livers need to support each other, even if they live far apart.
---
POST #78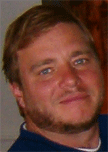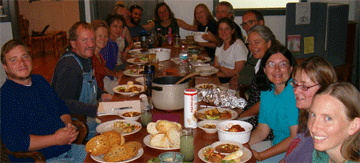 hosts George, Ali and Amy among friends
Leadville, Colorado
The trip from Denver to Leadville is stunning -- mountains, trees, lakes -- with an occasional eyesore from the mining industry.

Amy F. inviting me to speak to a group of local volunteers for her new community service center -- Bastante (Enough in Spanish). It is part of a network of services spearheaded by a couple who both were ordained under the now obsolete Canon 9 of the Episcopal church (to recruit priests for rural areas) -- George and Ali L.

The center offers a place to read, take a shower, do laundry, have something to drink. The volunteers get to know the guests and see if they need services.

They are rebuilding St. Georges Episcopal Church by offering a free meal four days a week. About 50 attend.

Amy's husband Peter runs Peak Editing and is very active in the local soccer program.

I wandered uptown and into the Leadville Chronicle. I met the reporter whom was scheduled to cover the meeting and she was glad to interview me ahead of time since she had a busy day.

Amy expected a dozen but 16 showed up -- the largest group of this trip! We had a potluck lunch of vegetarian dishes. I spilled my glass of lemonade. Ouch!

A lively discussion!

Next time: Leadville Talk

Why this blog? Visit post #1.

Simple Livers need to support each other, even if they live far apart.
---
POST #79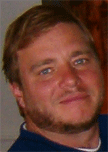 Host George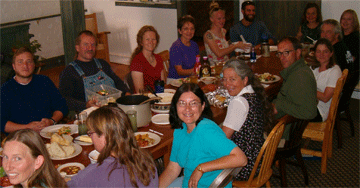 Hosts George, Ali and Amy among friends
Leadville Talk
A lively discussion at the new community service center -- Bastante (Enough in Spanish) in Leadville, CO.

Tate: Technology will squeeze us out though planned obsolescence.

Friend: Technology is changing form but not content. When considering something to buy, ask, What is it for? Otherwise we facing oblivion. We must be honest with ourselves, not driven by our inadequacies. The wealthy need understanding as much as the poor.

George: Use free software. Let's produce a computer based community resource guide for Leadville.

Amy (30): Leadville's Americorps volunteers were very internet oriented.

Linda: We fall for the pitch to acquire when we must always upgrade, have the latest version, whether its technology or textbooks.

Others replied to Amy's question, What are our local assets? Lack of shopping is an asset here. Community meals build relationships. We need to build a generation through mentoring. Saturday Market has a place to trade skills. Alice runs Full Circles, a place where leaders can connect with others. Build relationships by pushing our sphere of influence.

Friend: Hoop houses are inexpensive way to grow food. Let's provide opportunities for young adults. In Australia public denigration results from waste. Someone wasting water by washing their car will be reported on the radio.

Amy: We watch media apocalyptic because we know our lives are not sustainable. What's it going to take to get people to try alternatives, e.g., bike riding? How about an idea box on Alternatives web site?

George: Our local college teaches outdoor leadership. Some deprivation helps us to grow.

George sincerely wants to stay connected with Alternatives. They invited me to come back in a year -- 1st anniversary of Bastante.

Next time: Yoga in Vail

Why this blog? Visit post #1.

Simple Livers need to support each other, even if they live far apart.
---
POST #80
Ruth, Kim and Carl
Yoga in Vail
Carl and Ruth W., Kim and I had a wonderful supper of grilled chicken and squash. For breakfast granola and soy milk. They do yoga (separate routines).

When I arrived I listening to Ruth practice Bachs Well Tempered Clavier. She serves as minister of music for the local Lutheran and Episcopal churches.

Vail has an ecumenical worship center for six -- Lutheran, Episcopal, Baptist, Jewish and two more. Carl leads a yoga exercise for the center staff once a week. His friend David owns a private jet and has for three years flown 14 people (2 flights of 7 each) into Mexico to build a house in three days with the Casitas del Rey program.

Carl likes to hike, backpack and fish. They both enjoy classical music, attend the July Vail Festival of Music and Dance. They travel to Denver for Theater.

Their home, the parsonage, is nicely but not overly appointed, especially with art from Japan, and a small fountain. Their son Nathan has a Japanese wife and works in Japan as tech support for a computer company. They have a new son.

Carl and Ruth both drive VWs. Have traveled to Japan and Alaska They like to visit relatives. They prefer to travel with friends.

Daughter Sarah is doctoral student at University of Minnesota in physical therapy. She has taught her mother about Green Cleaning. She has a family.

Ruth is a part-time family counselor. Carl ministered in Denver for 22 years and in Vail for 12. At age 61 he is not planning on retiring anytime soon.

His church of 400 members is mostly service providers -- educational, medical, hospitality. During the busy winter snow skiing season more church attendees are tourists than locals.

They recommended several books. End of Poverty by Jeffrey Saks, who proposes that $30 billion would end desperate hunger, by diagnosing each country, not a one size fits all plan. Martin Seligman's Learned Optimism and Authentic Happiness (learning your strengths and using them for others.)

More prospects: Peace Tales by Margaret Read MacDonald (Linnett -- Shoes String Press, CT). Intimacy with God and Open Mind, Open Heart by Thomas Keating (Snow Mass monastery).

The church office assistant, Kim, joined us for supper. She is a single mom with two daughters. She has natural enthusiasm. She's interested in Simplicity Circle, Time Day, Affluenza and doing Unplug the Christmas Machine workshop again with Ruth as leader.

The church's Youth Minister, Eric, is very talented, has a young family, hosts a two hour local morning TV show aimed at affluent communities. Gerald might be a guest when he returns to Vail.

I broke a glass bottle trying to help with the recycling. Ouch!

Next time: Scottsbluff

Why this blog? Visit POST #1.

Simple Livers need to support each other, even if they live far apart.
---
POST #81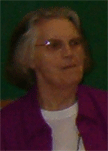 Rae W., host and hymnist



Guests
Big welcome at Scottsblff
Scottsbluff
In Scottsbluff in western Nebraska, our event at Calvary Lutheran was hosted by Nancy S. and attended by about a dozen (including several from the B'Hai community), most notably Rae W. who helped compile our Sing Justice! Do Justice! hymn collection. She has become a Life Member of Alternatives.

The discussion:

How do we influence MBAs, lawyers, etc.?

Lynn: One family gives away all of their annual income except $65,000 between Christmas and New Years. Great fun!

Technology has mixed blessings.

Mary Jo: I feel like I am making one step forward and two steps back. Simple living needs community support. What will it look like? We need to be opening up instead of narrowing. We must all realize that actions have consequences.

An Elementary School in Moseer, OR, teaches gardening and then serves the produce in the school lunches.

Each family member writes on a card two Christmas traditions they would not want to do without.

I stayed with Mary Jo H., who has made numerous trips to Tanzania. Mary Jo renewed her membership and gave a gift membership to each of her two adult children.

Next time: Columbus

Why this blog? Visit Post #1.

Simple Livers need to support each other, even if they live far apart.
---
POST #82

Ann and Molly
Columbus
I had to leave early to make it from far western Nebraska to eastern Nebraska by 2:00. In Columbus I met with Ann K., Christian Ed Director at First United Methodist Church. At her request I gave her the names of our other customers in Columbus. Her growing congregation has 1000 members, including many young families because of the music and the efforts of the ministers.

Molly H. was visiting from New Zealand. She had been an exchange student in Columbus years earlier.

Next time: KC Report

Why this blog? Visit Post #1.

Simple Livers need to support each other, even if they live far apart.
---
Return to Table of Contents (top)
---
Kansas City Tour
POST #83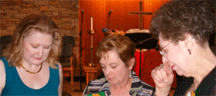 Host Aneita R. with UMW Members
KC report
My host for the United Methodist Women event in Kansas City, KS, Aneita R., a detail oriented CPA, would like to be an event planner. She's Vice-President of her UMW District and was reelected.

The meeting was very well run. I had an hour, 11-noon. I showed "Break Forth Into Joy," spoke for 35 minutes and then had questions for 10 minutes.

I met the District Superintendent and the Director of Homeland Ministry and UMC national committee. Many women signed up. Many positive comments. I gave each of the 100 women a copy of Whose Birthay Is It, Anyway? and they took an offering for us.

Dick P. visited me briefly at the church. He feels our volunteer network should start in one church or community and get some fresh blood. He prefers the Friends (Quakers) and collaborating with other similar organizations.

Dick thinks THE issue is gas prices, although hed rather stress our children's future. He's a computer programmer for a company that specializes in bankrupcies. He is doing considerable volunteer social justice work on an individual level.

See his statement of personal beliefs in Customer Comments, Oct., 2006.

Next time: KC Thanks

Why this blog? Visit Post #1.

Simple Livers need to support each other, even if they live far apart.
---
POST #84

Host Aneita R.
KC Thanks
Mr. Iversen,
To thank you for who you are and what you do, a gift to mission has been given in your honor through United Methodist Women. We so appreciated your excellent message at our Fall District Meeting in Leawood, KS. I continue to hear folks talking about living better following your talk. Know your words carried lasting meaning for the congregation who we both know are major decision makers in their communities and churches. It is exciting to know you have made an impact on someone. Great job!

Members of the Kansa City District United Methodist Women Executive Team, Anita M. R., Vice President, Shawnee, KS

Next time: Meeting the Conscience in Independence

Why this blog? Visit Post #1.

Simple Livers need to support each other, even if they live far apart.
---
POST #85


Holly, Wayne, Sharon and Peggy
Meeting the Conscience in Independence
Sharon and Wayne L. live in an unpresumptuous house in Independence, MO. Wayne is an M.D., an internist. He has just found a new partner, a young African-American doctor for his practice. The hospital he is associated with is closing and building a new hospital in a more affluent neighborhood. But Wayne is staying put, serving low-income patients.

He loves classical music, sings in the Kansas City Symphony chorus and serves on its board. He wears holey socks. I can really identify with this guy.

Susan is "the conscience" of her Presbyterian congregation. She works on race issues with the National Council of Community and Justice (former National Council of Christians and Jews).

They invited friends for a potluck supper.

Peggy N., a catholic, has an uncanny ability to remember names, addresses and even phone numbers. She gave us several good prospects.

Joyce H. serves as asst. director of Church World Service/CROP Walk, Eastern Great Plains Office. CWS has a Water Worship Service.

The School of Servant Leadership (from Church of Our Savior, DC) has been offered in KC.

Y, F & B'ers comes from Suze Oreman: "Young, Fabulous and Broke."

The Covenant Church has many young people and is leading them into affluence without a clue about The Cost of Discipleship.

Social justice is more credible if simple living is practised. The opposite of faith is not doubt but certainty. Focus on being rather than doing.

High School Jrs. and Srs. who feel they have a right to own a car should be urged to take the bus to help with the gas crisis.

The rich do not want to admit that there are poor people here in the U.S.

Next time: Go Forward

Why this blog? Visit Post #1.

Simple Livers need to support each other, even if they live far apart.
---
COMING
POST #86
Go Forward
POST #87
A Good Life Without All the Things That Can Be Lost So Easily
POST #88
ELCA Simplicity Consultation
POST #89
All Things Are Connected
POST #90
Renees
POST #91
Talk at Renees
POST #92
Web of Creation
POST #93
Jubilee Economic Ministries
POST #94
JEM Talk
POST #95
Remodeling is a good time to downsize.
POST #96
An Exhilarating Visit at the CRC
---
POST #86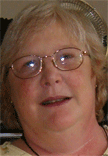 Mary Ann in Columbia, MO
Go Forward
When I arrived at Mary Ann V.B.s home in Columbia, MO, her housemate and their four dogs greeted me. Mary Ann is a disabled Presbyterian pastor whose allergies keep her largely homebound. Her service dog is trained to detect scents that could cause her to go into shock.

She fixed me a whole-wheat waffle for breakfast and a wonderful salad for lunch. She will consider being a Volunteer Coordinator, something she can do from home. Although she's already Life Membership, she intends to give monthly as well.

I visited her church, Trinity Presbyterian and thanked the members for their support through the Presbyterian Hunger Program.

Everyone calls pastor Raymond I. M. by his nickname, RIM. His sermon on the crossing of the Red Sea was especially encouraging . . . about God's command to Go Forward.

The church sends 23% of its budget as Mission Gifts and wants to give more.

Next time: A Good Life Without All the Things That Can Be Lost So Easily

Why this blog? Visit post #1.

Simple Livers need to support each other, even if they are far apart.
---
POST #87

Member Sharon T.
A Good Life Without All the Things That Can Be Lost So Easily
Alternatives member Sharon T., came to Mary Ann V.B.s place in Columbia, MO. Housemate Cynthia joined us.

Mary Ann suggested I contact the Presbytery Moderators for CPM -- Committee for Preparation for Ministry. Also, contact cluster seminaries in Chicago, San Francisco, Boston, Atlanta, possibly New York and Texas.

Sharon was director of Lutheran Family and Children Services and then of Rainbow House for three years for children in abusive situations. Now she's social worker for maternal child at Boone Hospital. People with disabilities are still people.

Sharon sees signs of hope. Young people are aware that two working parents is not good, so they are trying creative ways to avoid it, such as job sharing. They are willing to give up something to gain something more important.

Dave Ramsey's debt reduction program has a ritual for cutting up credit cards.

We appreciate Alternatives' holiday emphasis.

We need to get Alternatives message to schools and neighborhoods, various ethnic groups through colleges.

Nurture people in black and Chicano culture. They are needy, want immediate gratification. Look for resources coming from those communities, such as AME.

Making a difference comes one-on-one.

Reach out through Boys and Girls Clubs. Tell them that they can have 100 times the rewards of drug culture -- a decent life, a future, family, home, a way out.

As people rebuild from Katrina, focus on what has meaning. How to have a good life without all these things that can be lost so easily.

Next time: ELCA Simplicity Consultation

Why this blog? Visit post #1.

Simple Livers need to support each other, even if they will forward your message to them.
---
Return to Table of Contents (top)
---
Chicago-Michigan Tour
POST #88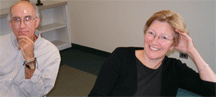 Deep thinkers at the ELCA Simplicity Consultation
ELCA Simplicity Consultation
Bob S., the Hunger Educator for the Evangelical Lutheran Church in America (ELCA), organized a Simple Living consultation at a retreat center near Chicago.

In addition to the strategizing, I had several touching moments, especially during the closing worship when Bob anointed each of us with oil. I was feeling overwhelmed with the results of the meeting and the task of the upcoming tour.

I met eight really fine folks -- interestingly six men and two women -- four from Churchwide staff and five from elsewhere.

Also got a flat tire.

Read Bob's Beyond Simplicity. And read his twice-weekly blog Simple Enough in The Lutheran online.

Next time: All Things Are Connected

Why this blog? Visit entry #1.

Simple Livers need to support each other, even if they are far apart.
---
POST #89
All Things Are Connected
Met Carrie and Dan D., and Dee D. (editor of Hunger Action News) in Evanston, IL. Their guest was Paul L., who works for the Covenant Church's financial services. His wife Rebecca M., lives simply in her own way but is not an "evangelist."

Paul holds masters degrees in business and Pastoral Studies. He wants to develop a two-day workshop, "The Many Faces of Money: making beliefs conscious." Faith-based terminology turns off many college students. Science and ethics give reasons for simple living but we don't have ears to hear. We need opinions leaders, whom are part of the problem, so we must not turn them off. Do we go head on or through the back door? The workshop has no agenda except to be conscious. He is drawn not by economic arguments but by 1) There is no separation (All things are connected.) and 2) Deal with our conscious and unconscious beliefs about money. We can't continue to do what were doing without harming ourselves out there in others. WE face a challenge so deep that we must look beyond self-interest.

Change will not happen through economics or religion. WE must extract life-changing concepts and then help them to get it through experience.

His nieces have adopted their parents simple lives without the church. He has traveled back roads of India, Chicago and Central America.

Christians must hear the prophetic synoptic tradition -- the teachings of Jesus.

When talking to college students, don't compare Credit score and GPA.

Next time: Renee's

Why this blog? Visit post #1.

Simple Livers need to support each other, even if they are far apart.
---
POST #90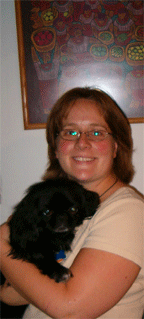 Renee and Shamus
At Renee's
Sunday evening I drove through a rainstorm to Renee G.'s place in Chicago. She had gathered a group of young adults, all involved in social service professions.

Renee attends Lakeview Presbyterians but considers herself more Catholic than Presbyterian. She worked in an orphanage in Bolivia, in the Sojourners community and now teaches Spanish at Chase, a public school. Lakeview has many young adults; the Social Justice committee is busy. She bought her four-apartment building with another couple. She goes to exercise at the local Y most mornings at 5:30. She is thinking about going to seminary, learn another language, marry. Her mission statement is "With laughter in my soul, I want to walk an uncluttered path of love and service."

She has a 13-year-old foster daughter, LaMya. Her small dogs named Shamus. She shows many example of Latin American art on her walls.

Lora O., raised Mennonite, works at the Erie Neighborhood House, a community center, speaks Spanish. She thrives on relationships, e.g. those she's established in the Dominican Republic; and doing projects with her husband.

Kristin K., formerly a catholic volunteer, now helps immigrants and refugees.

Mark W. (wife is Julie) attended Eastern Seminary and worked for ESA -- Evangelicals for Social Action (Ron Sider's organization). He works for Shorebank and Mennonite Volunteer Communities on the South side. He loves extreme Frisbee. He wrestles with the complexities of simplicity, like shopping and status symbols.

Tom H. loves to perform music; wrestles with rationalizations. He worked at a Chilean Orphanage with Holy Cross Associates (missionaries). Even there they had conflicts of simple living decisions. Now he helps detained youth immigrants.

Girlfriend Mora works with immigrants in the Southwest Organizing Project doing community organizing. She dotes on her five nieces and nephews; wrestles with eating out so much.

Emily R. is a social worker. Thrives on relationships and service; is concerned about what others think of her. Her husband Eric, who didn't come, works at Renee's school. They live in community and attend a community-based church.

Katie S. also works with Renee (5th grade). She thrives on traveling and other cultures. She feels influenced by the media and her upbringing toward consumerism.

Kristi S. knows Renee from college, served Lutheran Volunteer Corps. She likes to eat out, bought a condo, does black and white photography. She loves her job at Interfaith Committee on Worker Justice.

Next time: Talk at Renees

Why this blog? Visit post #1.

Simple Livers need to support each other, even if they are far apart.
---
POST #91
Talk at Renee's
Renee opened the meeting by asking each what they are passionate about and how they struggle in simple living.

We work so much we don't have time to be simple. If I want to do it the way I want it done, it requires long hours.

I feel conflicted about the cost of organic food.

Life depends on whom you surround yourself with. As they say in kindergarten, We tend to compare ourselves with others. We face the social reinforcement of standards.

Urban young adults buy more services than stuff. They are relationship and technology driven.

Policy decisions affect us -- schools, transportation. We need smart growth. We build walls to keep problems at bay. But were connected to each other.

We need help with appropriate simple living technology.

Brands give us quality and accountability.

Choose your friends and adapt to their style, or select style and choose similar friends.

We know about justice; we're trying to figure out the intricacies.

Most have some savings for short term or to buy a house. Most are church goers. They are readers and have a book club. They lover NPR and PBS. All college grads, they consider themselves nerds. They are mobile, not settled. Chicago is an urban training ground, a revolving door.

They agreed to get together a few times a year, but not weekly or monthly.

I did the dishes. Slept poorly because of all the city sounds.

Next time: Web of Creation

Why this blog? Visit post #1.

Simple Livers need to support each other, even if they are far apart.
---
POST #92

Web of Creation
Monday I visited Lutheran School of Theology at Chicago (LSTC), where I attended seminary for two years. My host was Dean of Community, Linda J. S. She arranged for me to speak briefly at the beginning of chapel, which fit in perfectly for St. Francis Day (and blessing of the pets). I met Martin E. Marty. I called several other seminaries to try to connect with the Deans of Students.

The dean suggested I connect with the editor of The Door, the student publication. She will try to get me invited to a campus Stewardship Event in April. I set up a display in the refectory for several hours.

David R. spoke with me about the Seminary as a Green Zone, his Green Congregation Program and WebOfCreation.org. The program includes every aspect of Congregational life in six areas, such as worship and education. They have several model congregations in Chicago and Wisconsin. They are considering a certification program like the one offered by the Unitarian-Universalist Green Congregation Program.

He recommends celebration of special days, workshops, bulletin blurbs and Alternative Choices. He took catalogs to give to his Green Team members, ordered for his organization and wants a list of items to recommend to the ecumenical Parish Resource Center.

Next time: Jubilee Economic Ministries

Why this blog? Visit post #1.

Simple Livers need to support each other, even if they are far apart.
---
1222
POST #93

Jubilee Economic Ministries produces Portfolio Prophets.
Jubilee Economic Ministries
Lan and Pam R. are the Chicago component of JEM -- Jubilee Economic Ministries. Their colleagues the Van Hams moved to San Diego for health reasons. They work with churches on the concepts of Fair Trade and Enough, currently using the peak oil video End of Suburbia. JEM is symbiotic with sanctuary organizations. Their own Eco-Justice Collaborative makes the connection with lifestyle and its impact on resources, e.g. Peak Oil.

They moved from a complacent Presbyterian church to Wellington Ave. United Church of Christ, but they continue to work with the Presbyterian Peacemaking Committee of Chicago.

They sold their business and their homes and moved into Chicago so they could work as volunteers. They help their former business to pay for their health insurance.

When they met during the Viet Nam era, they pledged to live non-materialistically. Travels to El Salvador, Chiapas and Columbia were life changing. Now they work well as a team, recognizing that they can work as volunteers because they are privileged.

They agreed to distribute our material regularly.

The guests:

Tom and Grace G. are Presbyterians in their 70s. They were missionaries in Guatemala and are now JEM volunteers. Tom focuses on Fair Trade, Grace on Jubilee Housing (living in community), limiting appetite and Witness for Peace.

John T., who wasn't able to attend, is a Catholic with a new job with Catholic Relief. He promotes Fair Trade in local congregations and volunteers with JEM.

Jackie R. R. and Louis (and their friend Catherine) attend Wellington. Jackie's Peace Productions produces films (now documentaries).

Barb E., also a member of Wellington, was influenced by a series featuring Ched Meyers and Ulrich Duchrow on theology, property, globalization and the WARC document.

Joan P., a new member at Wellington, is 79 and stresses the positive.

Barb S., 35, a former rocker, is a real estate developer.

Wellington Ave. is having a fundraiser for the church as an Awards Banquet for peacemaker Cathy Kelly with guest Studs Terkel.

Next time: JEM Talk

Why this blog? Visit entry #1.

Simple Livers need to support each other, even if they are far apart.
---
POST #94
JEM Talk
The conversation at Jubilee Economical Ministries:

Chicago has a poor recycling program.

Consider alternatives for buildings, such as bamboo flooring.

We need to ask our brothers and sisters in the church, What is enough? What about holding things in common, sharing, instead of each owning the same things?

Dump errands on to one day to save driving.

One's circle of friends can be an impediment to simple living.

Canning as a community is fun. Invite others into your Sabbath Space.

Celebrate half birthdays -- clean the closet, give things away, have a party with 1/2 cake. Each child chooses what I've out grown that will help another.

KrisKendles -- draw name, do nice things for that person, then give one gift (ala Secret Santa).

Simple living is fulfilling, not fearful.

Next time: Remodeling is a good time to downsize.

Why this blog? Visit entry #1.

Simple Livers need to support each other, even if they are far apart.
---
POST #95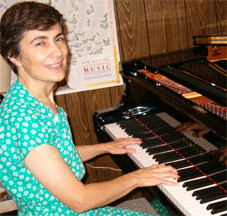 Marjorie at her piano
Remodeling is a good time to downsize.
Had lunch with Marjorie W., her neighbor Barb F., and member Meridell G., in Rockford, Michigan, north of Grand Rapids.

Marjorie is a piano teacher. She just got her dream baby grand piano. Husband Dave is a graphic designer for the United Methodist Conference. He also does design and printing work in their basement.

Years ago Marjorie gave talks and a slide show on recycling, which finally became policy in the area.

She likes getting our eNewslettter as a reminder to live simply.

Remodeling is a good time to downsize.

Next time: An Exhilarating Visit at the CRC

Why this blog? Visit post #1.

Simple Livers need to support each other, even if they are far apart.
---
POST #96

Jason, board member representing the Christian Reformed Church
An Exhilarating Visit at the CRC
Hi all,
Alternatives for Simple Living is an organization that has been around a very long time and continues its good work in promoting the faith value of "living simply in order that others might simply live." Every year they publish "Whose Birthday Is It, Anyway?" which many churches use to refocus themselves on Christ rather than Commerce. Their catalog and website are full of other quality resources.

Jerry Iversen is the long-time director of this organization, a living example of his cause, and a very thoughtful and interesting presenter.

Jerry will be in town next week. I'm thinking we should invite all those interested to meet with Jerry from 3-5 PM in a sort of building wide "open house." He could start off with a presentation and then informally chat with anyone who has an interest in the topic.

Jason, in the evening I wonder whether the SJ group at Calvin might want to sponsor and promote an informal discussion/encounter of some sort with him.

What do you all think?

Check out the web site SimpleLivingWorks.org

Peter V.M., head of Social Justice Office of the CRC (Christian Reformed Church) invited me to address staff members at the CRC offices in Grand Rapids from 3-5. I met his assistant Jessica D. and Jason F., as well as others. Martie J. said the visit was "Exhilarating!"

Peter and crew are working on the Micah Challenge to 1) further engage Christians with the poor and the issues surrounding poverty, and 2) mobilize Christians around the eight Millennium Goals of the U.N.

Jason is the national campus coordinator. We went to supper at an organic cafe, I stayed at his house with his five other housemates, and he agreed to serve on our board of directors.

Next time: Focus Group at Calvin College

Why this blog? Visit entry #1.

Simple Livers need to support each other, even if they are far apart.
---
COMING
POST #97
Focus Group at Calvin College
POST #98
Advise from CROP
POST #99
Kim, Barb, Amy & Drew
POST #100
St. Michaels Mall
POST #101
Trash Walk
POST #102
Saying What Denominations Cannot
POST #103
Ellens Odyssey
POST #104
Dr. W., Master of IFIs
POST #105
Ministry of Money
POST #106
Mentoring for the Third Quarter of Life
---
POST #97

Jason at Calvin College
Focus Group at Calvin College
Jason F. and I met with about 15 students from the Environmental Stewardship Coalition at Calvin College, Grand Rapids, Mich. Jason explained that Calvin is considered the "liberal" college of the CRC (Christian Reformed Church). It has 4000+ students.

I led them through focus group questions developed by board member / college professor Bruce Forbes. Then I shared some basic info about Alternatives, and finally questions about our proposed series of simple living posters.

Voting results of proposed slogans:

Consumerism Kills
Simplicity Saves
+7 -6
Image: Drowning in a sea of technology
Suffocating with a plastic bag over head vs. snuggling in cozy bed

Quality of Life, Not Standard of Living
+10 -1

Voluntary Simplicity -- the Jesus Way/style
+1 -12

Jesus says, "Don't worry about what to eat or what to wear." That sounds like simple living.
+9 -5

Live below your means.
+2 -5

Simple Living -- love it now or hate/regret it later
Live simply -- joyfully now or begrudgingly later
+6 -6

Simple Living Welcomes You: Joy, challenge, meaning
+9 -5

They may want a workshop leader for a conference on faith and International Development by the Social Justice Coalition and the International Health and Development committee.

Next time: Advise from CROP

Why this blog? Visit entry #1.

Simple Livers need to support each other, even if they are far apart.
---
POST #98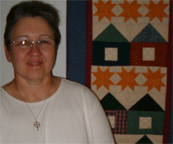 Deb
Advise from CROP
Lunch host Deb J. is pastor of Asbury United Methodist Church (UMC), Lansing, Mich. She serves less as spiritual director here than when she was in Hudsonville. A Garrett grad, she has a variety of folk art on her walls, including the US. She's traveled to Haiti and serves on her conference Hunger committee.

Johanna B., Associate Director of Church World Service/CROP for Michigan, has led bus trips to the New Windsor Distribution Center, MD, run by the Brethren to ship clothes, kits, etc. On the way, they watched Bread videos and write letters. She's responsible for 50 of the 150 walks in Michigan. Now she's leaving for a Balkan trip to see greenhouse project and to observe reintegration (where one ethnic group gives goods to another).

Bill B. from Mt. Hope UMC helps refugees from the Middle East and Africa as an advocate, especially for those who have completed they are help from our government. He and his spouse served 40 years as missionaries in N. India. He taught chemistry in a UMC college. She is a public health nurse. He served as a mission interpreter for the North Central Jurisdiction until he retired three years ago.

The conversation:

Nomads are folks who travel in RVs from one service project to another.

Tithe your wedding budget to the church in which you going to get married.

"Steward" Bible Study from Cokesbury (8 sessions).

It's increasingly difficult to educate CROP congregational organizers, even with an 8-minute video. It has to be better and easier to use. A lack of willingness to think, to consider alternatives -- 1/3 pay attention, 2/3 not.

Education does not bring more money. It has small pay back. They pay attention if the topic is in the media (awareness) but they have short memories.

Development work is harder than giving stuff to the needy.

Athletics drain time -- losing youth from CROP Walks. National Honor Societies do High School service time with CROP. Young like Appalachia Service Project and trips.

Rhuwandan coffee at Shop.MSU.edu

Family Story Bible by Ralph Milton (author of Whole People of God) from WJK.

Next time: Kim, Barb, Amy & Drew

Why this blog? Visit entry #1.

Simple Livers need to support each other, even if they are far apart.
---
POST #99
Kim, Barb, Amy & Drew
Kim K. served a supper of soup at Calvary United Methodist Church (UMC), Ann Arbor, Mich. She's a first year seminary student in Delaware, OH (UMC), considering college chaplaincy.

Husband Chris, who couldn't join us, teaches math at Univ. Michigan. He agrees with her on Simple Living -- that's one reason they married (though they regret not having Wedding Alternatives). They offered to pay for my motel room. I suggested they make an additional contribution and I'd arrange my own lodging.

She was raised in North Platte, NE; Harvard B.A. in sociology; and masters.

She sees a respect for the previous generation who had limits on what theyd spend. But they dont call it Simple living. they are conscious of the environment and progressive but have fewer limits.

Barb N. is a catholic volunteer at the St. Vincent de Paul Thrift Store. She also screens clients for St. V. and for Emmanuel House (where elderly women learn to receive love). She helps with the Interfaith Christmas Bazaar. Will consider being a Volunteer Coordinator.

Her three kids are all in college; two live at home. He spouse is an engineer for General Motors. He doesn't know if his job will last till his retirement. He repairs his kids' cars.

Amy B-H. is a Disciples of Christ minister working at St. Vincent de Paul and Hospice. She and Chuck served in the Congo. He goes every year to protest at the School of the Americas. She's very outgoing and random. She offered to put me up for the night in their basement at their humble little house. Drew is their precocious 8-year-old.

Deadbeats are what credit card companies call customers who pay off their balance each month.

Next time: St. Michaels Mall

Why this blog? Visit entry #1.

Simple Livers need to support each other, even if they are far apart.
---
POST #100
St. Michaels Mall
Vernie D. hosted me for a staff luncheon at St. Michaels Community (parish) in Sterling Heights, Michigan (a northern suburb of Detroit). Ten attended the lunch of abundant Chinese food.

St. Michaels Mall is an annual charity bazaar. Their tithing committee givers a generous gift each year to Alternatives.

Also attending was Carol Syerson, an 80-year old UCC'er. She works with All Our Children (UNICEF), Church World Service and Church Women United.

Next time: Trash Walk

Why this blog? Visit entry #1.

Simple Livers need to support each other, even if they are far apart.
---
POST #101

Gretchen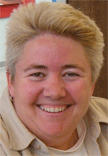 Chris
Trash Walk
Gretchen and Doug D. assembled 15 of their friends for an evening potluck in their north Detroit suburb. Doug is an engineer (inorganic chemistry) for Daimler Chrysler. They have two daughters (one becoming a nun in Immaculate Heart of Mary), one grand daughter.

Their guests:
Pat M. from Church of Our Savior
Rem, visiting Christian pastor, Indian peacemaker
Alonso, visiting Brazilian pastor
Marie, teacher from North Newton
Chris G., director of Skyline camp, graduate of Princeton Seminary; teaches Sr. High class at church; former NYC police officer; formerly of First Pres, Birmingham
Hinde, nominally Jewish, librarian, Chris partner
Richard and Chris J., Episcopalians; he's an engineer at Ford, she edits reference books.
Fran H., incoming moderator of the Presbytery; church in Dearborn, helping to settle refugees from Katrina, especially Arabs
James S., present moderator, layman, 80, African-American; former principal at Friends school, Detroit
Barb S.-A., Presbyterian pastor at UCC church; chair of the Social Justice Peacemaking Team for Presbytery of Detroit (spouse Russell did not come)

The conversation:

Detroit is segregated by income and color -- race is a big issue.

Gretchen has done 15 years of interim work, never more than an hour commute. Rochester has no public transport -- no ethical considerations. The Presbyterian has an antiracism team that suffers some from victim mentality.

Richard uses the one-in one-out approach because their house is so full.

Pat gives Christmas gifts to kids at needy schools instead of self. Their house has paneling made of trees cut on their property.

Fran's son is an alternative success. He rehabs houses, wants to get into green housing in Austin, TX.

Barb, leader of Christian Ed, finds young families feel locked into two incomes -- not free to make choices they'd like. Give them permission to buy into another model. Rediscover Sabbath; carve out time for what's important.

Chris offers Sabbath retreats at camp.

Richard: do the young want a style that requires a job to generate $100,000 or $10,000? Find balance in between.

Gretchen: seminarian debt is perpetuated by serving small congregations.

Richard: How to know when one's successful?

Contact public universities with an environmental bent and Peace studies programs.

If we don't scale back, we will be scaled back.

Like bacteria in a Petri dish, we will run out of food or kill ourselves with our own waste.

Consumerism depends on population growth.

Gretchen goes on a Trash Walk each week to reclaim valuable throwaways in her affluent neighborhood. As a former Home Ec teacher, she makes her own Christmas and other greeting cards.

She and Doug are both Iowa State grads in their mid-60s. She attended Trinity Seminary, Columbus.

UPDATE: Chris joined the board of directors as a young adult member.

Next time: Saying What Denominations Cant

Why this blog? Visit entry #1.

Simple Livers need to support each other, even if they are far apart.
---
POST #102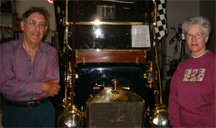 Vern and Doris Ann with favorite car
Saying What Denominations Cannot
Doris Ann C. of Temperance, Mich. (near the Ohio border) helps with stewardship and the Seminary Fund for 11 Presbyteries. Vern does some pulpit supply, attends a few Presbytery meetings, rebuilds old cars. Their best friends are not in church and are just as principled.

Send seminarians overseas.

Alternatives can say things that no denominations can.

Next time: Ellen's Odyssey

Why this blog? Visit entry #1.

Simple Livers need to support each other, even if they are far apart.
---
POST #103
Ellen's Odyssey
Ellen F., associate registrar at Findlay University, Findlay, OH, plans to retire soon, sell her house, go on an Odyssey, visit our Earth Dome. A widow, she has four children, two in 40's in Findlay, two in 20's in Colorado.

Findlay U., now minimally connected with the founding Church of God, has 4000 students but no campus pastor. Winebrenner Seminary next door. Their environmental program is for reclamation, not prevention.

Pastor Deb S. of Howard UMC is doing a simple Christmas program in Bowling Green.

Next time: Dr. W., Master of IFIs

Why this blog? Visit entry #1.

Simple Livers need to support each other, even if they are far apart.
---
POST #104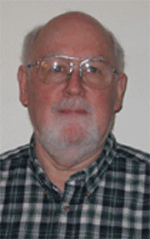 Dr. W.
Dr. W., Master of IFIs
Dick and Barb W. of Columbus, OH, have two sons. He's a retired professor of business from Ohio State.

He's the master of IFIs: Ideas for Improvement. Here are a few. . .

How do we replace lost revenues? Can we match or undersell Amazon's price on a case-by-case basis?

College interns in communications would work for Alternatives for their resume and a letter of recommendation. Write a job description. Also serve on the board? Potluck meetings may be a burden if guests don't have a personal relationship with the host.

Put PDF of each volunteer job on our web site.

Simple / Easy Services
Membership Seeking
Telling the Simple Living Story
Getting radio interviews
Getting radio PSAs
Bookstore calls

Specialized Services
Speeches
Workshops
Organizing Events
Discussion groups

Steve and Paula M. and Kathleen G. (from Simply Living, former lawyer, now consultant and health care grant writer).

Steve: In Your Money or Your Life, life force is traded to get things.

Establish a scholarship fund -- students get a free one year, sponsored membership.

Test Simple Choices with Simply Living community.

Let young board members develop ideas.

Steve's willing to make cold calls on mega-churches.

What's coming will drive, will not be voluntary soon. We're on the cusp of history. We can help people to survive -- simply.

Use mortgage burning as a witness to kids that its good to pay off debt.

Set the Goal is to walk away from a job that's morally wrong.

Don't consume because we don't want to. From a Christian point of view, to participate in the system is sinful -- blood in my tank.

Jesus' largest message about materialism -- Jesus on Stuff -- Steve is willing to write it.

Performance measures -- what gets measured and reported gets attention.

Test new church membership structure locally ($100 minimum; 10% over 1000, e.g. -- 1500 = $150; 2000 = $2000; negotiate as needed).

Move SLOW Down from a passive to an active network -- purchasers, prospects, members become active local volunteers.

Talk to friends to identify prospect churches. Community volunteers undertake activities.

Extend our mission by increasing memberships. Reach out to organizations, like Rotary.

Barb gave me a pack of wonderful Spanish almonds.

Next time: Ministry of Money

Why this blog? Visit entry #1.

Simple Livers need to support each other, even if they are far apart.
---
POST #105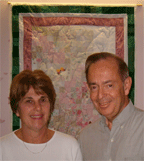 Bob
Ministry of Money
Bob H. of Dayton, OH, has been a volunteer with Ministry of Money for 10 years. He and his spouse have three children and have had numerous exchange students and Hunger Corps volunteers in their home, prompting the name The Hadley Hotel. "My kids never knew who would be here when they got home from school."

He has been to Haiti 15 times, as well as Bosnia, Jamaica, Tanzania and Tijuana (including the conference in January 2006). Their daughter is in the Peace Corps in Thailand.

The Ministry of Money office is at Dayspring Farm, started by the Church of our Savior, DC. The Executive Director, Kevin Cashman is 45. Harriet is the administrator. Rick Zemlin is the part-time Development Director. He's catholic and part of the ecumenical Assisi Community. Church of the Savior has many faith communities, such as 8th Day.

Bob belongs to Christ United Methodist, 2400 members. His spouse Judy, D.Min. is Director of Support Ministries on the staff.

Bob serves on the board of the Parish Resource Center, board of the Christina Retirement Center (which was a client when he practiced law), chair of Church and Society committee at Christ UMC, and is joining the new ecumenical Urban Justice Committee (at the University of Dayton, former president is a Marianist; at the Bergino Retreat Center). He also does some consulting. He feels called to work directly with the poor.

For Ministry of Money (MoM) retreats, the local organizer arranges local transportation. The participants pay a fee and their own transportation. The workshop leaders come to the site.

MoM has 7500 on their newsletter list. They have no members but partners pay for their newsletter.

Fewer people are willing to give up Friday-Sunday, so they have more mini-retreats for commuters. The church sponsor provides the site and the publicity. They have 6-8 retreats per year.

They have 7-8 workshops leaders, all volunteers. At each event they have one man, one woman and a paid musician (guitar, keyboard, singer). They have some 50 songs to choose from. Many times they have a scripted Oxfam Hunger Banquet, which clearly distinguishes between the 1st, 2nd and 3rd worlds.

Development work is done through mailings, personal notes from board members -- asking and thanking. Calls for soliciting and thanking. Kevin travels.

Dominique Alban, head of Adult Ed at Christ UMC, attended our lunch.

The conversation:

Read Wayne Muller's books on Sabbath.

Simplicity and time -- use it as a gift. Money, what are we going to do with it?

Put a receipt for a donation in a child's Christmas stocking. Have Christmas dinner with your kids with the men at a shelter. They have interesting stories. Give money to kids at Thanksgiving, then they tell where they gave it on Christmas Eve.

Hundreds of "Money and Faith" groups.

"Kids, Faith and Money," a new retreat by volunteers on Socially Responsible Investing is starting in Louisville by Susan Taylor and Andy Loving.

John Wesley said don't increase your standard of living as your income goes up.

Read A Testament of Devotion by Thomas Kelly (Quaker).

Use Simple Choices for Dinners for 8. How about questions at three levels -- easy, medium, challenging?

Wagon Wheel icebreaker (13-14 questions -- two circles facing each other, ask, then move one spoke) is used for globalization retreats.

Time crunch for young adults.

MoM quotes posters are used for retreats.

Sr. Hobday keeps a maximum of 36 books and two dresses.

Read While We Wait by Redding from Upper Room. Man and Mercy by Daniel Elander from Orders of St. Martin and Therese, Mercer Island, WA.

Offer something to take along, a practice for the week.

UPDATE: MoM is now FaithAndMoneyNetwork.org.

Next time: Mentoring for the Third Quarter of Life

Why this blog? Visit entry #1.

Simple Livers need to support each other, even if they are far apart.
---
POST #106

Guest Leah T.

Dick & Leslie H.
Mentoring for the Third Quarter of Life
Dick and Leslie H. of Hamilton (north of Cincinnati) have been to a MoM retreat. A former teacher, she serves on Presbytery Habitat board. He's a Rotarian, like Bob H. They were Yoke fellows with him under Elton Trueblood.

Dick does mentoring for the Third Quarter of Life at the Aging Center, Elderhostel, Chautauqua and doctoral students at United Theological Seminary, Dayton, during January and August intensive weeks.

In the first quarter: the physical, I am my body; in the two: productive, I am my work; in the third: peak, I am me. He emphasizes celebrations.

Leslie wants practical ideas to simplify.

Guest Ann A. has received several civic awards. Moving into a smaller retirement housing has been problematic, dealing with excess belongings and clutter.

Guest Nancy, a widow, has done considerable international travel. Her husband was a pastor in NYC.

Guest Leah T. served in Ghana, 1994-96.

Imago, Price Hill environmental group, holds Earth Spirit Rising conference to honor elders.

Opt-out of junk mail.

Gift idea: Musician will write a song and sing it for an occasion of your choice.

A tomato cage makes a Christmas tree when decorated.

Gifts from recyclables.

Cookbook of five favorite recipes.

Christmas in July -- family/friends gathering.

Talking headstone cost $2500 for a 5-minute video.

Next time: Cedar Rapids Peace Center

Why this blog? Visit entry #1.

Simple Livers need to support each other, even if they are far apart.
---
February, 2007 BLOG - every 3 days
Return to Table of Contents (top)
---
St. Louis Area Tour
POST #107

Cedar Rapids Peace Center
At the Cedar Rapids, Iowa, Peace Center hosts Blair and Sue F. and high school sophomore daughter Hanna and a dozen assembled for a potluck lunch.

Blair had recently left his congregation, feeling that his words about simple living and peace were falling on deaf ears. Sue's family has been a member of that congregation for three generations. He feels at home with people at the Peace Center and our gathering. The three plan to attend the School of Americas protest in November.

They have an acre of land and are trying to develop it sustainably.

Mary C., Blair's neighbor, recommended the book If the World Were a Village.

Sally R. seemed really enthused about my presence and message.

Joe and Laila A. are followers of Islam. Joe spoke to me about Sufism. Laila asked numerous pertinent questions.

Maggie A. has taught Unplug the Christmas Machine Workshop twice. She's a member of the simplicity circle at Prairie Woods Catholic Retreat Center. Some 100 attended her presentation on simply living at Kirkwood Community College.

Shari M. volunteered to join our Simpler Living Community Network. She's articulate and outgoing. Husband Beto is getting his US citizenship after being here 22 years.

Next time: Talk at Cedar Rapids Peace Center

Why this blog? Visit entry #1.

Simple Livers need to support each other, even if they are far apart.
---
POST #108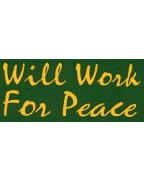 Talk at Cedar Rapids Peace Center
The conversation in Cedar Rapids, Iowa, Peace Center:

In the environment of raising kids now, its Shopocalypse. So, unplug the TV and tell them it's broken. Do comparison-shopping with child; talk through the positives and negatives of their wants.

Share appliances like lawn mowers and snow blowers.

Simple living gives us more time, more celebrating, more color to life.

Seeing people doing without is a glaring example of how obscenely we live.

Early American Goodwill decorations are inexpensive yet meaningful.

Financial planning -- put money away to grow it. That's the reverse of buying a taco on a credit card and paying for it for years. The Latte Factor from Google - put away $4.66/day and end up a millionaire.

Be aware of the use of spiritual symbols in commercials, e.g. Chrysler uses "Simple Gifts."

Benefit of being a 104-year-old. No peer pressure.

Sufism starts with pure spiritualism, rather than reversing materialism.

Next time: Micah 6 Action Team

Why this blog? Visit entry #1.

Simple Livers need to support each other, even if they are far apart.
---
POST #109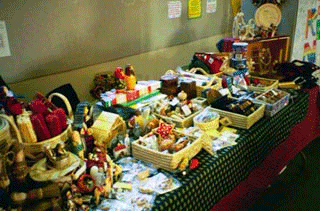 The alternative Christmas Fair at First Presbyterian, Kirkwood, MO
Micah 6 Action Team
Cathy Y. invited me to First Presbyterian, Kirkwood, MO. She and I met at Ghost Ranch in New Mexico in summer 1996. I spoke to about 40 from teens to retired's. One man especially liked my pillow props for Do Justice.

What to do about families being over committed? The short time that dads spend with kids also says something about the interests of the kids.

I spoke about three minutes during the 11:00 worship service. Then 10 stayed for the soup luncheon. Most were members of Micah 6 Action Team, the former environmental and social concerns committee which disburses benevolence funds, runs the Christmas Gift Market and the community stream clean up.

Friendship Force, Atlanta, arranges international home stays in 60 countries. On one the guests from Ghana compared their and our care of elders.

Our extended conversation on Christmas gift exchanges and outdoor lighting included adopt-a-family, buying them clothes and food, instead of exchanging gifts.

"Whose Birthday?" focus group:

Young adults have short attention span -- hit and run; keep articles short and to-the-point; eye appealing; layed out as a bunch of sound bites; identify your market.

We know spending as a time-waster. Get to those who haven't figured it out yet.

Priority for articles:
1. Alternative ideas, suggestions, stories by example, FUN
2. Inspirational stories
3. Devotional (expendable)

An event is a more memorable gift than a thing. Things will break. Repeat the event and it becomes a tradition, e.g. gingerbread houses, crafts. Read Caroline Kennedy's collections of poems as gifts. Write a book for your grandchild.

Giving gifts without money -- in after-school clubs, parochial schools, environmental clubs.

Ecumenical Moms group -- celebrating holidays simply.

Gift memberships to symphony, zoo, art museum.

Even young children can help and eat at a "Soup Kitchen" -- treat all as guests; a service, not a handout. Young children are so self-centered that they also need things.

TheBlessingBasketProject.com sells sets of African baskets.

Next time: A Child's Greatest Need

Why this blog? Visit entry #1.

Simple Livers need to support each other, even if they are far apart.
---
POST #110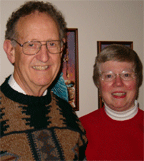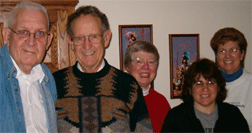 Delwin, Karen, Brenton, Linda and Sima
A Child's Greatest Need
Karen T. is a Disciples of Christ professor at Eden Seminary; Brenton D., a retired American Baptist pastor who has expertise at organizing groups.

Also at the Sunday evening gathering in St. Louis(?)was Delwin J., a retirement age Methodist layperson and Alternatives member who has a dry sense of humor.

Linda H., now a United Methodist chaplain and former parish pastor, truly loves our resources. Her roommate Sima W. is a member of a Reformed Jewish congregation.

Karen says that current research indicates that children's greatest need is for adults to spend time with them and listen to them. After seeing The Good Life curriculum, she recommends a website about rotational Sunday School.

Fewer young adults are aware of simple living because of the toxic nature of our culture.

Sima will help us find Jewish simple living leaders.

"Whose Birthday?" focus group:

It has been jammed graphically; too much print.
Because of web exposure, people want quick and easy, bumper stickers.
Three sections -- individual, family, congregation -- will help.
Think of print as web pages.
Sima says use larger type sizes; small is OK for short statements.
How about a multifunctional Pocket Guide?
The calendar needs a grid -- leave room for notes on the sides if necessary. How about a check list calendar?
On pages 2-3 tell readers how to use it that invites readers inside.
Don't fall in love with your resources -- focus, be ruthless; admit an idea may be good but not here.

Brenton may start a local simple living network. He's used the NorthWest Earth Institute study guide on simpler living.

Hear Brenton on the radio promoting financial planning (short version). | Regular version

Next time: Sisters of St. Joseph of Carondelet

Why this blog? Visit entry #1.

Simple Livers need to support each other, even if they are far apart.
---
POST #111

Myles
Sisters of St. Joseph of Carondelet
I worked with Myles M. when he led Catholic Social Services in the Archdiocese of Atlanta. Now he's Peace and Justice Director for the Marianist order in St. Louis. Diana O. coordinates dozens of adult faith sharing groups for the Sisters of St. Joseph of Carondelet.

Myle's wife may include The Good Life curriculum in her new book.

The Marianists run four camps. Myles deals with 75 lay community groups. Two women in New Jersey offer online commentary, including lectionary based justice and simplicity. We need a conversation between word and world, personal and intellectual. Investigate Quest from the Diocese of Bridgeport.

Most faith communities have grant funds, e.g. Notre Dame.

Dan R., Marianist volunteers organizer, served two years with the Capuchin Franciscans in Chicago. He will forward our site to alums and others. Capuchins are humble, simple living; Jesuits are education oriented, intellectual; Marianists focus on community.

Sr. Carla S., who teaches systematic theology at the Aquinas Institute will work with her Dean of Students to post our information. She uses Affluenza, though the videos need updating; She wants to promote Affluenza Vaccination Sunday.

Next time: Institute for Peace and Justice

Why this blog? Visit entry #1.

Simple Livers need to support each other, even if they are far apart.
---
POST #112

Kids Creating Circles of Peace
Institute for Peace and Justice
Kathy and Jim M. invited me to the St. Louis Peace and Justice Institute.

Jim recently gave a workshop at the annual conference of the Gandhi Institute in Memphis at Christian Brother University. He has written a Gandhi and King high school text which is not yet published.

He writes for Harcourt Religion, which publishes Generations, a model of contemporary design. They divide essays into separate articles with their own headlines.

"Whose Birthday?" focus group:
Don't give up on scripture. Include reflection questions and prayer with articles.
Reference our web site in many articles.

Currently the catholic scene is depressing. The sex abuse scandal is affecting finances -- both pay out's to victims and donations. It's harder to do ecumenical and interfaith work. Conservatives slow down the approval process.

Appeal to religious communities, especially women -- Leadership Council of Women religious -- LCWR. Include information in their newsletters about us. Go around the diocese. Orders also have numerous small communities.

The most progressive work being done now is by women religious. Contact their elementary and secondary schools. National Catholic Education Assoc. -- NCEA -- holds an annual convention. Offer a workshop. Booth space is expensive.

The National Association of Directors of Catholic Family Life Ministries can work around hierarchies.

Contact Jim Vogt -- head of the Marianist Peace & Justice collaborative -- to be part of his eNews.

Pax Christi sells others' resources very selectively, e.g. vegetarianism.

Kathy sees some renewed interest in lifestyle issues. Cathy Kelly spoke at the Gandhi event about how lifestyle drives with war machine.

It's harder to be included if you're seen as criticizing the establishment.

Contact environmental groups. Camps are not strong in the catholic church because schools have summer programs, plus scout and sports camps compete for time and money.

The Institute is moving to Eden Seminary, the progressive protestant seminary in St. Louis.

Next time: World Relief

Why this blog? Visit entry #1.

Simple Livers need to support each other, even if they are far apart.
---
POST #113
World Relief
Barb H. and Greg K. met me at 2:30 at the Lutheran Center (Missouri Synod - LCMS) in Kirkwood, MO. Greg is communications director for World Relief, including the web site.

Barb holds out little hope that we'll get any grant money but welcomes a letter in six months. LCMS stays away from advocacy.

World Relief has little common ground with youth ministry, which is high school oriented. But Terry D. wants to add an associate director for young adults -- 20-somethings in 3-5 years. (Colleges fall under the Missions dept.)

Concordia Plan (formerly work benefit dept.) deals with financial issues with retirement, not young pastors. Some of our issues also come up in stewardship.

Greg has a page of web links; he could also recommend web-news articles.

Next time: Blue Christmas

Why this blog? Visit entry #1.

Simple Livers need to support each other, even if they are far apart.
---
POST #114
Blue Christmas
Pastor Mike S. at St. John United Church of Christ, Brighton, IL, organized a potluck supper. A dozen attended, mostly elderly parishioners, but also a local catholic and a local Presbyterian.

The response was warm for a traditional German group.

Mike offers a "Blue Christmas" service each year, which originated with MADD national; some ideas come from the Whole People of God. He selects music and poetry. It helps people who are "blue" at Christmas time, especially because of loss (death, divorce, etc.) He has invited other congregations. This year it will be sponsored by the local mortuary.

One family places $5 gifts on a table. The adults stand in a circle around the table and read a traditional Christmas story, stopping when certain words appear in the story. The gifts are passed left or right depending on key words.

Another buys gifts for parents from Plowshare Crafts or SERRV.

The Lombard Peace Center has taught Mike mediation training and self-differentiation facilitator training (self-care called Here I Stand process). He deals with fear of failure.

The church is changing from council form of government to Ministry Teams, using "Reviving the Mainline Congregation" by Robt. Sheeler.

He uses daily reflections for Advent and Lent for families, kids, etc. He helps families by giving them spiritual practices to take home. He only gets to see his people on Sunday.

There's a hole for young adults -- few resources for them.

Next time: Meaningful Christmas Tradition

Why this blog? Visit entry #1.

Simple Livers need to support each other, even if they are far apart.
---
POST #115

Ella reads to her nephews children at Christmas.
Meaningful Christmas Tradition
I visited Ella H. in Belleville, IL, an Alternatives life member. She lives with her sister Virginia. A third sister has died. All three never married. A fourth is married. Ella worked for the government before retiring.

She organized a church fair at Christ United Church of Christ, Belleville, but it was poorly attended. Also, her Sunday School class has shown little interest in "Whose Birthday?" So, she's frustrated.

She's given bonds to her nephews for Christmas, now Heifer gifts.

Her priority is to feed hungry kids.

Stewardship began in the U.S. where the church had no government support (like in Europe).

Now her family gets together on Saturday before Christmas for a spaghetti supper. She reads a children's book. Her adult nephews have gotten caught up in this tradition. She especially likes Max Lucado.

She has many antiques and is trying to downsize.

She would like someone at her church to listen to her. She's been sick for 2-1/2 years.

The food pantry's been going at her church since 1993. They serve all comers, using Call for Help to screen recipients. They do not distribute government commodities. The food comes from scouts and Post Office collection. The 20 volunteers are mostly retired.

Next time: Feed My People

Why this blog? Visit entry #1.

Simple Livers need to support each other, even if they are far apart.
---
POST #116

Feed-My-People.org
Feed My People
We met for lunch at Feed My People, a human services agency run by John and Carol D. in St. Louis. They are members of Lutheran Church of the Resurrection.

Lorraine M., a native of LeMars, IA., is responsible for older citizens at Holy Trinity Lutheran. She came with Gloria W., former pastor at Holy Trinity. Gloria is moving into Merrick Bluffs ELCA Community.

Gale S. is a member of the outreach committee at Evangelical United Church of Christ.

Gloria: How to use Whose Birthday? for an adult class? How about a teacher planner for four weeks, not six?

Get more Ministers of Music involved.

Some churches are opposed to Bread Sunday -- too political.

Charity -- we choose to do it or not, we control who gets it.
Justice -- God expects it of everyone for everyone.

A Feed My People Guardian Angels reach a cumulative of $1000; Archangels reach $10,000. Each gets a public plaque and an optional personal plaque at a public recognition program. Donors receive a newsletter twice a year. Almost all solicitation is by mail. Volunteers receive an annual certificate; they are added to plaques at levels of 1000 - 10,000 hours. Mailing list of 8000. Donors receive 14 mailings over two years and are dropped if they do not respond.

When he speaks, John uses a six minute video about donors, volunteers and food donations.

Audios are a dime a dozen; better if they are short and have a manual. Video better, especially for lay people.

Lutheran Assoc. of Older Adults important because both ELCA and LCMS have cut out their older adult programs. 65+ = 1/3 of all Lutherans. No bible studies specially for 65+. LCMS has pledged $10,000 for a resource. Start on the web? Gloria will create an outline this winter, including downsizing, routine, retirement and Simple living, especially for men.

Next time: Missouri Zen Center

Why this blog? Visit entry #1.

Simple Livers need to support each other, even if they are far apart.
---
POST #117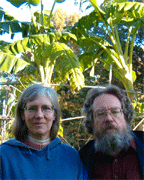 Clare and Michael in their organic garden
Missouri Zen Center
When I spoke at the Missouri Zen Center, 25 showed up, 10 regulars and 15 newbies. I was invited and hosted by Clare S. and Michael G.

First we had an excellent vegetarian supper, stimulating conversation to the center and back (35 minutes each way), including the 16 tenants of Zen Buddhism.

At 6:00 we had a brief introduction to Buddhist meditation, then a 20-minute meditation, refreshment, then presentation and discussion from 7:30-8:30.

Clare and Michael have been married 17 years, have no children; she a PhD. in chemistry and he some community college education. His family philosophy is "Don't let them work you too hard and don't get fired." She was driven.

They both retired seven years ago using the "Your Money or Your Life" -- FIC approach. Their house has one acre, where they grow some of their food.

She may consider being a volunteer coordinator and teaching some courses at the local community college.

Next time: Church on the Underground Railroad

Why this blog? Visit entry #1.

Simple Livers need to support each other, even if they are far apart.
---
POST #118

Mary Jean
Church on the Underground Railroad
Mary Jean M. and five members of the Christian Education Committee at The Congregational Church, Jacksonville, IL, met for a potluck lunch. (This historic church was a part of the Underground Railroad.) She's a widow. She's considered moving to Iowa to work with us but has family obligations there. Self-sufficiently is appealing, though she has some physical limitations.

Most societal decisions are economic -- from the production side, not the consumer side.

Next time: Kres & Co.

Why this blog? Visit entry #1.

Simple Livers need to support each other, even if they are far apart.
---
POST #119
Kres & Co.
First Church of the Brethren, Springfield, IL, has used our books for consignment sales as part of the Christmas Fair for many years.

Kres L., 52, graduated from the former Bethany Seminary. Wife Elizabeth is a catholic, school psychological for special needs; daughter Rebecca in Jr. College; Karin a college senior; Laura interested in Free Trade.

Kres has been here for 20 years, moved from Dayton, OH.

Most Brethren Districts have one or two camps (23 districts nationwide).

Contact Shiela W. at Ursuline Academy, service oriented, counter cultural.

Gabrielle and Warren S. -- she's a retired sociologist who taught at medical college. Served in the Peace Corps, now on the board for housing agency for single moms.

Terry L. is the new coordinator for the church's Christmas festival.

Whose Birthday? focus group:

Becky Y. coordinates reading for the blind for the local public radio station. Ask on the web order form where the customer is ordering from. Offer a reward?

Kres: a new format is long over due.

Terry: invite people to tear out pages, dog-ear pages, before it gets buried.

Gabby: simple and symbolic tear-outs, e.g. haiku. What makes us different from denominational Advent guides?

Warren: get at parents through their children. Offer activities.

Becky likes Reminiscences magazine. Memories of activities - from scratch or from our resources.

Warren: make the web site more prominent, even on the cover; offer fewer resources, look like a web menu. Whole page promotion of site.

Next time: Peace with Justice Ministries

Why this blog? Visit entry #1.

Simple Livers need to support each other, even if they are far apart.
---
Return to Table of Contents (top)
---
Omaha-Lincoln Mini-Tour
POST #120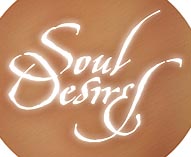 Books, Hospitality & Holy Hardware
Peace with Justice Ministries
Carol W. with Peace with Justice Ministries met me at Soul Desires Bookstore in the Old Market of Omaha before the regular gathering. She suggested that since she and other Methodist leaders have pledged to promote Methodist curriculum that we get UMC endorsement for our The Good Life curriculum. We should have no trouble. The purpose is to encourage UMC churches from using good material and keep out the bad stuff that some churches are using.

Send her 12 copies of the materials each quarter. She monitors young adult interns for eight weeks each summer. She'll bring one to Alternatives to shadow us for three days at the dome. She'll try to bring a carload of interested people to visit.

The conference board of social witness has a convention in the spring. She'll approach them about sending our Resource Guide to every UMC church in Nebraska. She'll allow us to use her list of 450 Peace Advocates one time (mail or email). Her network deals with several issues.

Fred R. is the new high energy United Methodist pastor for campus ministry at Univ. Nebraska, Omaha.

Next time: Soul Desires

Why this blog? Visit entry #1.

Simple Livers need to support each other, even if they are far apart.
---
POST #121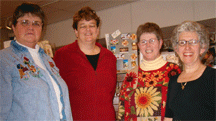 Sue, Carol, Julia and Susan meet at Soul Desires Books, Hospitality and Holy Hardware -- in Old Market, Omaha. Susan was elected by the members to serve two terms on Alternatives' board of directors.
Soul Desires
Sue R., Julia K. and Carol H. met at noon with me. Sue is the Christian Educator at First United Methodist Church (UMC). Her Christian Ed group meets each Thursday in Omaha; her regional group meets monthly; Nebraska Christian Educators (UMC) meet twice per year.

Carol, from First Presbyterian, Shenandoah, Iowa has used our The Good Life curriculum for Vacation Bible School and praises it highly.

Julia came for ideas to simplify her family's Christmas. She also works in the Omaha Archdiocese office of formation, education and sexuality, and at St. Leo's Parish with almost 2000 families.

Sue and Carol both have Alternatives Christmas markets. Sue has a quarterly Mission project (now for Heifer Intl.) and the children built birdhouses for Habitat (since children cannot work on houses). Kids can feel cluttered. Give them camp or a family night.

Thanksgiving is more fun than Christmas.

Birthday parties have become competitive, with goodie bags, etc. Instead, give $5 for hurricane victims, play, have fun. Children can plan their parties and games, moving from game to game.

Using an Advent tree allows day-by-day decorating process, not all at once.

Veggies Tales: Madam Blueberry at the Stuff Mart.

Car or bus tour of simple living -- City Sprout community garden and Boys Town farm (where they grow and sell their produce).

Start a web site for Unplug the Christmas Machine.

We were joined by Adella Wacker, First UMC, and board member Sara Jensen.

Next time: Pop Money Would Educate an African

Why this blog? Visit entry #1.

Simple Livers need to support each other, even if they are far apart.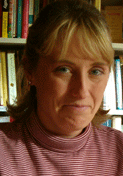 Pr. Sara J., a young adult serving on the board
---
POST #122
Pop Money Would Educate an African
Twelve interested folks met at Bethel Lutheran, Omaha, hosted by Pastor Nate and Linda H., formerly of Our Saviors, Sioux City, IA, and Salem, Dakota City, Neb.

After a simple meal of potato and vegetable/chicken soups, I presented the five life standards of voluntary simplicity.

Discussion:

Appropriate Christmas gifts, child friendly creches, problems about too much. Affluenza vaccination Sunday might allow for drive through.

Mutually supportive young parents from several families can show that they are OK with so much stuff. This addictive behavior needs support -- can't do it by oneself.

Passive toys don't help a childs imagination. We're losing the feel of the warm little kid on your lap. Listening to a recording is always the same, in contrast to the variations of live reading.

In making the choice of time and money, if we downsize, do we have less to give? How you spend it is central, more than how much. Giving time is more valuable than writing a check. If you cut your income in half, you give away the same amount if you double your percent of giving from 10% to 20%.

Single parents lower their expectations of meal preparation and of contributions -- we can't do them like many do. Write "joy" in the dust on your furniture.

Pastor hopes that simplicity circles may form. Each one tells others and they brainstorm. He will dive in with you but the congregation must take ownership.

My kids did not learn from us. They are overspenders and in debt. Credit card applications make buying too easy.

Present others who do not need all those things. Many are jealous of the "new."

Show what 50 cents of pop money will buy in Africa -- each day it would pay for a kid to go to school and give a US child a sense of fulfillment and pride.

Nate is more of an idea person; Linda a planner and organizer. He will keep us in touch with his urban cluster.

Idea: Select a handout of the month (PDF or text) in eNews. Print copies for your local meetings, forward to your email list of friends and colleagues.

Next time: Nebraska Peace Activists

Why this blog? Visit entry #1.

Simple Livers need to support each other, even if they are far apart.
---
POST #123
Nebraska Peace Activists
I met at the home of Marj and George M. in Lincoln, NE, joined by Caroline and Harry W.

For several years Marj has been coordinating one-woman shows about Eleanor Roosevelt and the Universal Declaration of Children's Rights. She serves as the chair of the Neb. United Nations Assoc. She visited Nicaragua with Witness for Peace (pre-Reagan). The Peace Park west of Lincoln has been purchased by the Marharishi University in Fairfield, IA, who hopes to build 300 Peace Palaces in the US.

Caroline works for Interchurch Ministries of Neb. (IMN), which involves 10 Protestant denominations. They are trying to also involve the Mennonites and the Archdiocese of Omaha. It includes the Domestic Violence Response, which was expected to last five years and has lasted 25. They run the Rural Response Hotline or the farm crisis for proud farmers with legal help and financial planning. Now they are using it to refer hurricane evacuees for counseling.

Caroline runs the Capital Compassion Program through the Univ. of Neb. which deals with public policy issues relating to behavioral health. (Neb. is 49th in dealing with these and this is a reform project.) Her experience with CROP helped her focus on disaster behavior health. Now they are developing the first statewide disaster chaplaincy program -- Disaster Pastor -- through IMN. They work to honor all faiths.

Harry is now a full time volunteer after serving the Evangelical Covenant Church in Ceresco for 10 years. Training is occurring at seven sites, 103 participants, all volunteers; 60% are pastors, others are parish nurses.

The second IMN project is for the National Guard -- a faith response for returning soldiers.

Caroline will distribute 125 copies of Whose Birthday? for her Nativity Fest. The second Sat. in Feb. is the ecumenical briefing day for legislation sponsored by Church Women United.

Caroline conducted a series on simplicity circles about five years ago (four Sunday afternoons rotating in four churches).

Neb. Society for Sustainable Ag workshops includes organic.

Harry promotes backyard bee keeping. The elderly are angry about their INvoluntary simplicity.

Next time: Doyle's Church in Lincoln

Why this blog? Visit entry #1.

Simple Livers need to support each other, even if they are far apart.
---
POST #124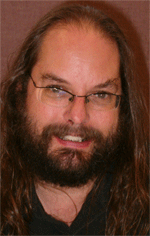 Doyle B.-W.
Doyle's Church in Lincoln
I was the preacher at the 8:30 and 10:30 services at Calvary United Methodist Church, Lincoln, NE, pastored by Doyle Burbank-Williams, chair of Alternatives' board. Rita and I stayed with Ruth C., a spry 85-year old golfer.

The church has a half dozen adult discussion groups meeting on Sunday morning. Harry has organized and maintained a food and clothing pantry at the church. The children's choir, though small, was articulate and really sang out.

Some friends of Alternatives came who are not members of Calvary.

Many people expressed thanks after the services.

Next time: Sioux Falls Hospitality

Why this blog? Visit entry #1.

Simple Livers need to support each other, even if they are far apart. If you want to be in touch with some of the folks I'm introducing here, let me know and Ill forward your message to them.

[END]
---
Return to Table of Contents (top)
---
SIMPLICITY FORUM CONFERENCE
Gerald's NOTES: Simplicity Forum annual conference, Estes Park, summer, 2005
New friends
Jeff S., 35, from Simply Living, Columbus, Ohio, uses Healthy Kids, Healthy Choices program. He looks forward to the new course from Northwest Earth Institute focusing on kids and energy issues.
Jonathan A., author of Living Simply in the City, is a moderator for SimpleLiving.net. Some forums are free, some limited time forums (like Your Money or Your Life) pay. Now have 6000 people in the forums, 2000 active, 8 moderators, two administrators.
Community Solutions, Yellow Spring, OH, now focuses on energy issue of Peak Oil. They work for cultural change rather than technology, e.g. co-housing.
At Winston-Salem, NC in 2004 the forum issued a Justice initiative.
Strategic Action includes:
* Research
* Educational Institutions
* Public Policy
* Faith Communities
* Public Ed/Enriching Public discourse
Ask:
1. What impacts can our movement have through this area?
2. What excites you in this area? What will be most valuable to your work in this area?
TRACK ONE: STRATEGY
We need simple living practical ideas in the harder places -- with children and elderly.
Is Simple living apolitical? Challenge to leaders -- we're not living sustainably.
Create Public Service Announcements (PSA): Three easy things you can do.
Dartmouth College is committed to becoming a sustainable institution.
People come to simple living because of personal need.
Move approach from standard of living to quality of life.
Avoid political hot buttons.
Simple living is intensely personal.
Create web site portals for specific groups -- moms, engineers, etc.
Work at the Middle School level. Is college too late?
TRACK 2 - PEACE
Focus: Peace and Simple Living -- for the good of all
Comprehensive compassion for all beings -- Brian Swimme
First justice, then peace.
Using military force to take others' resources creates injustice.
"National Security" -- means maintaining our lifestyle.
To survive, unfettered capitalism must grow.
Justice demands that resources be shared.
Work for re-localization, living small.
Capitalism fails for necessities, works for luxuries.
The Apollo Initiative for peak oil is positive rather than alarmist.
TRACK 3 -- ECOLOGY
Create an Affluenza fever index and update it annually.
Integrate Earth Care into life. For example, Spain has 1/2 the income of the U.S. and 1/2 the infant mortality. They live longer.
TRACK 4 -- THE NEXT GENERATION
The Next generation, 30% of the population, spends $1 trillion of $10 trillion. They're experiencing time and spiritual poverty. They spend five times as much as their parents did at their age. College students carry four credit cards and $3000 of consumer debt. Media are looking for frictionless access to 83 million young consumers.
25% of 2-year-olds have a TV in their bedroom. Storytellers define the culture. Watch MTV. Pimp my ride. Sweet 16. Zogby poll found that our #1 moral crisis is greed and materialism.
Simple living is a counter trend -- a populist message. Freedom from debt load, more security, less vulnerable to advertising.
Parents want the Gold Path for their kids -- the right college, the right career.
Rebecca Gould of Middlebury College says that colleges are concerned that college is a product to be consumed, that students are consumers, that faculty does more hand holding, that college is no longer for self-exploration. Read When Hope and Fear Collide.
Tim Kasser (The High Price of Materialism) says Gen. Y buys more into the consumer culture and is less happy. That leads them to care more about money, less about others. Money more, relationships less leads to deadening of the human spirit. They feel alienated without realizing that consumerism does it.
1. Middle schools and ads -- show them how marketers talk about them. Rebellion is normative. Channel it against the right leaders.
2. When they take "Alternatives to consumerism" class, they're excited at first, then feel hopeless because they can't change the system, then a turnaround.
Sam Shropshire promotes community housing. He has African-American and Latino community advisory boards. Three white ministers from affluent congregations eat supper with poor parents. The poor say help our youth. They can't afford manipulation. They ask for scholarships, tutoring, mentoring, after school sports and activities. Offer some vision of hope while witnessing debt, not joy.
Questions:
1. How one chooses of Gen. Y college students by parents and culture?
2. Are peers comfortable with the current cultural direction of hyper-consumerism?
3. The Howard Dean Phenomenon (motivating the young) -- anomaly or future trend?
4. What will motive Gen. Y to consider Plan B (Less Is More)?
Some students are disenfranchised from their consumerist parents -- iconoclasm, introversion, higher self-awareness, the thing does not define the person.
Addiction to spending knows no cultural bounds. Amidst growing inequality, they fear not following the career path, bearing the penalties for falling out.
Students resound to time affluence's a better prediction of happiness than material affluence.
Public colleges are eliminating Plan B courses, becoming vocational schools because students are facing survival.
Focus on FREEDOM. Use people of influence to get attention.
Focus on Mental Health. The American Mania is When More Is Not Enough. American Mania recovery gives a case history each month. BalancedRewards.com promotes balanced diet for mental health.
"Take Back Your Time Day" has new allies -- Hilton and Universal (to promote more vacations) and vineyards (to encourage leisure).
** Institutions that want to accomplish what we want to accomplish:
1. Banks -- savings, financial literacy
2. Organic foods -- healthy food
3. Health -- exercise, recreation
Future campaign: Affluenza Vaccination (or treatment) Initiative
Faith Initiatives
Fundamental values have been disturbed by consumer culture. Let's approach this challenge with morality and faith. The problem is in the human heart, not the institutions. Simplicity Circles provide shelter against the storm.
Reach out with speakers and web sites like ForTheFuture.org
Tap into existing structures, such as churches.
Kari N.: Teach compassion theology at colleges and Bible schools. Reach the experiential level. Social justice is an entry point, a portal to simplicity.
We need a simplicity pledge, our own version of the monastics' Vow of Poverty. People can be moved from atheism to faith through a life crisis. Let's hold a Faith Conference by invitation.
"Will our children be stewards?" a project of the Episcopal Church. Diocese of Indianapolis also has a project. Focus on youth.
Materialism is the disease. Voluntary Simplicity is a lifestyle choice / solution.
"Balancing the ecological checkbook" approach for college students. Develop a college ecological rating system and Simple Living Policy rating system for governments.
People use web site simple living assessments, especially interactive ones.
Consumerism is an exaggerated form of the normal tendency toward materialism. It contains enormous causation, changing our kids and us.
How does the lack of simple living affect 25's and under? Time poverty, financial choices, and spiritual development. They want security and feeling free. Use interventions and leverage to reach audience Y.
Youth leadership is needed for planning and speaking. Gen Y didn't like feeling taken advantage of by Bush, so they were attracted to Howard Dean. Without core values, they're overwhelmed by choices. A Role model limits overwhelming choices, especially someone in their age group.
All participants in SimpleLiving.net's discussion groups are over 30 years old.
Reach Y through YMCA.
David Chi reports the rising costs of antidepressants on college campuses. Community Colleges are experiencing dropouts from debt.
5-to-9-year old's don't know they suffer from time poverty. They need something every moment or they're bored, over stimulated. Co-housing kids feel safe, self-confident, share.
Teach college financial literacy. Their credit score is more important than their GPA -- it stays a lifetime. Students feel "we're supposed to be in debt." Debt impacts their ability to be generous in time, funding and taxes.
Credit Card Cribs, a High School event in Duluth, MN, led by Nathan Dungan.
Financial literacy combines with media literacy.
Young have respect for peers who have figured out the adult game.
College students accept Fair Trade and conscious consumption.
An internet-based Protection Plan works but personal contact and influence are best.
Traveling Teach-In: F--- the System; Speak-out, 5-10 minutes each
Couple financial literacy with values leads to Safe Spending.
1. Inspire young people to be financially aware and debt free.
2. Use money and time in accordance with their values/conscience.
Strategies 1. Training money (and time) mentors 2. Affluenza treatment campaign 3. Youth Leadership Forum 4. Leveraging existing youth organizations, e.g. Scout and Greeks, preprofessional associations.
Balance -- Spend, save, share
We need a Dept. of Home Life Security.
Collaborate with environmental organizations. Develop a set of positive principles and common language.
Clean Hand is the peace equivalent of environmental footprint.
M. A. Murray's dissertation: Simple living is good for your health, health of community, nation and world
True Cost of Food -- campaign is part of Sierra Club's Sustainable Consumption. Hold a food "outing" or consumption "outing" at mall. Fill a cart and not check out, provide information on sources of goods. Hold a rotating vegetarian potluck. Promote food co-ops.
Time and Care Campaign is the policy part of Time Day (Oct.). Celebrate four windows of time during fall events with one's family. In 2005 -- 40 is Enough! (65th anniversary of the 40-hour workweek)
Vicki Robin: The way we frame language is critical. People relate to sound bites. A frame is a lens through which we look, e.g. strict fathers vs. nurturing mothers.
Use quality of life instead of simplicity.
Anderson: Shelter from the Storm
Our crisis in values is seen in polls -- time, divorce, crime, inequality, decline in community and civility. The crisis is not an accident. The nature of the Consumer Economy of over 50 years creating needs, manipulating through media, resulting in exaggerated materialism.
The Yuck Factor includes sex, violence, cruelty and objectification.
How could the crisis NOT have happened? Appeal to the worst aspects of human nature -- envy, greed, lust -- then reinforces these. Displace and discredit health values. Worship the Golden Calf. Greed Is Good.
The Result is moral and spiritual crisis.
1. Narcissism, self-indulgence, unnecessary fear of loss
2. Materialism is a form of spiritual belief. Dead things at the heart of life
The root cause of dysfunction and Angst is absence of the sacred.
M. Lew is building House of Abraham, a place to live -- peace and simplicity dream. Be self-supporting by working half time in farm, orchard, writing, and software.
"Affluenza Vaccination Sunday" campaign. Involve the medical community. Use the body a metaphor (X-Ray heart, clogged arteries, etc.) Playful encounters.
Promise of Product Certification is scheduled for release in 2006.
An image of our challenge -- attacking kudzu!
Simple Living is a way of being, not an outcome. Check out WellBeingManifesto.net and NewEconomics.org
Read "Happiness" by Richard Layard (Penguin).
[END Report]
---
Return to Table of Contents (top)
---
MARILYN's SIMPLE LIVING TIPS
From: "David Gross"
To: "Gerald Iversen"
Subject: Marilyn's Simple Living Tips
Date: 10 May 2007

A Short List of Simple Living Suggestions, put together from Marilyn Feldhaus' experiences while pursuing simple living

Principles of Simple Living

Do Justice
Learn from the World Community
Nurture People
Cherish the Natural Order
Non-conform freely

Some Ideas (in no particular order)

-support local agriculture: either from Community Supported Agriculture groups (CSAs) or through local farmers' markets. Smaller farmers take far better care of the earth than large corporate farming interests.

-buy organic whenever possible. In grocery stores, look for the USDA/Organic symbol on items such as milk, cheese, yogurt, etc. Also, prioritize "local" products.

-fish are becoming endangered due to commercial fishing operations. Check with the Monterey Bay Aquarium website to determine which fish you may buy and eat without further harming fish sustainability. Fish offered at farmers' markets is a good choice since the fish is caught in a sustainable fashion (no industrial nets) and by smaller fishermen operations.

-learn the difference between "free trade" and "FAIR trade": fair trade companies value sustainable pay and working conditions and have a stake in protecting natural resources. Free trade is a system designed to provide the most stuff at the lowest cost possible, usually at the expense of workers and the environment.

-buy fair trade: coffee, tea, chocolate, gifts, clothing etc. Coop America can help with this. Local sources include Dignity Fair Trade (Claudia Gallaher) and Integrity Express (Mike Monroe).

-know where clothing is made and shop accordingly. Most clothing offered in retail stores is made in sweatshops; you can avoid supporting sweatshops by shopping at stores such as Goodwill while looking for fair trade alternatives.

-conserve water: shorter showers, save the water while the shower is running and pour on outdoor plants, avoid baths (and after baths, use the water to flush the toilet so the water is re-used), turn off water in the shower while washing hair

-get rid of thirsty grass in the yard: replace with drought resistant plants, looking for native plants wherever possible. This not only saves water, but reduces the need for fertilizers and pesticides. Native plants also attract bees and hummingbirds, which further helps the environment.

-replace older appliances with energy efficient appliances

-replace conventional incandescent light bulbs with compact fluorescent light bulbs.

-use public transport whenever possible

-limit car use: carpool, ride the bike, walk, combining errands, doing without

-limit meat consumption. If you must eat meat, attempt to buy organic meat where animals are treated humanely, without antibiotics or hormones, and given "natural" feed. You can find this at Trader Joe's.

-when buying a house, attempt to live as close to work or public transport as possible. Consider a smaller home, cutting down on utility usage.

-plant trees wherever and whenever you can.

-if you use dry-cleaning, look for a shop which uses "green" dry-cleaning products.

-stop watching TV. Read, play games, go outside, play music instead

-get your news from sources as far removed from multinational corporations as possible. -Support National Public Radio.

-read and support alternative media, including news sources from other countries.

-buy from independent booksellers, thus supporting a diversity of opinion and authors

-Join an advocacy group: Bread for the World, Common Cause, your church's legislative advocacy group (NETWORK, Lutheran Office on Governmental Affairs, Friends Committee on National Legislation) to advocate on behalf of hungry people.

-compost and use the compost to rejuvenate your yard

-buy the most fuel efficient vehicle you can find and afford. Consider getting by on one fewer car within your household

-weigh each purchase: is this a need or just a want? It's okay to have wants but don't describe as needs. Also, consider if the money spent on a "want" could go to better use elsewhere, such as an organization serving people in need.

-use cloth or other reusable bags when going shopping.

-research and give generously to groups which not only offer charity to the needy, but also work for justice: Catholic Charities, Lutheran World Relief, Heifer Project International are good examples for a starting point

-travel responsibly. If you must fly, for example, check into a carbon offset program to "neutralize" your air-flight miles.

-insulate your home, buy double pane windows

-limit use of air-conditioner in summer, heater in winter.

-support your local library

-visit a missionary in a foreign country, go on a cultural immersion trip, learn about the people who make up the majority of our world and learn about the Gospel from their perspective.

-invest in socially responsible investment firms: Pax World Fund, Domini, Calvert are examples. Try to limit the extent to which your economic security is contingent upon the economic insecurity of others.

-turn off computers when not in use. Reduce "stand-by" power loss. This applies to, for example, remote controls for TVs when they are not in use. Get a power strip to turn off the energy source when the TV, radio, garage door opener, etc. are not in actual use.

-share and recycle tools, book, magazines

-be aware of your lifestyle choices and decisions upon others around the world, most of whom you will never meet but who are painfully aware that our excesses impact their poverty.

-continually educate yourself about justice and economic issues, and make sustainable decisions accordingly. A good source of information is Alternatives for Simple Living.

-understand that simple living is a journey, and no matter what you do, not everything you do will be sustainable or simple, despite your very best efforts.

-Stay on the journey, and refuse to be discouraged. Know that your efforts, whatever they are, are worth plenty: for the earth and its inhabitants, and for your own connectedness with creation

[END]
---
Return to Table of Contents (top)
---
George Johnson -- paper on Grace and Justice

Good Day, dear friends..

I meet with a few radical clergy in San Diego once a month. For this week I was asked to prepare a paper on grace and justice.

If you do read it, promise you won't become a witness to my heresey trial. Remember, I am still evolving in my theology. Next year I might see things differently. But these thoughts have been brewing for some time.

God bless....George
GRACE YES, BUT NOT ONLY GRACE
One Reason Lutherans Fail To See The Gospel As Subversive

It has been my experience in listening to sermons, hymns, liturgies, theological lectures and clergy conversation, as well as reading the Lutheran spin on what the Kingdom of God is about, that we have a fixation on grace. I wonder if this has become a root cause of why so many Lutherans are slow to become enraged at the injustices in our society and world, and slow to respond. It raises some concerns and questions for me.

We face a theological problem that few Lutherans want to address for fear that it would call into question a teaching that has been foundational to Lutheran identity. It also becomes an economic issue because to question our tradition might result in loss of congregational income, or a job, or a promotion. I know from experience how difficult this can be.

Here are some dilemmas we have created because of this fixation on grace alone.

1. We have focused on the law/grace distinction in a way that has made love of neighbor secondary and of less importance than grace. Did Jesus do this?

2. We have made love of neighbor a result of grace rather than the very essence of God's saving work in us. Is the cause/effect idea as biblical as assumed? See page 4

3. We have erroneously assumed that if we preach grace and forgiveness effectively, people will respond by loving the neighbor. Thus, preaching grace is our solution, our challenge and our priority. Preaching grace becomes the criteria of sound, Lutheran preaching rather than preaching the Kingdom of God, which includes grace and command or obedience. Does it not include doing justice, loving kindness and walking humbly with God? Didn't Jesus come preaching the Kingdom of God?

4. We have given duty and command a negative spin while preaching forgiveness and God's love for me as the essence of the gospel. Does Jesus' teaching agree with Paul or Luther on the lst and 2nd use of the law? Really? See Brueggemann, chp. 3.

5. We have allowed the Hebrew Bible to become irrelevant and unimportant in our proclamation of the Kingdom of God, thus seldom preaching justice (mishpat and sedaqah) as gospel. Does this also feed anti-Semitism and a reduced biblical canon?

6. Our wooden and legalistic allegiance to the lectionary has silenced preaching on the great texts of the prophets and the Psalms. When did we last hear or preach a sermon on Isaiah 5, Jeremiah 22, Exodus 3, Micah 6, Psalm 72? Check your files.

7. Our fixation on grace has allowed us to dismiss the economic, political and social implications of discipleship. What were the economic and political realities that influenced Jesus' parables and Sermon on the Mount? How are they subversive?

8. Our emphasis on original sin and fall/redemption theology has left us without a creation-centered spirituality. Grace alone can detract from the basic goodness in people who are created in the image of God. Wrong use of guilt can be harmful.

9. We have made beliefs about grace and trust in God's promises to be more important than relationships to neighbor and creation. The gospel it seems is about relationships more than doctrines.

10. We have lost the biblical meaning of salvation. Theology of liberation has become suspect. Salvation has become purely individualistic.

11. We have made Paul, Luther and Augustine more important than Amos, Moses and Jesus. Lutheran theology becomes a Pauline interpretation of Jesus, which may be a misreading of Paul. See Brueggemann.

12. Our non-political emphasis on grace has laid the groundwork for an uncritical acceptance of government policies that fly in the face of Kingdom values and love of neighbor. We have failed to learn from what happen in Germany in the 30s and 40s. The violence of our silence is devastating to millions in our world today.

13. A misreading of Luther's two-kingdom thesis has allowed patriotism to be equated with support of our government, our troops and capitalism without critical analysis.

14. We have made selfish interests (forgiveness, being loved by a supreme being, receiving something free without obligation, heaven and eternal life) to supersede the command to love and serve one another. Is our religion self-centered?

15. We have made it easy to be a Christian while avoiding the disciplines of following Jesus. This has led to the popularity of church growth and avoiding conflict.

16. We have failed to help people understand that resistance will happen when we proclaim and live Jesus' alternate way. We have failed to show how the gospel is subversive, how Christianity is counter-cultural. Where are the wounded healers in our congregations? See Henri Nouwen's call for wounded healers today.

17. We have made the cross something God required in order for us to be forgiven, instead of something to take up as we follow Jesus. We fail to make it clear that Jesus died because of what he said and did. The cross has lost much of its meaning.

18. We have continued to use liturgies around the Eucharist that empty the cross from its political meaning in our lives. We have made forgiveness the center of Holy Communion rather than a meal of memory, community and mission in the world.

19. We have made worship to be centered around the Eucharist rather than justice, praise and prayer. See O.T. professor Knierim's quote in Beyond Guilt. Page 16.

20. We have failed to find hymns and choir anthems that lift up the cries of those in pain and suffering from injustice. Lamentation and solidarity is not part of our worship. Our music has failed to energize us to work for justice and find encouragement to correct oppression. Worship without justice, God despises.

21. When grace dominates, ethics and the church as moral agent for change is often neglected or carefully avoided lest we contaminate grace. Little help is given in making ethical decisions in politics, business and economics. See Moe-Lobeda, Public Church. She quotes Bruce Birch on an excellent definition of justice. P. 30

22. Have we failed to raise up prophets in our church because of our theology?

23. We have put a spin (interpretation) on Biblical texts that avoids the dichotomy of law/grace theology. Too often we read the Bible through the lens of law/grace theology as well as the lens of privilege and power in the world. Miguel De La Torre helps us see this in his book, Reading the Bible from the Margins. (Orbis)

Here are a few examples of texts we wrestle with and sometimes massage in order to make them fit our theology. There are so many more.

Do this and you will live. (not, believe this)

Everyone who hears these words and acts on them will be wise.

What must I do to inherit eternal life? then the Good Samaritan story

Go tell John what you see. (love of neighbor examples)

Depart from me for I was hungry and you did not feed me.

Not everyone who says, Lord, Lord, but, those who do

Blessed are those who hunger and thirst for justice.

The Spirit of the Lord is upon me to preach good news to the poor.

Jesus praised Zacchaeus' speech filled with love for the poor.

The greatest of these is love. (even greater than faith and hope)

Religion that is pure is care for the orphans and widows

Everyone that loves is born of God."

I in no way intend to suggest that grace is not important. It is central to our understanding of God's love, but it is not the only thing that is central. Grace yes, but not only grace. It is true. We cannot earn salvation. Our efforts do not make us worthy of God's love. God loves us no matter who we are or what we have done. That which is lacking is the message and focus of Jesus on loving our neighbor as central to the Gospel, to the Kingdom of God. Jesus came to show us a better way for this world to work, not to earn God's favor by dying on the cross. In the Gospel is a call to follow him. Love of neighbor was just as important to Jesus as knowing or experiencing that God's love is not earned by our behavior or beliefs.

Dietrich Bonhoeffer understood what happens when we have a fixation on grace alone. In Cost of Discipleship he wrote:

We have gathered like eagles around the carcass of cheap grace, and there we have drunk of the poison that has killed the life of following Christ. We have given away the Word and sacraments wholesale; we baptized, confirmed and absolved a whole nation without asking awkward question or insisting on strict conditions. Our humanitarian sentiment made us give that which was holy to the scornful and unbelieving. We poured forth unending streams of grace. But the call to follow Jesus was hardly ever heard.

We need to spend some time defining "cheap grace" and how it is poison. How does cheap grace poison the life of following Jesus today? Was Bonhoeffer saying, "Grace yes, but not only grace? Brueggemann - "Can it be that 'Grace alone' turned out to be cheap grace?"

See also Walter Brueggemann's chapter 3 - Duty as Delight and Desire: Preaching Obedience That Is Not Legalism, in The Covenanted Self.

______________________

Jose Miranda in Marx and the Bible, A Critique of the Philosophy of Oppression, comments on Jeremiah 22:13-16 where it defines what it means to know the Lord:

Here we have the explicit definition of what it is to know Yahweh. To know Yahweh is to achieve justice for the poor. Nothing authorizes us to introduce a cause-effect relationship between to know Yahweh and to practice justice. Nor are we authorized to introduce categories like sign or manifestations of Page 44.

Brueggemann says somewhat the same thing in his DVD on Jeremiah: A Case Study produced by the Hunger Program of the old ALC. (available from Hunger/Housing team)

Miranda, the Mexican economist and exegete goes on to say, The church needs to decide if its message will be the same as the Bible's. Marx and the Bible (Orbis) is the best book I have found on the biblical concept of justice. Too bad it is out of print. In reading it try not to be defensive because of being brought up Lutheran. My first reading made me upset, but wanting to read it again which I did. Brueggemann refers to Miranda as a sound exegete.

In conclusion let me say I am grateful for my Lutheran heritage. I owe a great deal to my Lutheran education and introduction to Jesus. This has equipped and freed me to take a critical look at how our Lutheran theology has impacted the church's willingness and ability to deal with the issues of life and death in our society today. I believe and preach grace, but not only grace. And I have some questions.

George S. Johnson 5-02-07

severinelaine@aol.com
---
Return to Table of Contents (top)
---