Archives: Index
Whose Birthday Is It, Anyway? #20
---
AUDIO | Whose Birthday? Index (all) | Many More Interesting Christmas Articles
---
An Advent and Christmas Resource
for Families, Individuals and Churches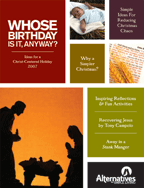 If you want a daily Advent/Christmas guide/calendar, choose from 20 at SimpleLivingWorks.org >> Archives >> Advent/Christmas Calendars (2001 has the same cycle (A) and start date - Dec. 2nd). Some are lectionary-based, some are thematic. Copy your choice on recycled paper as a bulletin insert, in your own Advent-Christmas booklet or as a series in your weekly service bulletin.
Complete booklet PDF
(low resolution for quicker loading). High resolution PDF comes on CD-ROM
Simply the Best: Over 30 Years of Alternatives,
v.5.0.
Table of Contents
Make as many copies as you choose on a not-for-profit basis.
---
Page updated 26 March 2014
Simple Living Works! * SimpleLivingWorks@Yahoo.com
BLOG: SimpleLivingWorks.WordPress.com | Blog INDEX
PODCAST | Podcast INDEX
VIDEOS: YouTube.com/SimpleLivingWorks
MISSION: Equipping people of faith to challenge consumerism, live justly and celebrate responsibly // An all volunteer educational organization.