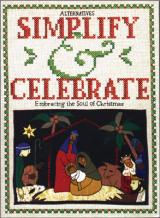 Media Release
Simplify and Celebrate
Embracing the Soul of Christmas
Part 1 of this collection is drawn from Alternatives' 15 Christmas Packets. Part 2 is three of the annual
Whose Birthday Is It, Anyway?
-- one for each year in the liturgical cycle -- A, B and C.
The links below go to the original articles, not the edited versions found in the book. Those followed by ?? have not yet been located.
Simplify and Celebrate
was published by
WoodLake/NorthStone, BC, Canada
, the same group that published Alternatives'
Treasury of Celebrations
and
The Alternative Wedding Book.
About Alternatives
Introduction
PART 1: Simplify
A Simple Christmas: Getting Started