Media Release
|
Alternative Giving
10 Tips for Simpler, More Meaningful Celebrations
Art/Graphics
|
More Art/Graphics
---
Cover Page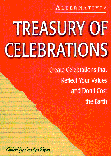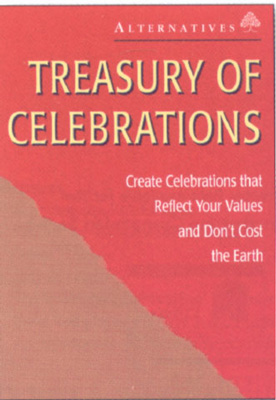 Treasury of Celebrations:
Create Celebrations That Reflect Your Values and Don't Cost the Earth
---
From Alternatives' Treasury of Celebrations, published by Woodlake/Northstone Books. The entire 288 page book is available for $12.
Items from the books "Treasury of Celebrations" and "To Celebrate: Reshaping Holidays and Rites of Passage" are Free Resources on our Website.
Items marked NEW have been added since the book was published and are only available on this web site.
These are text files. If you want the graphics and formatting, get the whole book.
You're welcome to download and copy this information -- but not sell it -- as long as you include on each copy: "©Creative Commons. Used by permission. For more ideas to simplify your life, visit SimpleLivingWorks.org"
---
TABLE of CONTENTS (for this Web version)
Gift planning
Different Approaches to Gift-giving
Plants: A Gift of Life
Give A Tree!
Making Gifts
Woods Treasures
Gift Ideas
Ideas from Kids
Make Your Own Greeting Cards
Gift Wrapping Ideas
More Gift Ideas
Some of the Best Christmas Gifts
Holiday Gifts from the Kitchen
Books for Teenagers and Adults
Children's Books are Butterflies
Beyond Disney, Toward Shalom with Books
Storytelling
Prime-time Storytelling
Birth
Adoption
Birthdays -- NEW -- Green Birthdays
Early Passages
Puberty
In the Faith Community
Marriage
An Alternative Service
Anniversaries
Second Marriages
Retirement
Divorce
A Service of Ending and Beginning
Death
Hospice Care
Memorial Societies
Bequeathal
Appendix | Resource Index | Table of Contents
---
Jan-Apr
|
May-Aug
|
Sep-Dec
|
Advent
|
Christmas
---
Page updated 27 Aug. 2016
Simple Living Works! * SimpleLivingWorks@Yahoo.com
BLOG: SimpleLivingWorks.WordPress.com | Blog INDEX
PODCAST | Podcast INDEX
VIDEOS: YouTube.com/SimpleLivingWorks
MISSION: Equipping people of faith to challenge consumerism, live justly and celebrate responsibly // An all volunteer educational organization.