Podcast Series
, Episodes 6, 9, 10 |
Whose Birthday? Index (all)
Whose Birthday? #17 Index
|
Whose Birthday? #17 CD
Family Fun
---
Wear your kids and grandkids!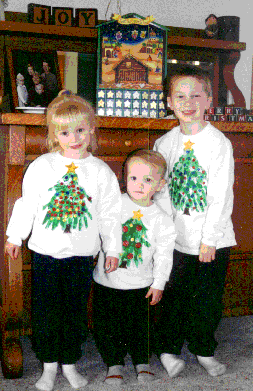 Each child uses their own handprint for their own shirt. For parents' and grandparents' shirts, I use all of the children's handprints so that each one of them is represented on those shirts.
My son made one for his teacher. She really liked it and planned a special day when they would both wear them on the same day. He, of course, thought that was really cool.
Wash and dry garment, preferably an organic cotton sweatshirt (any length sleeve).
Use a paintbrush to paint the child's hand with green fabric paint. (Dipping their hand in paint results in too much paint.)
Start with one handprint in the center of the neck area, fingers pointing down. Repaint hand and make a second row of handprints -- two this time. Work your way down the sweatshirt putting one more handprint on each layer. (Adults usually have four rows, children's have three rows.)
Apply red, blue and gold fabric paint, using round sponges to sponge Christmas bulbs on the tree. Larger circles are easier for small children to handle; smaller circles are OK for school aged children. Cut your own sponges or get pre-cut sponges at a craft store.
Use a star shaped sponge to paint one star on the top of the tree.
Use glitter fabric paint to add some glitter in each bulb and the star. I use the bottle of paint to squirt this on and rub it around. I did this step as the kids were a little young for it. (Or add glitter while the paint is still wet, or apply glitter with glue after the paint is dry.)
Lay flat to dry. (Drying time should be on the fabric paint bottle label.)
Jana Erdman, Sioux City, IA
---
We give each of our two daughters three gifts to symbolize those from the magi. It opens the door to speak about the birth of Jesus and to tell the story of the first Christmas.
- Monica Bosse, Roselle, IL
---
At a designated time such as Christmas Eve, each person in the family "wraps" himself or herself as a package (you could limit it to ribbon or not). Stand in a circle and take turns moving into the center: while there, the person says what gift of themselves they will give to the family this year. A child might offer to get up early once a week and walk the dog, or promise to help a younger sibling learn to read. Mom or Dad might offer to have a special private outing once a month with each child. As each person explains their gift, the others gently unwrap that person, and give him or her a "circle hug" of thanks.
---
Cut colored 8-1/2 x 11card stock into 2-inch-wide strips. Each person gets a different color. Write your wishes and dreams for the new year on your strips, then tie them to a bush or tree.
(From the beautiful book "Together: Creating Family Traditions" by Rondi Hillstrom Davis and Janell Sewall Oakes. The authors also have a monthly newsletter at www.togetherparenting.com)
---
See also Christmas Game and Christmas Collections in the Archives >> Articles.
Send a message with these simple, family-made items.
Project #1 : Frame-able hanging for front door or wall
Instructions:
Calligraphy selected message(s) on heavy, recycled card stock.
Children may outline or fill in letters and make borders with colors or confetti.
Create simple icons or symbols to match the message, for example a positive one like a plate of food passed from one hand to another, or a negative one, such as a credit card in a circle with a slash through it, or both types.
Frame with a simple frame that you have on hand or from a thrift store.
If your front door has a storm door, hang the message securely between the front door and storm door, to share your message with guests.
Hang messages in your home where guests will see them, such as the wall in your living room or an archway.
Attach magnetic strips to the back of the message and stick it to your refrigerator.
Every time you see the message, smile and say a brief prayer, such as "Thank you, Jesus, for the reminder."
Messages:
We wish you a joy-filled, simple Christmas.
We wish you a low stress, no-debt Christmas!
This Christmas Let's Give (a Whole Lot) More to the Needy and Spend (a Whole Lot) Less on Ourselves.
What Does Jesus Want for Christmas?

Care for All Creation
Tend the Sick
Visit Prisoners
Help Widows and Orphans (here and abroad)
Feed the Hungry
Cloth the Naked
Preach the Good News to the Poor
Love Our Mother Earth

This Christmas Let's Share Our Abundance, Not Just Our Excess.
Blessed Are Those Who Work for Peace and Justice Without Violence
Project #2 : Simple Living Tree
Instructions:
Create simple 4"x 6" messages on recycled paper
Paste the messages to firm material, such as linoleum, thin wood, heavy card stock.
Punch holes in upper and lower right and left corners.
Hang each from a wire loop, reused ribbon, jute string or natural yarn joined at the holes.
Create a tree of seven messages by joining the rectangles in a pyramid with a trunk in the center at the bottom (1-2-3-1). If needed, give the tree shape with a coat hanger cut shaped into an upside-down "V."
Hang the tree on a wall, on the front door or as a mobile.
If you hang it so that both sides can be seen, write messages on both sides of each panel. Display the seasonal side during Christmas and the other side the rest of the year. Or hang pieces singly as tree decorations.
Messages (seasonal):
Choose appropriate messages from project #1.
Whose Birthday Is It, Anyway?
Buy Me Nothing... I'll Still Love You.
Bearing Gifts Does Not Make Us Wise
Yes! to Jesus & Joy
No! to Stress & Stuff
Messages (year-round):
Choose appropriate messages from project #1.
Live Simple That Others May Simply Live
Consume Less, Share More
If You Want Peace, Work for Justice
Peace Begins When the Hungry Are Fed
Reduce - Reuse - Recycle - Restore
---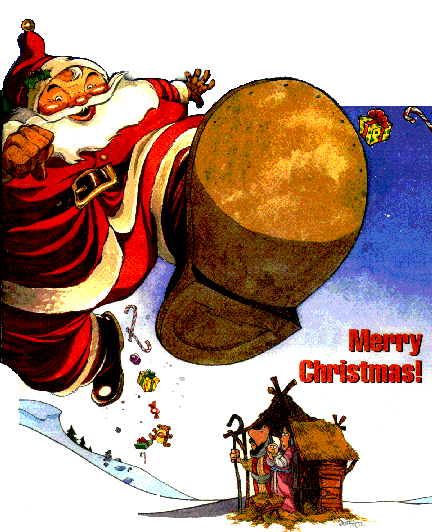 Each year we try to show in art the tension between faith and culture. Faith is symbolized by Jesus and culture by Santa Claus and credit cards.
We initiated this "contest" to ask, "What does this picture mean to me?" as a way of getting people to talk about what Christmas really means to them.
People have a hard time testifying to simpler living, even in a Christian context, so we try to provide tools. We offer greeting cards and bumper stickers to help "Send a Simple Message!"
Use this new art for discussions this year. Send us your responses to share.
Discussion Questions
What objects do you see? What names do the credit cards have?
How do you feel about bills overflowing a Christmas stocking? What does that symbolize?
What caption would you give this drawing?
What do you think this picture means or represents? Do you agree or disagree with that meaning?
The art is on page 25 in the 2004 booklet or in Alternatives' Spirit of Simplicity: Quotes & Art for Simple Living and Global Justice, #3-A076.
---
Page updated 11 Sept. 2013
Simple Living Works! * SimpleLivingWorks@Yahoo.com
BLOG: SimpleLivingWorks.WordPress.com | Blog INDEX
PODCAST | Podcast INDEX
VIDEOS: YouTube.com/SimpleLivingWorks
MISSION: Equipping people of faith to challenge consumerism, live justly and celebrate responsibly // An all volunteer educational organization.