| | |
| --- | --- |
| | Spirit of Simplicity - ART |
---
Archives Index | Home
Go to Spirit of Simplicity MAIN Page | Go to QUOTES
Go to Vol. 2 - Worship Alternatives
ART with Captions/Commentaries
Celebrating
This file contains:
The ART and the captions and commentaries that accompany the art (items with "A" numbers). The commentaries can also be used by themselves.
Go to QUOTES for all the quotations (items with "Q" numbers)
See MAIN page for Credits, Permission, Foreword, Introduction, Helpful Hints, Appendices, etc.
To find a keyword, author or item number quickly, use your computer's "find" function.
NOTE: "Also ref." (also refer to) indicates that, though it is quoted only once in this collection, the same quotation can also be found in these additional sources.
ART and Captions/Commentaries by categories
Simple Living
Frugality
Enough, Needs vs. Wants
Time
Stuff
Speed & Slowing Down
Overconsumption
Also see: 2-A828, 3-A004, 3-A0333, 3-A0342, 3-A078, 3-A2454, 3-A3036, 3-A3392, 3-A515, 3-A527, 3-A555, 4-A3505, 4-A809, 5-A028, 5-A1399, 5-A2944, 6-A3824, 7-A2019, 8-A039, 9-A0257, 9-A1348, 9-A2235, 9-A3766, 9-A854, 10-A2240
---
1-A501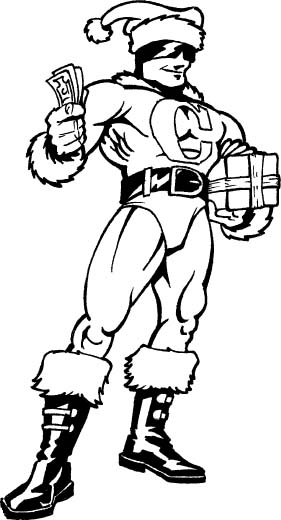 Consumo
Overlord of Overconsumption
Sexy...
Contented...
Powerful...
Wealthy...
The Enemy...
and Worshipped
by US!
CONSUMO MUST GO!
For ideas to overcome Consumo
in your life and in our world,
visit SimpleLivingWorks.org.
---
1-A502-506
Lifestyles and Life Standards
What is "lifestyle?" Coined by psychiatrist Alfred Adler to indicate "a person's basic reactions and behavior," this term came to mean in the Sixties a departure from mainstream ways of living, as in hippie lifestyle or communal lifestyle. In the Eighties, however, it has come to mean "modern," "smart" and "trendy." It assumes affluence, Lifestyle is how you use disposable income and leisure time. According to this definition, if you are poor and have no disposable income and little leisure time, you can't live with style.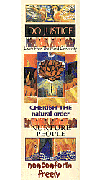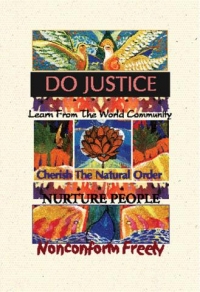 'Do Justice' available as a poster, bookmark, postcard, notecard or framed print from
Syracuse Cultural Wokers
In her book "Living More with Less," Doris Janzen Longacre proposes that we think in terms of life standards rather than life styles. While "life standards" does not have the zip and zing of "lifestyle," it does suggest a way of life governed by more than fleeting taste. She presents five life standards for people of faith.
Do Justice.
Our knowledge of others' needs and our guilt at having more than we need must resolve itself into a lasting attentiveness to how our affluence affects the poor in our own country and in the third world.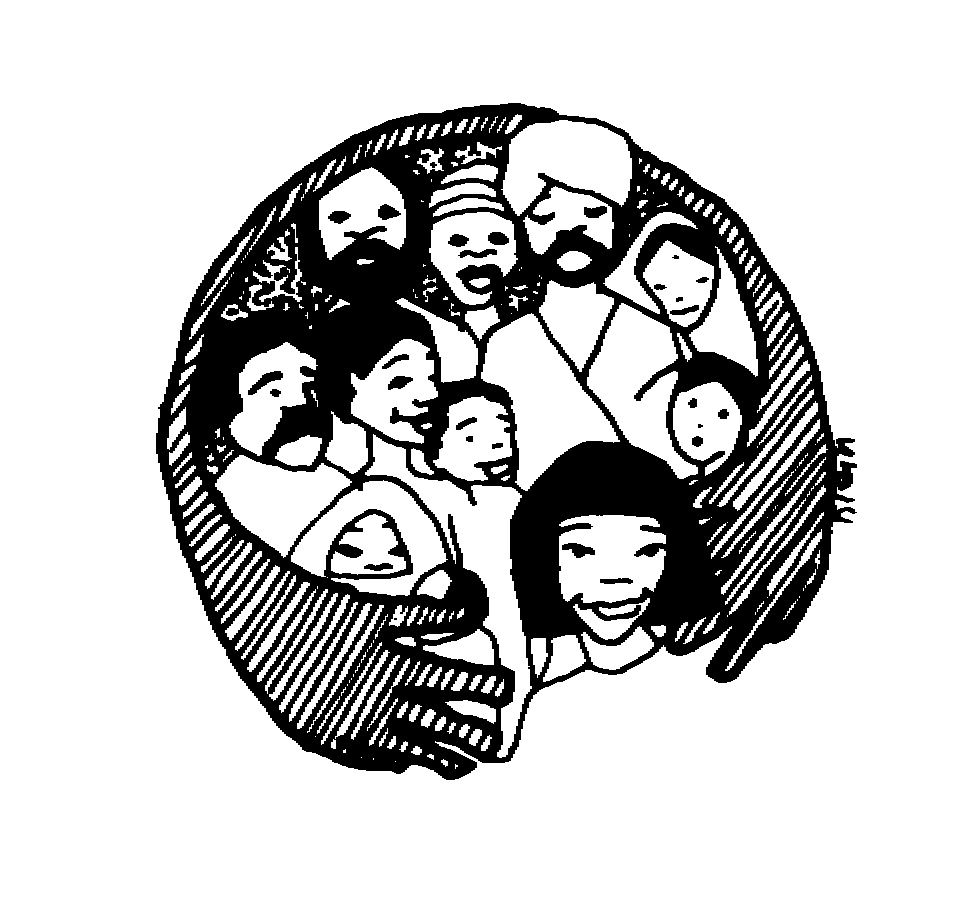 Learn from the World Community.
We should not assume that our affluent way of life is the most desirable way of life - either for ourselves or for those in developing nations. We can look to the "underdeveloped" world for remedies to our overdevelopment and maldevelopment: simpler, more nutritious meals; energy efficient transportation; stronger families.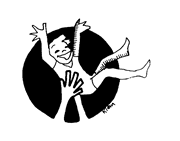 Nurture People.
What do we want for ourselves and the persons we love? How do we care for each other in ways that are not manipulative or exploitative, but fair, loving and humane?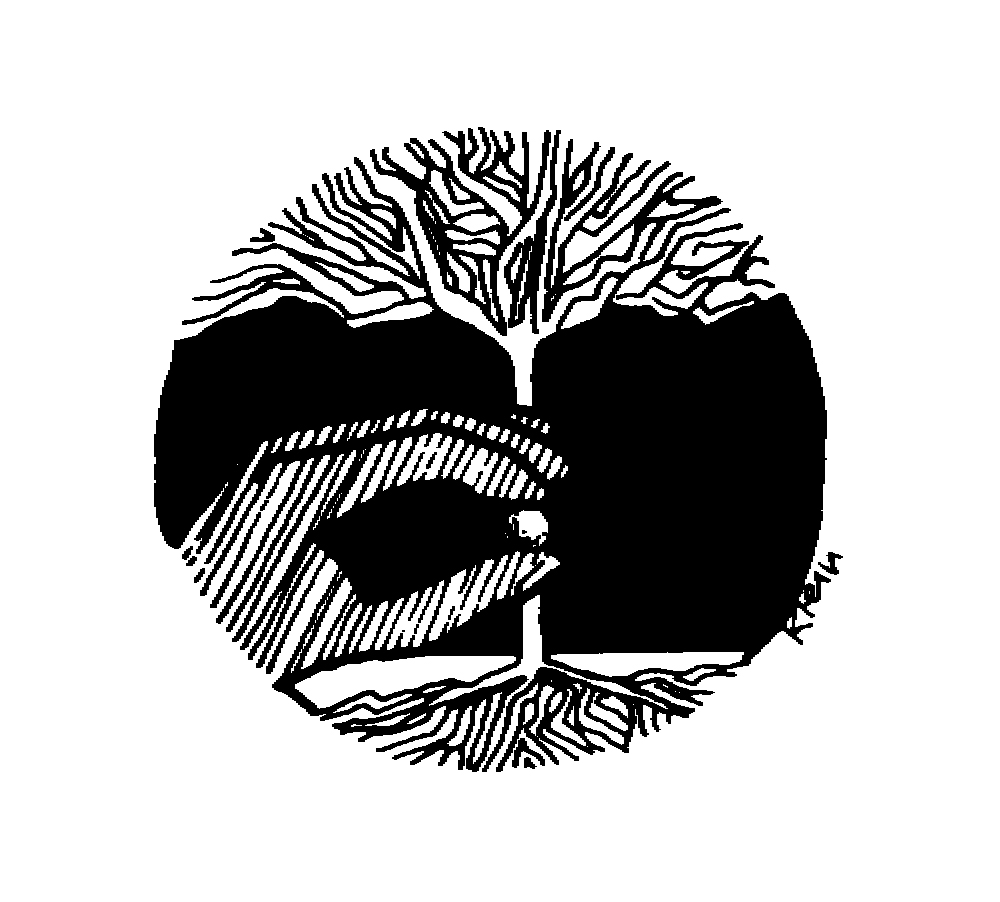 Cherish the Natural Order.
Rather than seeing nature as a commodity to be exploited or as an obstacle to be overcome, we must learn to respect nature as a wonderful but finite gift. We must live in harmony with nature if - in the long run - we are to live at all.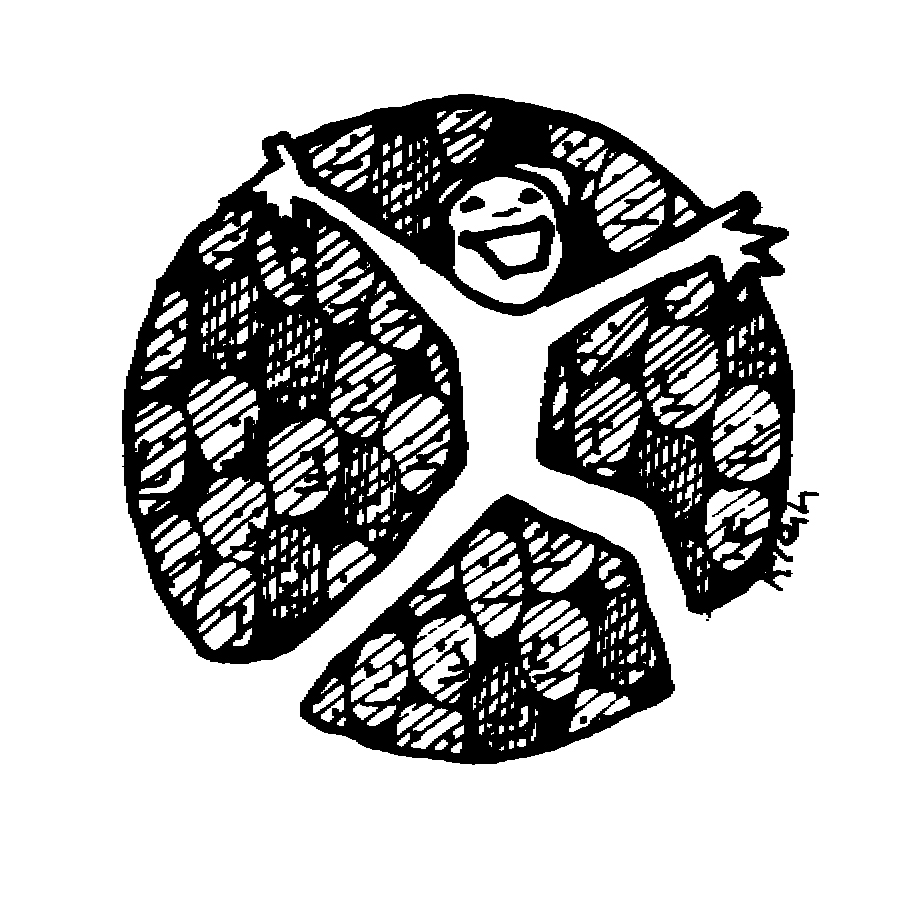 Non-Conform Freely.
Seminary professor Willard Swartley wrote to Doris Longacre that the church "will either have to recover the Christian doctrine of non-conformity or cease to have any authentic Christians voice." "Don't let the world around you squeeze you into a mold," writes Paul to the Romans, "but let God remold your mind from within." These admonitions are both a warning and a promise of a fuller life.
There are no rules for responsible living. Each of us must struggle to live according to these standards as we see fit. Celebrations - from Sunday morning worship services to weddings, birthdays and traditional holiday - can be ways to start.
The Five Life Standards of Voluntary Simplicity
(from "Living More with Less" by Doris Janzen Longacre; art by Kathy Klein)
Do Justice
Learn from the World Community
Nurture People
Cherish the Natural Order
Non-Conform Freely
---
1-A858 Non-conform freely

---
1-508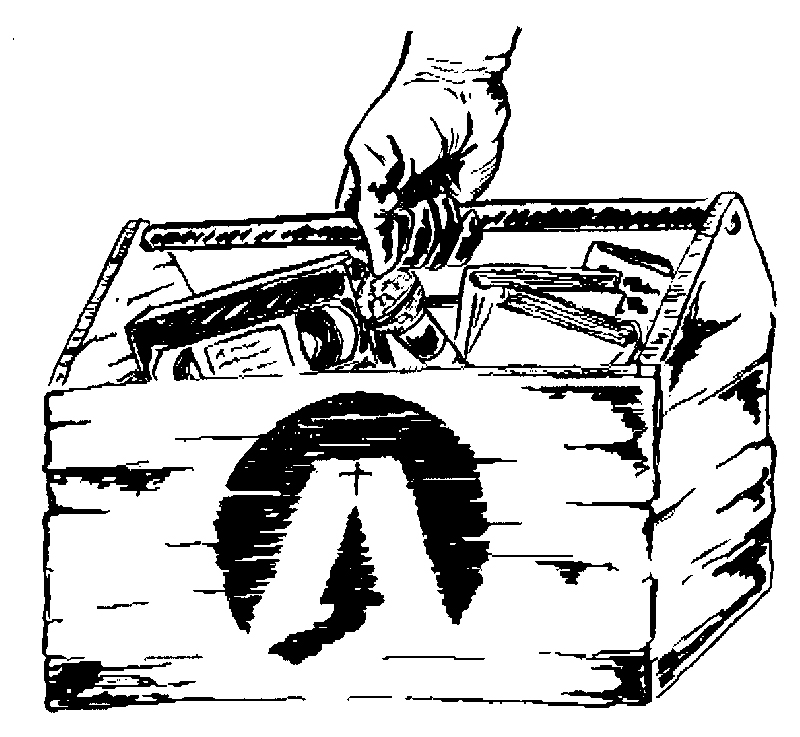 Simple Living 101: a Toolbook for activists shy or bold
---
1-A0236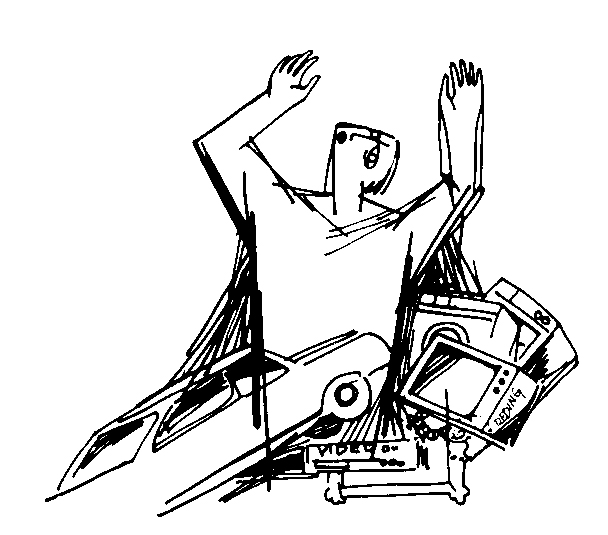 We can clutter our lives with furniture and real estate so completely. Plans fill our heads, CDs determine our moods, and magazines form our picture of the world.
It's time to get out. Now is the time to fight your way through the garbage into a living relationship with God and a simpler, more Earth-friendly life.
---
1-A0299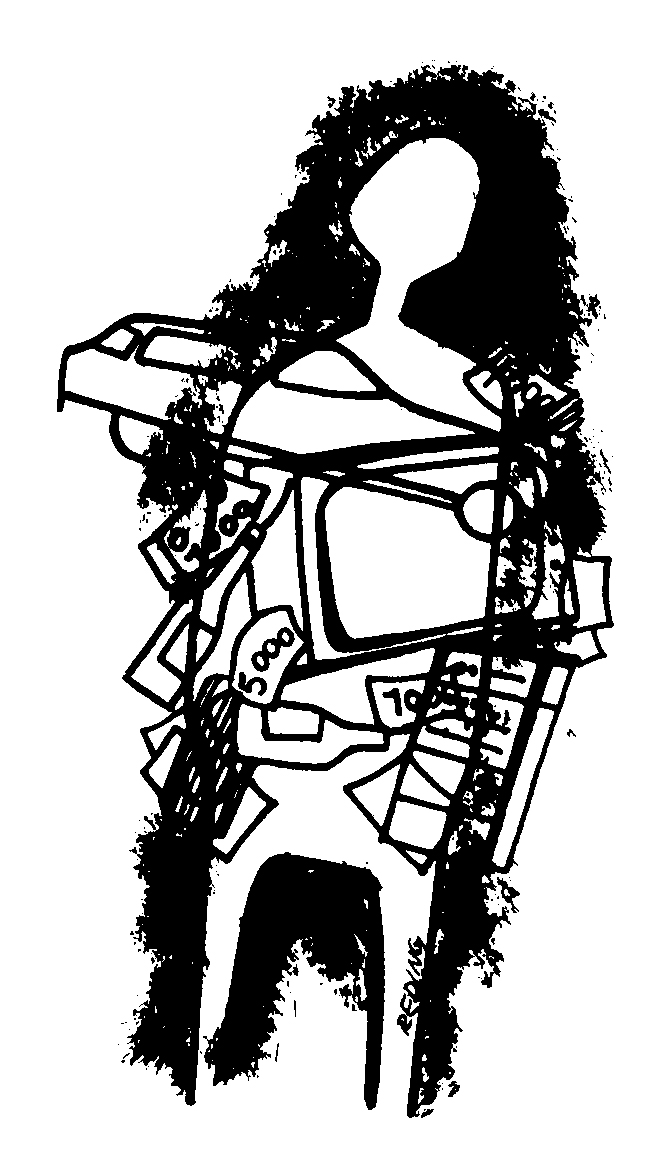 My Lord and my God,
take everything from me
which hinders my coming to you!
My Lord and my God,
give me all I need
to help me approach you.
My Lord and my God,
take me myself --
and give myself to you.
---
1-A0721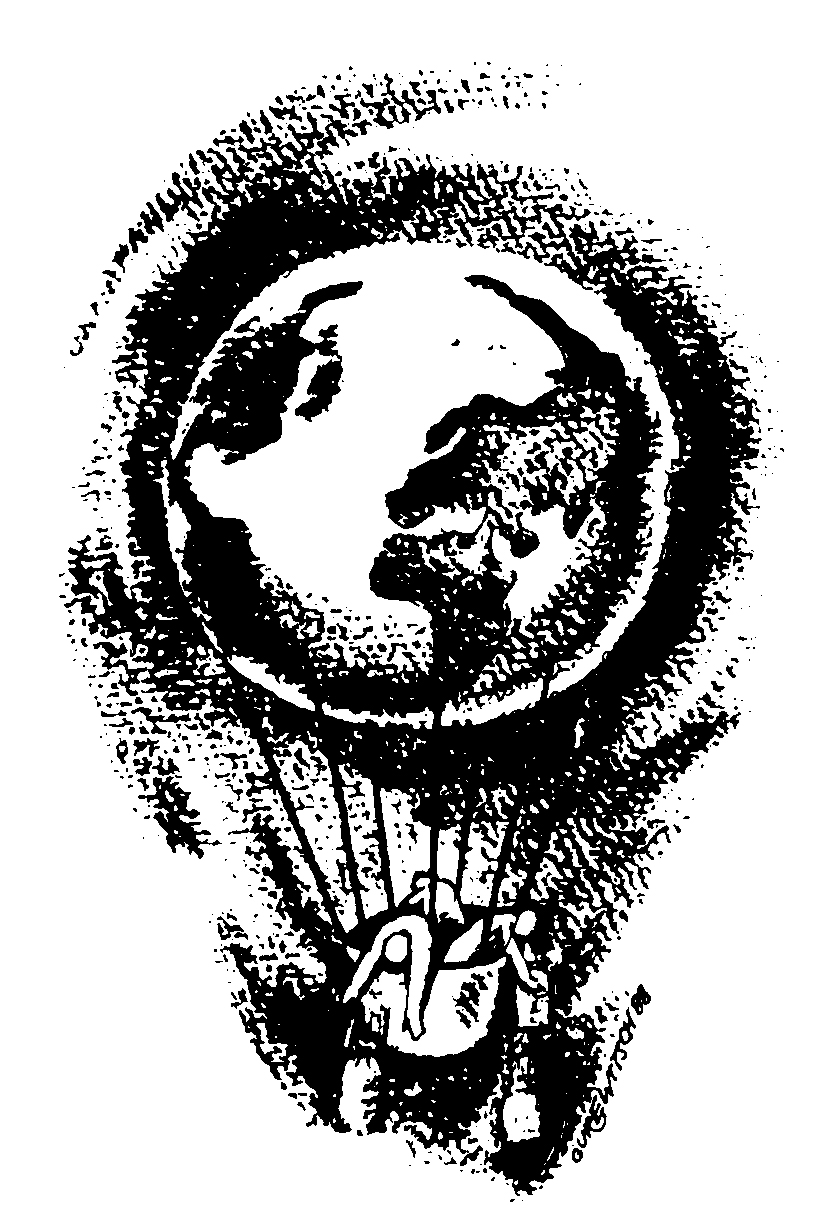 Throwing Out Ballast
In God's world everything is simple. There is only one direction: up. Only one commandment -- to love God and neighbor. Only one meaningful thing -- to seek Life!
Everything else that tries to crowd in is ballast pulling us down. Before we crash to the ground we need to ask the Lord for courage to throw away everything that hinders us from reaching God.
---
1-A0944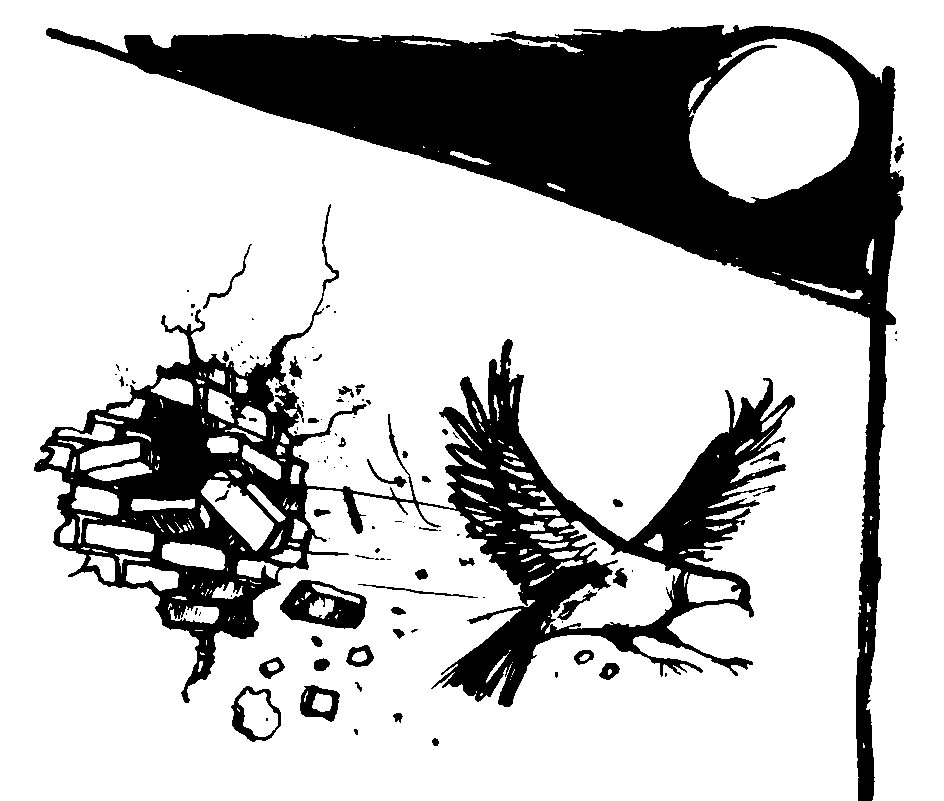 It takes extraordinary strength to break through the walls of the possessions with which we surround ourselves. But God promises the strength to break through and become free.
---
1-A1081
Shopping Addiction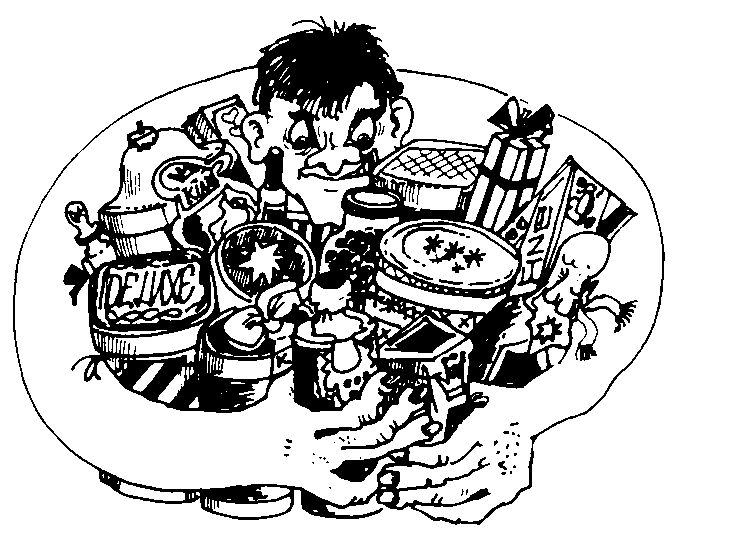 A 15-year-old answered the following question on a questionnaire: "What is the first thing you would do if you came into a position of power?" His answer: "I would do something to get rid of people's addiction to shopping." Ironically, the questionnaire came from a company specializing in youth fashions.
---
1-A1291
Take a closer look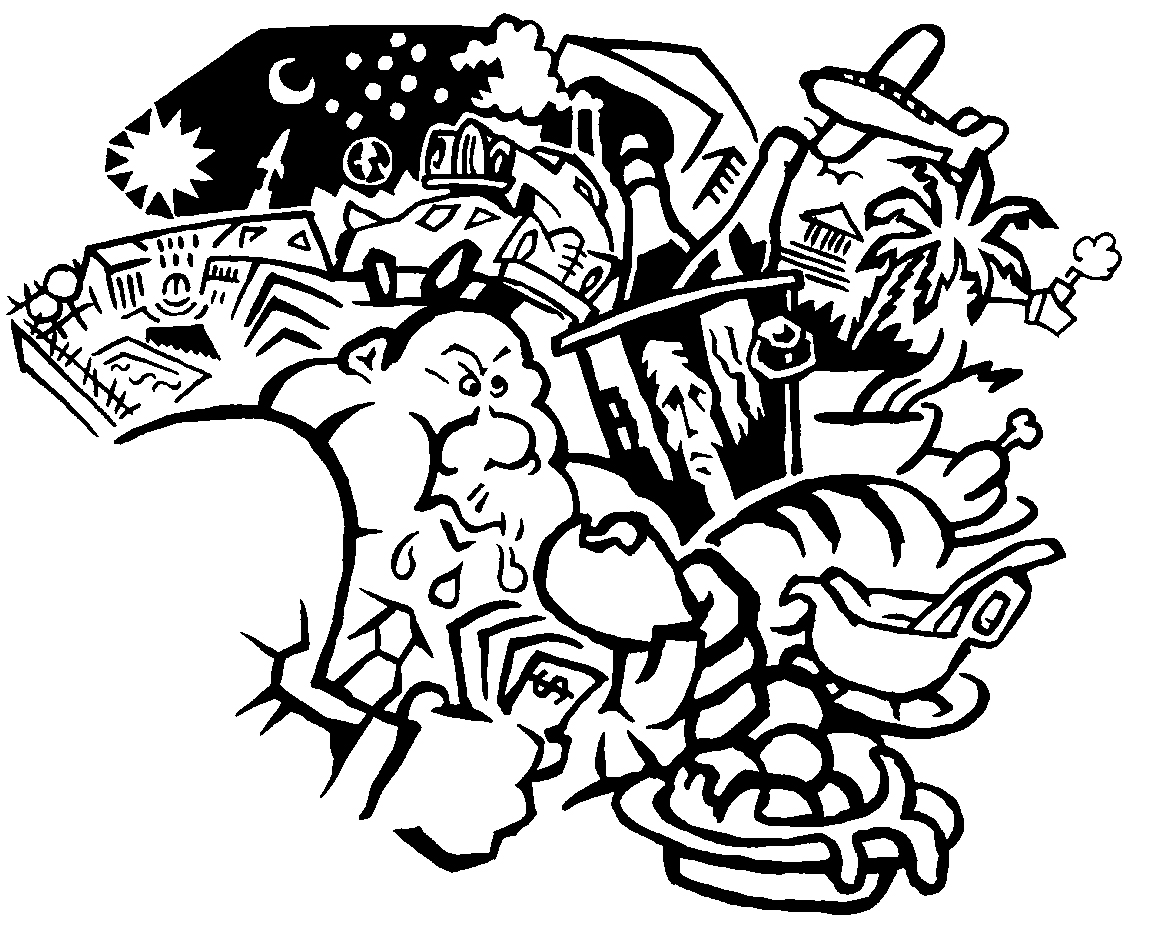 Like the rich glutton, aren't we privileged North Americans sinking? We're losing ourselves in all the trash generated by prosperity. The rich glutton is mirrored in the champagne cooler in all of his miserable wretchedness.
---
1-A1311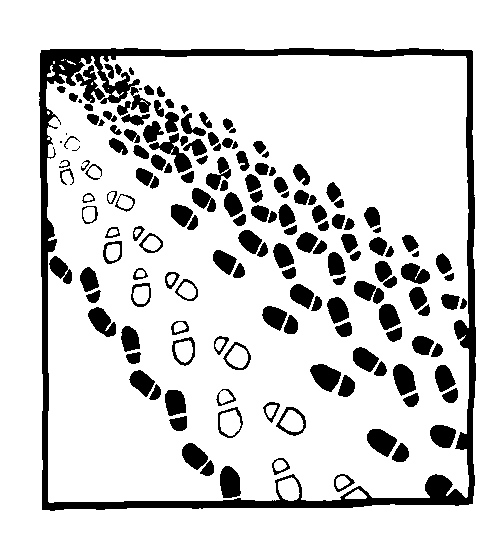 Follow the Spirit, not the crowd.
---
1-A1409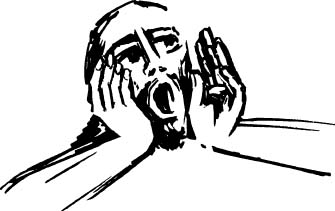 Name: John
Profession: Advertising
Advertising is often looked down on. All too often ordinary, commonplace products are made to seem better than they are through slick and massive campaigns. But that doesn't mean that advertising itself is bad. Often good products are lost to us because no one has the capability of bringing their existence to our attention.
May we be permitted to say that Jesus had a PR man: John the Baptist? John was one who beat a drum and didn't mind making a fool of himself to draw attention to his product. He completely lost himself in his life's calling: to announce Jesus. And what about prim, proper, and silent us? Shouldn't we also -- every once in awhile -- ask, "When was the last time I promoted Jesus without reservation?" Or are we no longer convinced that we have a good "product"?
---
1-A1587
Day Dreaming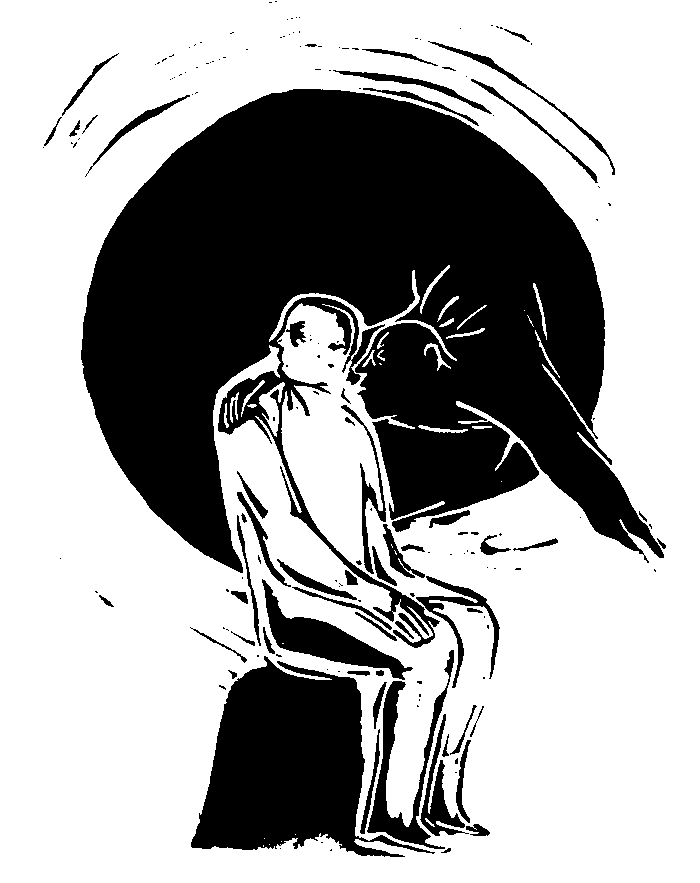 When I grow up. When I'm rich. When I get control. When I have authority. When people dance to my tune. When I can go on a cruise. When I have a Lexus. When the boss listens to me. When I can deal successfully with everyday temptations, then I'll really live. Meanwhile, what am I doing with today?
---
1-A1604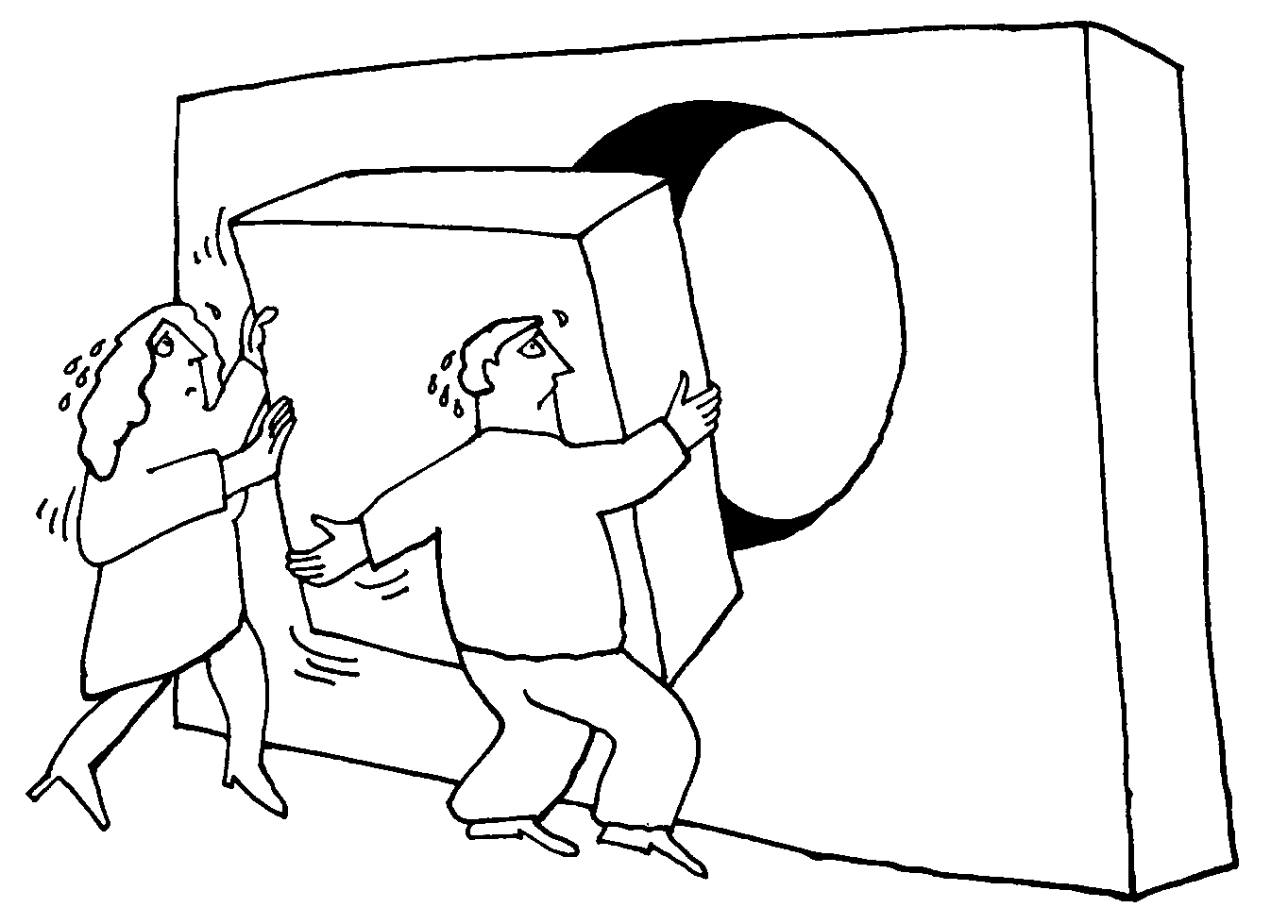 Everything continually changes. Old solutions rarely fit new problems. Each new year gives us a full 365 days in which to solve our problems. Starting today, everyday, let us rely on God, and be astonished at what we can do.
---
1-A1822
Rolling Along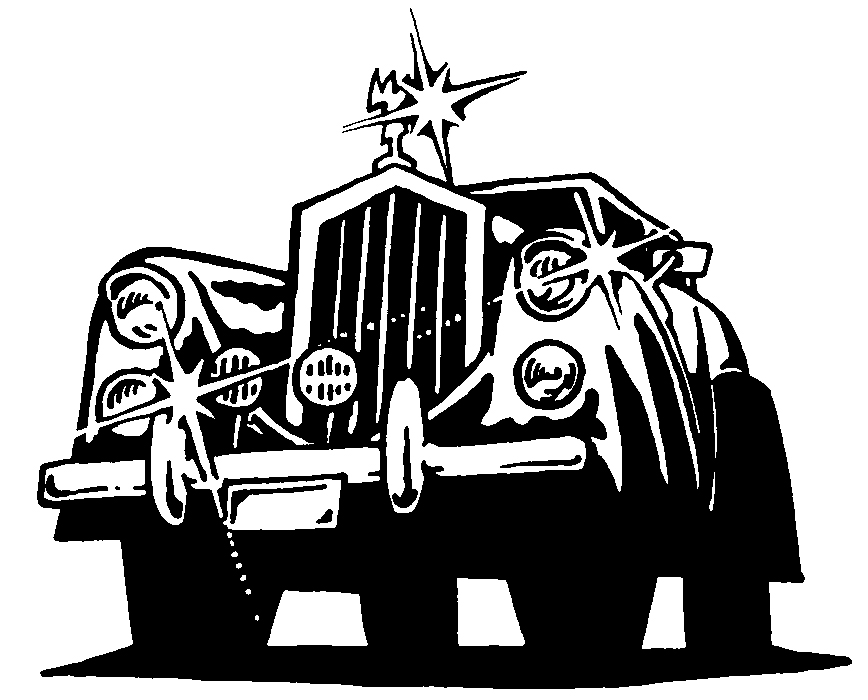 It seems that the people with cool cars, the Jacuzzis, and the big houses are on the winning side of life. But even behind the thinnest apartment doors can be found other winners: simple people whose arms are wide open and whose eyes are full of love. They're helpful from the heart. They give and don't expect anything in return. But, in an uncanny way, they do get a lot back. In contrast to those who have nothing more than a hot car to offer, these people find that they aren't just rolling along through life, but they are truly living.
---
1-A2079
A Question of Priorities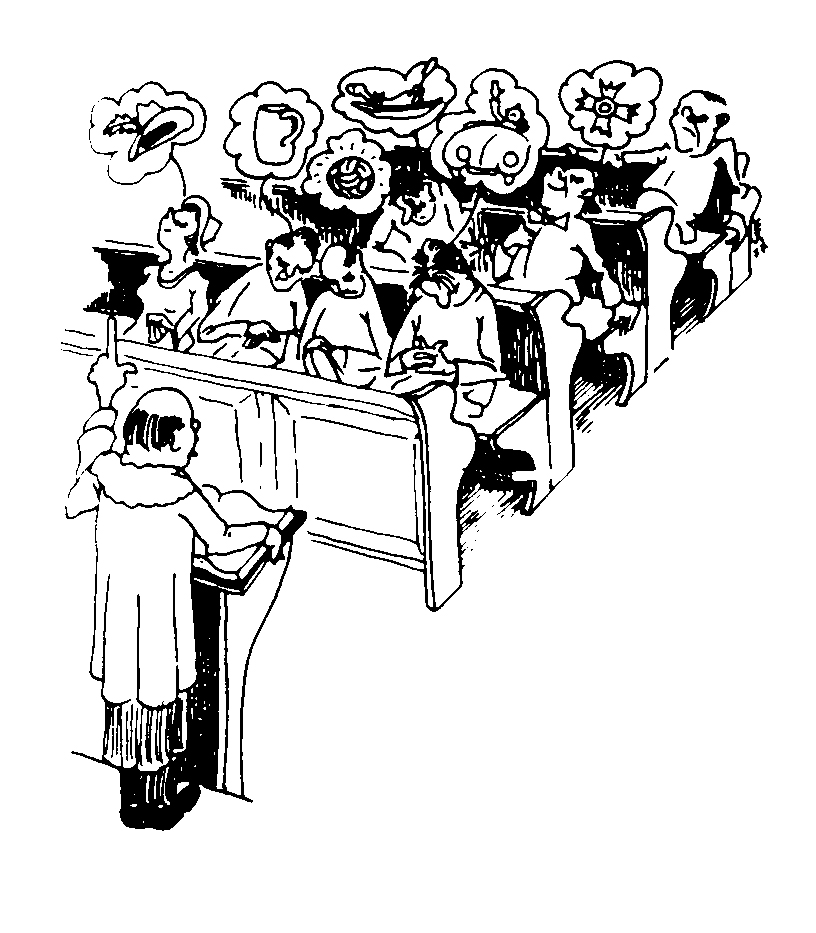 "I will be happy, if you leave with nothing other than this one essential point from my sermon."
---
1-A2152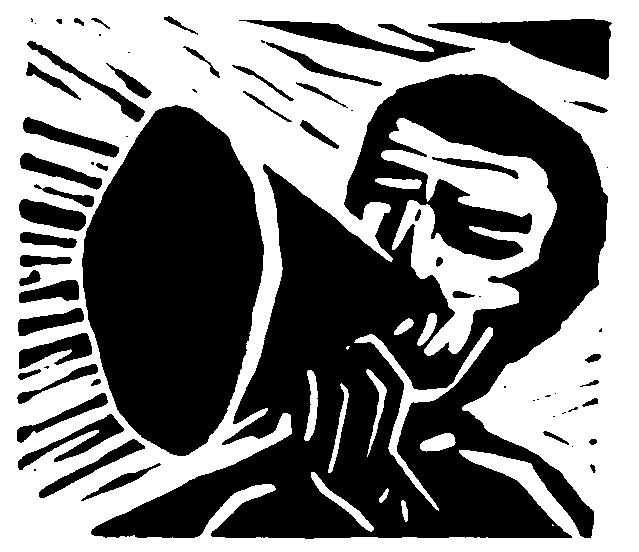 Who should we listen to? Tell us, who?
So many voices call out. One word is true.
--Lothar Zenetti, Song of Praise, 623 AD
---
1-A2188
1. Many people find it difficult to thank God for their TV or their computer -- or for their clothes. "What does God have to do with that?" they say. "These are the result of human work and creativity."
2. Looking at other parts of the world, we realize that the industrial and financial capabilities of our country are to be used for the common good.
3. Wealth and possessions can be a distraction, even a curse. They are not a blessing when they harm God's Creation. We will care for God's Creation because our lives and the lives of all future generations depend on it. It's not ours. It all belongs to God. That makes it extremely valuable and important.
---
1-A2223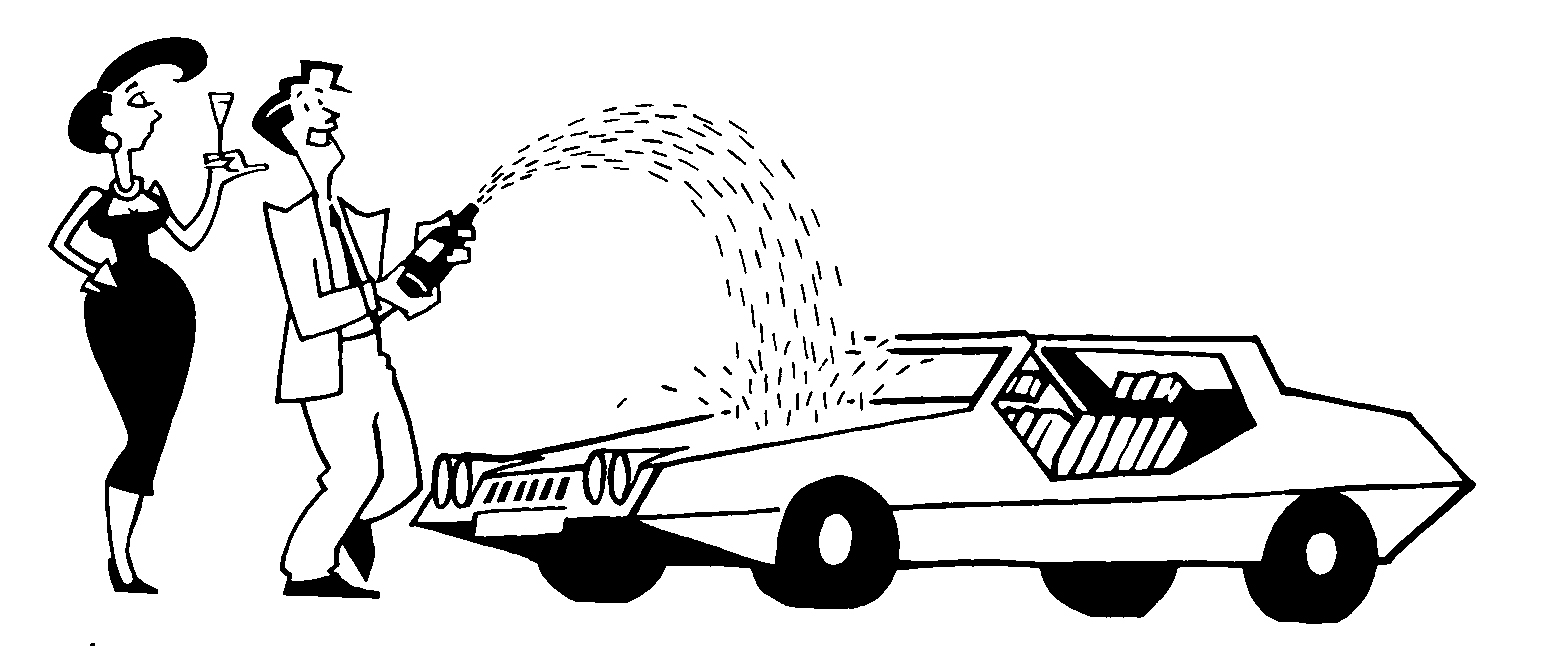 I baptize thee in the name of money, in the name of boasting, and in the name of unholy consumerism.
---
1-A2243
To This Point and No Further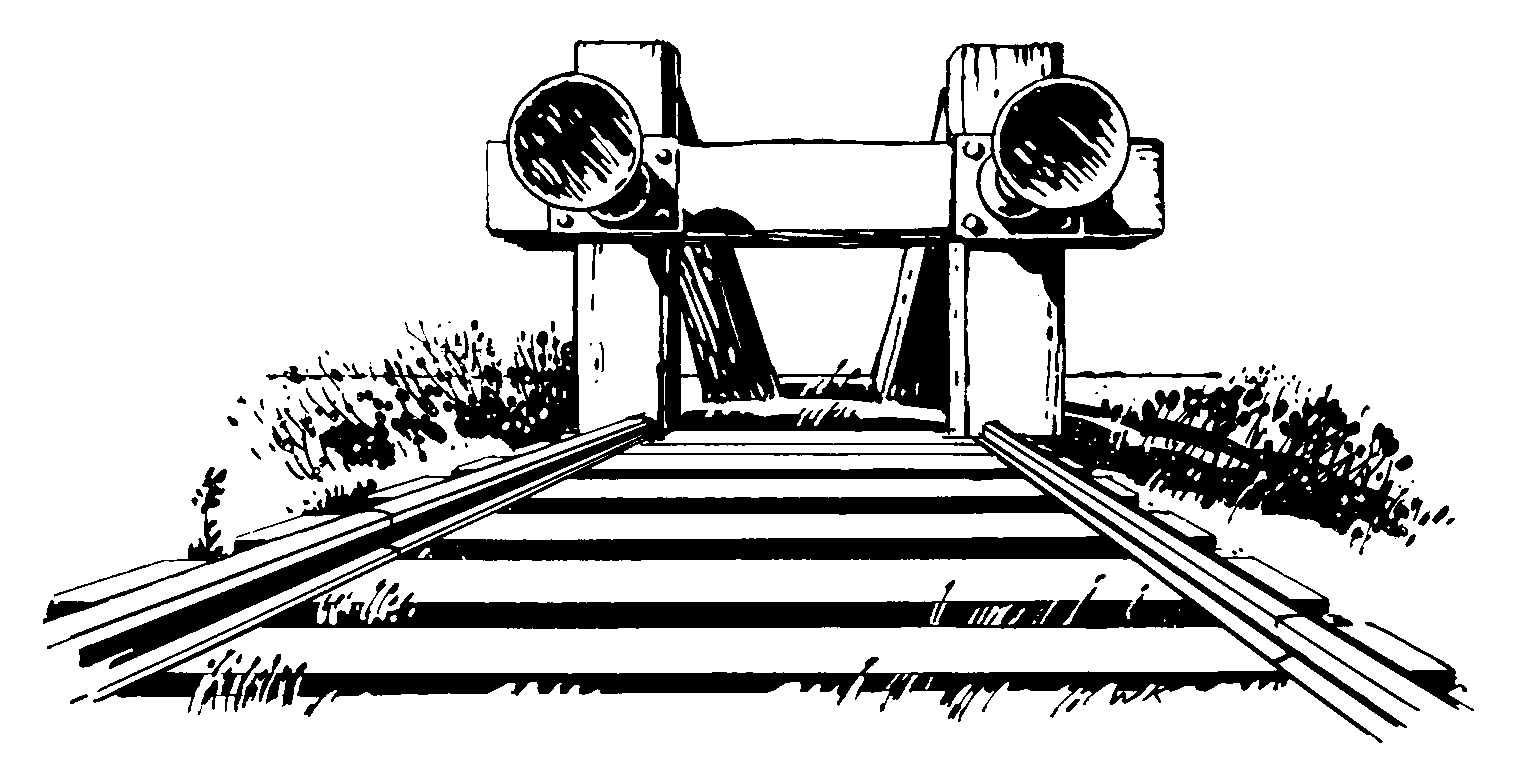 A barricade warns us that there is nothing up ahead. We experience barricades in our lives every day. It's important to recognize our limits, so that we can move on in more productive directions.
---
1-A2264
Captive to the Demon of Time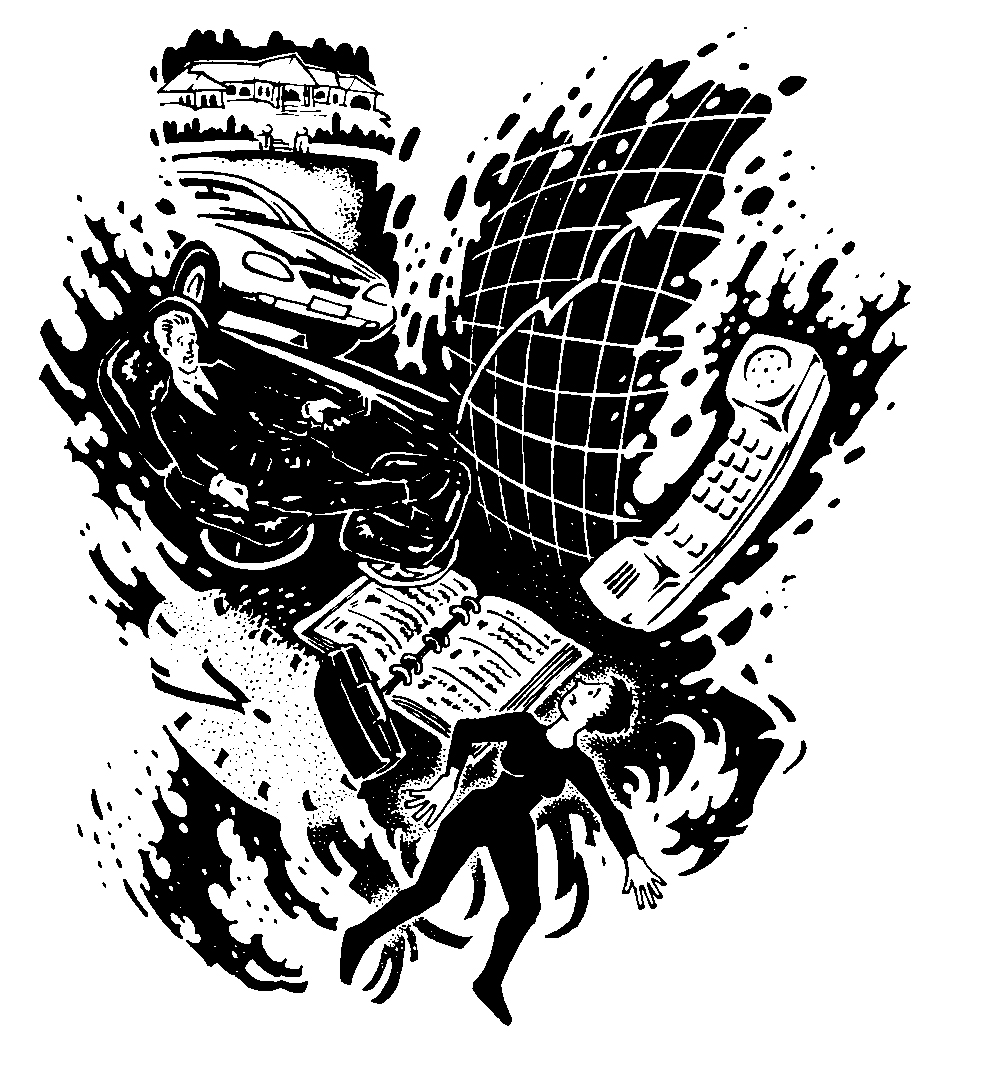 At work: no time
For recreation: no time
To live: no time
---
1-A2306-11
Tomorrow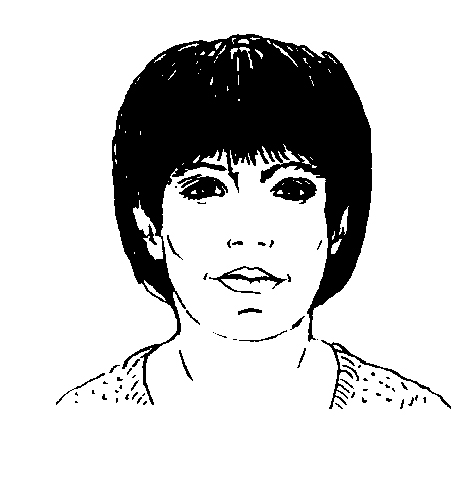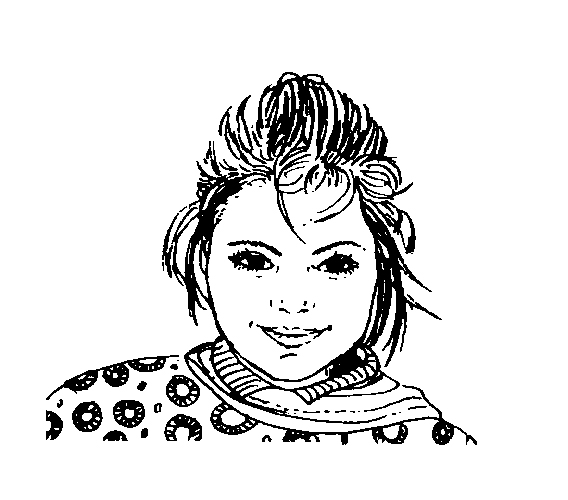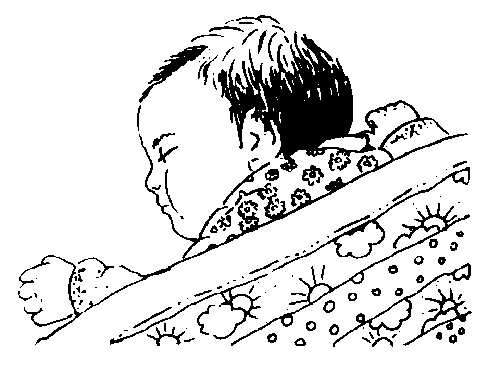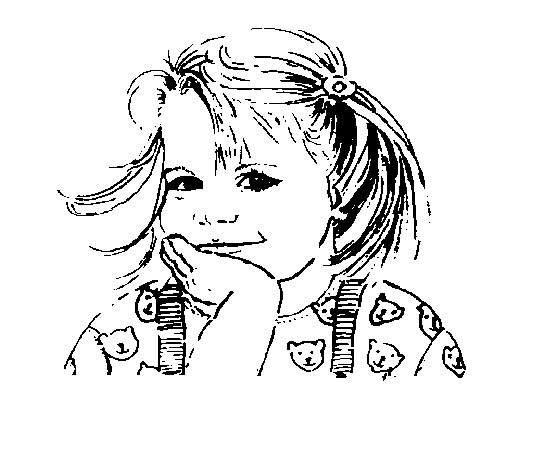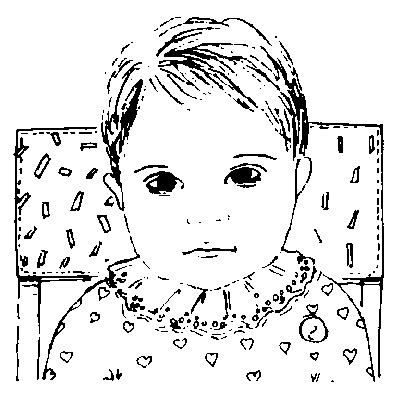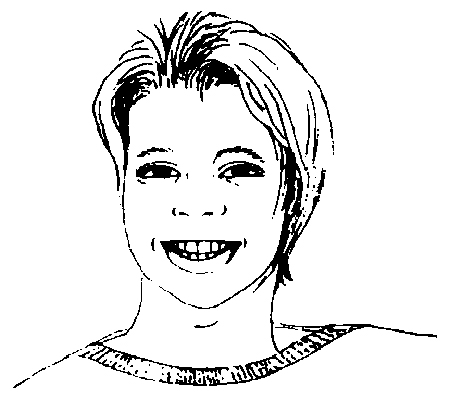 Tomorrow
David will be teaching children. Tina will be involved in international diplomacy and Philip will be writing books. Kristin will be taking care of AIDS victims, Jimmy will marry, and Adria will be on her death bed.
They will believe in God. Or only in themselves. Or in nothing at all.
Let's give them the best there is: faith in God, world peace, a healthy planet.
---
1-A2748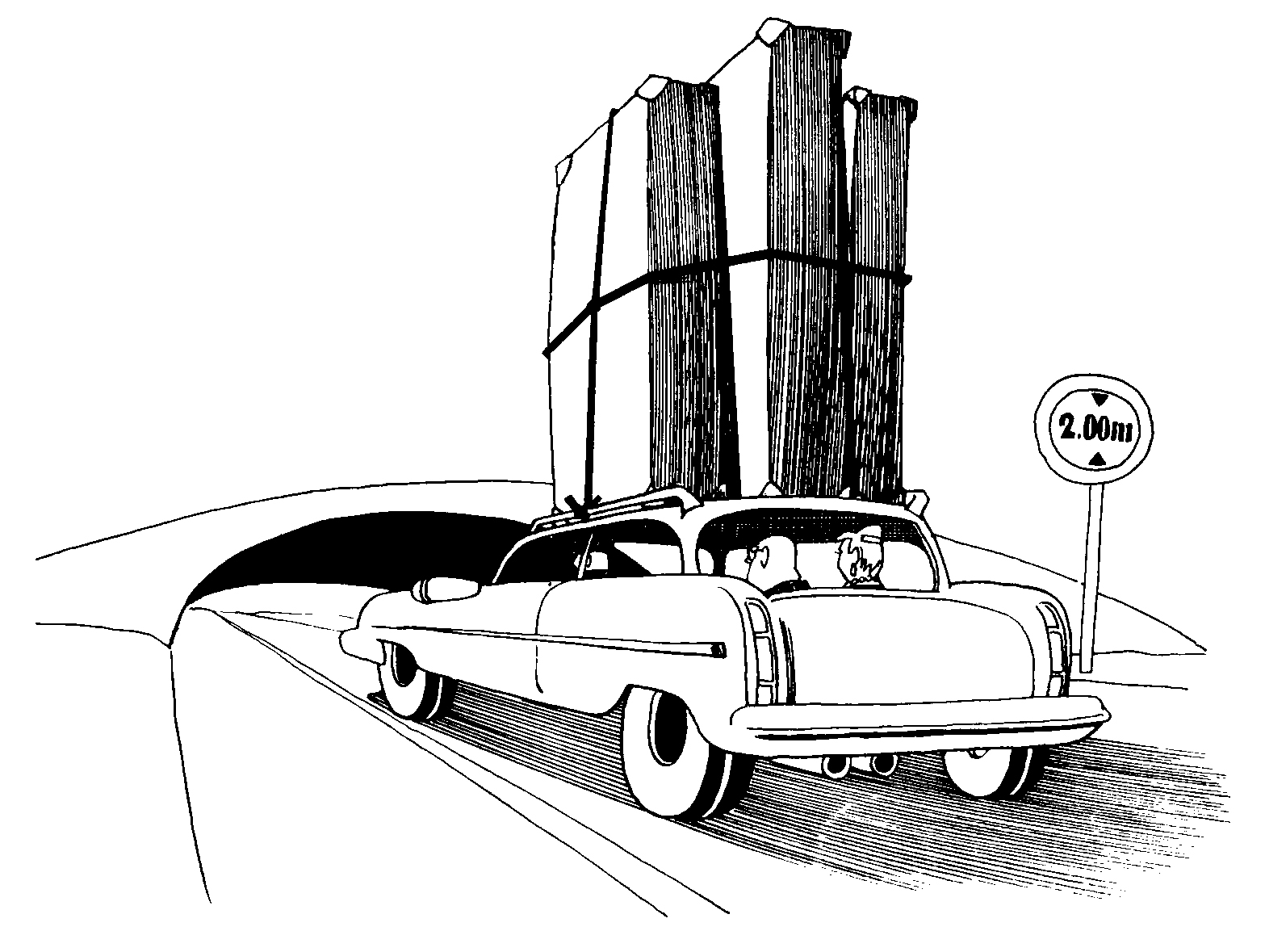 If you pack too much when you move, you won't get far.
---
1-A2750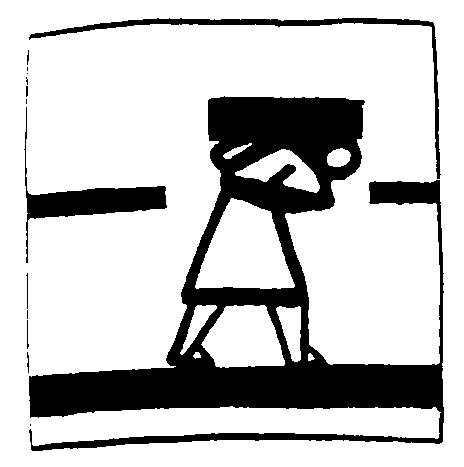 How difficult it is for people who possess much to come into the kingdom of God!
---
1-A3262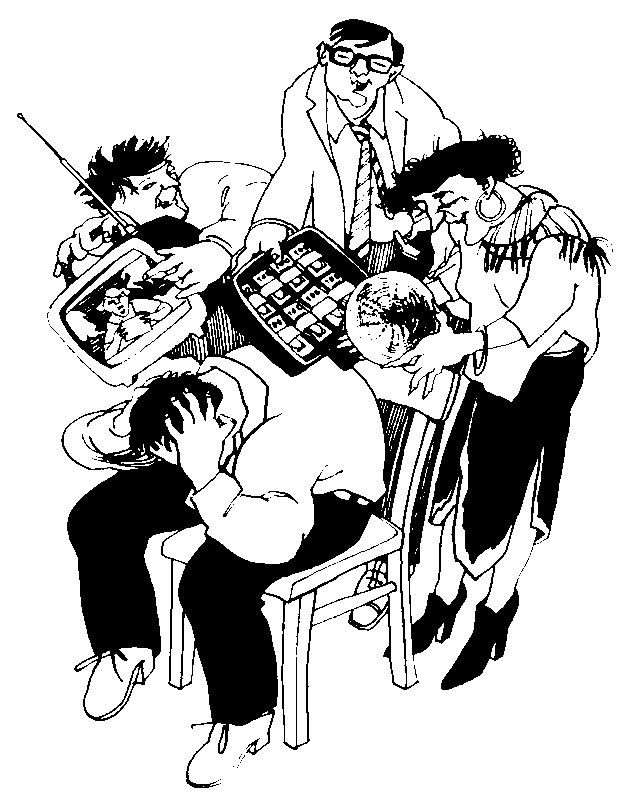 The power of the media
The power of money
The power of wanting to know the future
This unholy trinity places a lot of pressure on us to worship it.
---
1-A3386
My Time, Your Time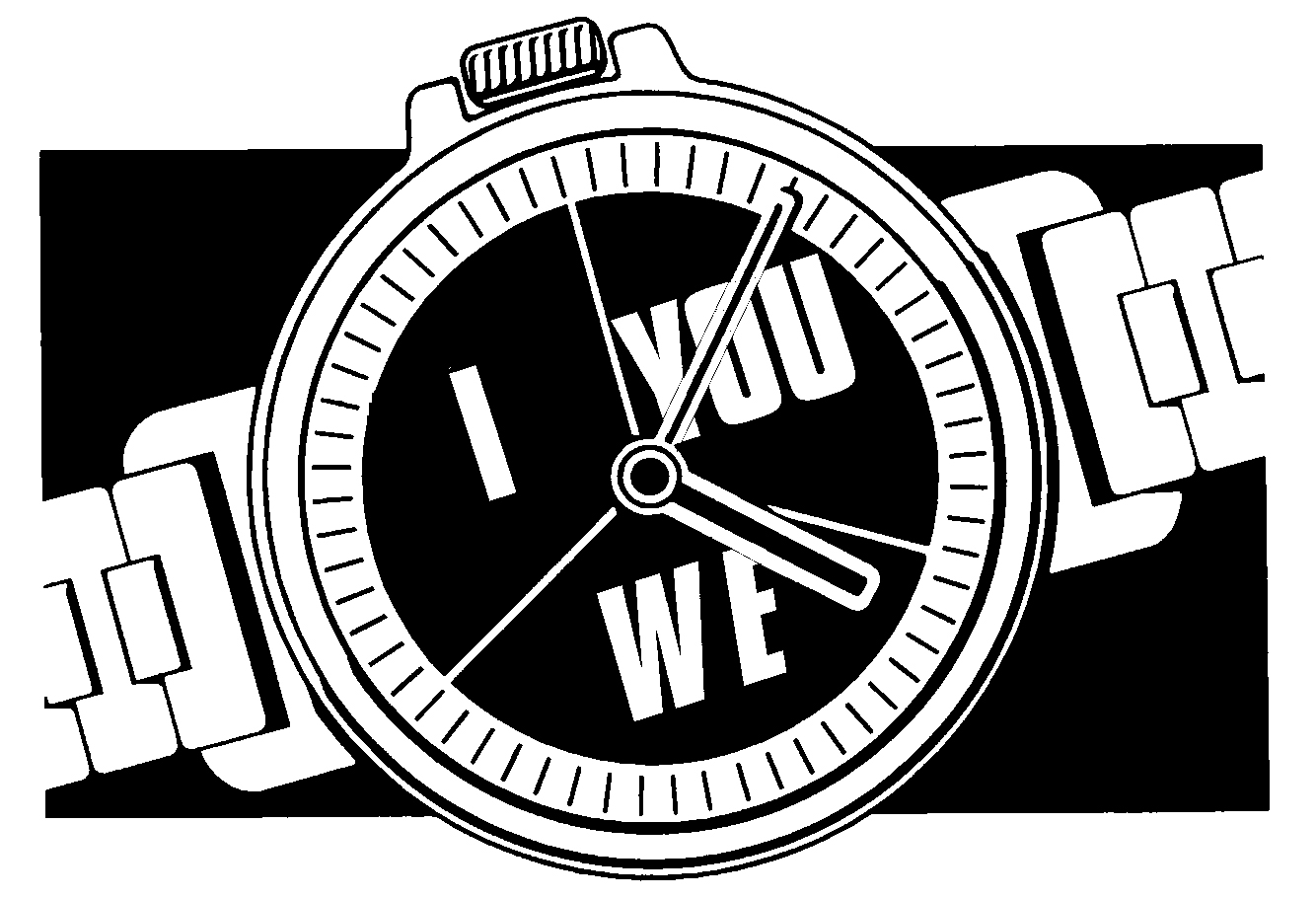 I may easily say, "He took up my time." But maybe it was his time, for the hand on my watch doesn't revolve only around me. Yes, a portion does belong only to me, but the greater part has the name of others on it. Lord, help me live in community.
---
1-A3743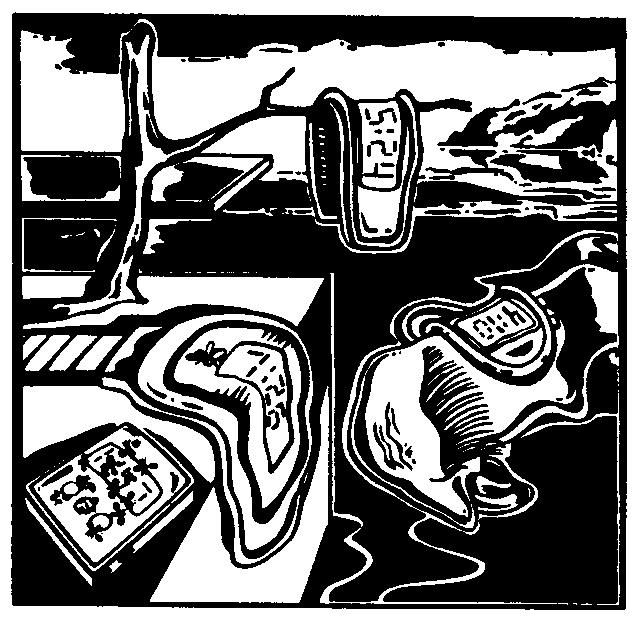 We can't stop time. It keeps running and running on without slowing down. The future becomes the present, and the present becomes the past.
A new beginning is only possible when we stop ourselves and take time to reflect on our wishes and plans [for the New Year].
---
1-A3779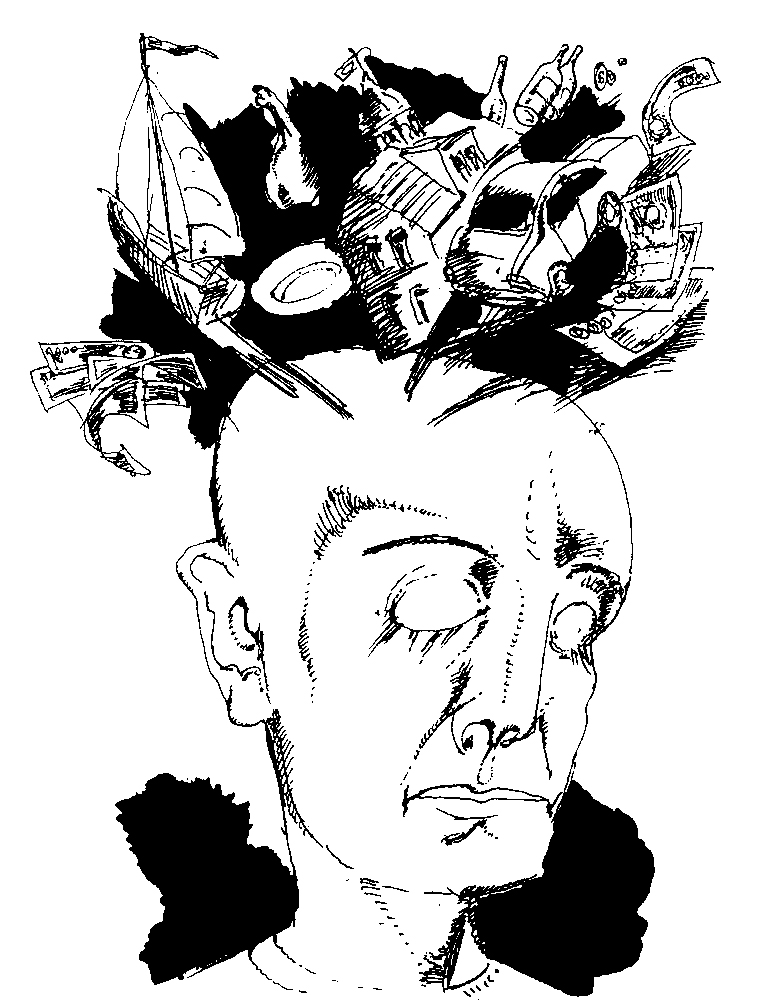 We don't give presents any longer. But now, if I myself were inclined to give a gift, I still would not receive any gifts. For I don't initiate anything from which I will benefit. --Antoine de Saint-Exupery
---
1-A4005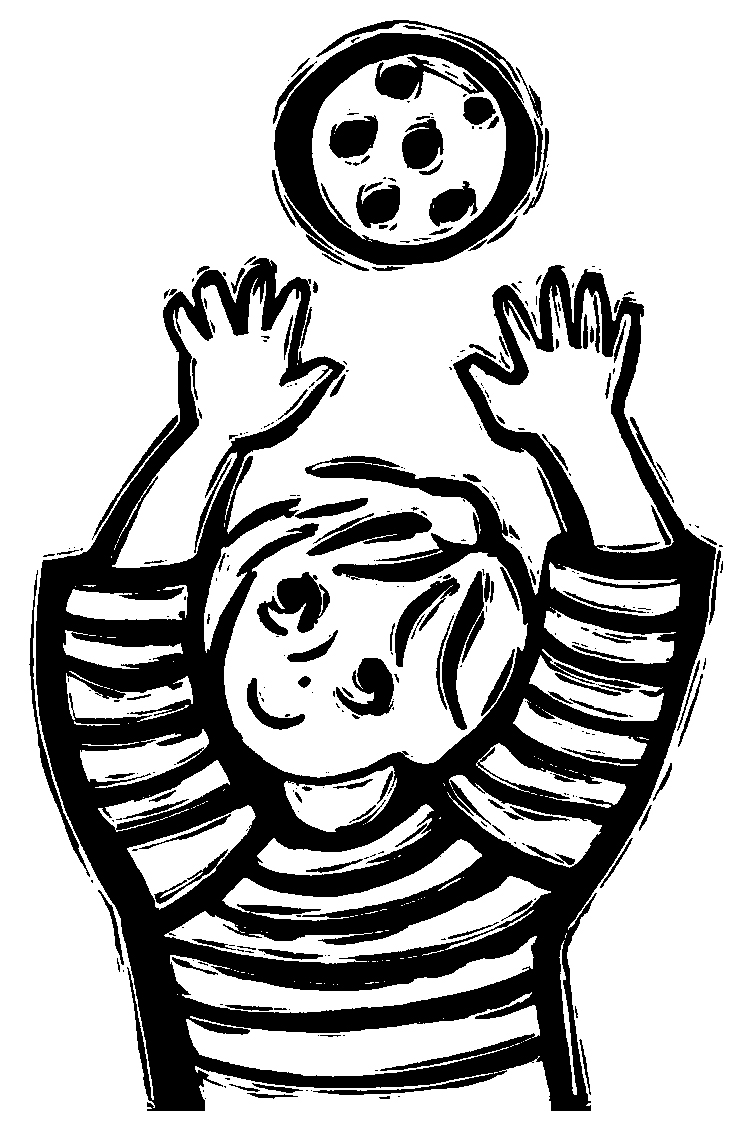 In North America, financial problems often make it difficult for children to be children. The problem isn't too little. It's too much. Children are given too much stuff, too many activities. And too much is expected of them.
---
1-A4101
All Tied Up.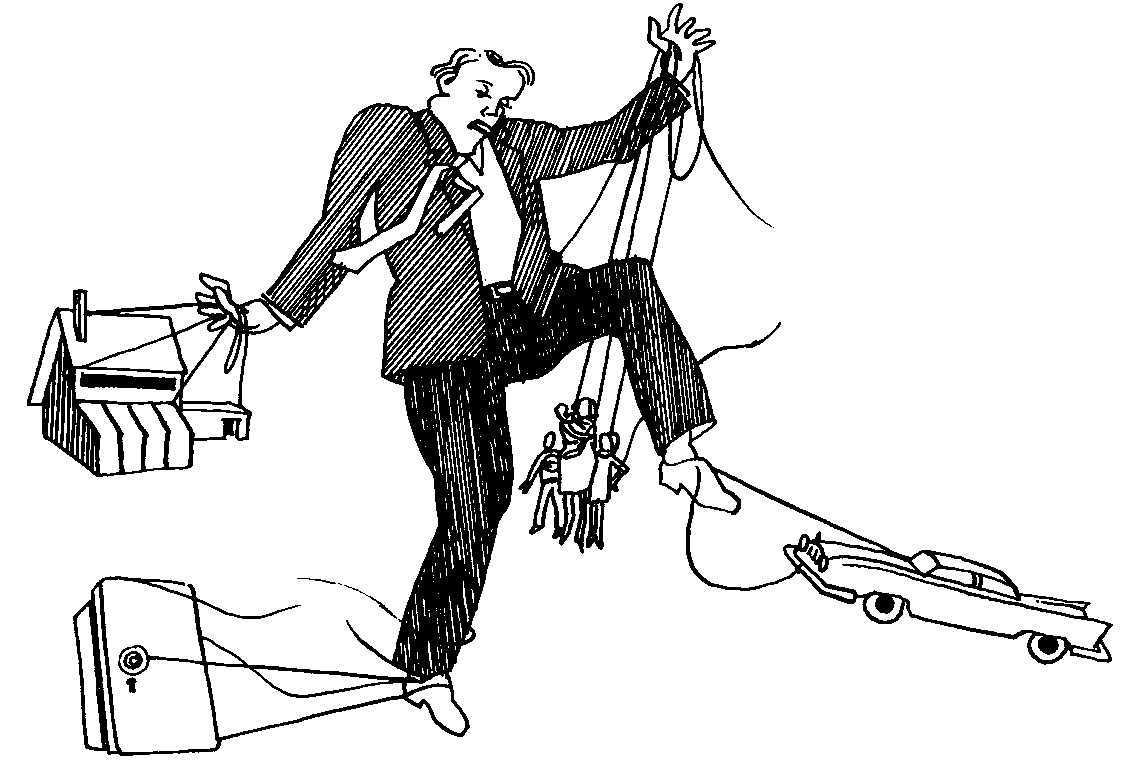 The things that give us stability in life -- family and material security -- can become fetters holding us back from the ways of discipleship.
---
1-A4359
Who's Smart?
Who's Crazy?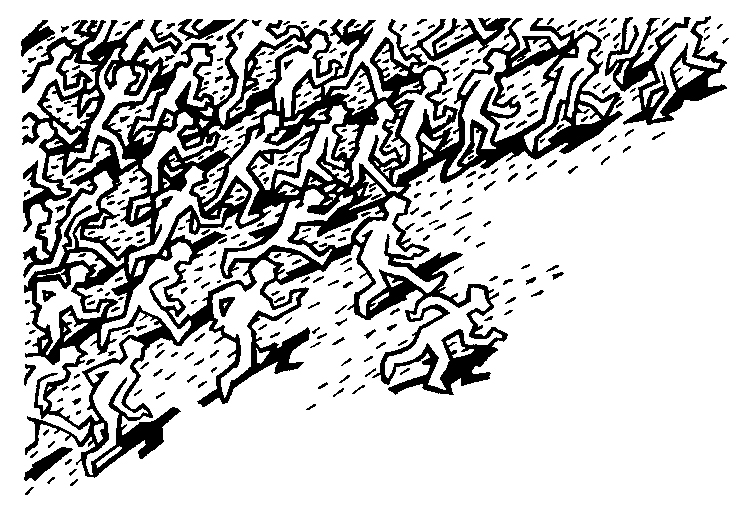 Nowadays the media assure us that we're smart if we go with the flow. Even though we're encouraged to exert a bit of "rugged individualism," we shouldn't stand out too much, and we should still be heading toward the commonly accepted goals. It's only crazy people who really do something different with their lives, such as living simply or working for global justice.
---
Cultural Diversity
Parenting
Activities with Children
Children's Stories
Support
Study/Action/Accountability Groups
Simplicity Circles
General education/action
Spreading the word
Relationships
Leadership
Politics
Recreation, play
Also see: 1-A0185, 1-A2079, 1-A2188, 1-A2306, 1-A2307, 1-A2308, 1-A2309, 1-A2310, 1-A2311, 1-A2563, 1-A3386, 1-A4005, 1-A503, 1-A504, 1-A508, 1-A509, 1-A882,
3-A0878, 3-A2939, 3-A313-316, 3-A3387, 3-A3610, 3-A4270, 3-A4278, 3-A510, 3-A514, 3-A533, 3-A552, 3-A553, 3-A557,
4-A0199, 4-A0672, 4-A0755, 4-A0875, 4-A1344, 4-A1347, 4-A1605, 4-A1896, 4-A2302, 4-A2716, 4-A308, 4-A321, 4-A324,
5-A1214, 5-A1226, 6-A2562, 6-A3426, 6-A3598, 6-A3599, 6-A3600, 6-A3601, 6-A3602, 6-A3603, 7-A1280,
8-A0433, 8-A1337, 8-A2882, 8-A3060, 8-A3359, 8-A3869, 8-A860, 9-A1118, 9-A2235, 9-A2406, 9-A2446, 9-A2559, 9-A903, 10-A2096
2-A320
Sharing a meal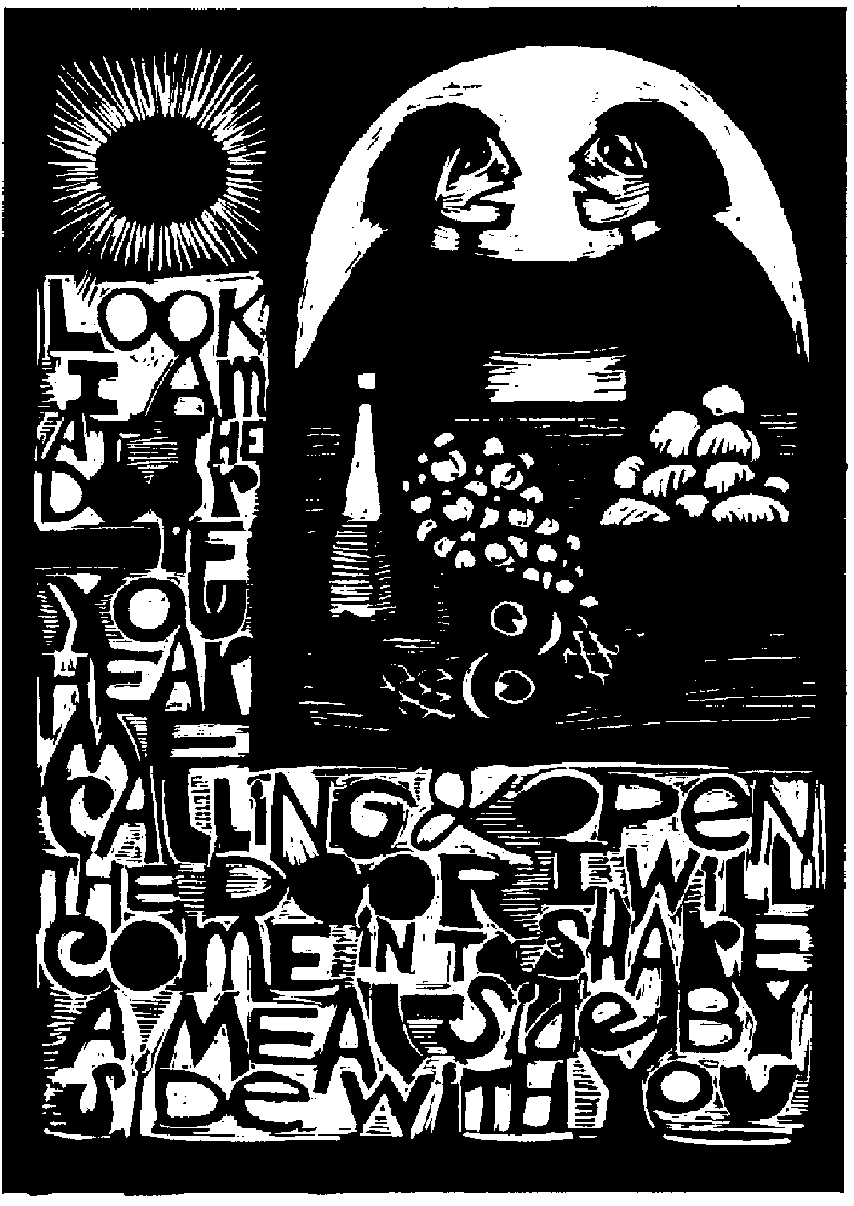 ---
2-A325
Circle of hands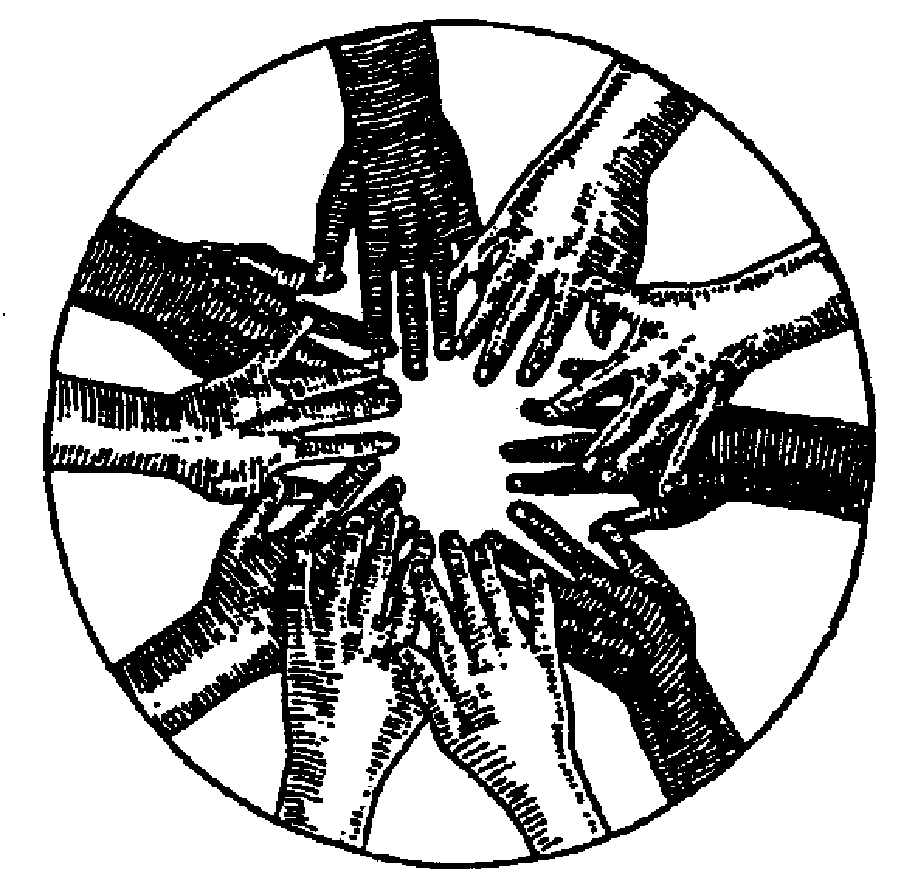 ---
2-A826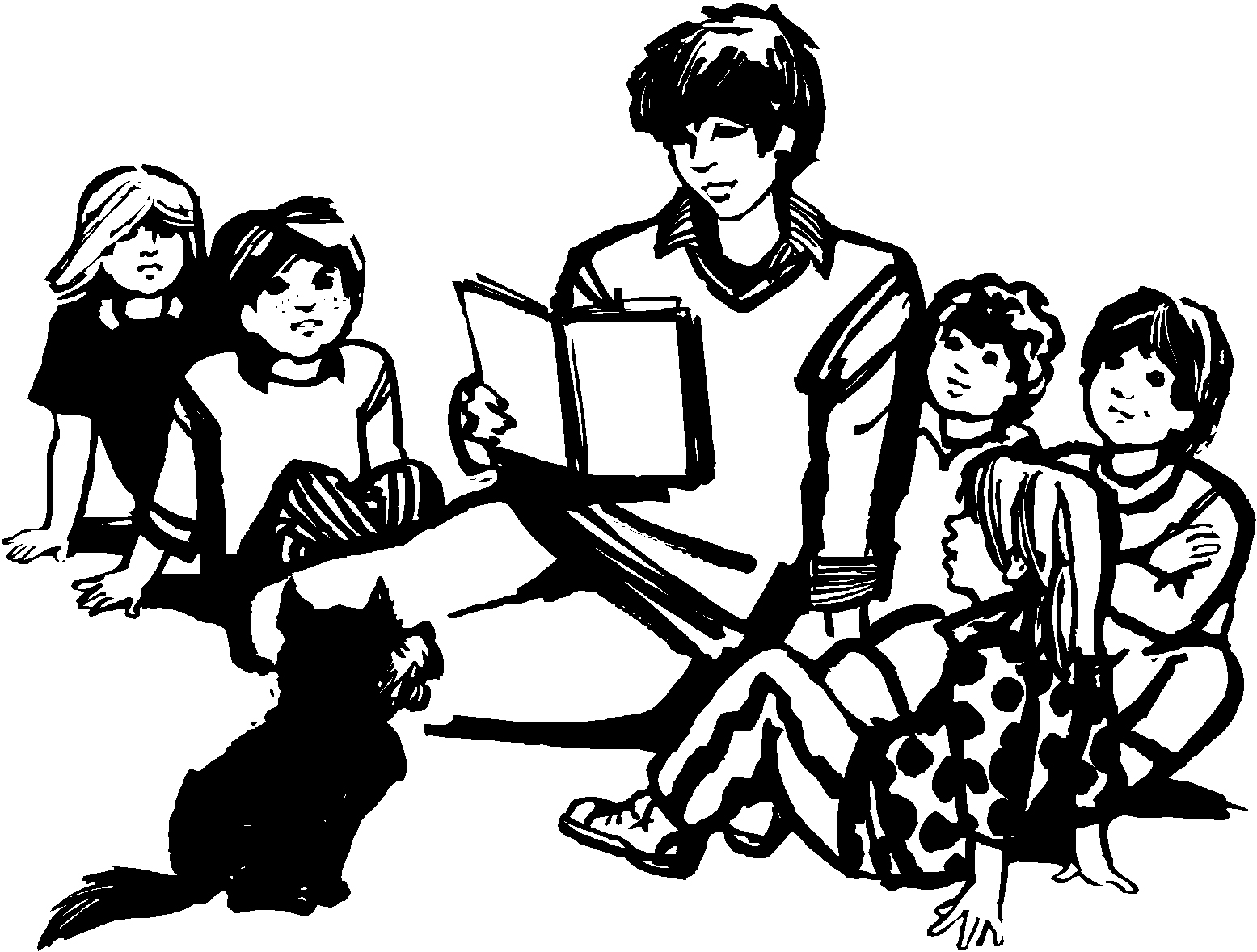 ---
2-A828

God communicates with us through all kinds of people. If we judge and dismiss people, we may miss important messages from God.
---
2-A884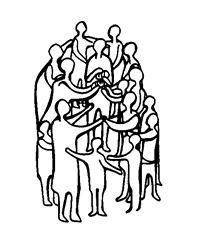 ---
2-A0222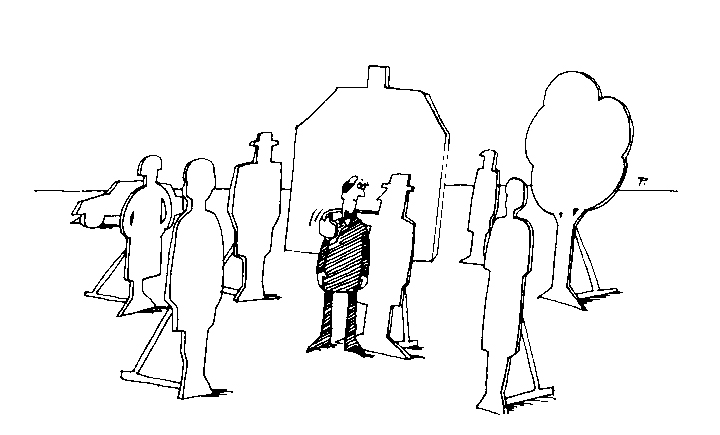 Real friendships develop from relationships, not from stuff.
---
2-A0256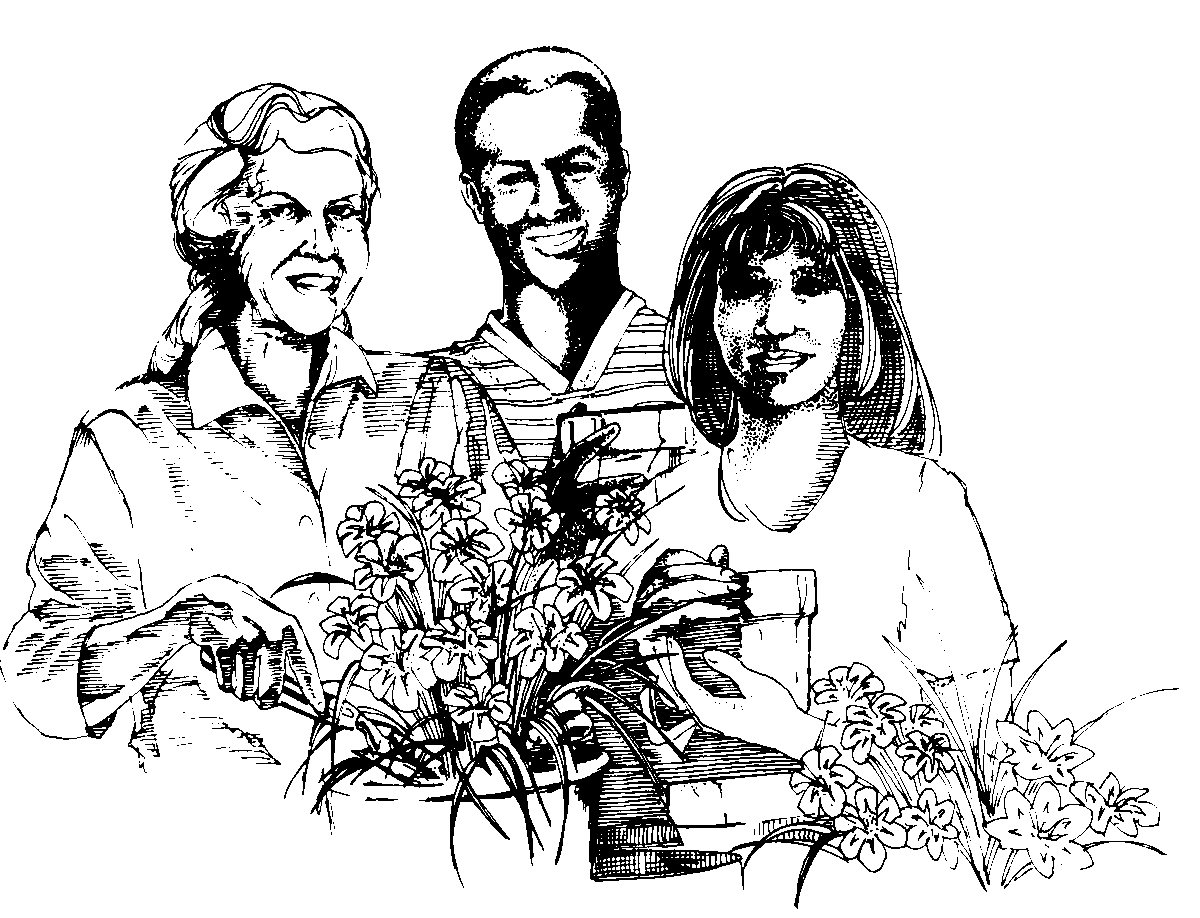 ---
2-A0436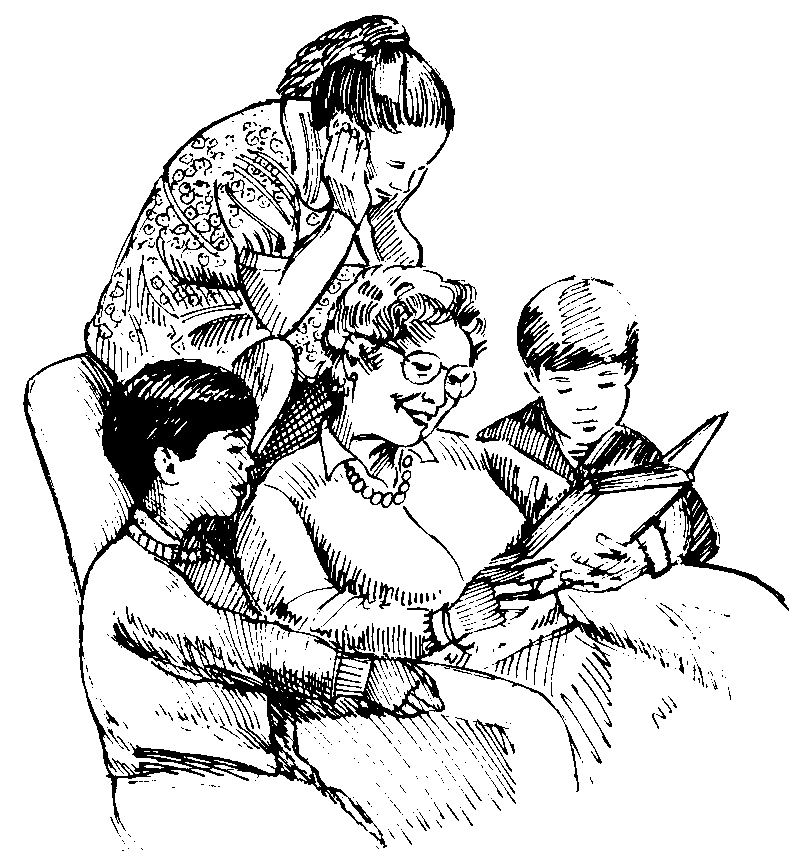 ---
2-A0560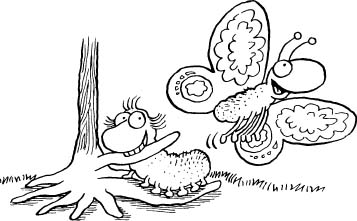 Give children roots and wings.
---
2-A0662
Down with "Hearing and Speaking Impaired" Families!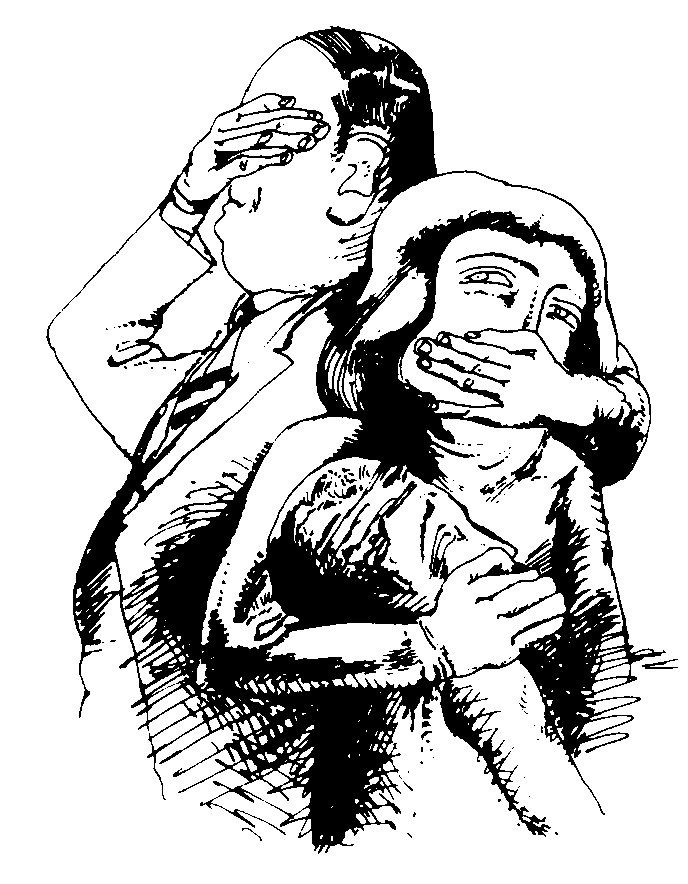 You'd think that because family members live close to each other, successful communication would be a given. Yet families break up because people have lost their ability to express themselves and to listen to others.
Make good communication a top priority in your family life:
Check to make sure that each person is still happy with their role in the family.
Gather up courage to "fight fairly," to really listen to each other.
Pay special attention to making your words and actions agree.
Competent men and women in your church can help point you to a good professional counselor.
---
2-A0680
Divorce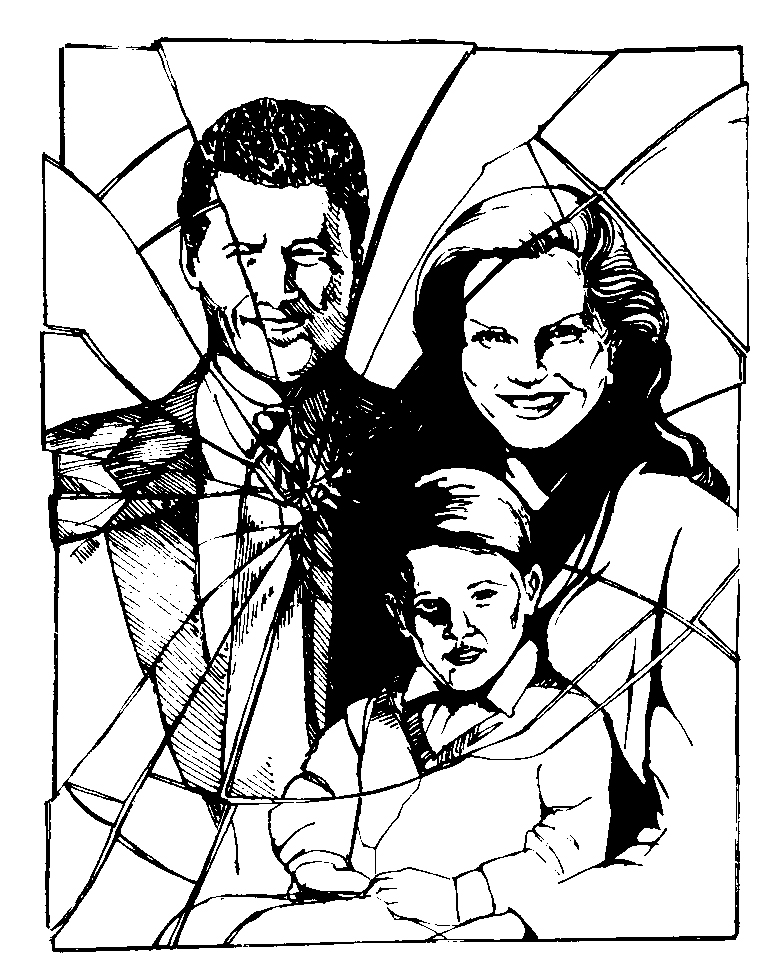 ---
2-A1335
The Church around the World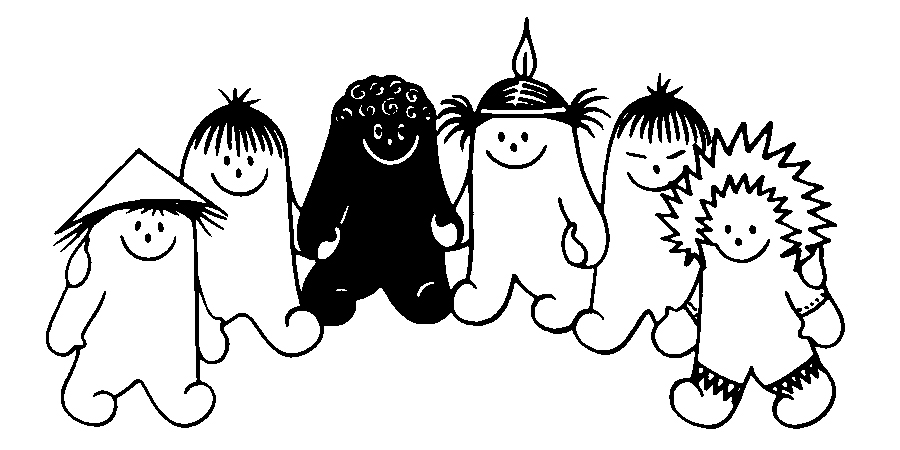 ---
2-A1588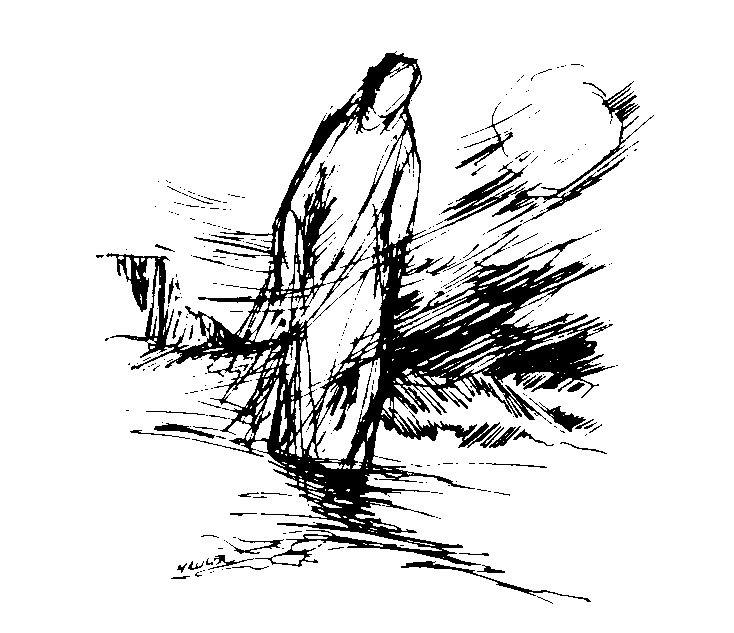 Be with me, Lord,
in the deserts
where I'm tempted.
Be with me, Lord,
when my will dissolves
like water in the sand.
Be with me, Lord,
when my strength fails
and I give in
to demons within me.
Stay with me and fight in me.
---
2-A1630
Free To Speak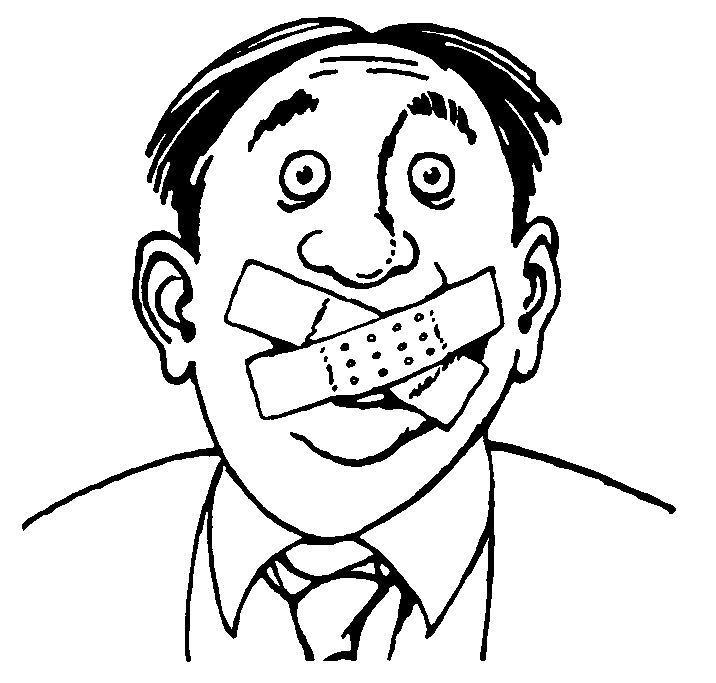 When your heart overflows with joy, it's natural to break out into laughter. Or when it's filled with hurt or grief, a cry emerges from your lips and tears well up in your eyes.
Many of us, however, have learned that joy expressed can only lead to hurt. Or that "unsolicited advice" can make people uncomfortable. So we hold it inside.
We are surrounded by people who "don't get it," that we are stewards of God's Creation, not that we have a "right" to use up the Earth because Jesus could be coming back any minute.
Have the courage to speak out gently but persistently -- even if it's nothing more than sharing your own small attempts at simpler living. When we ask for God's help, we can be quite eloquent and persuasive.
---
2-A1989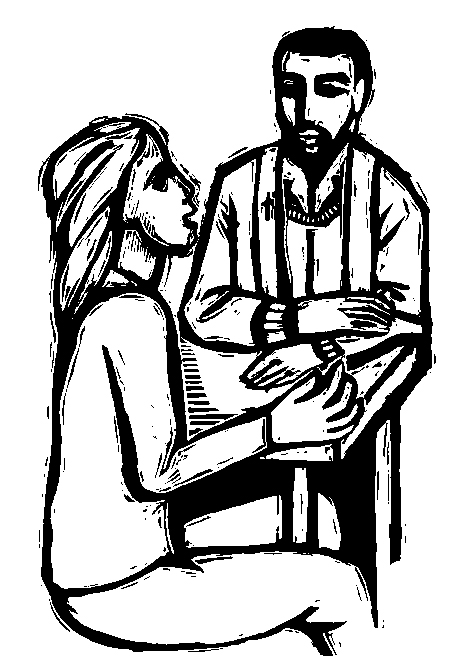 ---
2-A2033
A Place at the Table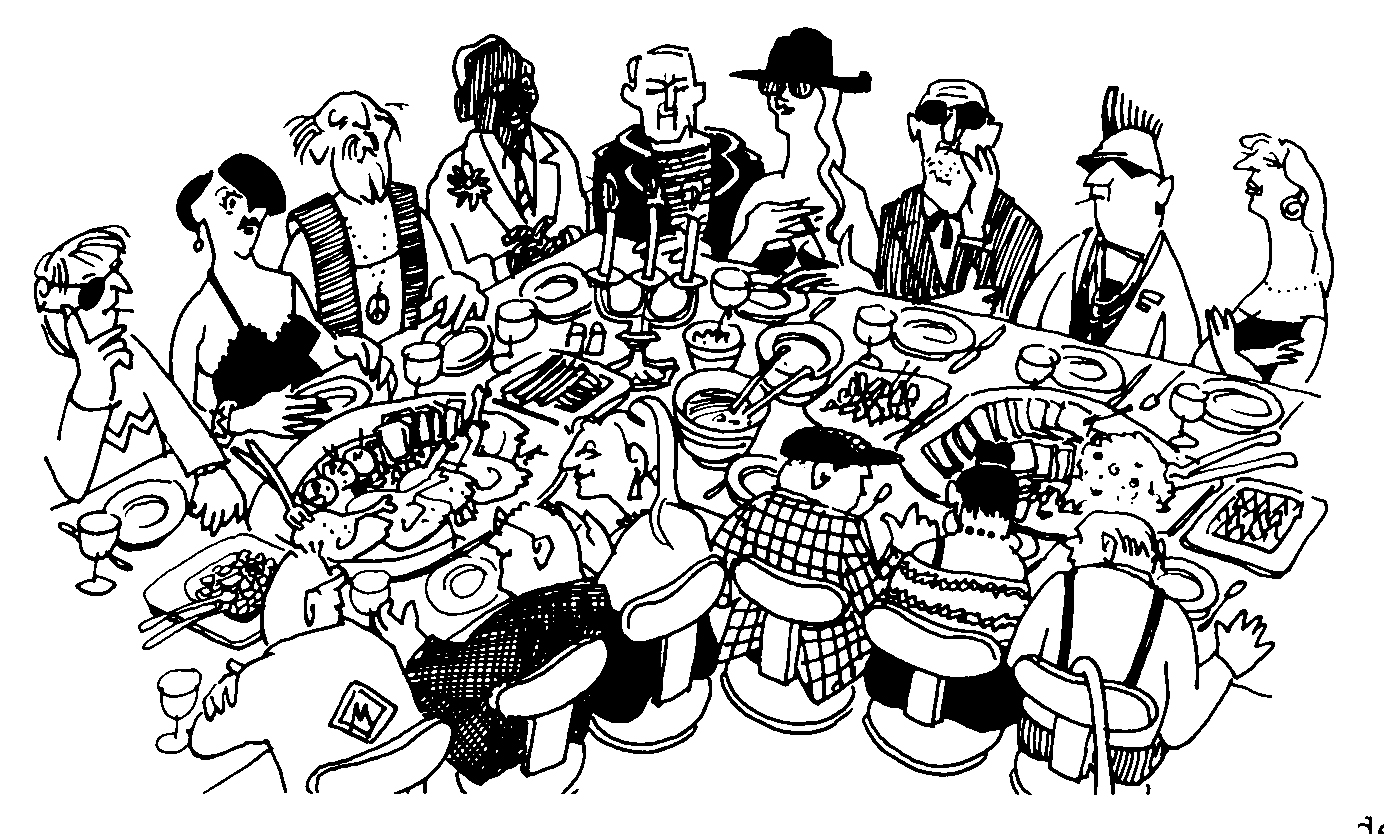 We need to get used to the thought that God gets joy out of giving and spending. Just for the pleasure of it, God invites people to the table whom we would rather not let in because they just don't fit in.
---
2-A2046
He Does It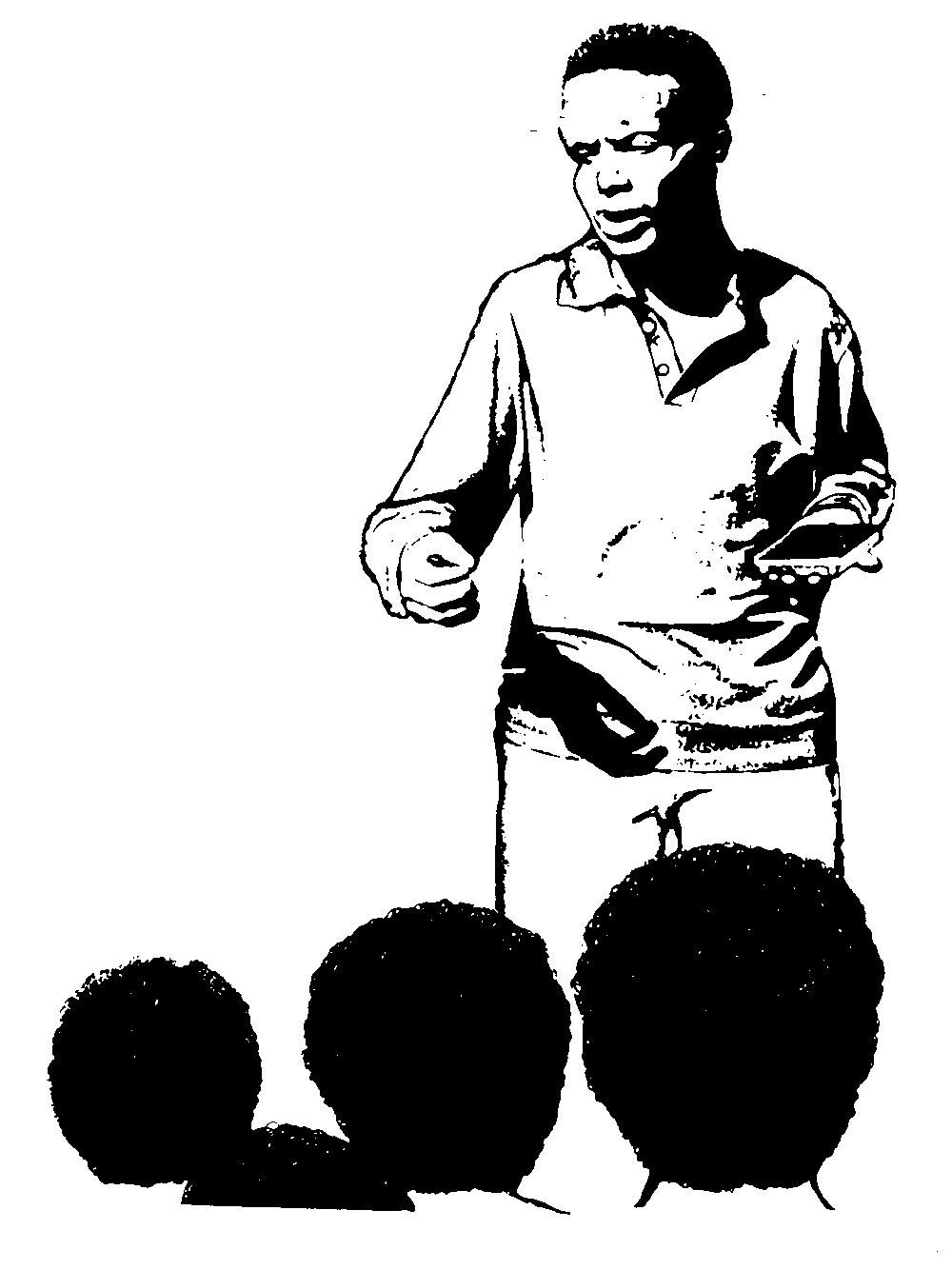 Eloquent treatises have been written about the role of the laity in the church. Clever things are said and critical arguments are countered. I just wish that my friend Peter Musingo from Malawi could join in the debate. He would laugh about a lot of the material. I'm sure he would also shake his head and say, "So what?" For where others are talking, he's doing.
Peter is a lay leader. He leads a congregation and holds services of the Word. He not only explains the Scriptures to the people using his own words, but he also works his own farm, and in that capacity is considered one of the most important advisors to the farmers around him.
Prestige among church professionals? No. That he doesn't have. No one invites him to important receptions or conferences. What keeps him going is that Christ can use him just as he is.
---
2-A2109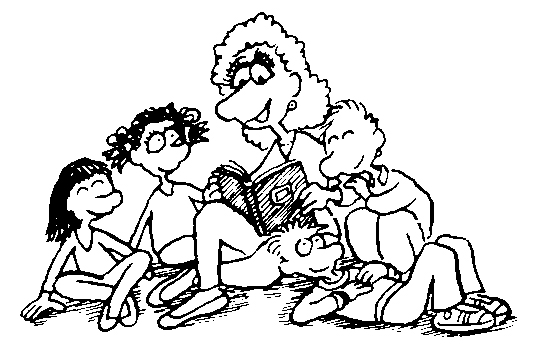 Eager kids are filled with joy as we read to them.
---
2-A2225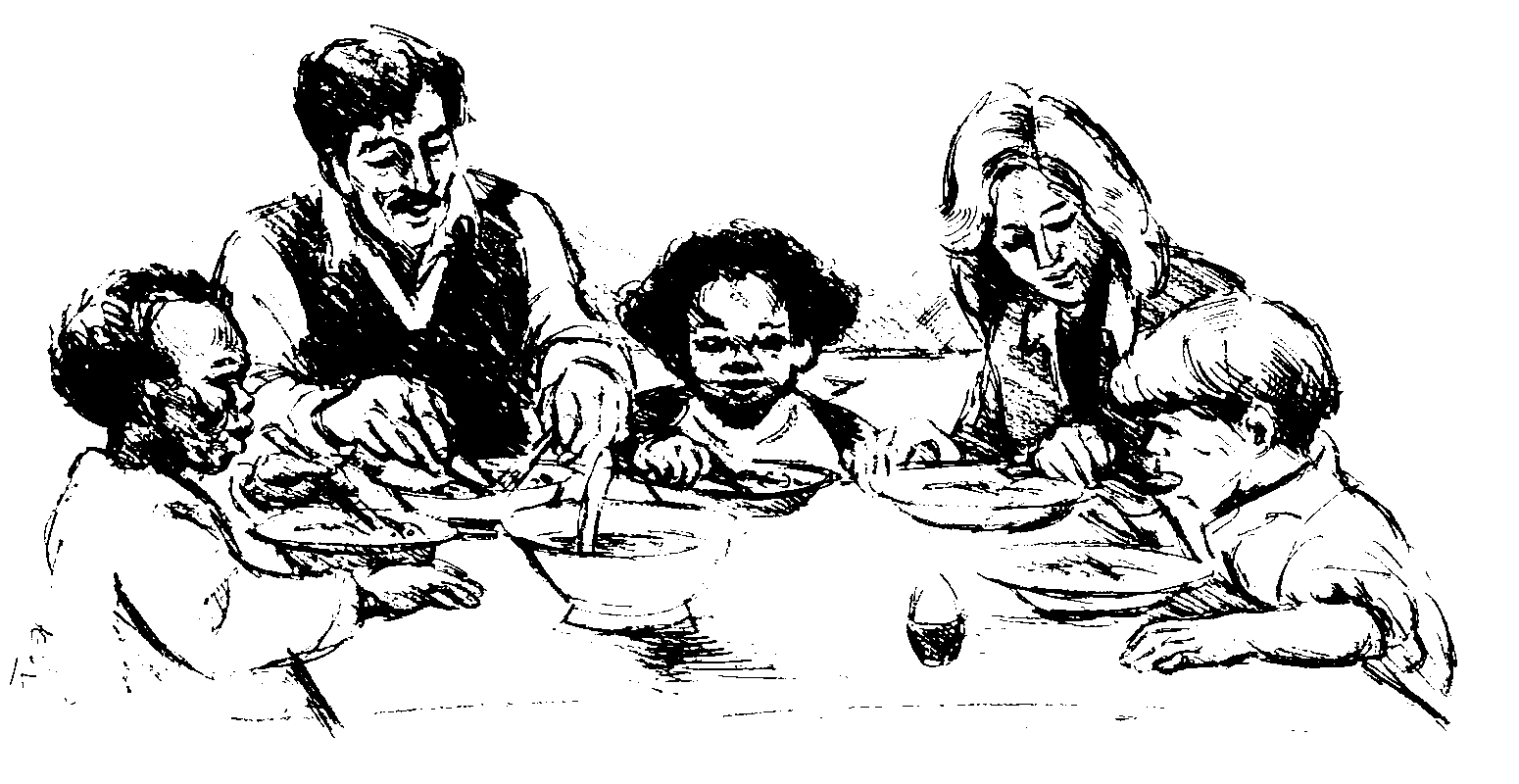 The Greatest Fortune
For me a family is the greatest fortune a person can have on Earth. I believe nothing is more beautiful or precious than to have children, to guide them as they are growing up, and to live together with them in a healthy family. That's the goal I have set for myself.
---
2-A2226
Family Times!

Sundays are perfect days for family-oriented activities. Parents can set this time aside to be involved with their children -- both father and mother wholeheartedly making sure everyone takes part. With this kind of togetherness, who needs the spa? This fun benefits the entire family! When Sunday doesn't work, we'll find another sacred family time each week.
---
2-A2245
Africa, You Shall Live!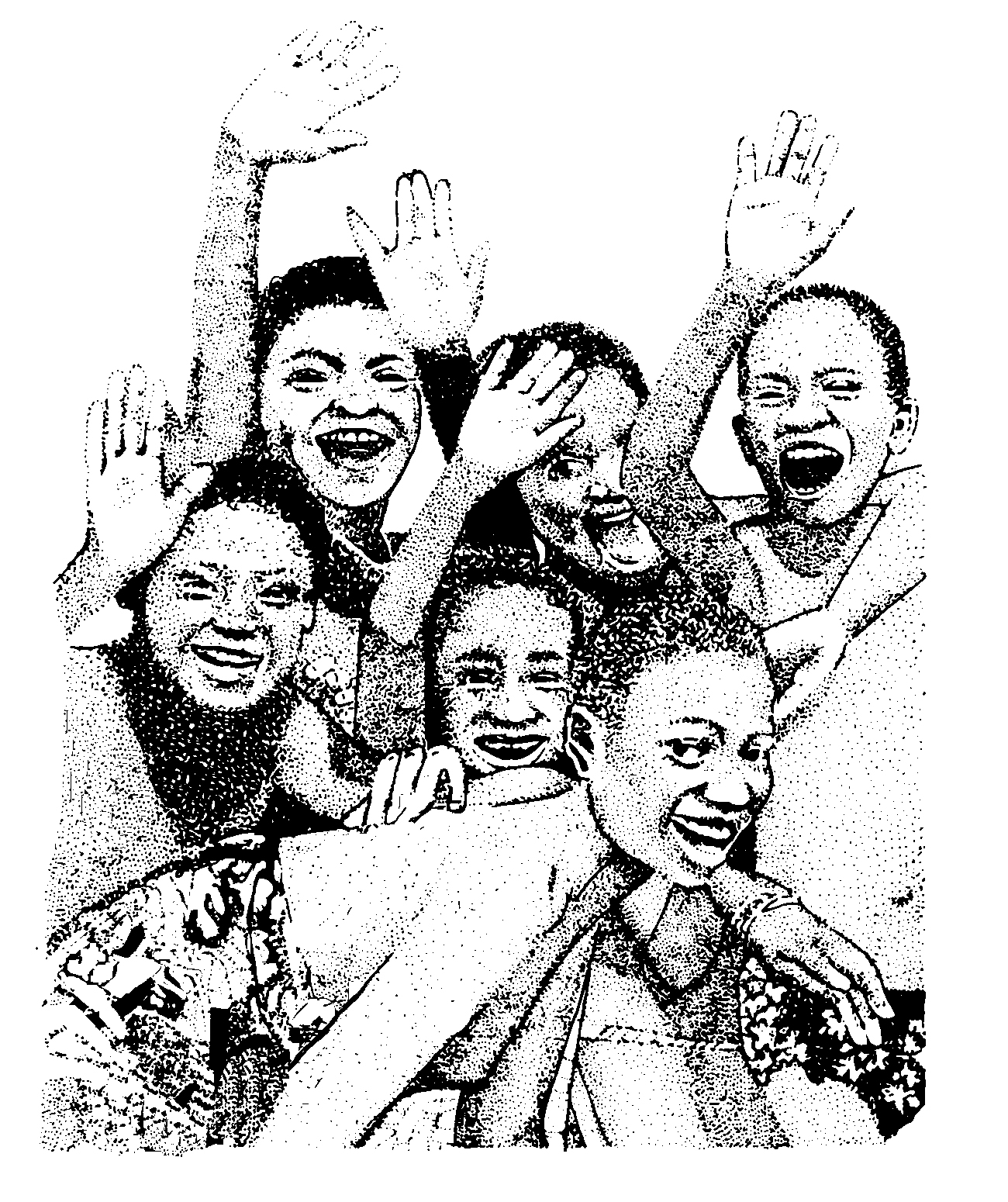 We call you our patient sister. Let us learn truth with joy from you. Sister Africa, be free and live!
["Learn from the world community" is one of the five Life Standards of Voluntary Simplicity.]
---
2-A2303
Shut Out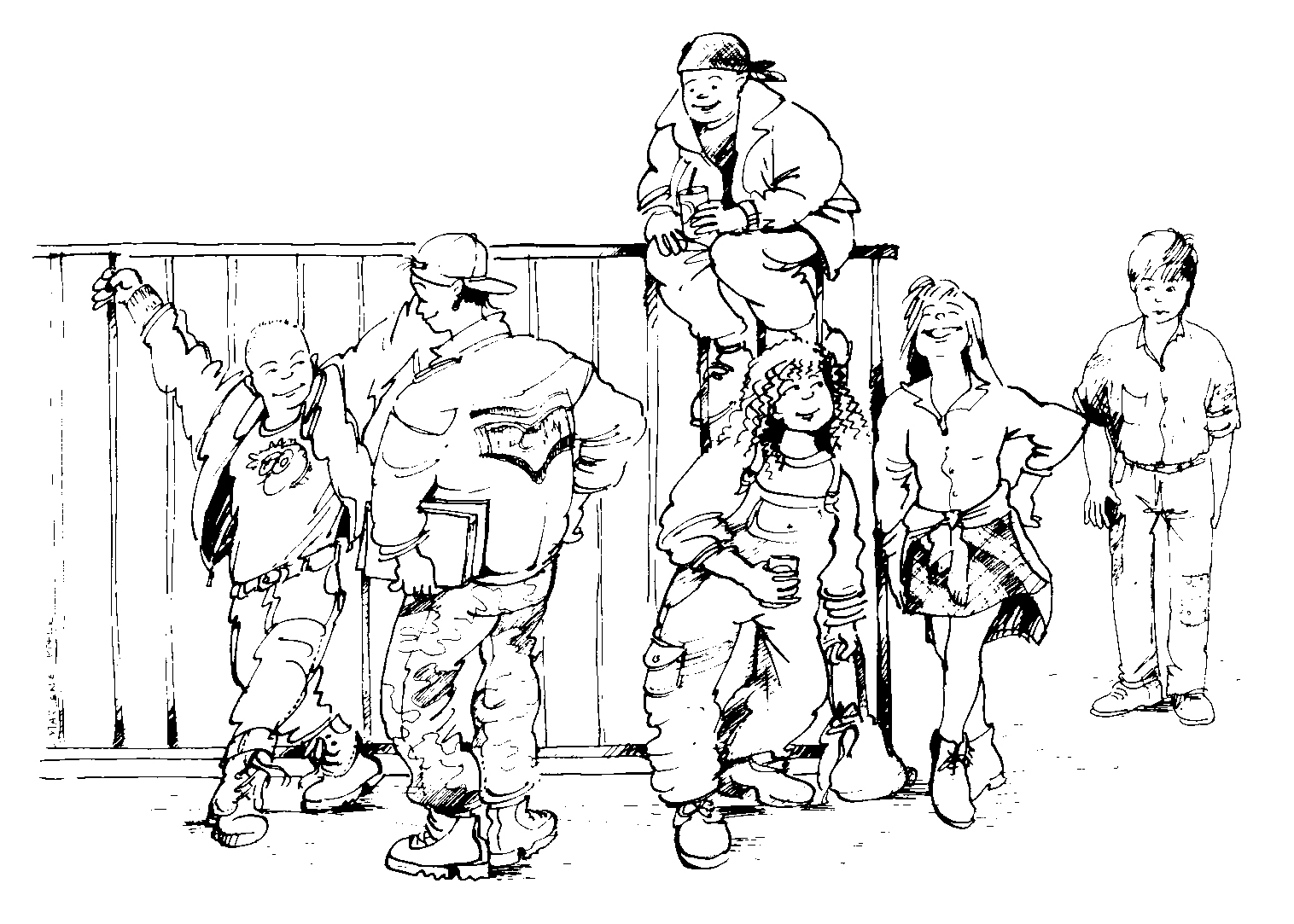 Children are shut out when their parents don't have much money. Without money they can't have the things that make a person popular. They can't have the computer games, or the clothes from the right store, or the big TV, or the right sport shoes. All these things are so necessary if a person's going to belong to the "in" group at school. Peer pressure and cliques are powerful!
Think about it. How does Jesus fit into this picture? Jesus' call for a simpler, Earth-friendly life works, whether we're rich or poor.
---
2-A2433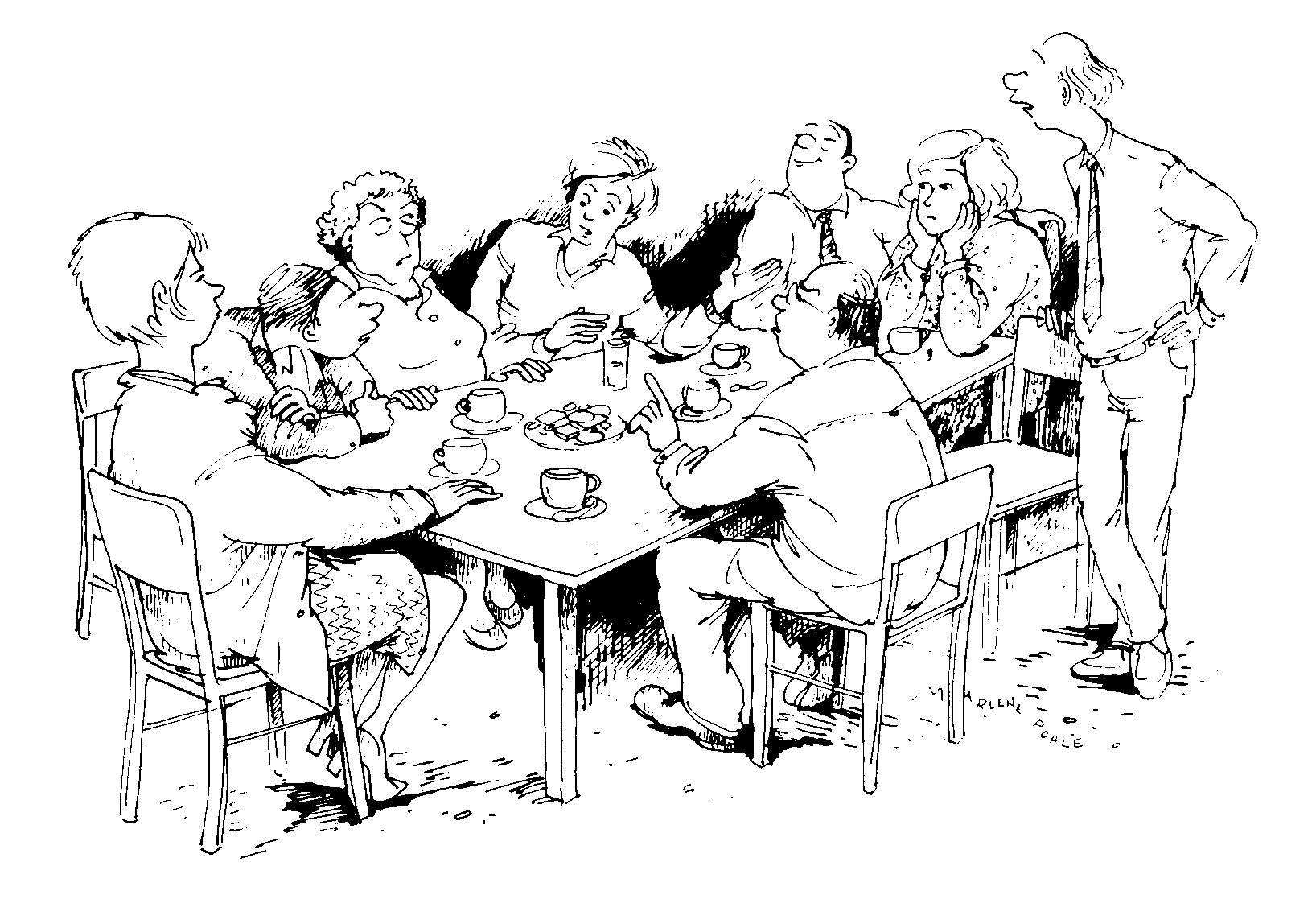 ---
2-A2471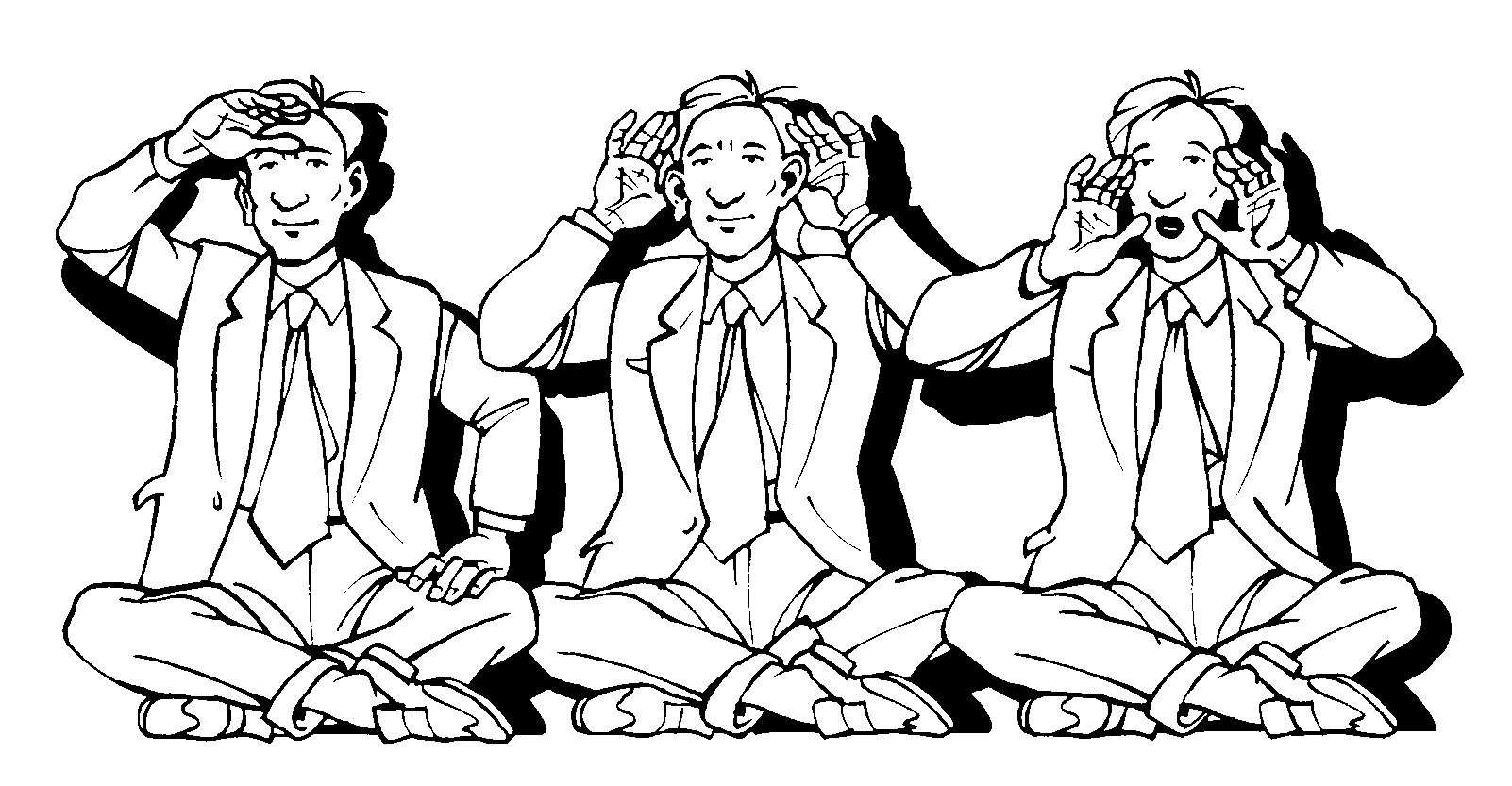 Look and see what others can't see.
Hear what others aren't able to hear.
Tell what you have seen and heard.
---
2-A2551
Continuing Education
Our jobs let us learn our entire working lives. Are our faith and discipleship any less important?
---
2-A2757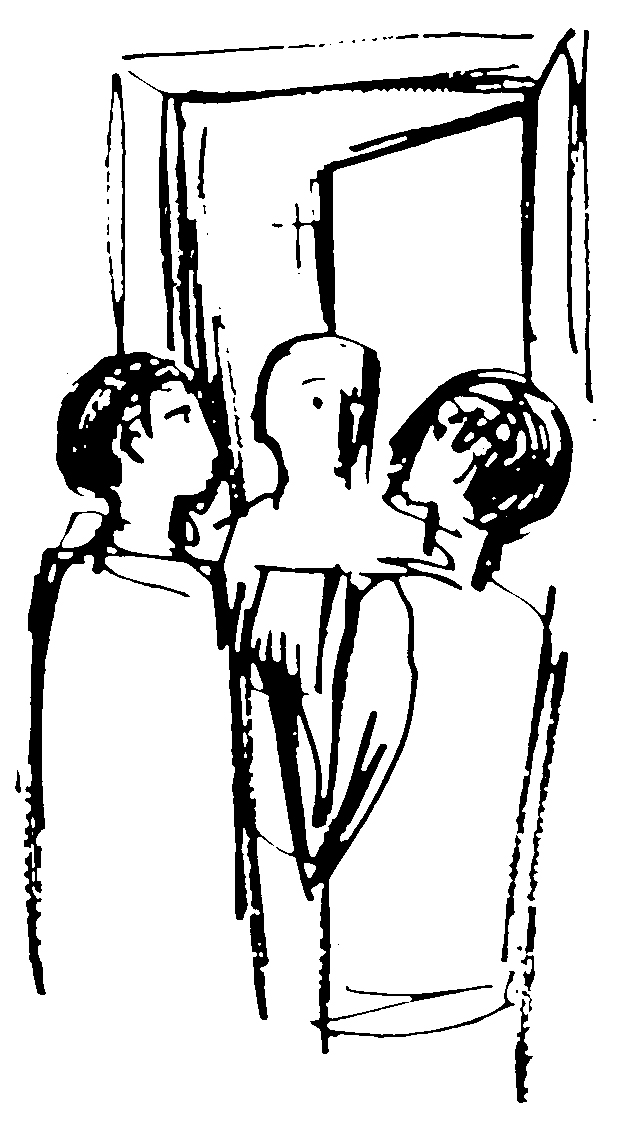 ---
2-A2990
A Mother's Fate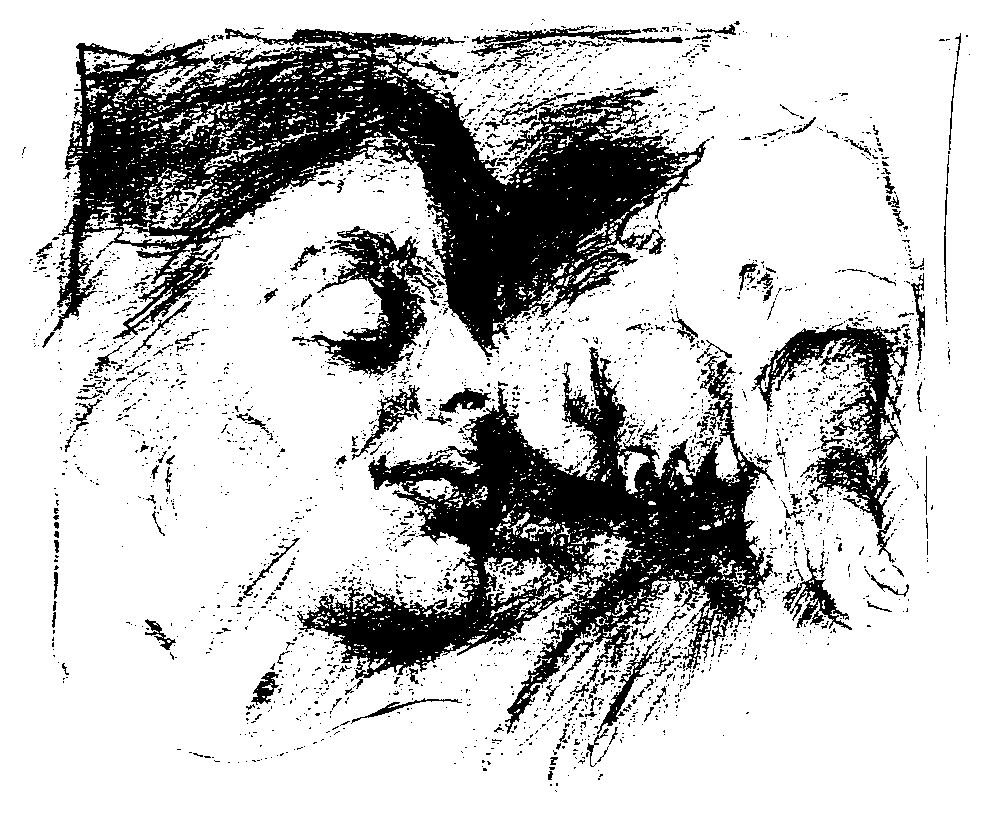 Mary was proud of her son and loved him dearly. But that didn't spare her from experiencing the hard side of being a mother. Even at their very early meeting with Simeon, there was an indication that Jesus was going to have some run-ins and come away with scrapes and bruises. Just as the sword of which Simeon spoke, the nails with which Jesus ended up being crucified must have pierced deeply into her mother's heart. And yet, she loved.
---
2-A2993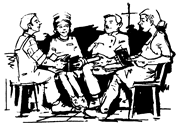 For Example, a Small Study Group
Whether we are cooks, horticulturists, nurses, or factory workers, what makes us influential is not our profession, but rather our vocation, our calling. We have been called, and when we make ourselves available for God to work through us, our trust, fellowship and credibility will make the life of discipleship appealing.
When our vocation is a calling, we, then others and all Creation are influenced for good.
---
2-A3042
Simplicity Circles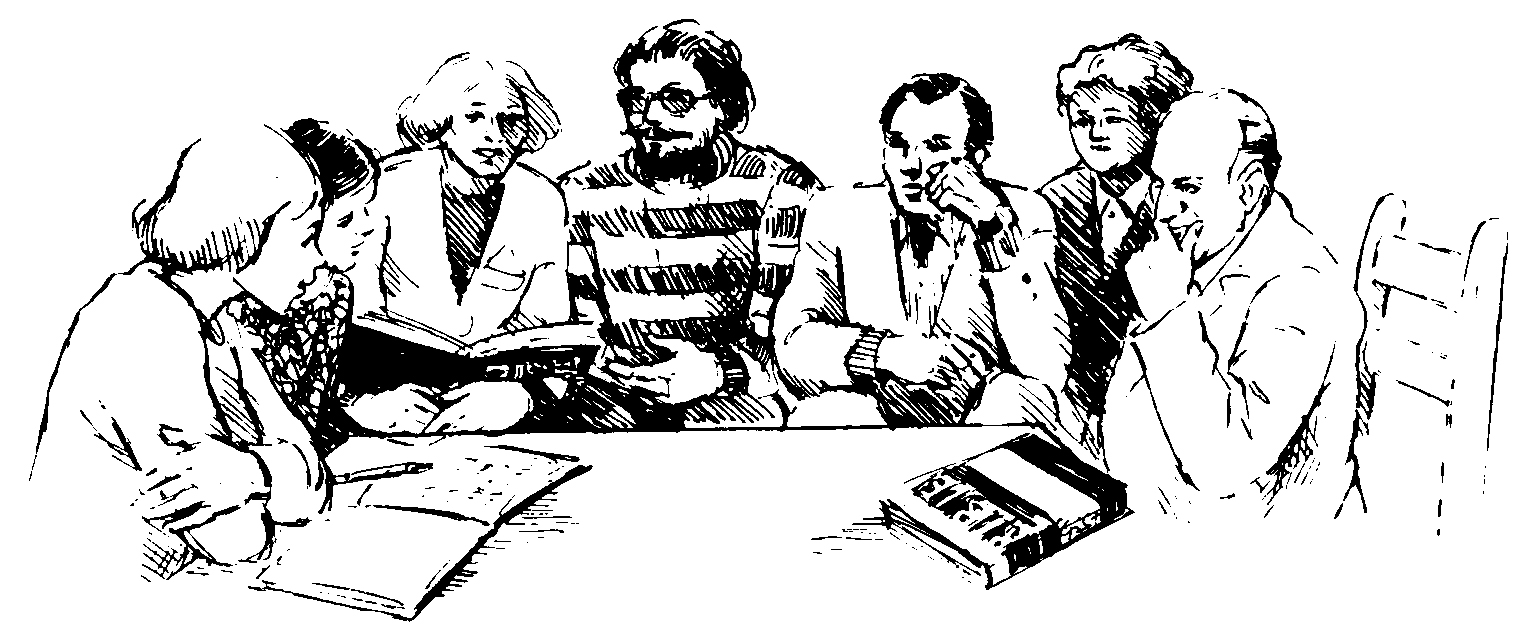 We want to know God. We want to live simply, as disciples. There's something bothering us. We wish we could grow in your faith. There's no better way to do it than to study with the Bible. The Bible says, "Faith comes through hearing, and hearing through the Word of God."
If you feel stuck trying to read alone, get together with a group of others in a small study/action group or Simplicity Circle. The questions and the thoughts will give us a lot to think about. We'll find ourselves developing some deep friendships and getting to know God better!
---
2-A3051
The family is the heart's native country. -- Mazzini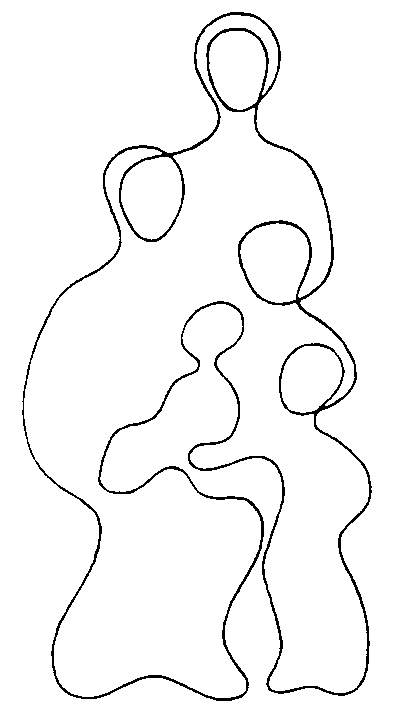 With brothers and sisters in Christ, we can all know family.
---
2-A3052
Religious Education?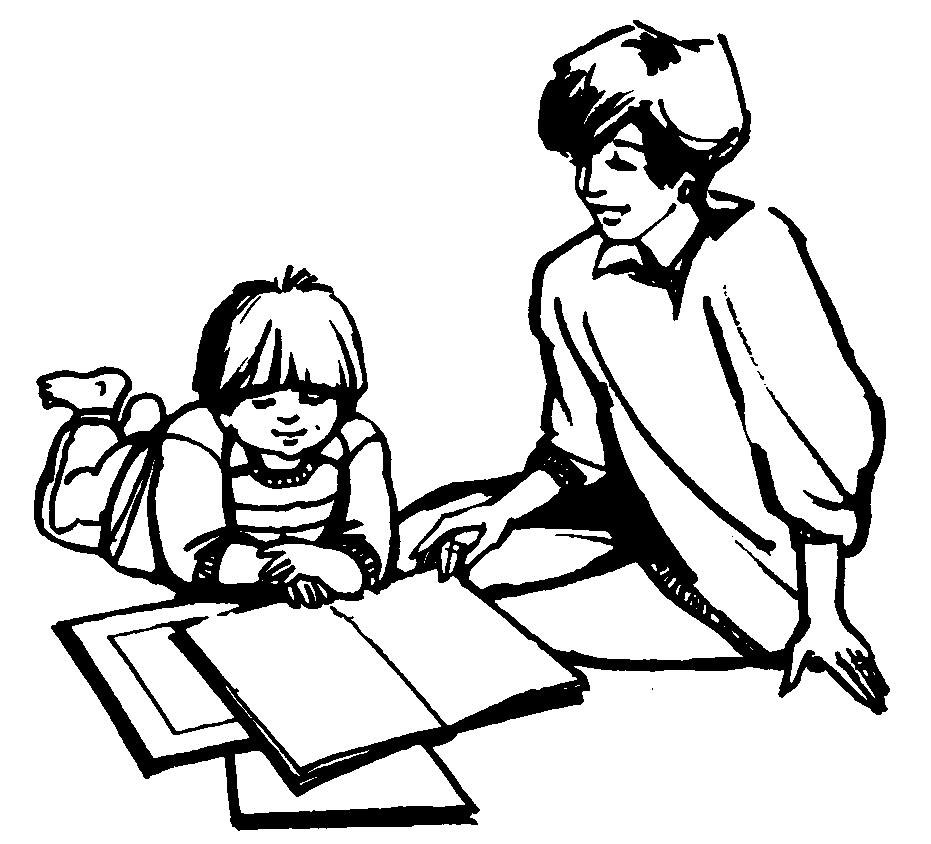 Christian schools are great, but this job begins in the home. The church education program may be the best, but if it's not backed up by solid religious education at home, it is at best, weak.
As parents, let us take our God-given responsibility with joy. Let's become knowledgeable, so that we can teach our children. Let's know where the best resources are. Let's do this job as if our children's futures depend on it -- for, in fact, they do!
---
2-A3053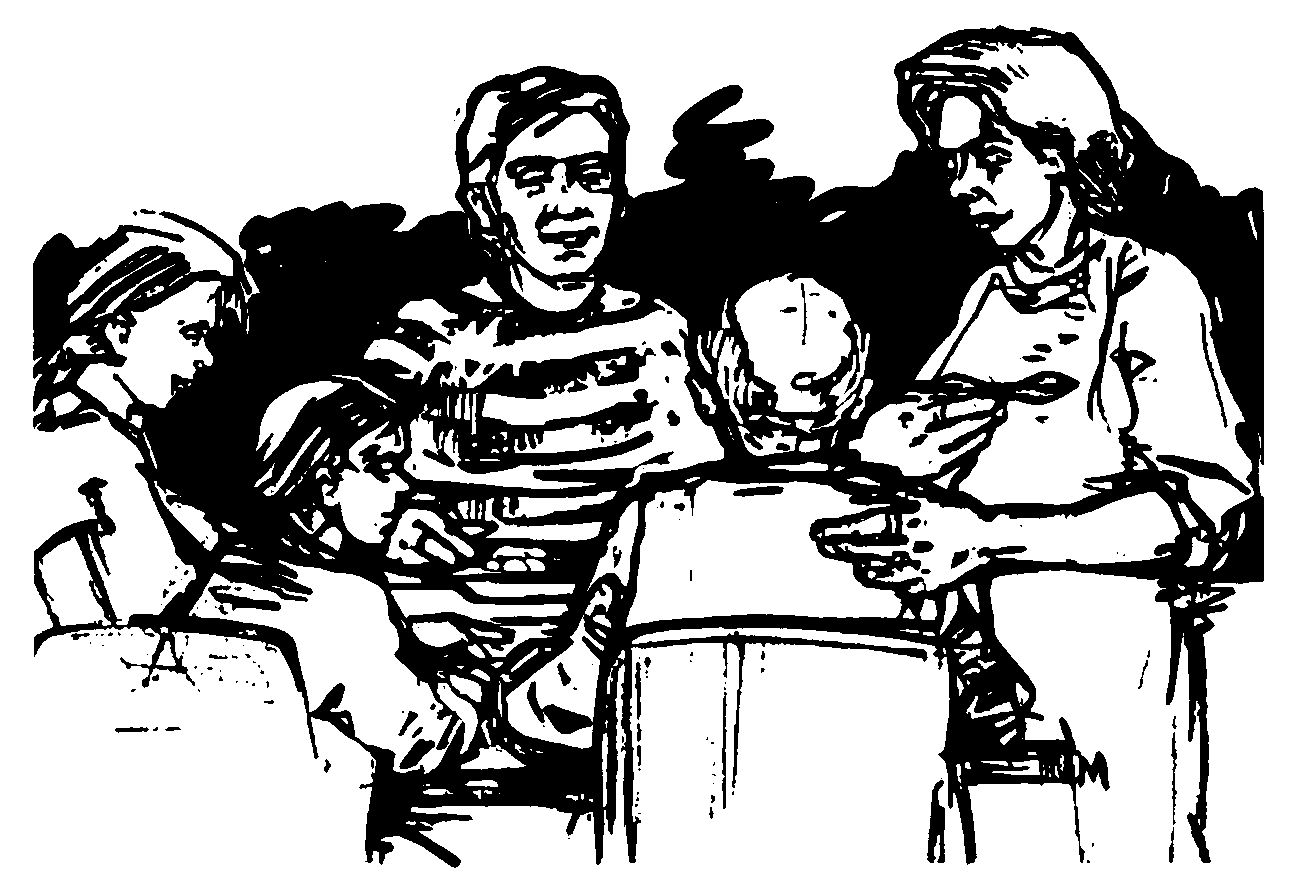 Job success, clothes from the right shops, or good looks and a quick tongue may make a difference to those around us -- as to whether or not they will accept us. That is why family is so important. It accepts us because we belong. Within its protection we, as children, can safely develop our abilities; and, as older people, we can live in dignity.
---
2-A3055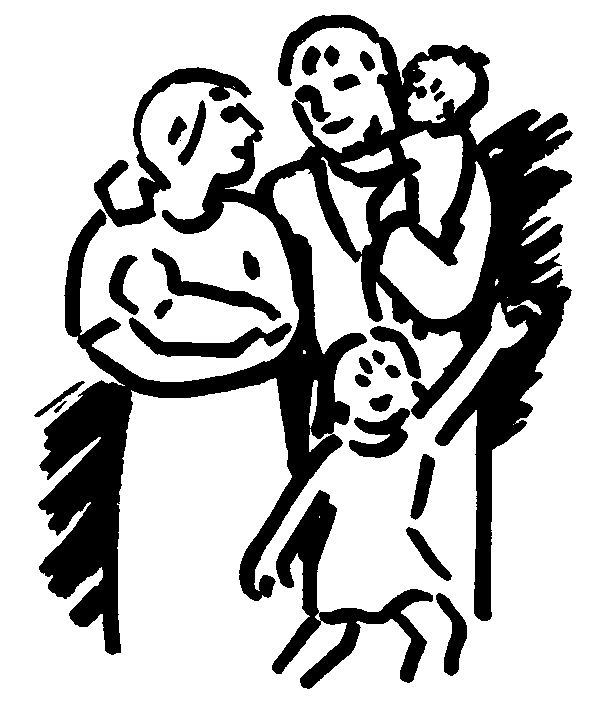 Today everyone appears to be terribly driven, to be worrying about getting better pay and greater wealth. The ones who suffer are the children for whom their parents find less and less time.
--Mother Teresa
---
2-A3056
Family Life Takes Time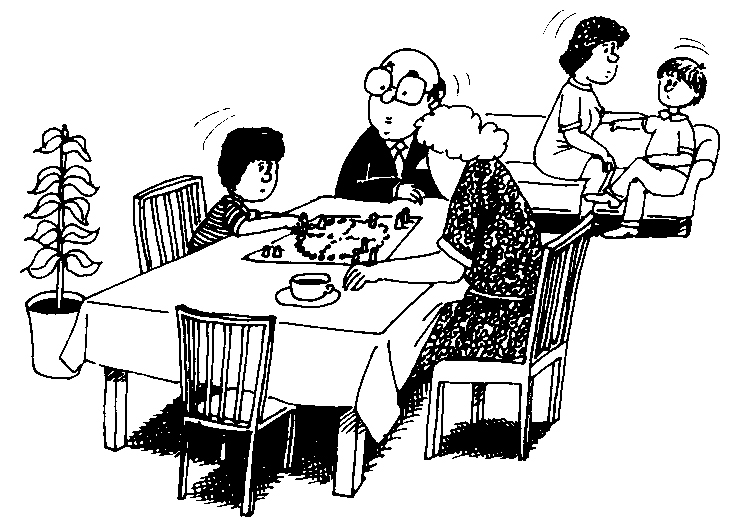 Instead of watching TV, let's pull out some games. Especially good are cooperative, non-competitive games, storytelling and reading aloud. A Family Fun Night at least once a week creates more of a sense of togetherness than we can ever achieve sitting in front of the TV. And it gives us all a great opportunity for conversation and fun! [See "Resources" for cooperative games and other family activities.]
---
2-A3236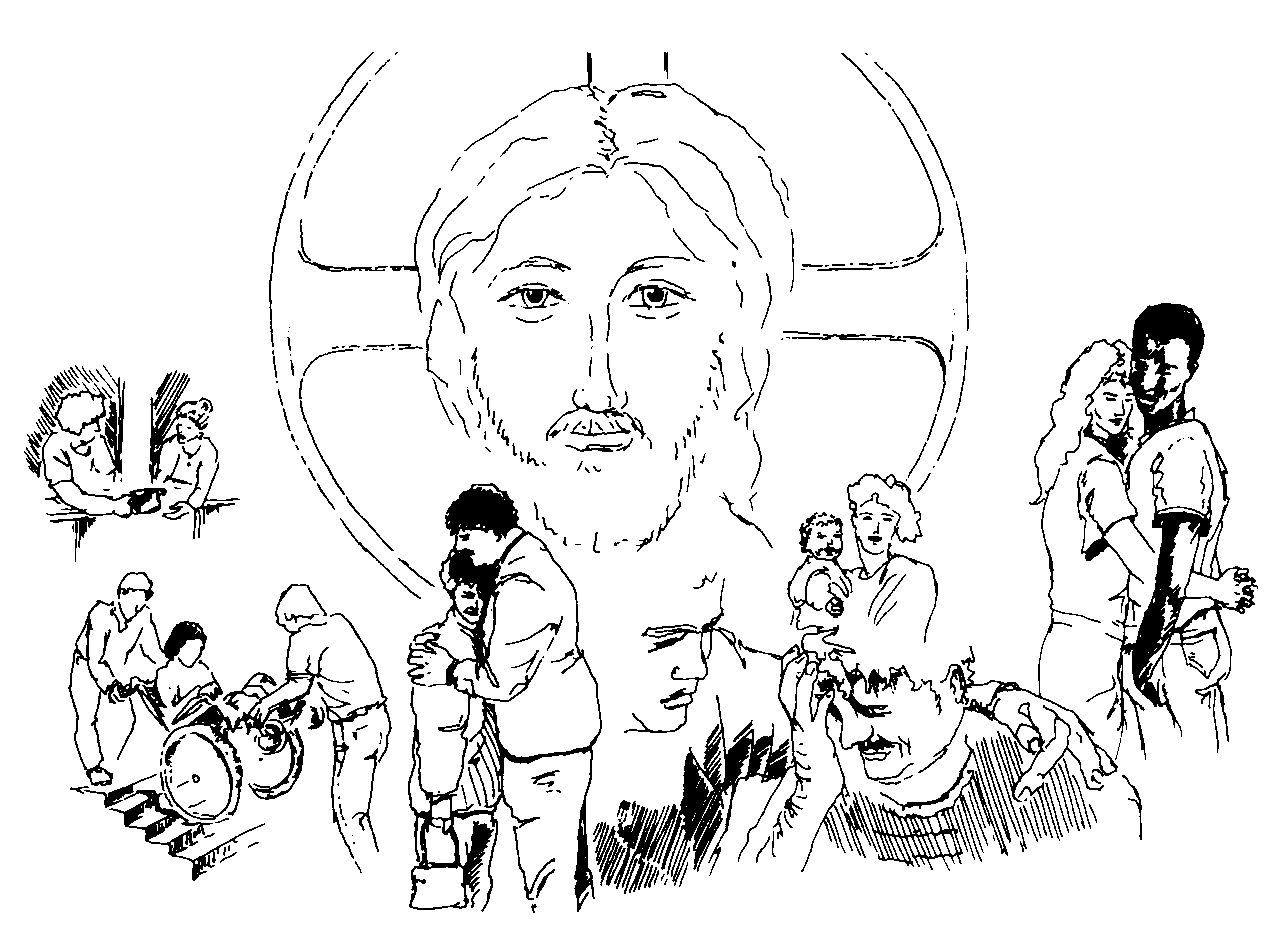 YOU sharing speaking promising YOU ARE THERE doubting rejoicing IN OUR MIDST helping refusing comforting crying YOU LIVE working discussing IN ALL OUR ACTIONS supporting enjoying THROUGH US THE WORLD MAKES loving worrying accepting ITS PICTURE OF YOU
---
2-A3496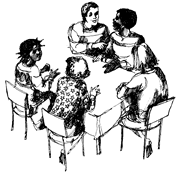 ---
2-A3607
A World of Empty Hands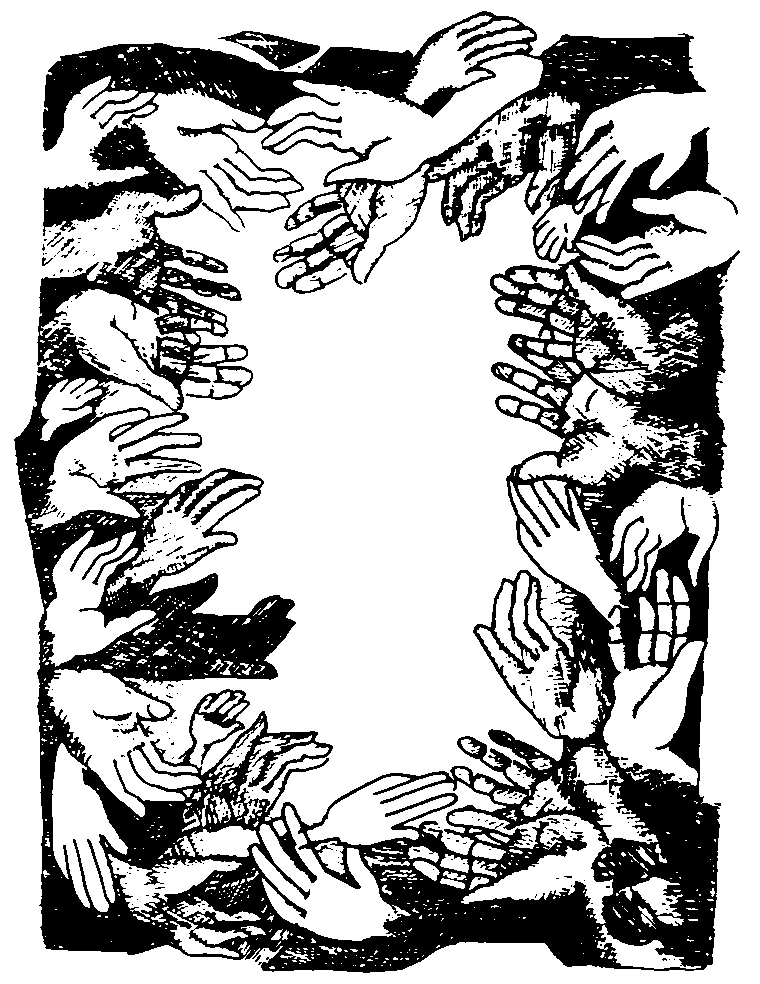 When we place one hand into another, no hand remains empty.
---
2-A3862
Worshiping Together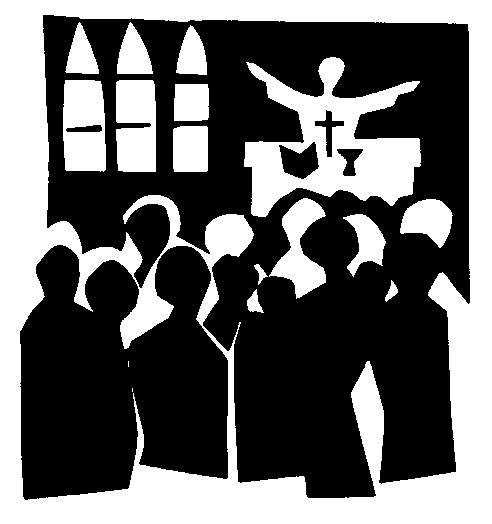 Faith binds families together and to God.
---
2-A3863
Praying Together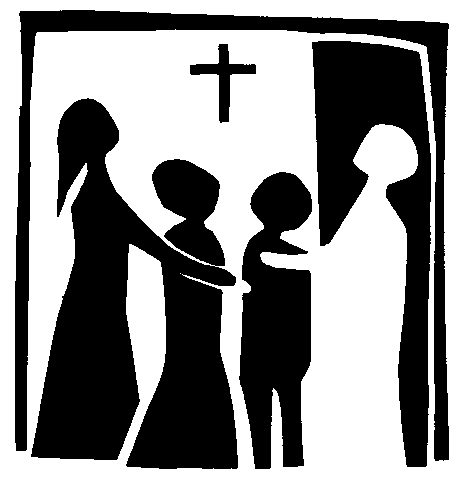 The family stands together on a solid foundation.
---
2-A3864
Table Prayer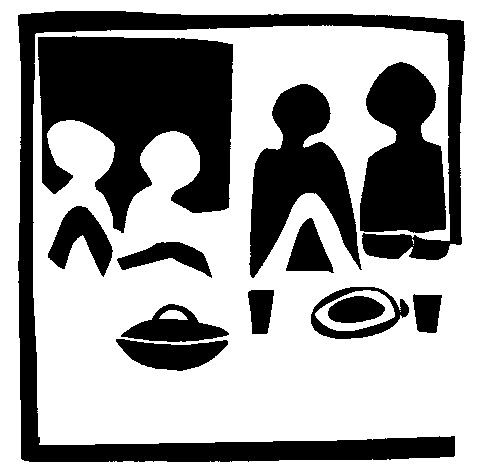 The family thanks God for daily provision.
---
2-A3865
Evening Prayer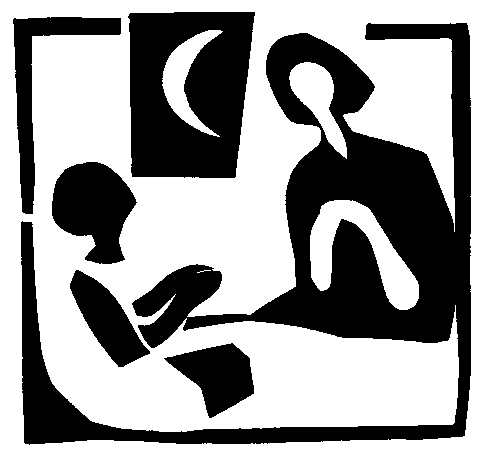 The day ends in God's hands. God forgives our failures and can bring good out of them.
---
2-A3867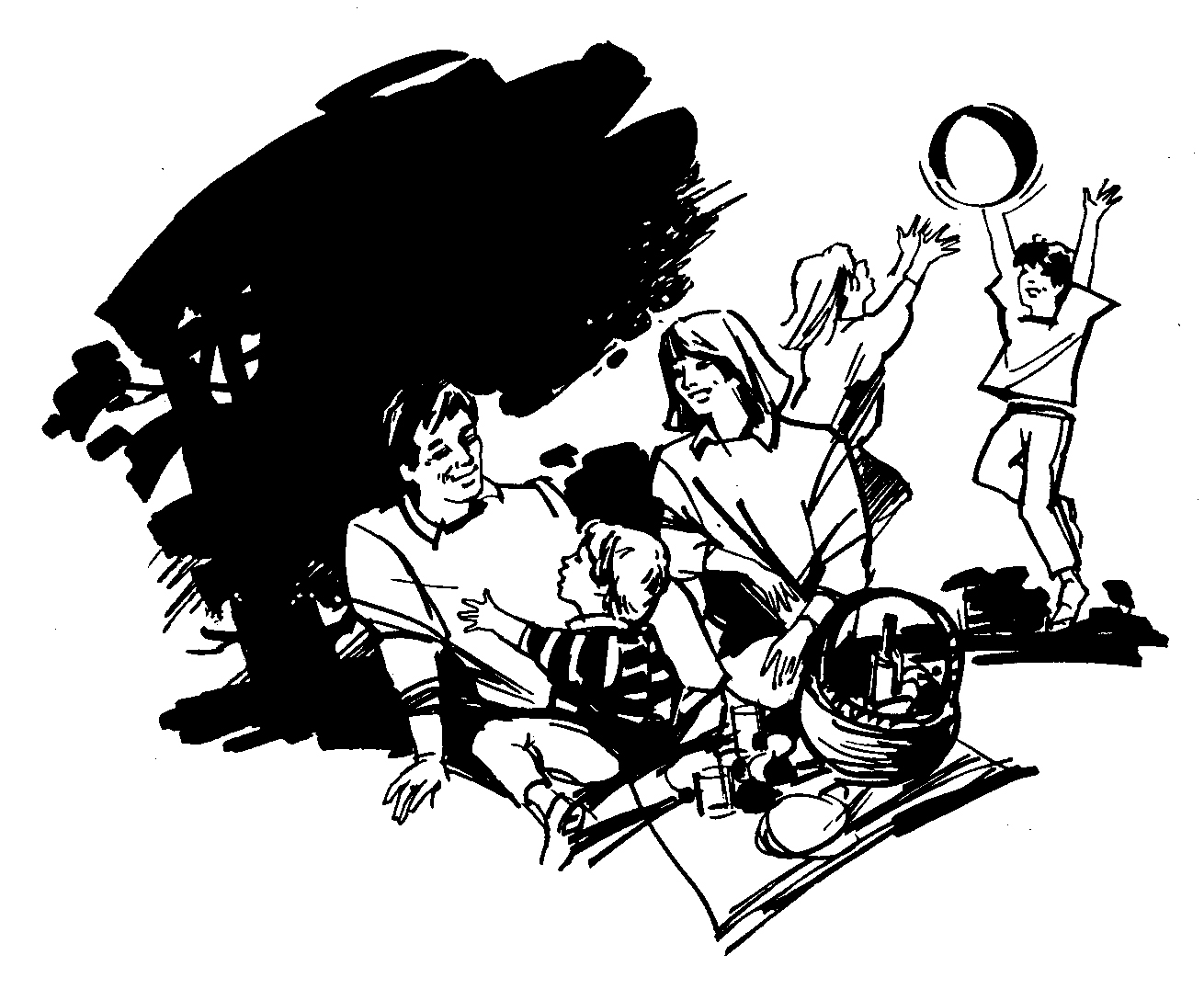 ---
2-A4155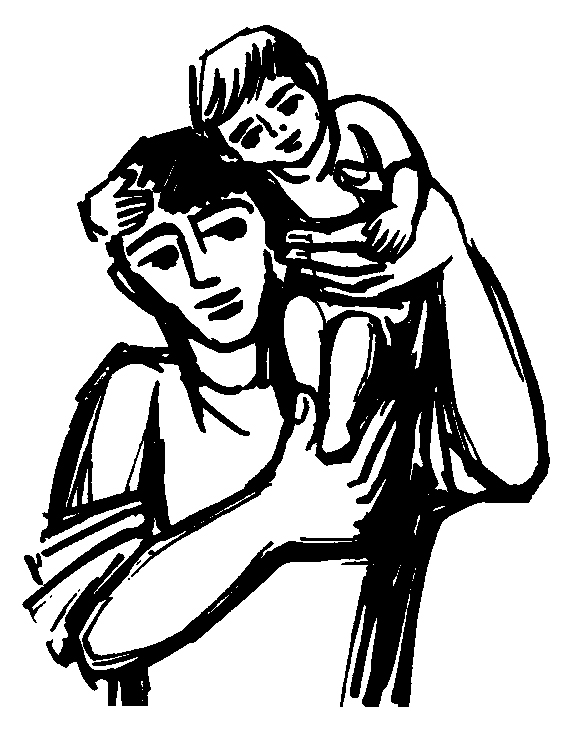 ---
2-A4258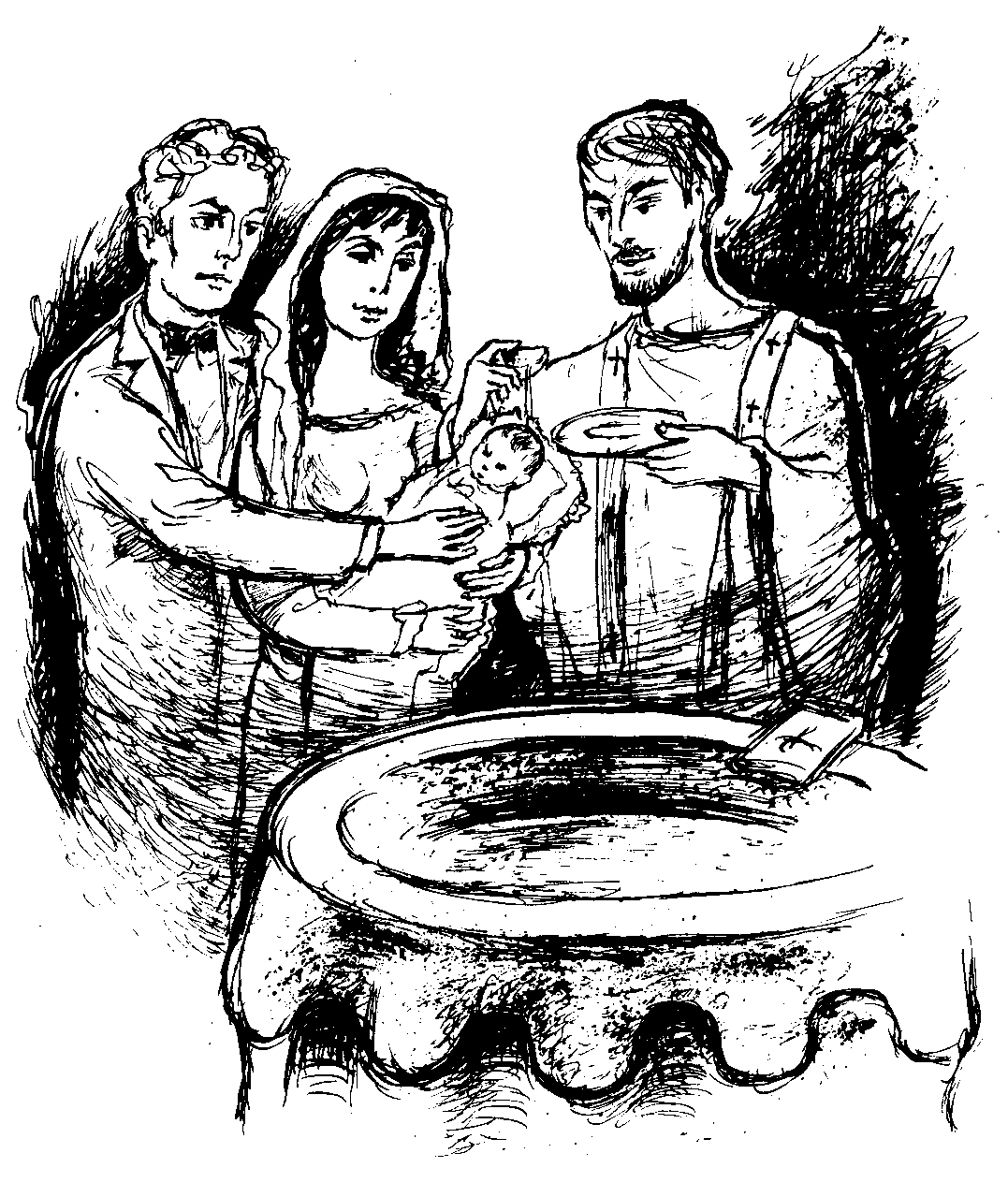 Bless, O Lord, your whole creation!
---
2-A4279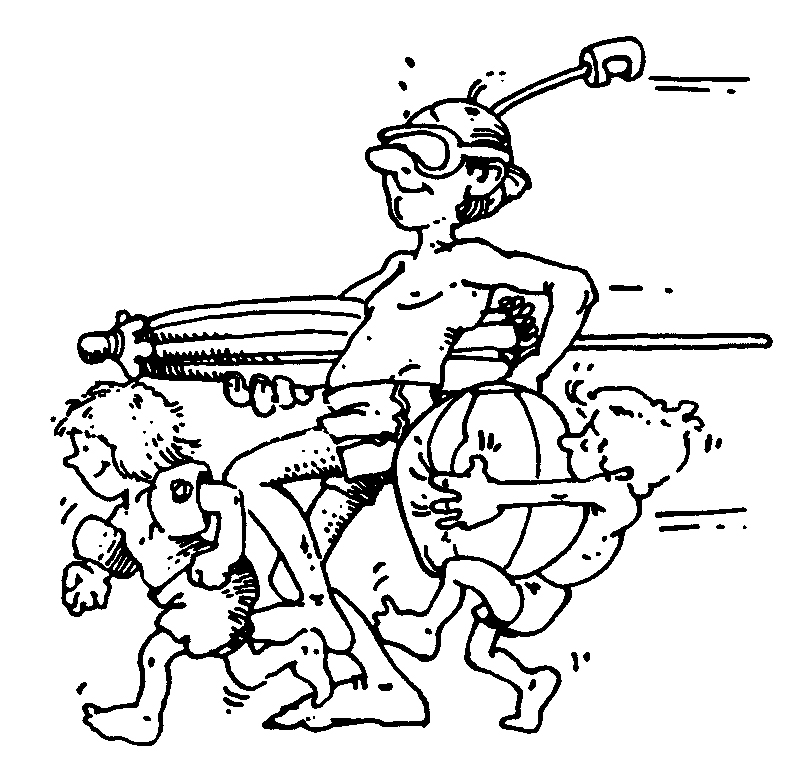 ---
2-A4285
A Litany for Vacation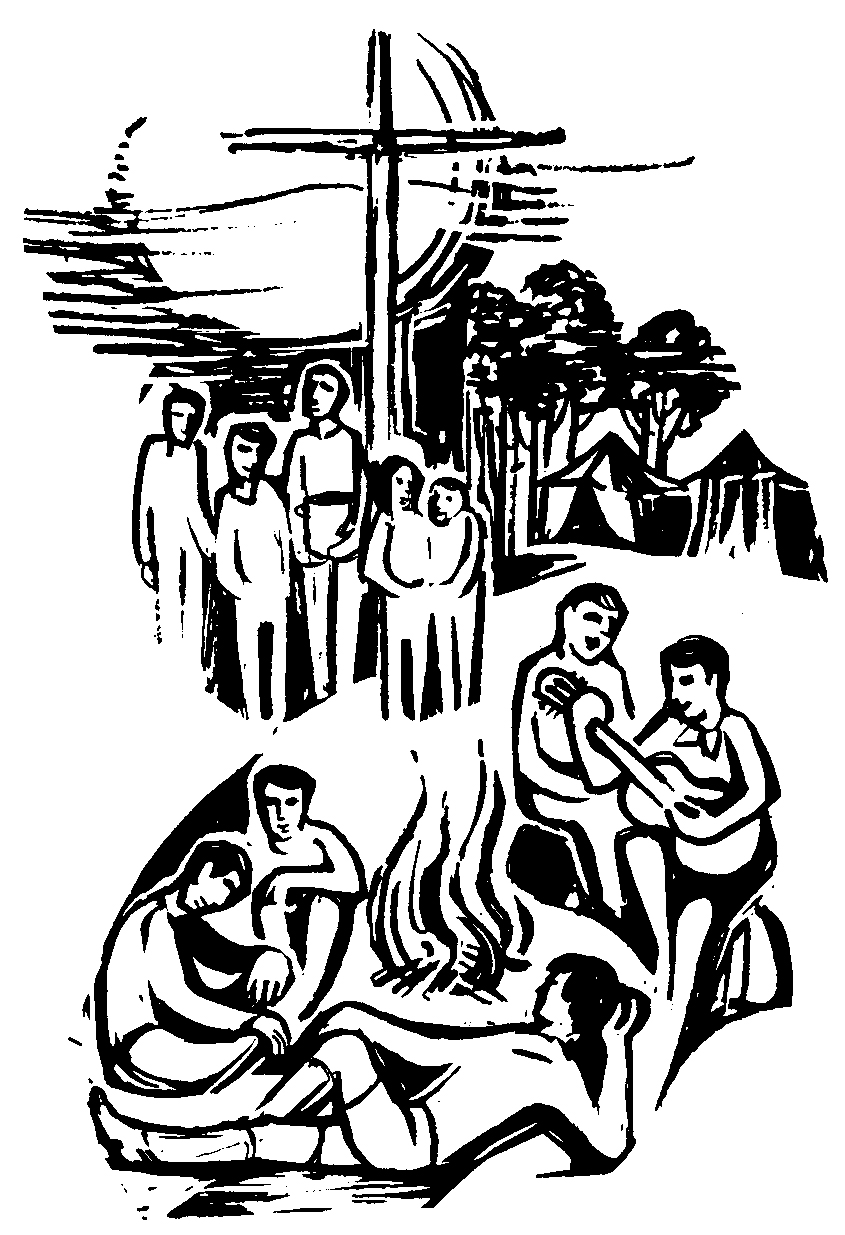 From a day that begins and ends without you,
Keep us, O Lord.
From getting all worked up while we are traveling or playing,
Keep us, O Lord.
From thoughts and sights which lead us toward evil,
Keep us, O Lord.
From the senseless spending of your money, Keep us, O Lord.
From saying words which don't honor you and from aggravating others,
Keep us, O Lord.
We commit ourselves into your hands. Amen.
---
2-A4300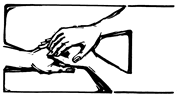 Where God is, people become brothers and sisters.
Where people become brothers and sisters,
God is there.
---
---
Hunger, Poverty
Homelessness
Peace & Reconciliation
Violence, Nonviolence
Justice
Advocacy, Boycotts
War, Militarism
Also see: 1-A0185, 1-A502, 1-A509, 2-A2033, 2-A2046, 2-A2225, 2-A320, 2-A325, 2-A3496, 2-A4300, 3-A079, 3-A1077, 3-A2857, 3-A301, 3-A313-316, 3-A323, 3-A328, 3-A510, 3-A511a-c, 3-A513, 3-A523, 3-A526, 3-A530, 3-A531, 3-A533, 3-A534, 3-A535, 3-A536, 3-A537, 3-A538, 3-A539, 3-A543, 3-A546, 3-A547, 3-A549, 3-A556, 5-A029, 5-A036, 5-A3231, 5-A851, 6-A2073, 6-A2203, 6-A3375, 6-A3376, 6-A3543, 6-A904, 7-A1280, 7-A2019, 7-A2880, 7-A810, 8-A0433, 8-A3359, 8-A3665, 8-A4190, 9-A902, 10-A2843, 10-A4040,
---
4-A027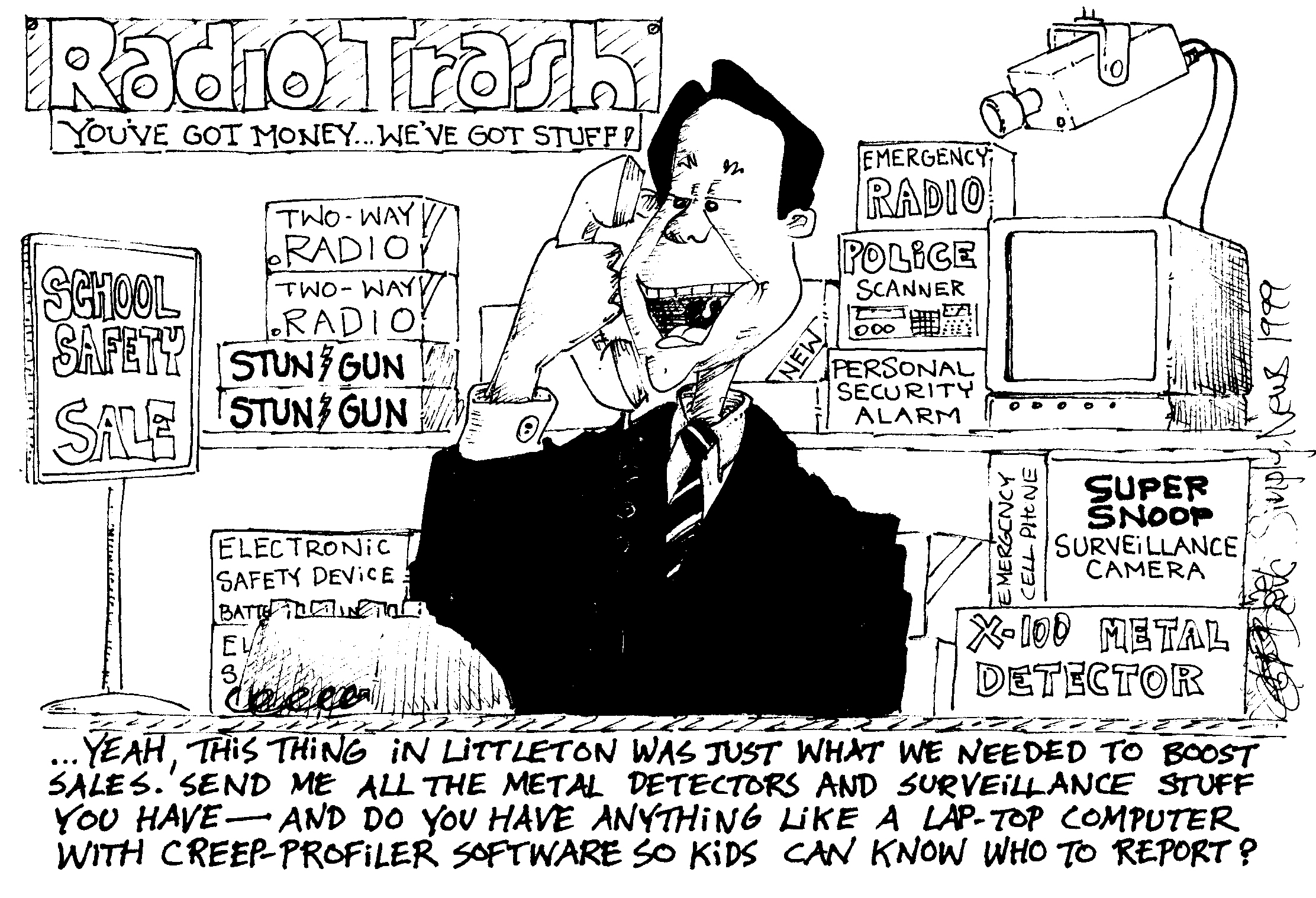 ---
4-A302--soup & bread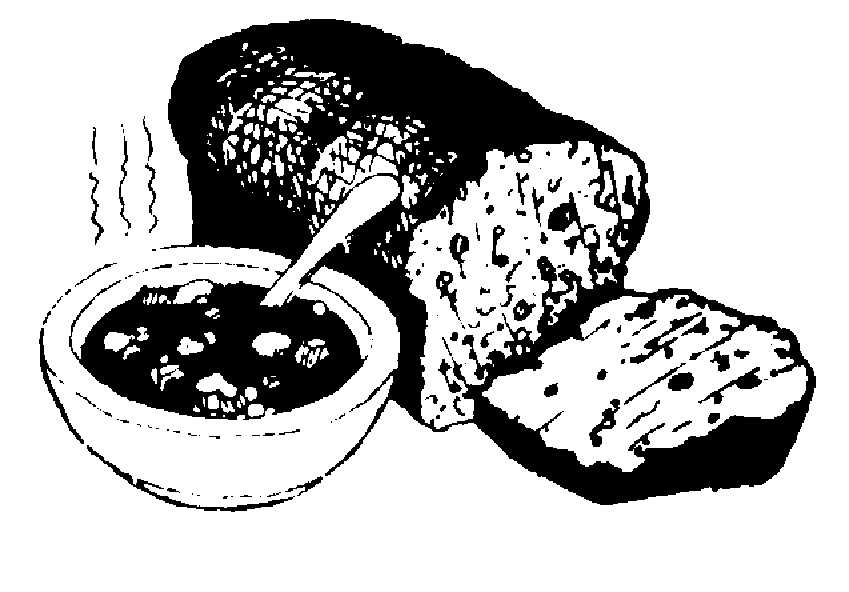 ---
4-A303--World Food Day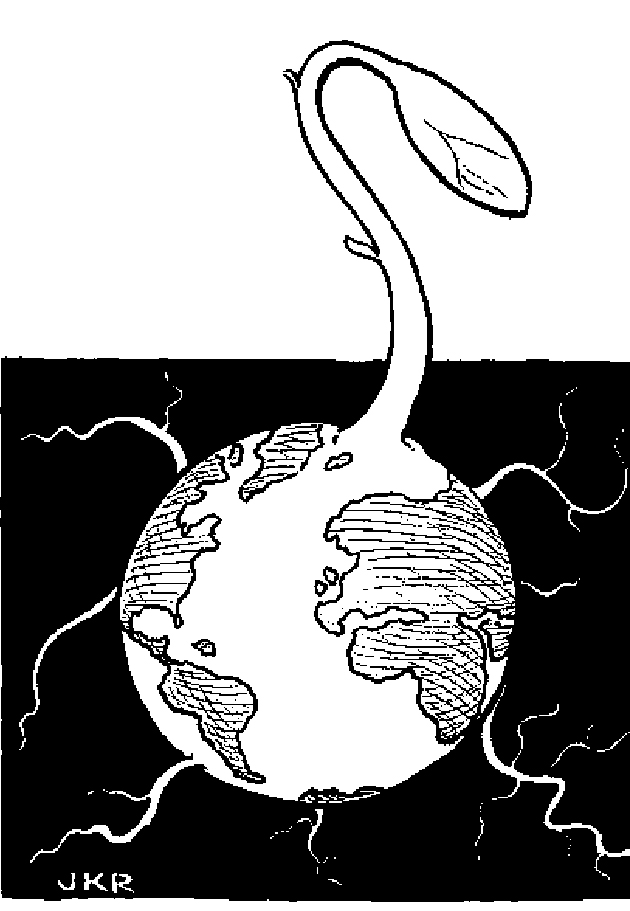 ---
4-A304--sad, hungry, troubled people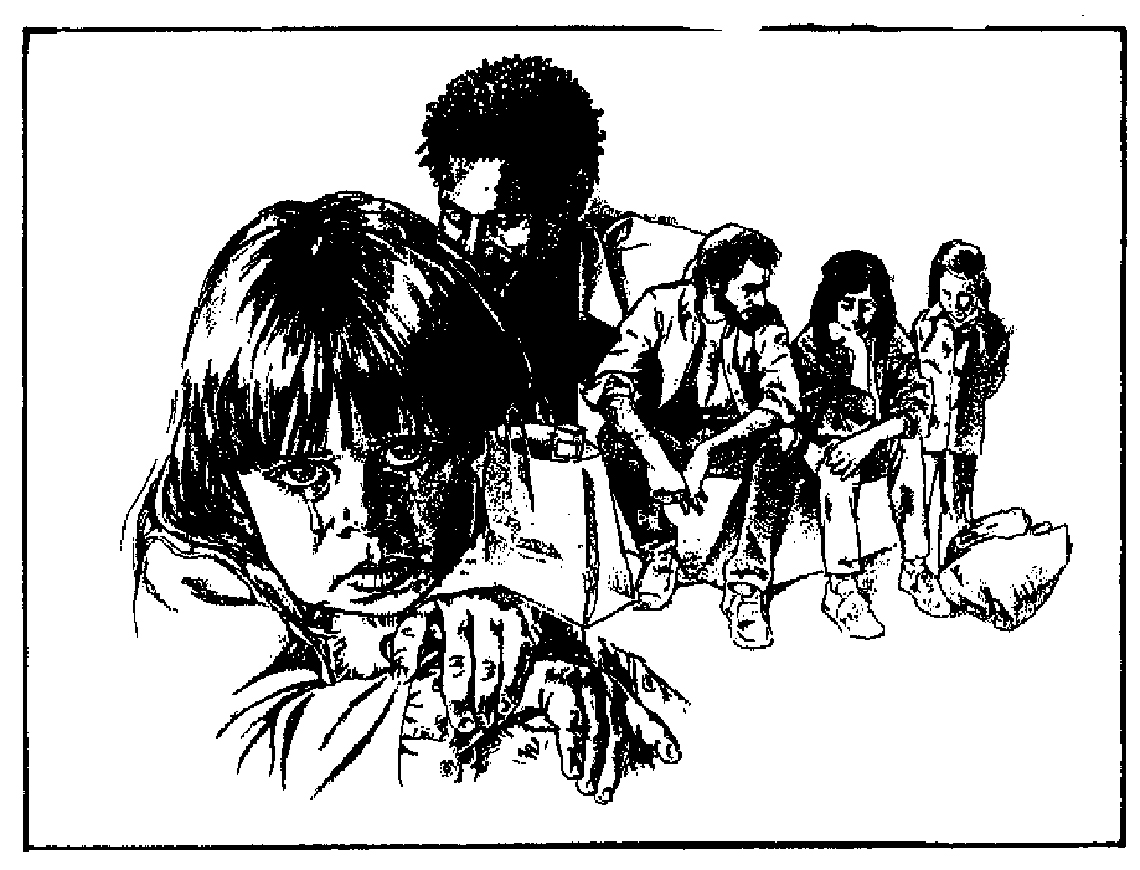 ---
4-A306--Justice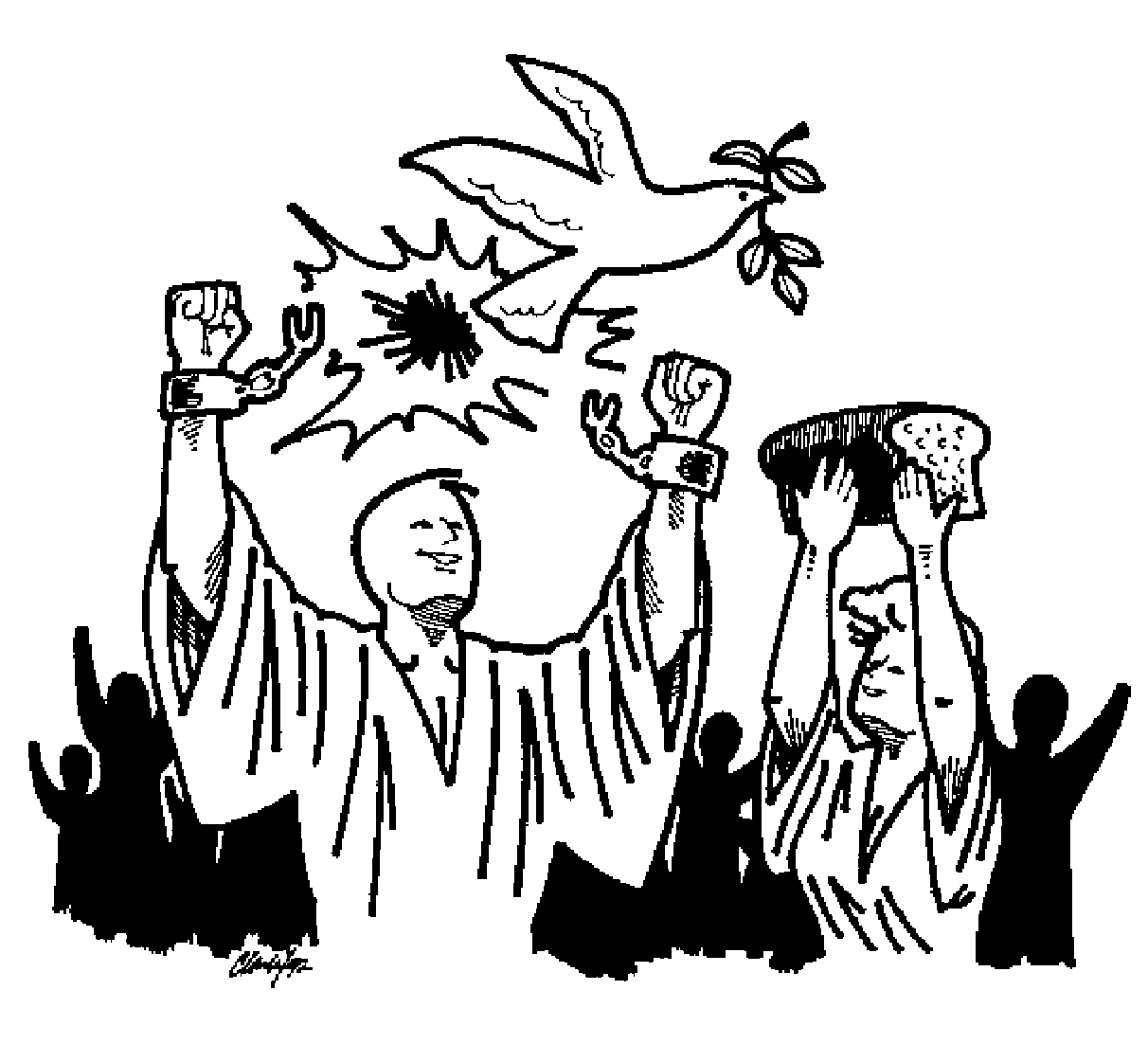 ---
4-A307--African boy

---
4-A308--bread slice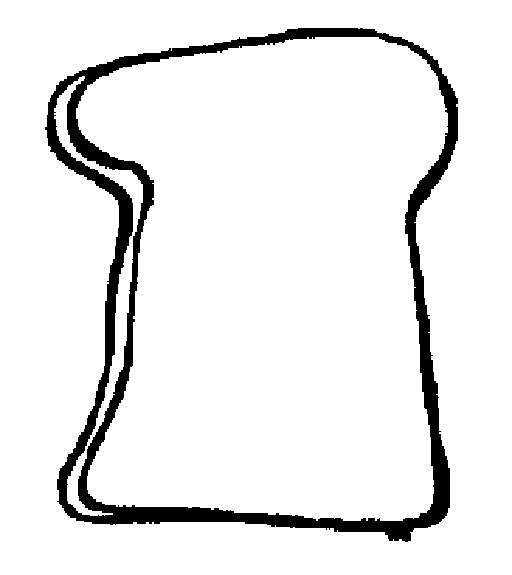 ---
4-A310--dumpster man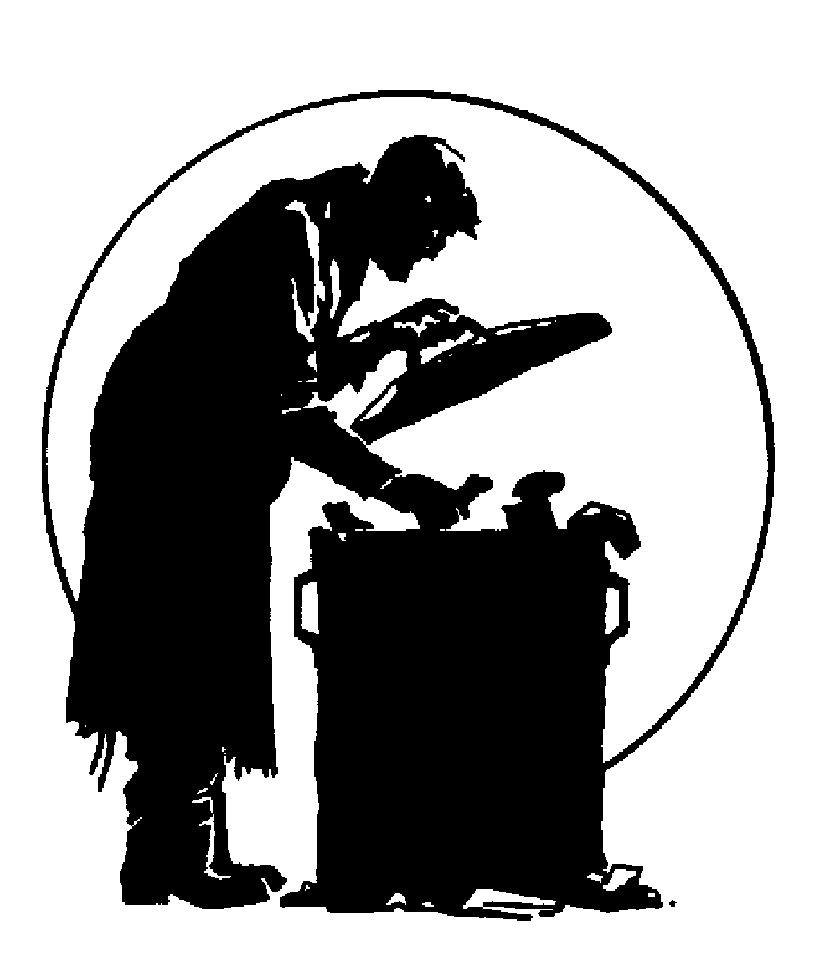 ---
4-A311--groceries & communion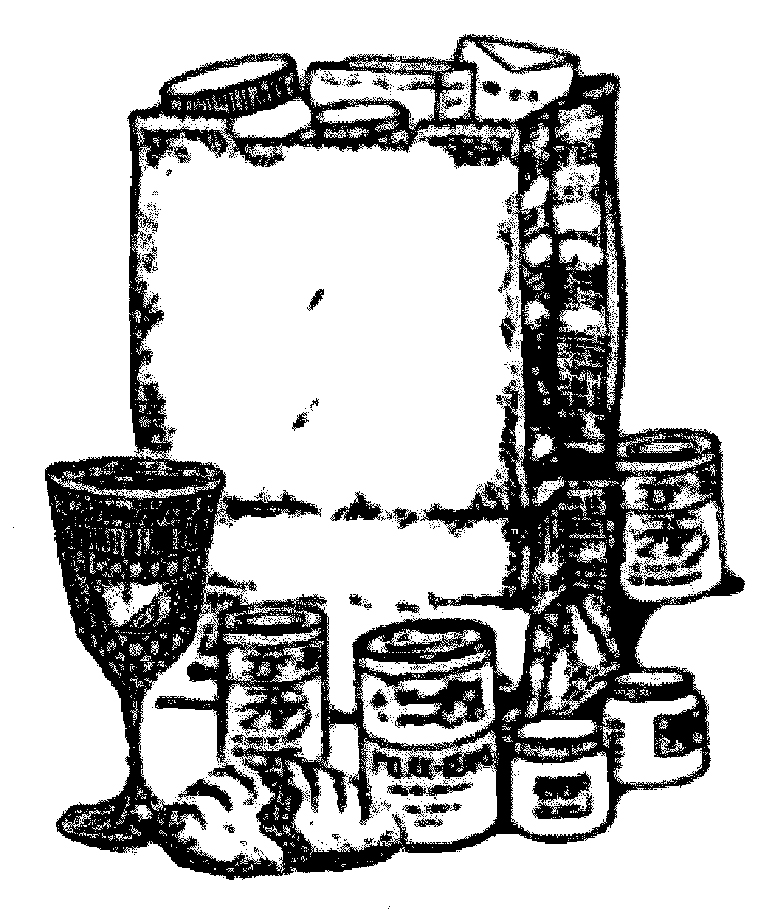 ---
4-A321--bread of deliverance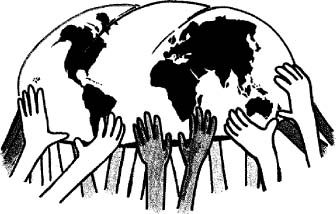 ---
4-A322--place setting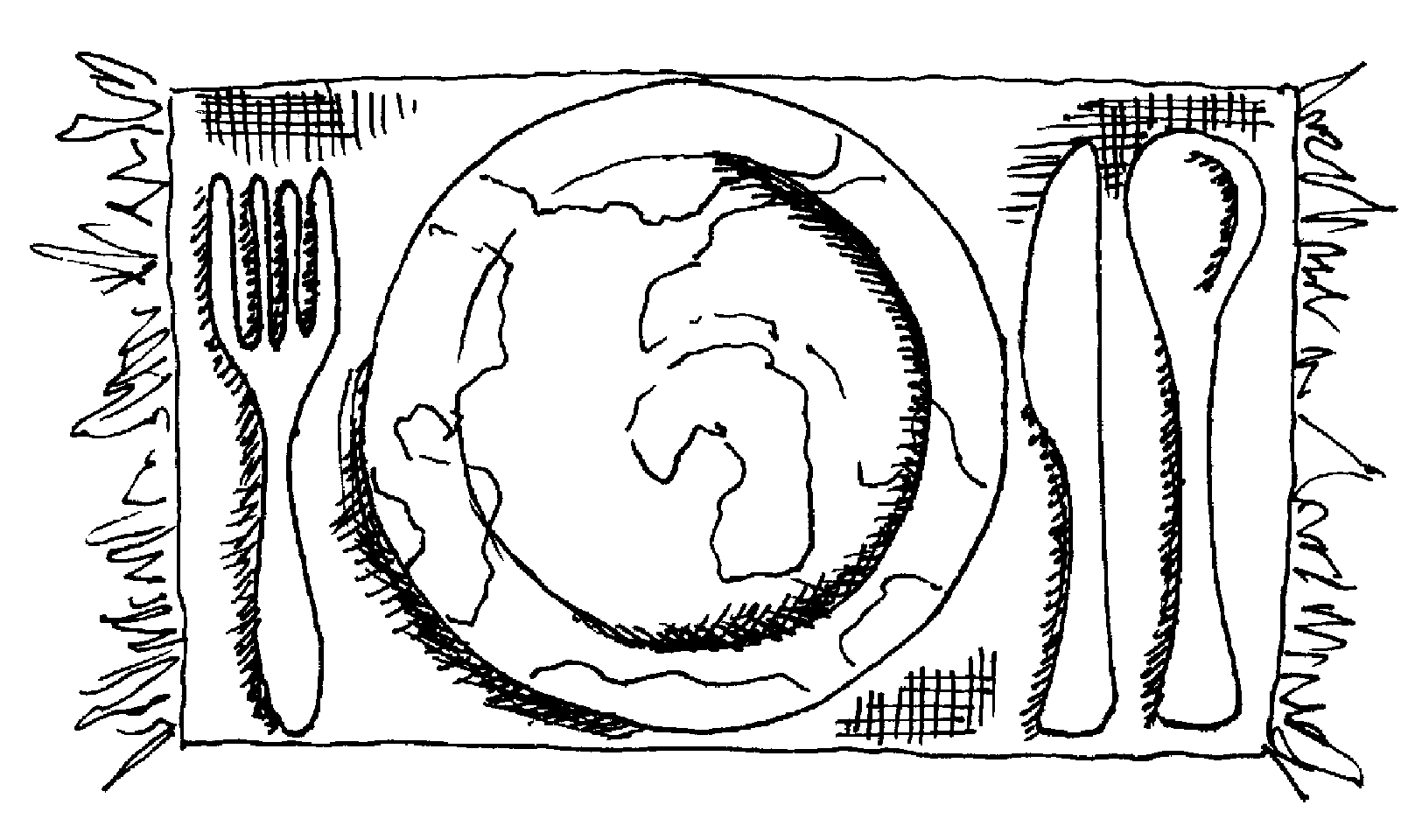 ---
4-A324--US Capitol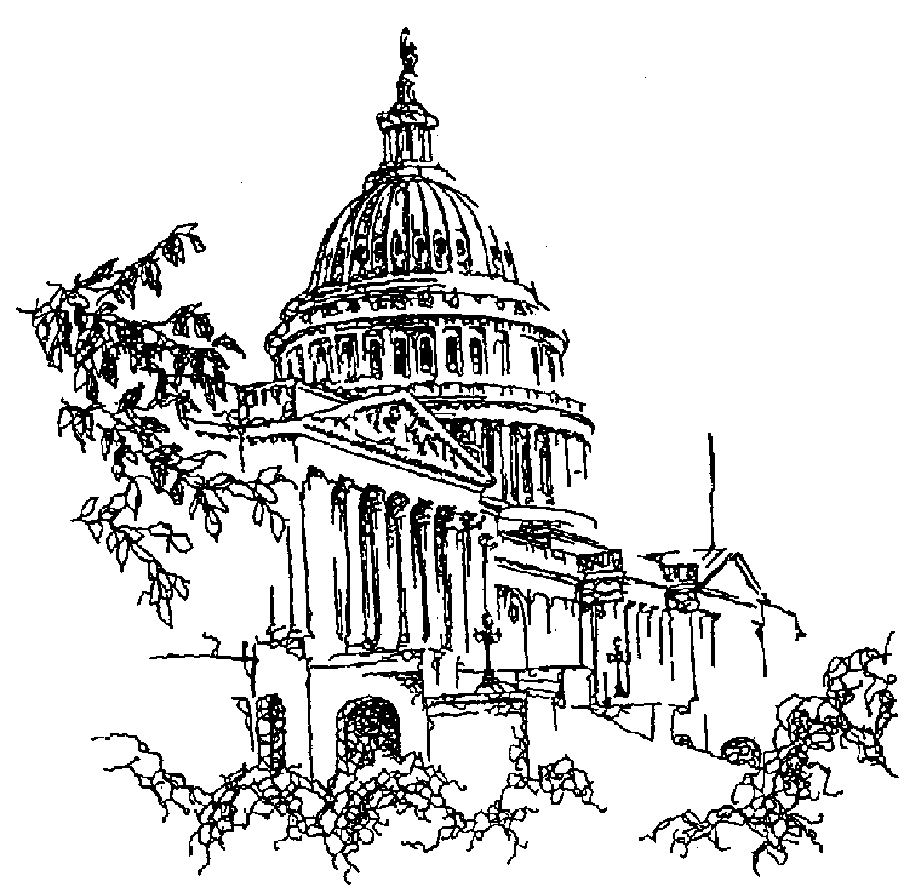 ---
4-A326--MLK profile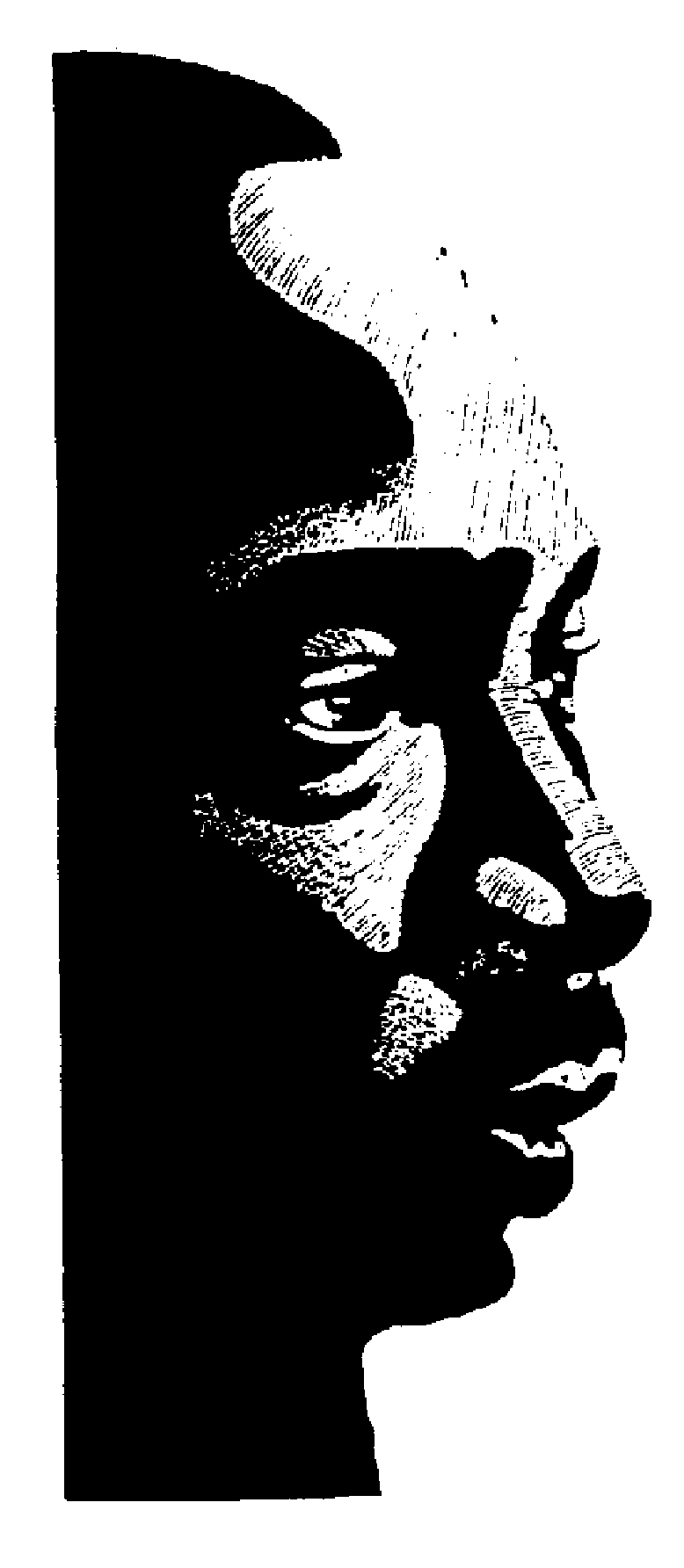 ---
4-A541
Is Time Runing Out?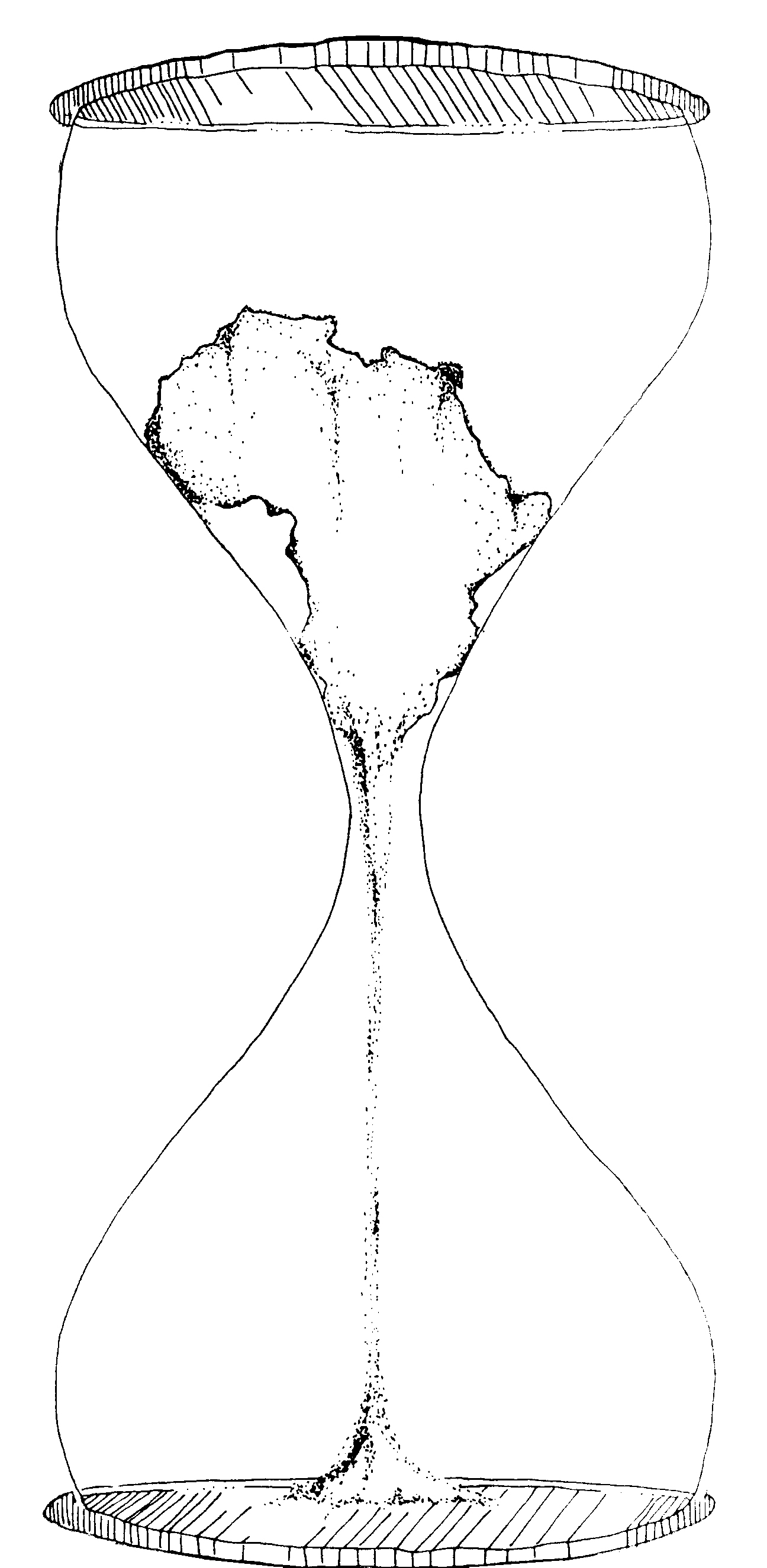 ---
4-A548
How to Fold a Paper Peace Crane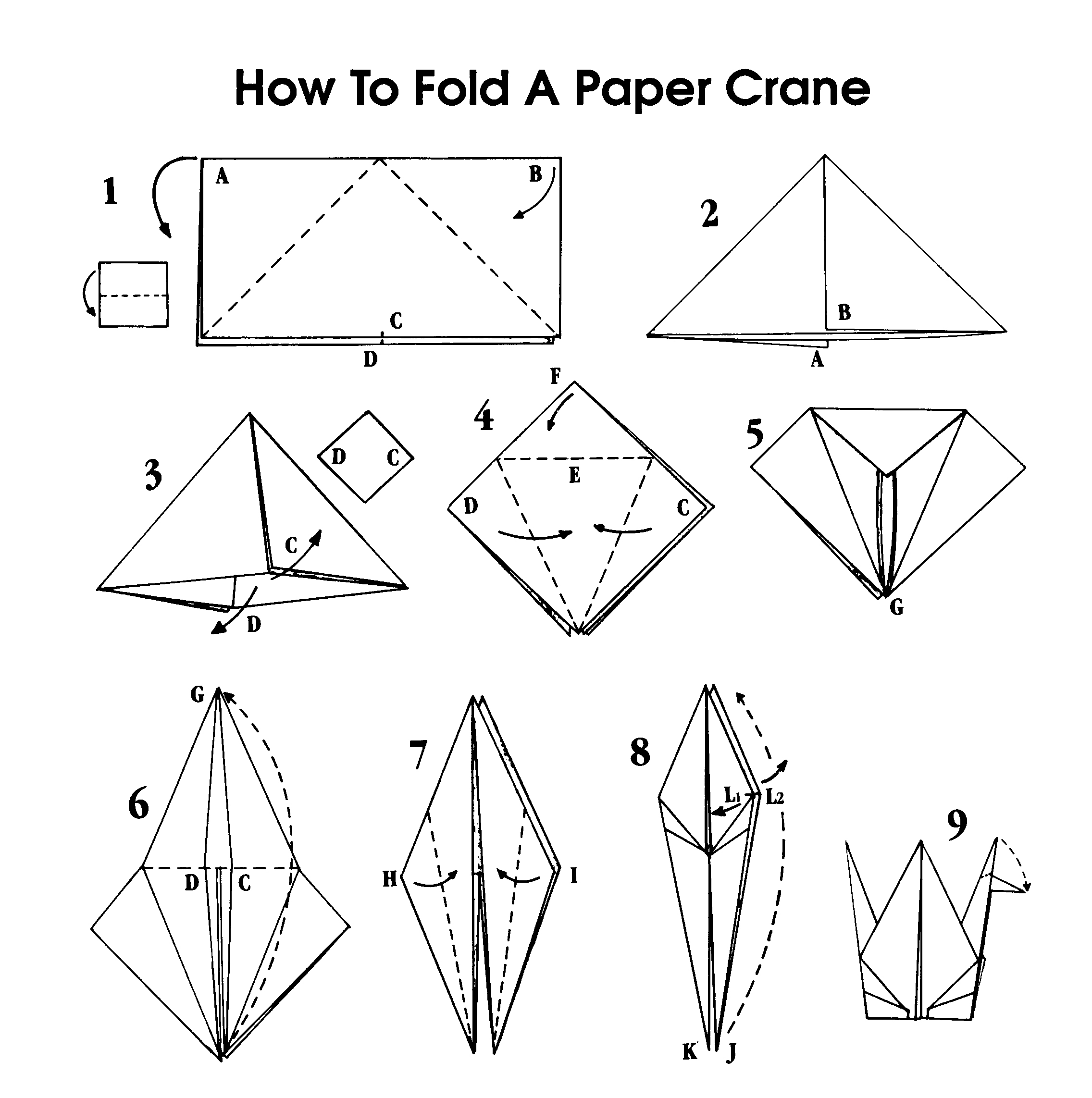 1. Fold a square piece of paper in half horizontally. Then fold A back to bottom center (D), and B forward to front bottom center (C).
2. Your paper should look like this.
3. Pull C (the front) and D (the back) apart all the way until you have a flat diamond (as in small diagram).
4. Fold top layers of C and D inward to center line at E and fold down F along dotted line.
5. Your paper should look like this.
6. Here's the tricky part: Unfold step 4. Take top layer only at G and pull it up making use of the crease (dotted line). This allows points C and D to fold back to center line along creases. Turn paper over and repeat steps 4, 5 and 6, ignoring new flap topped by point G.
7. With split at bottom, fold H and I inward so that edges meet center line. Turn paper over and repeat.
8. Temporarily open flops at L1 and L2. Pull J up to top between flaps and close flaps (L1 and L2). Repeat with K. Fold down head. Fold down wings.
For more ideas, visit SimpleLivingWorks.org.
---
4-A808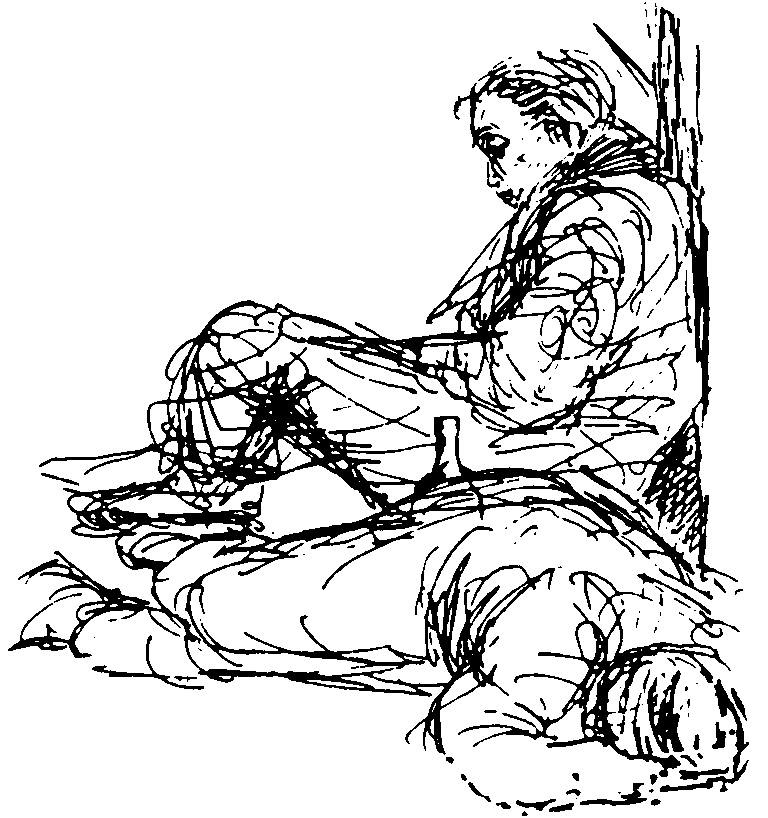 ---
4-A809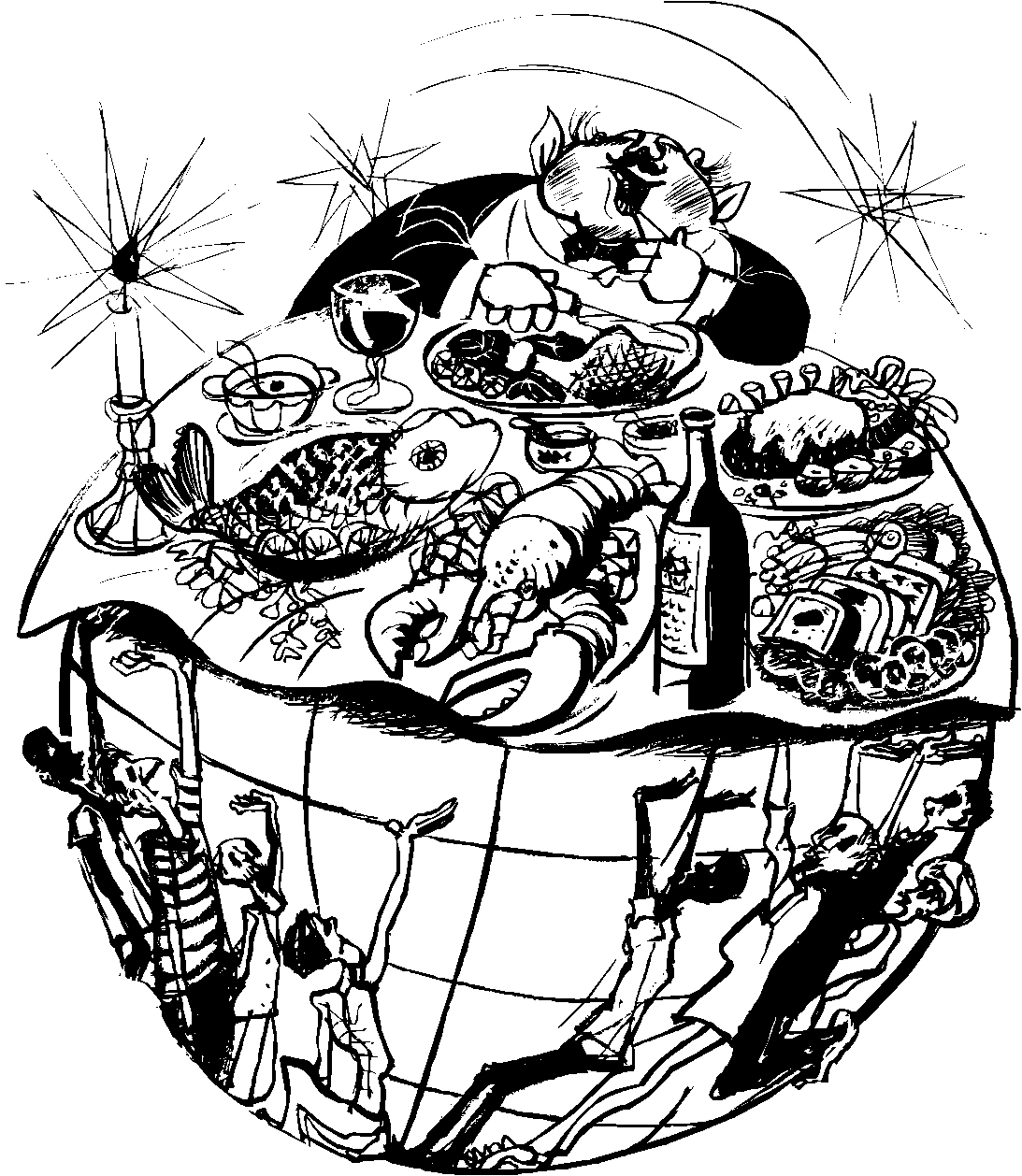 ---
4-A861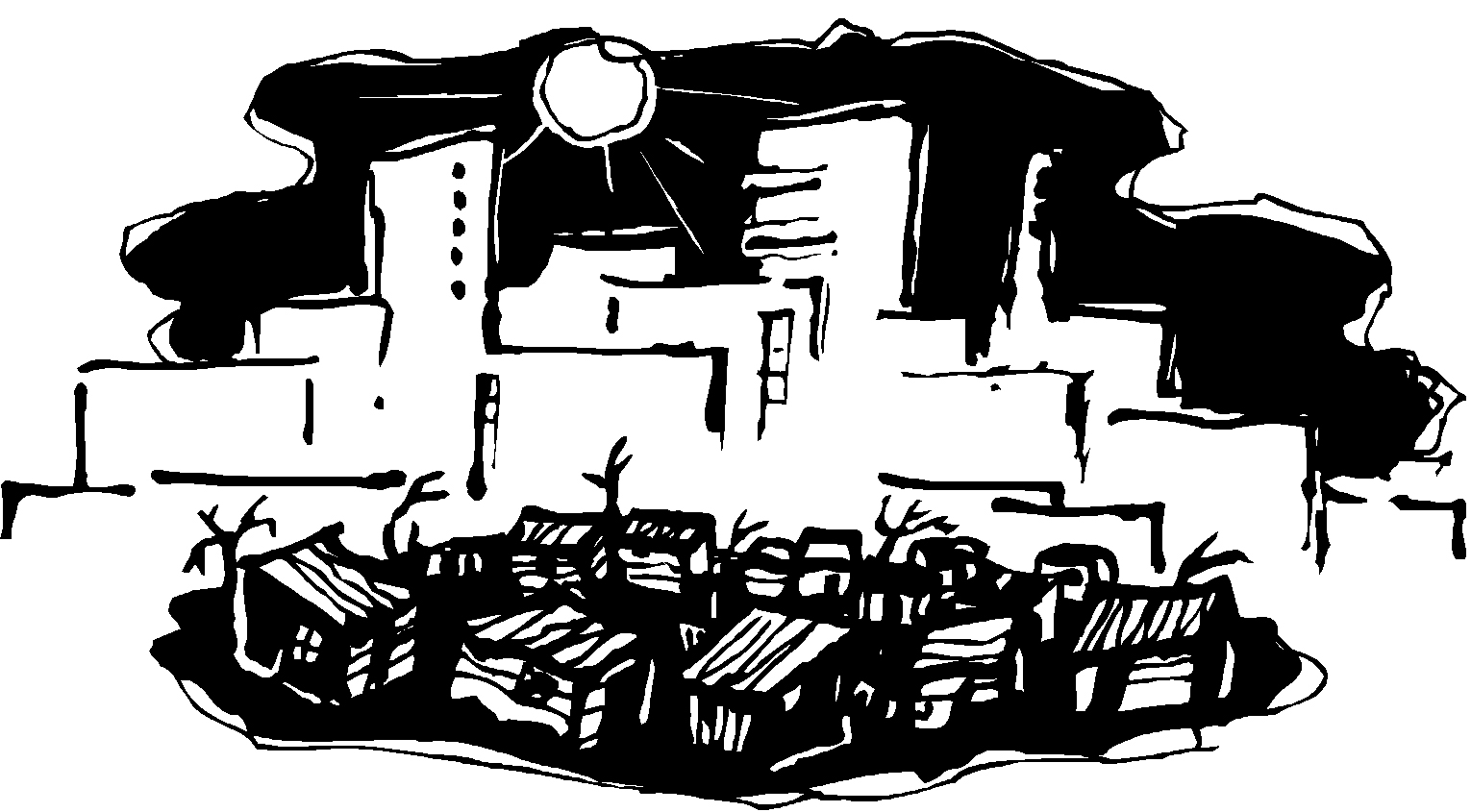 ---
4-A862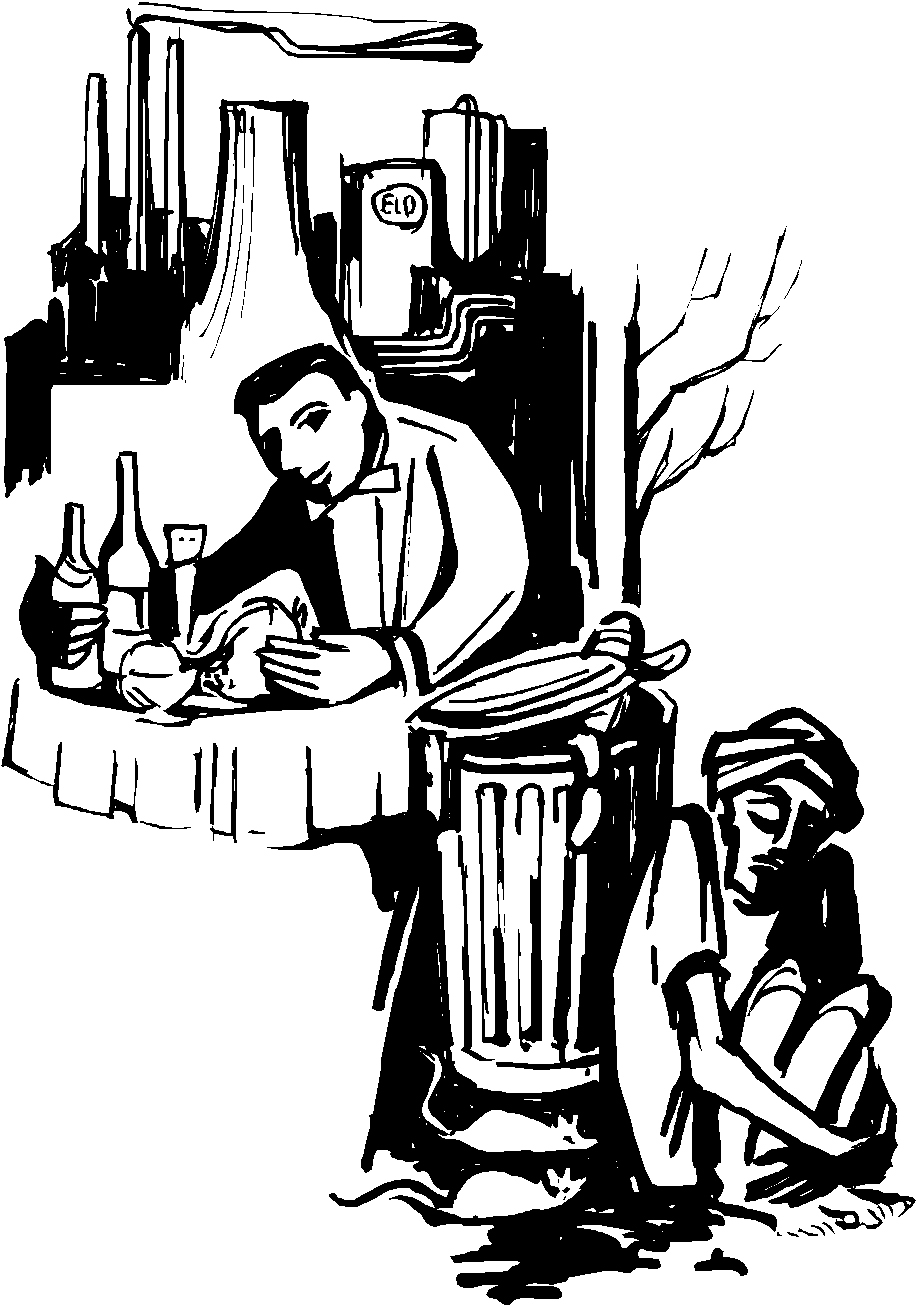 ---
4-A877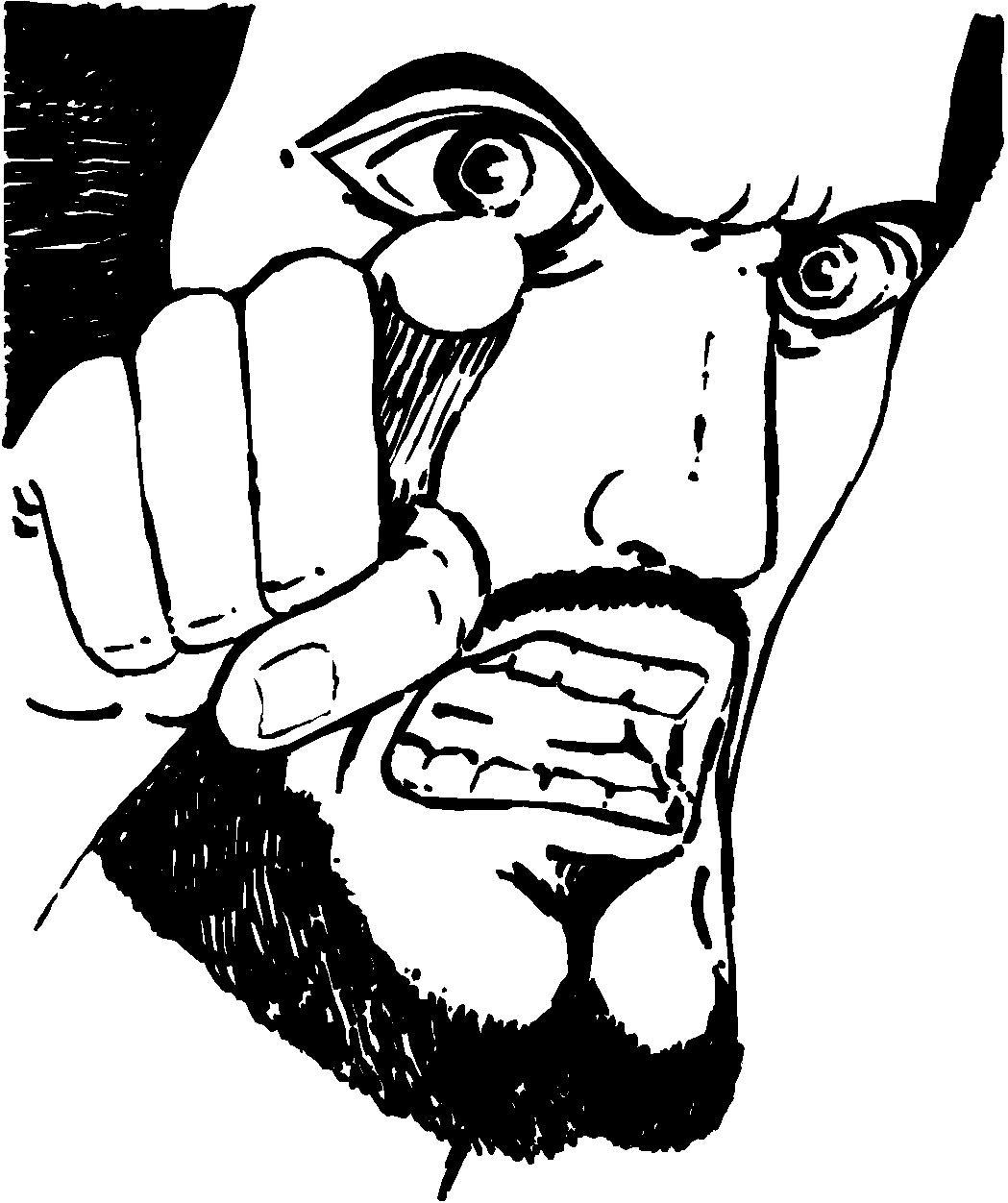 ---
4-A0199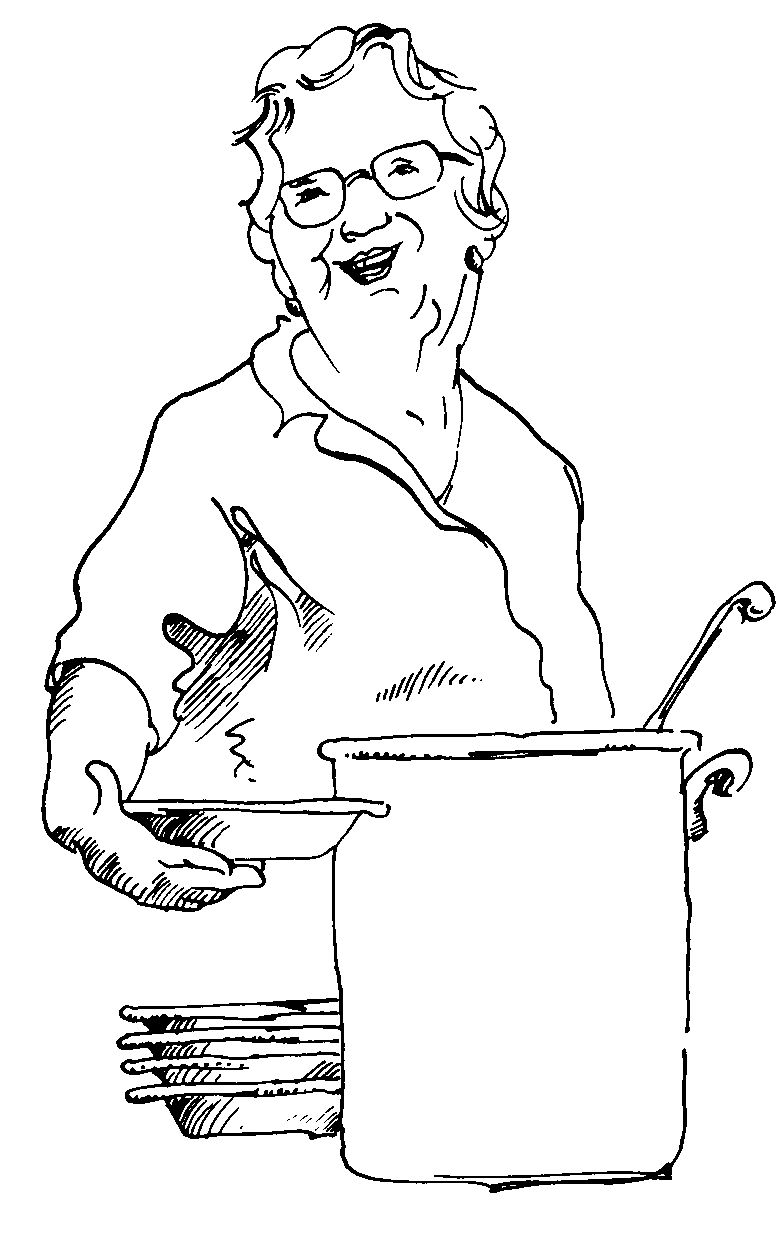 ---
4-A0209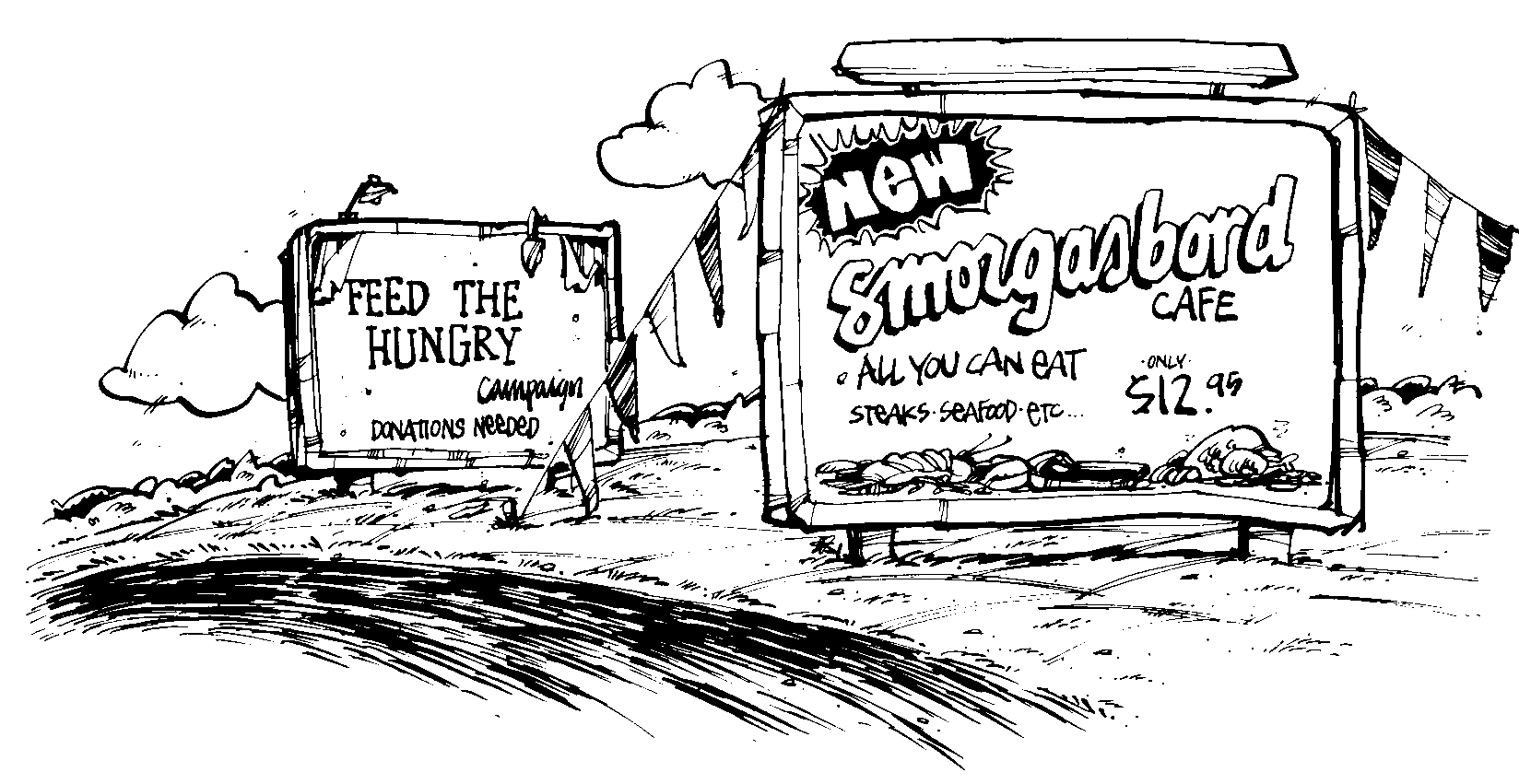 ---
4-A0295
---
4-A0308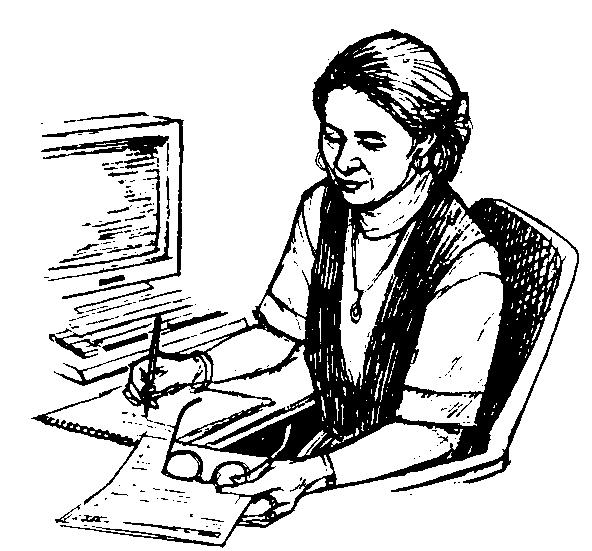 We make our ideas known and our voices heard by writing letters of care, thanks, request and protest.
---
4-A0366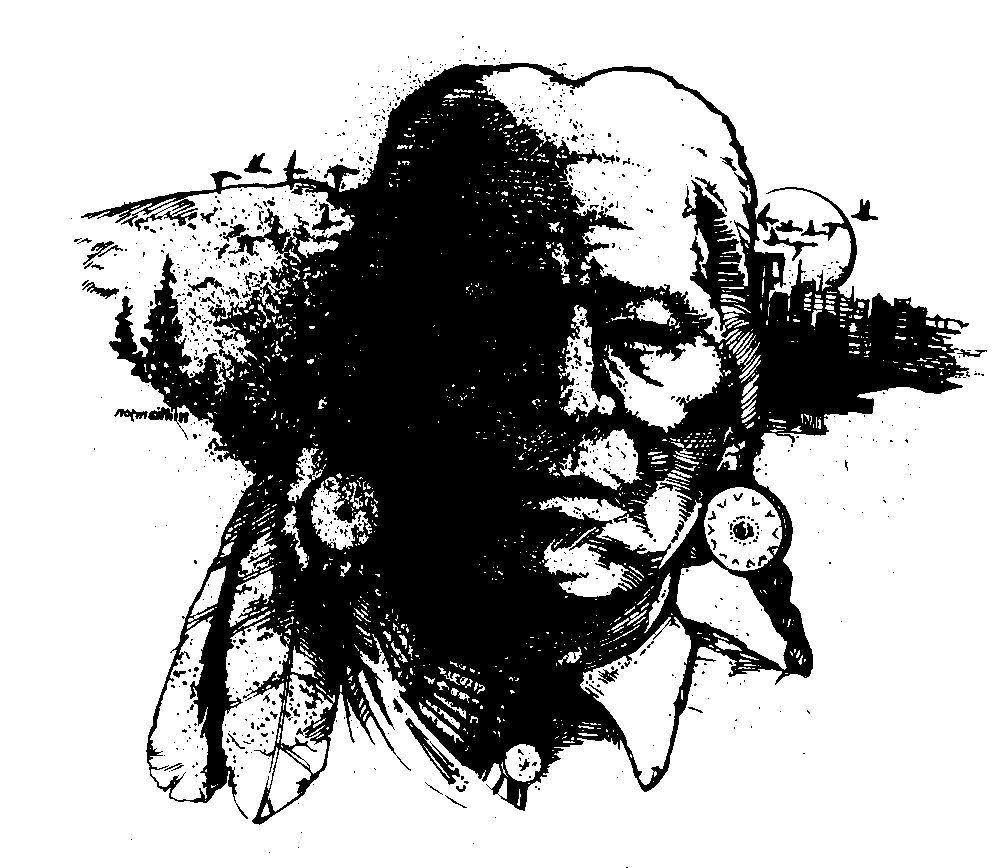 "I never said the land was mine to do with it as I chose. The one who has the right to dispose of it is the one who has created it. I claim a right to live on my land, and accord you the privilege to live on yours." --Chief Joseph, Native American
---
4-A0432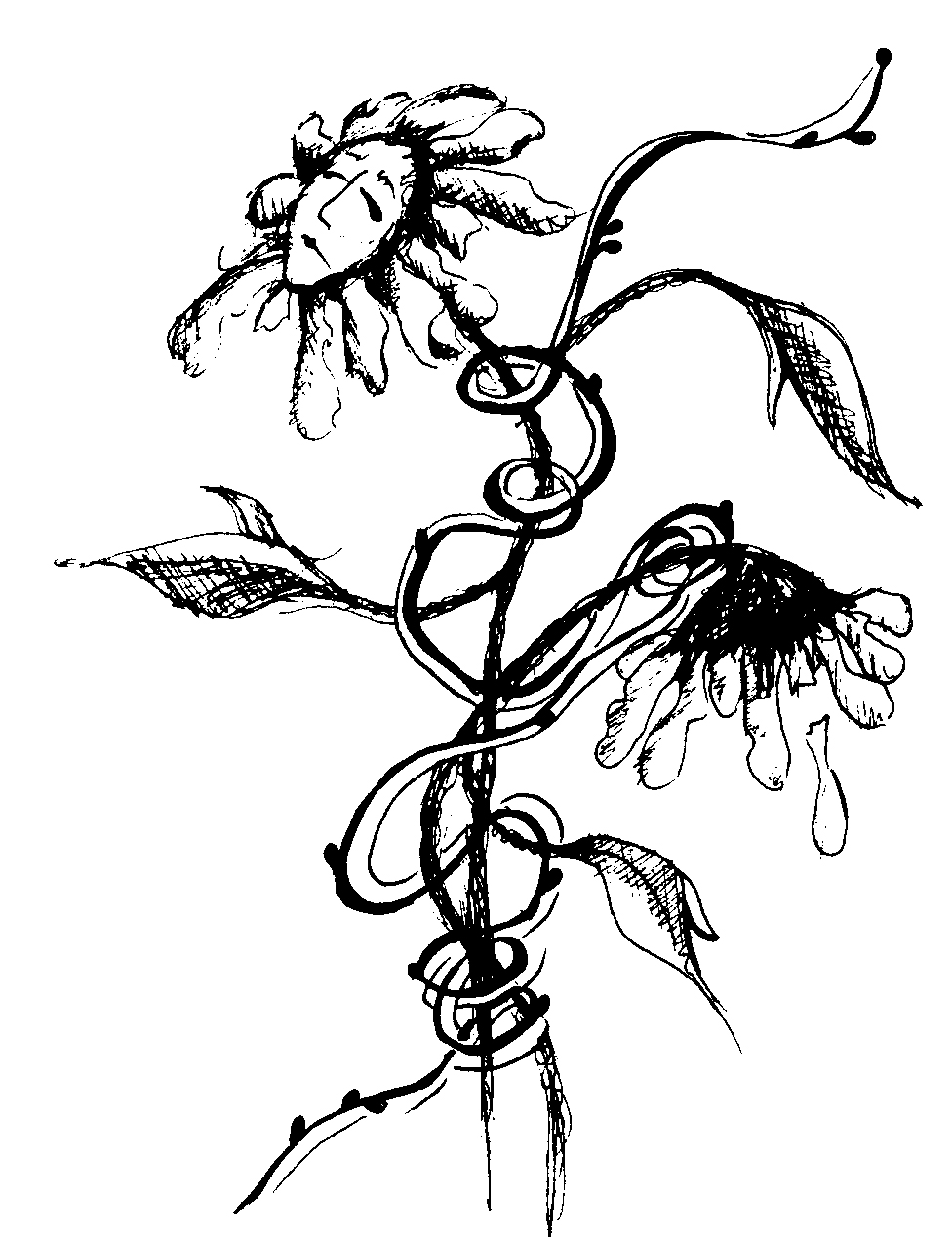 "A woman is raped every six minutes. One in four women will be raped in their lifetime." --Sut Jhally, University of Mass.-Amherst, from "Congressional Quarterly Researcher."
---
4-A0672
The Bit with the Millstone
Jesus could speak what was on his mind. He wanted to hang a millstone around the necks of "Whoever causes one of these little ones who believe in me to sin." He wasn't necessarily referring only to "big" sinners like pornographers. Don't you think he also had in mind parents from whose marriage children learn guerrilla warfare, and a society which teaches that might is right?
---
4-A0701
Feed... clothe...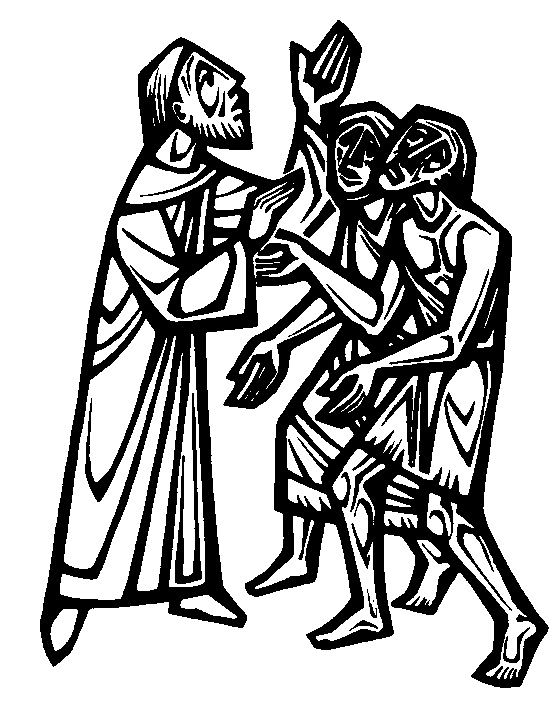 ---
4-A0755
Prayer for Peace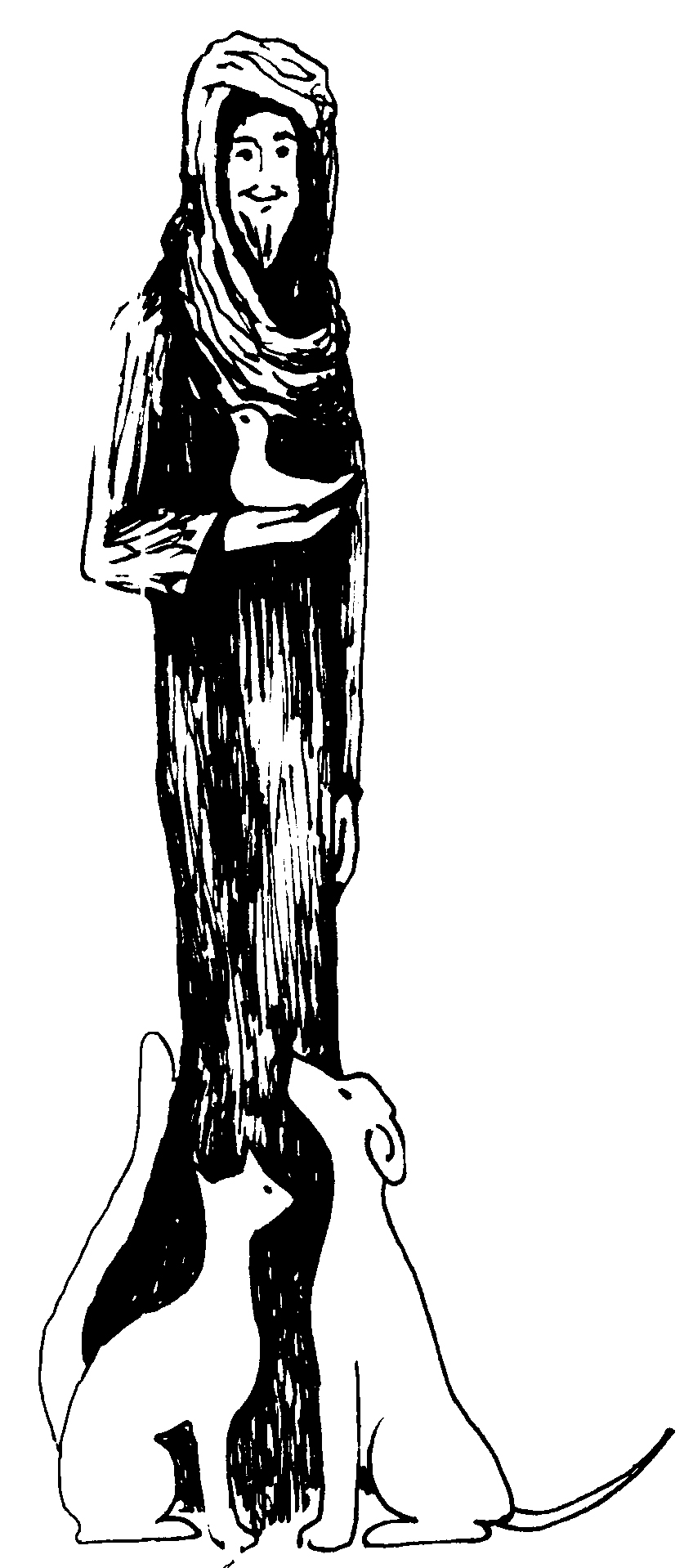 Lord, make me an instrument of your peace!
Where there is hatred -- let me sow love
Where there is injury -- pardon
Where there is doubt -- faith
Where there is despair -- hope
Where there is darkness -- light
Where there is sadness -- joy
O divine master, grant that I may not so much seek
To be consoled -- as to console
To be understood -- as to understand
To be loved -- as to love for
It is in giving -- that we receive
It is in pardoning -- that we are pardoned
And it is in dying -- that we are born to eternal life.
--St. Francis of Assisi
---
4-A0800
Breaking the Cycle of Homelessness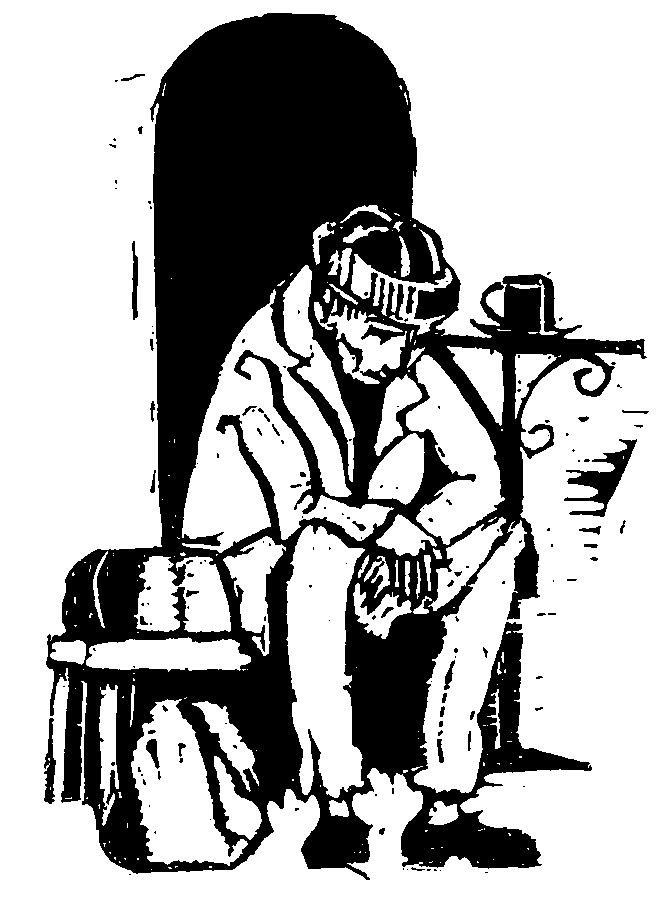 "People who are homeless need more than a place to rest their heads at night and meals to fill their stomachs. In order to break the cycle of homelessness, we need to do more than meet their basic needs. We need to offer counseling, education, and support services so that they can become productive members of our society." --Kimberly Aiken, Advocate for the Homeless
---
4-A0801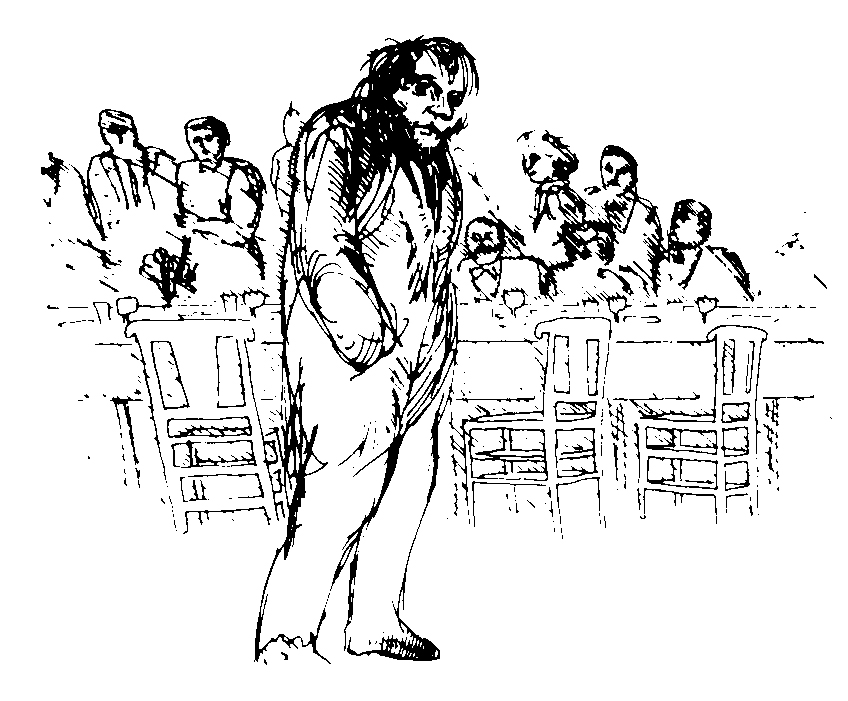 ---
4-A0803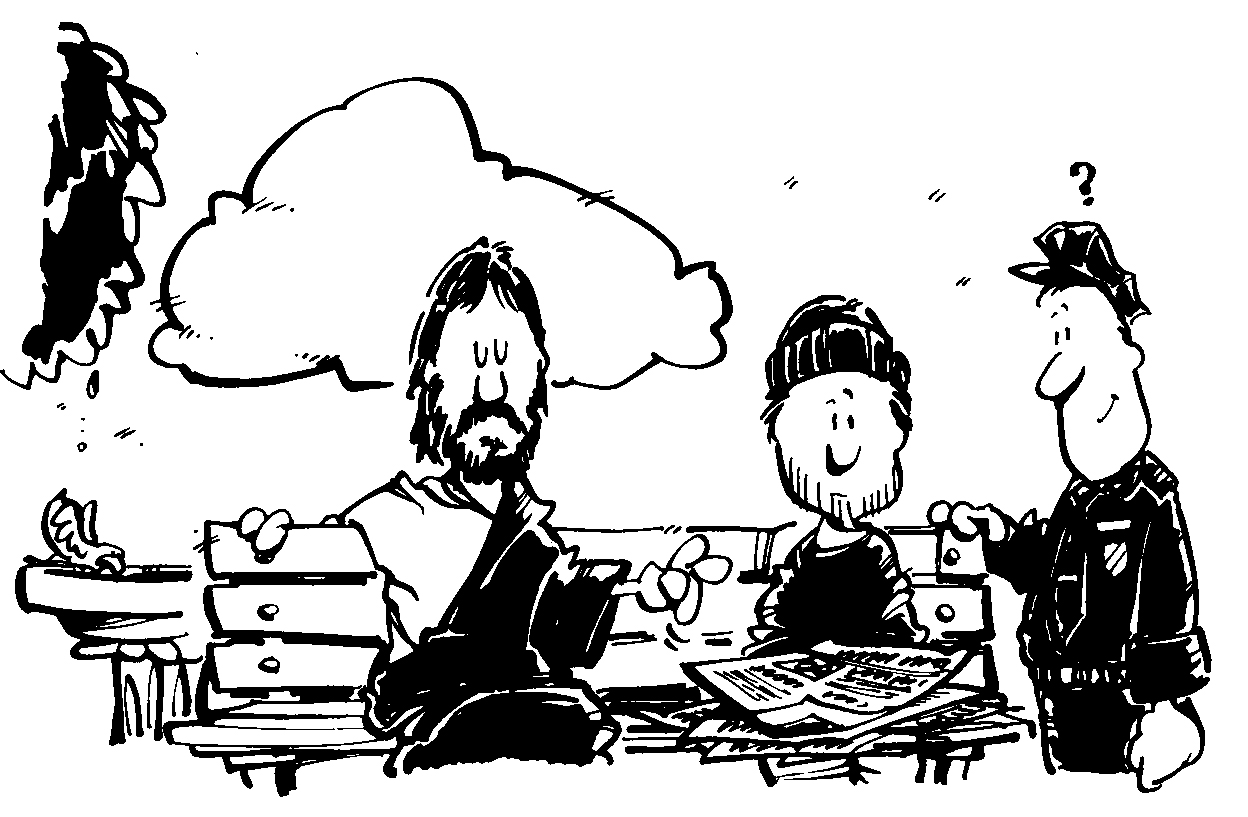 ---
4-A0852
What Then Should We Do?

John didn't mince words. He got right to the point and said what needed to be said. He told the first people who came to him to share. He told the tax collectors to be just. He told the soldiers to make peace. He would speak with equally straightforward words to us -- words that would zero in on the weak points of our lives. See Luke 3:10-18.
---
4-A0875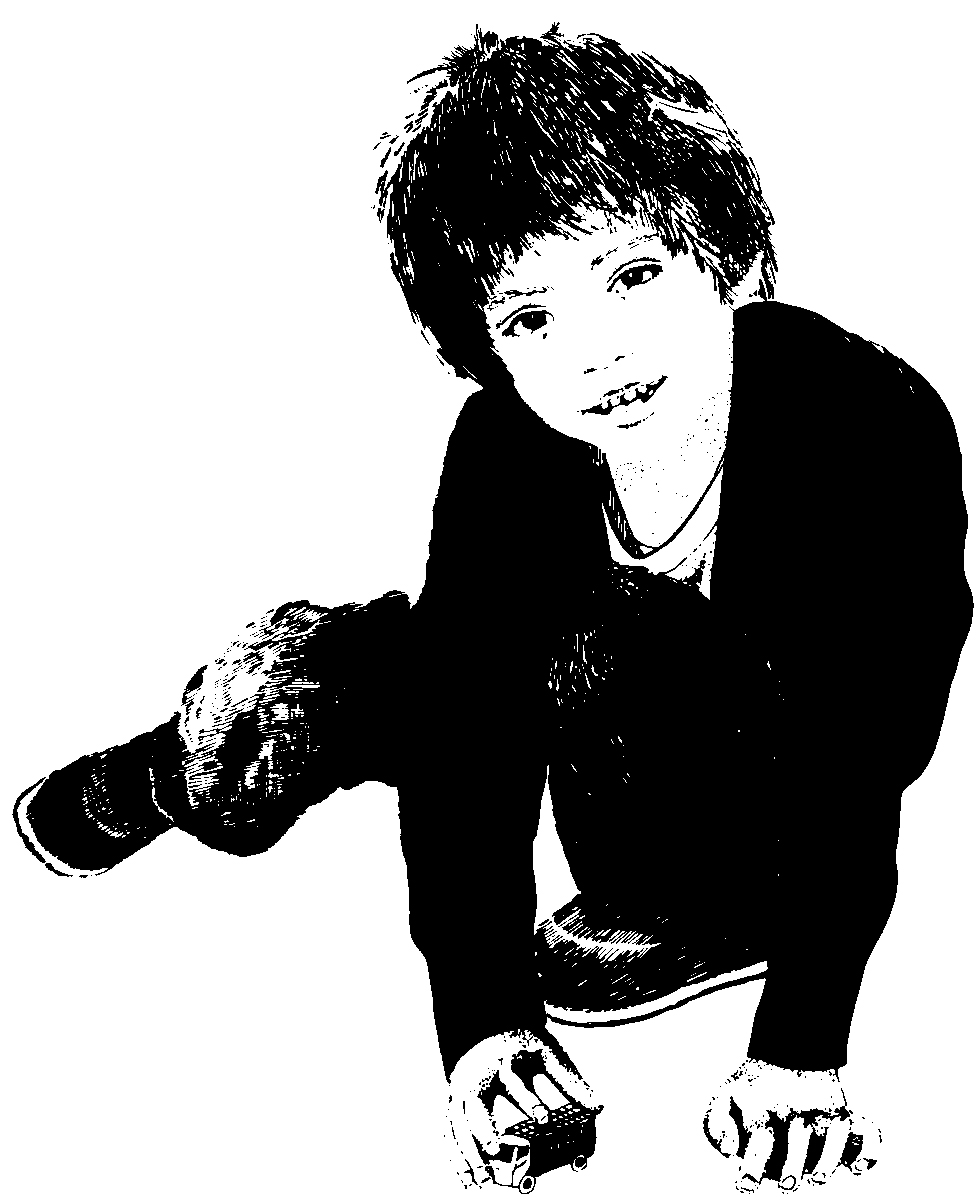 "A gun takes the life of a child every two hours -- the equivalent of a classroomful every two days. Homicide is now the third leading cause of death for elementary and middle school."
"A child growing up in America is 15 times as likely to be killed by gunfire as a child growing up in Northern Ireland." --Children's Defense Fund
---
4-A0961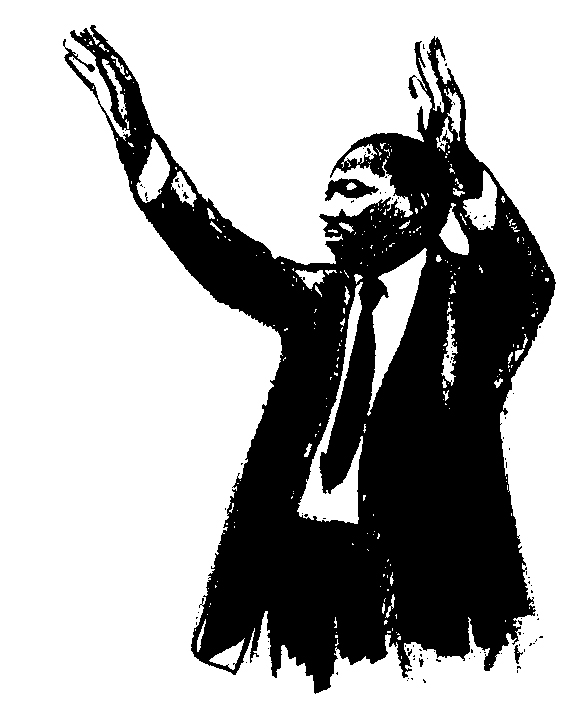 And my great prayer is that God will save me from the paralysis of crippling fear, because I think when a person lives with the fear of the consequences for his personal life, he can never do anything in terns of lifting the whole of humanity and solving many of the social problems that we confront.
--Martin Luther King, Jr.
---
4-A1002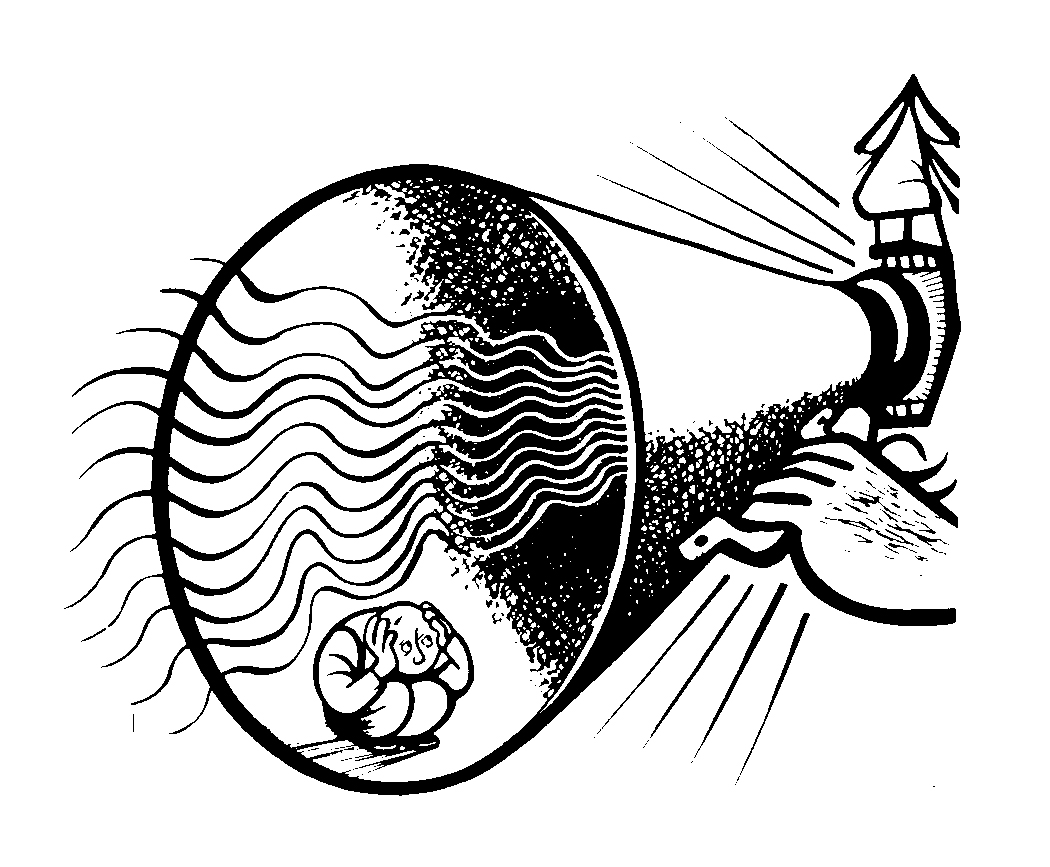 Sometime they ought to give a "Golden Lemon" award to the most disgusting idea of the decade. I would immediately nominate "elevator music" for that award. You can scarcely go into a store nowadays without having to listen to that stuff droning on and on. Even while holding on the phone, you can't turn the volume down while waiting for the other party. Soon there won't be any spot on Earth where you can escape it.
How about a new idea: natural stillness! How else will a person be able to hear the inner voice of God, which is only perceptible when we create a quietness within us and around us.
---
4-A1015
Broken Promises
So many recent "peace" treaties are questionable promises in a world filled with dissension.
Christ's word is much more. "My peace I give to you. Not as the world gives do I give to you." To establish eternal peace between God and us, Christ paid his life and guarantees it with the same.
That spiritual peace empowers us to work for peace within families and communities, and between nations.
---
4-A1016
Are We Still Flower Children?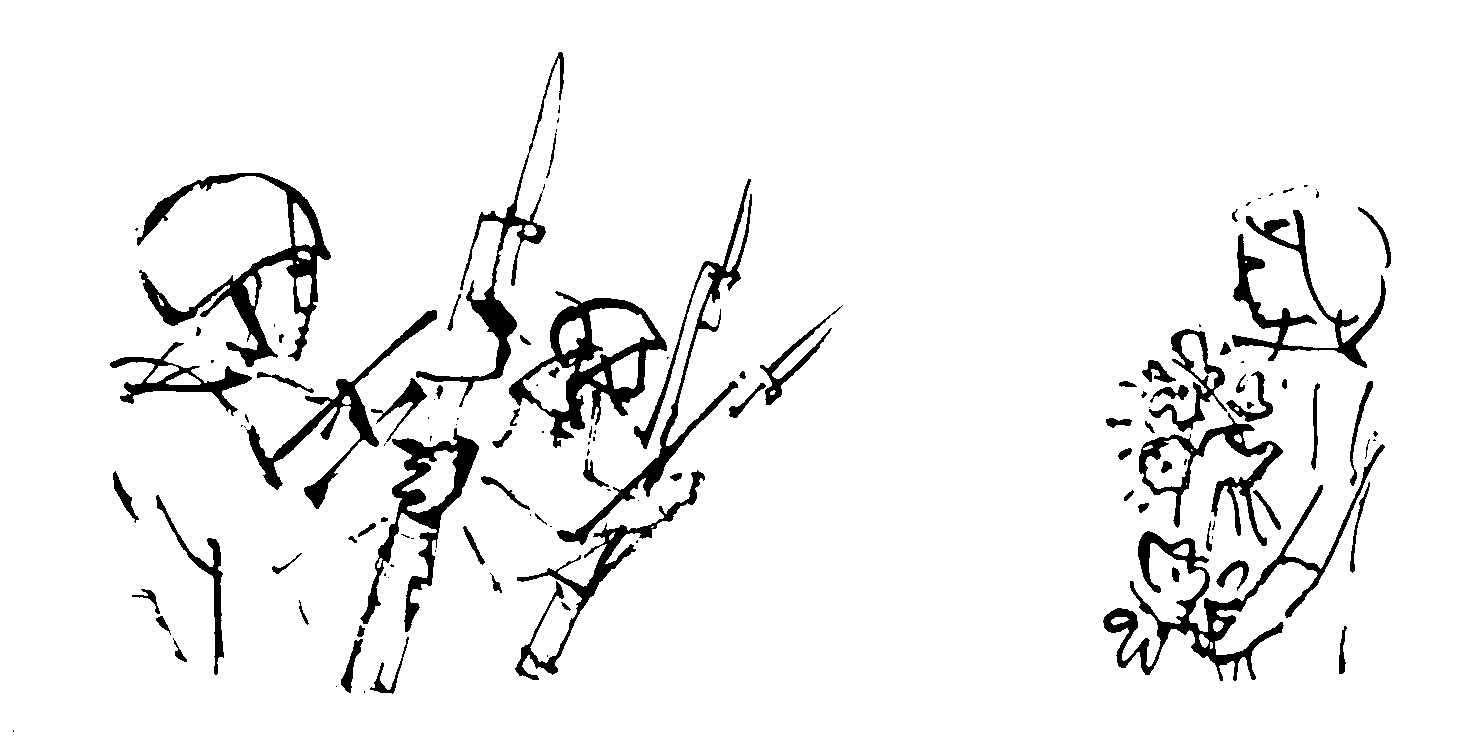 We are told that we are enjoying a period of unprecedented peace in the world. However, is this truly peace?
Is this the kind of peace Jesus was talking about? Can the wolves really be turned into sheep? Of course we know they can't, and fighting will soon break out again. On second thought, maybe wolves can turn into sheep when God is involved.
We thought of the flower children in the Sixties as radicals. Christ's peace is even more radical (radix = "root"). He goes right down to the root of the problem and deals with the sin which creates divisions between people and their God and between each other. He creates reconciled people out of hating and hateful people. In the freedom which God gives, these new creations can truly work for peace.
---
4-A1223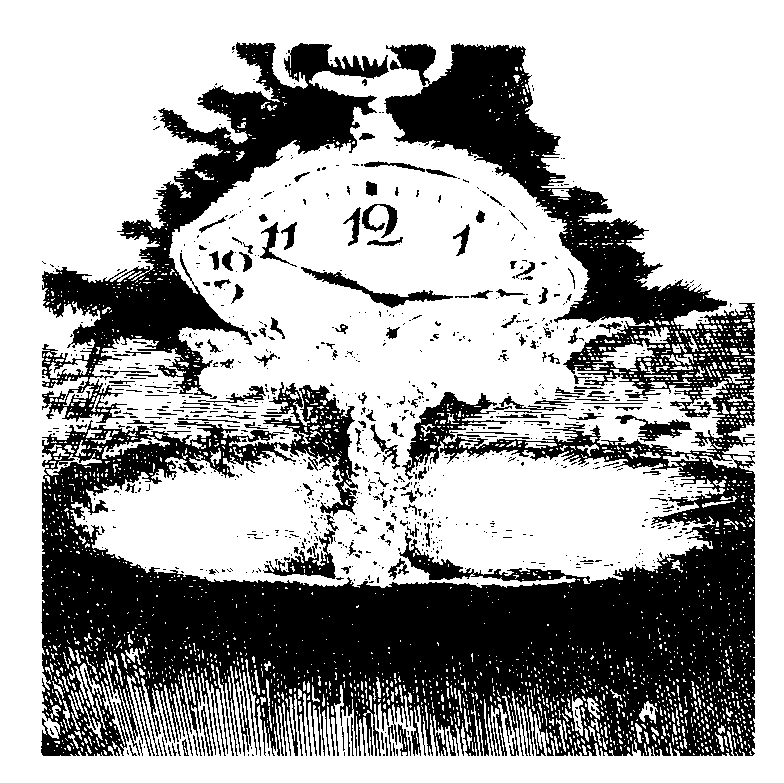 Hiroshima
August 6, 1945
August 6 -- Two Kinds of Light:
Light of Transfiguration
Light of Destruction
The anniversary of the dropping the atomic bomb on the Japanese city of Hiroshima.
The Feast of the Transfiguration.
Two Kinds of Light:
Light of Destruction which threw those blinded to the Earth.
Light of Healing which makes the blind see.
Let our prayers be that we and the world will see the Light,
the Light of healing and reconciliation.
---
4-A1248
Wealth in the Soup Kitchen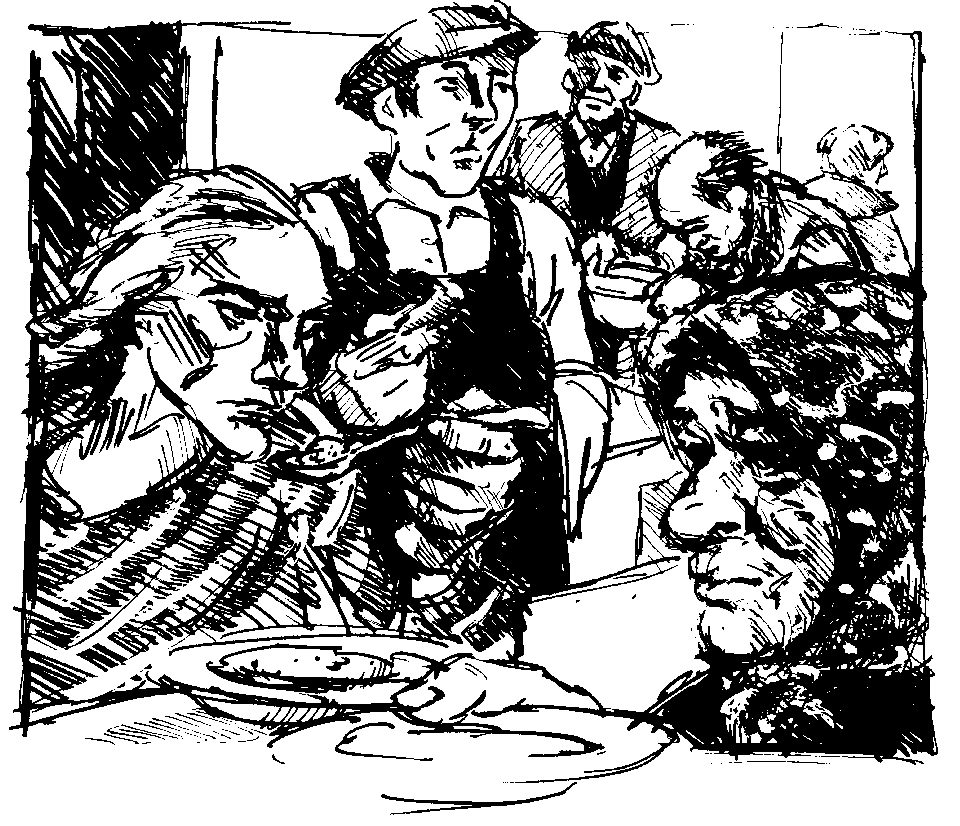 In soup kitchens around the world hungry people are guaranteed a hot meal. These soup kitchens hold tremendous treasures. Love is generously shared. Joy comes out of the fellowship of hosts and guests eating together. And thankfulness is practiced -- even when there isn't much to share.
---
4-A1252
Upper Middle Class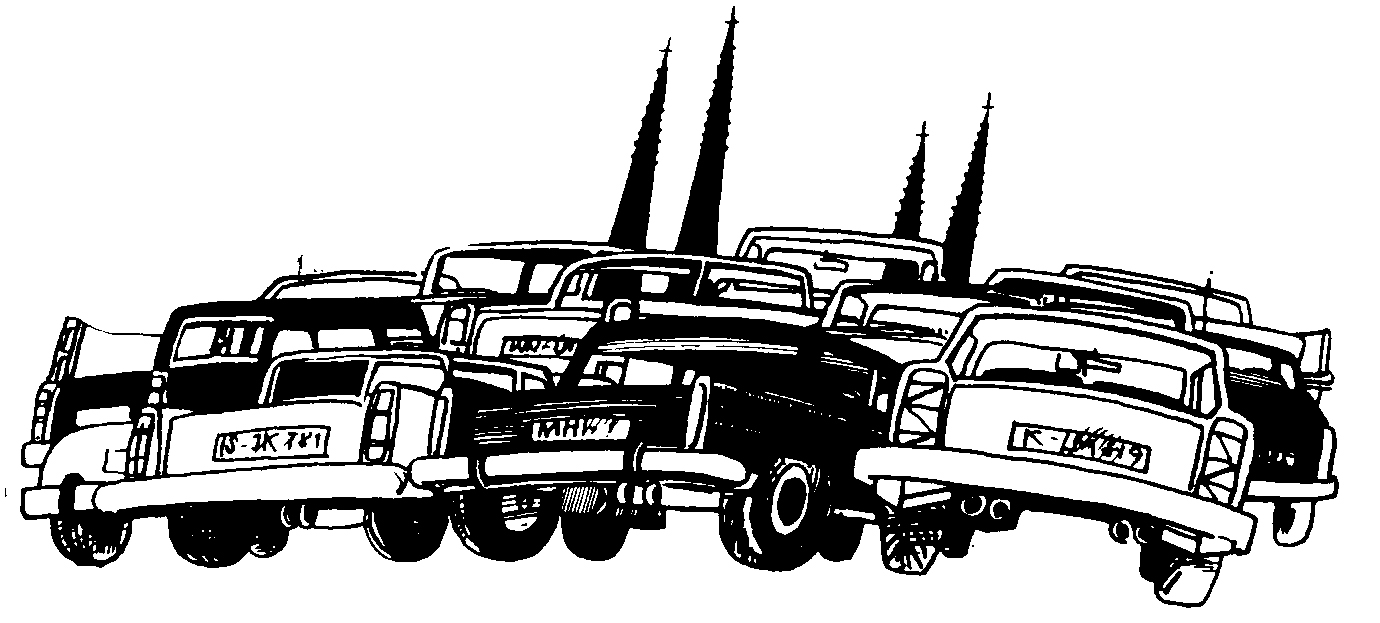 "...when you hold a banquet, invite the poor, the crippled, the lame, the blind; blessed indeed will you be because of their inability to repay you." That's what the Gospel says.
Now, exactly, who do we invite to our homes and to the programs offered by our church? Better said, who don't we invite? Is our congregation really a church for all?
---
4-A1279
Money or God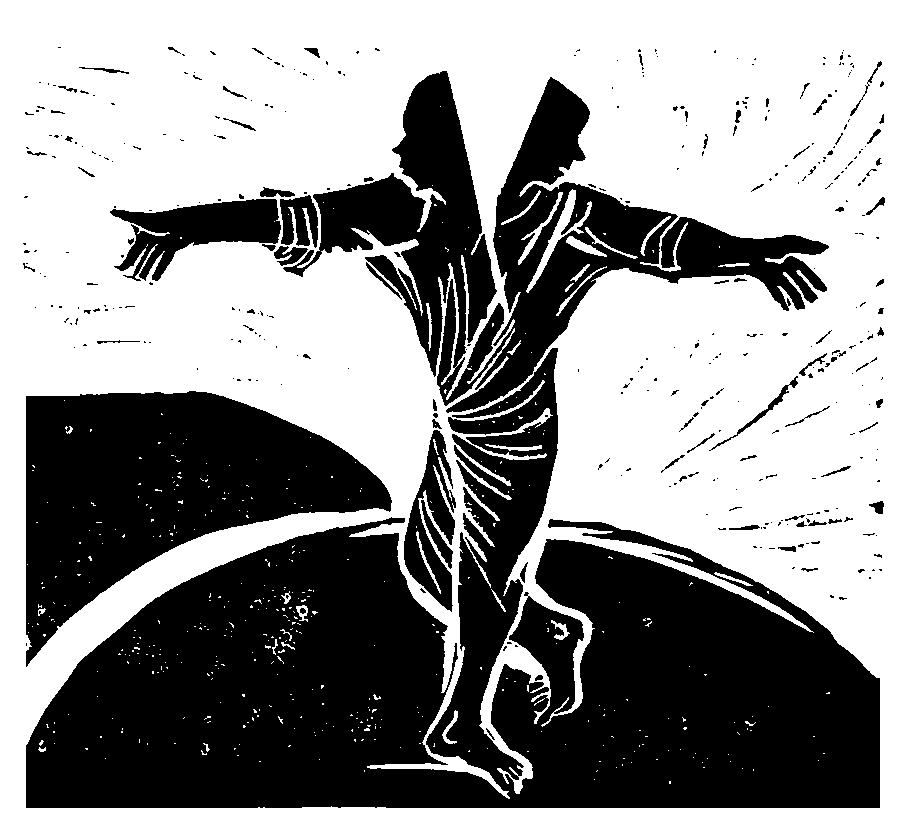 The bread which you hoard belongs to the hungry; the clothing stored in your closets to the naked; the shoes rotting from lack of use to the bare-footed; and your silver buried in the ground to the needy. You perpetrate so much injustice toward those you could help. -- Basil the Great
---
4-A1290
The First and the Second Act
When people believe that life has only one act, and they look on those who live and die without even once eating enough to be satisfied, they call it "bad luck" or "fate." They look on while extremely clever and brutal people skim the cream off the poor's milk and without inhibition, squander their bread. They eat their fill and get drunk, "for tomottow we die." NO! Tomorrow we live. Tomorrow is the second act. Tomorrow the cards are once more shuffled. At that time the lines of life are traced again and the scales balanced. Empty hands will be filled. And God will pass by the satiated....
---
4-A1344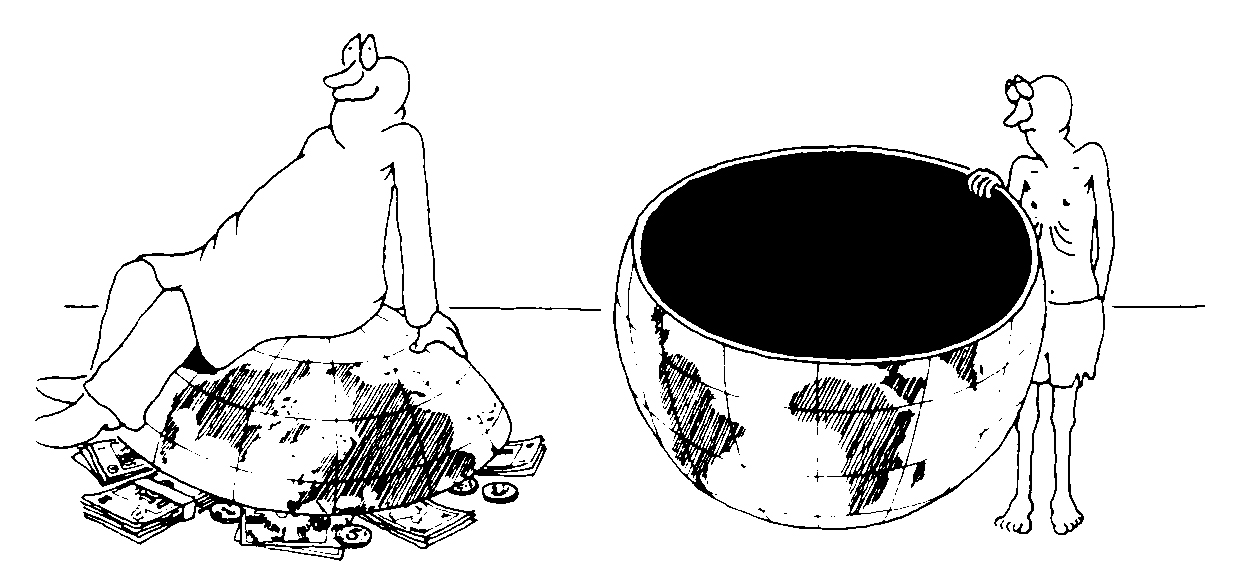 Giving isn't really charity. It's only sharing in a little more fair way what's been given for all of us to live on.
---
4-A1347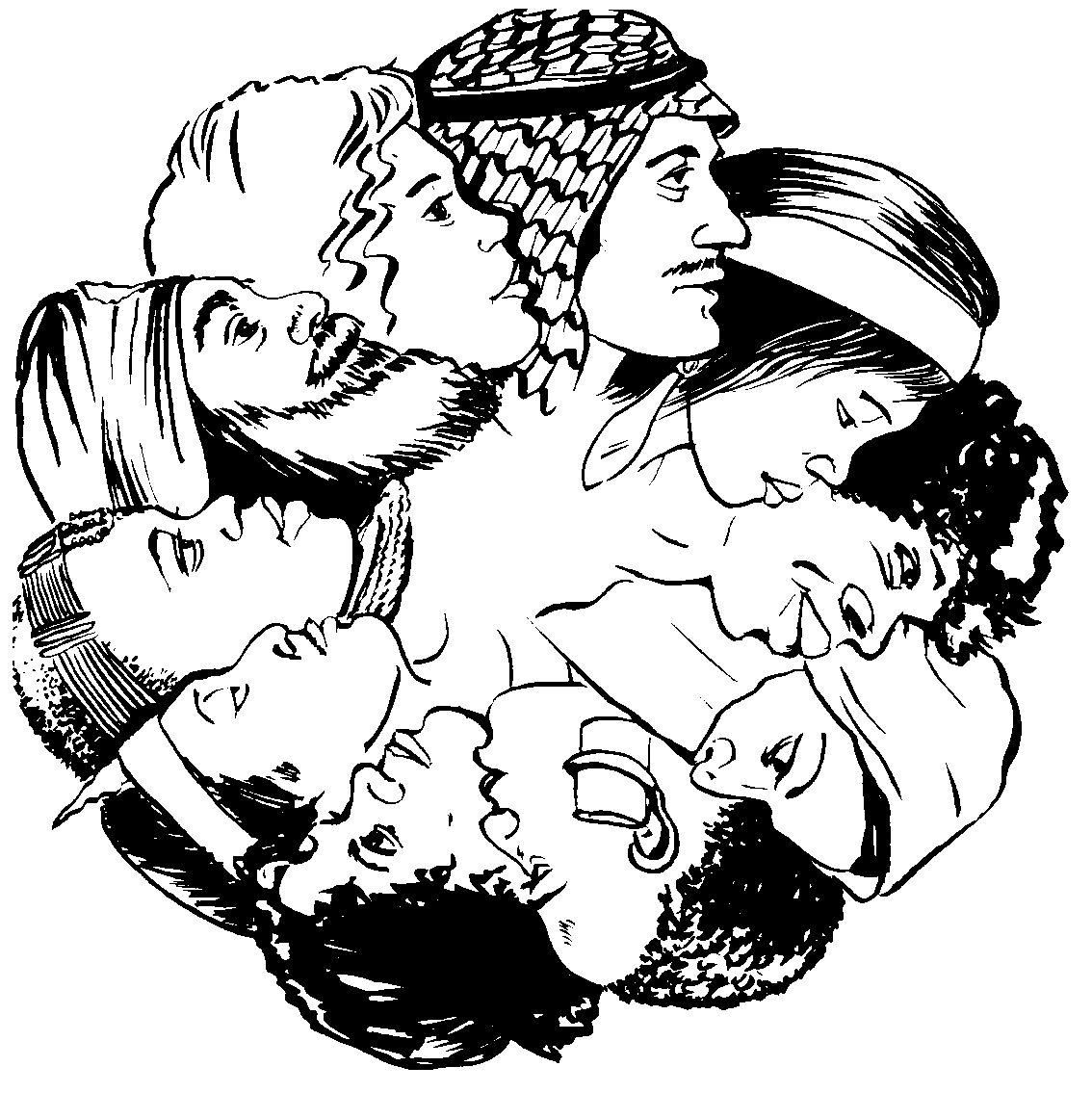 The church knows no foreigners - it should be home for all people. --John Paul II
The country which doesn't protect its aliens soon goes under. --Goethe
Be kind toward the poor and toward strangers, for both belong to God. --Homer
---
4-A1360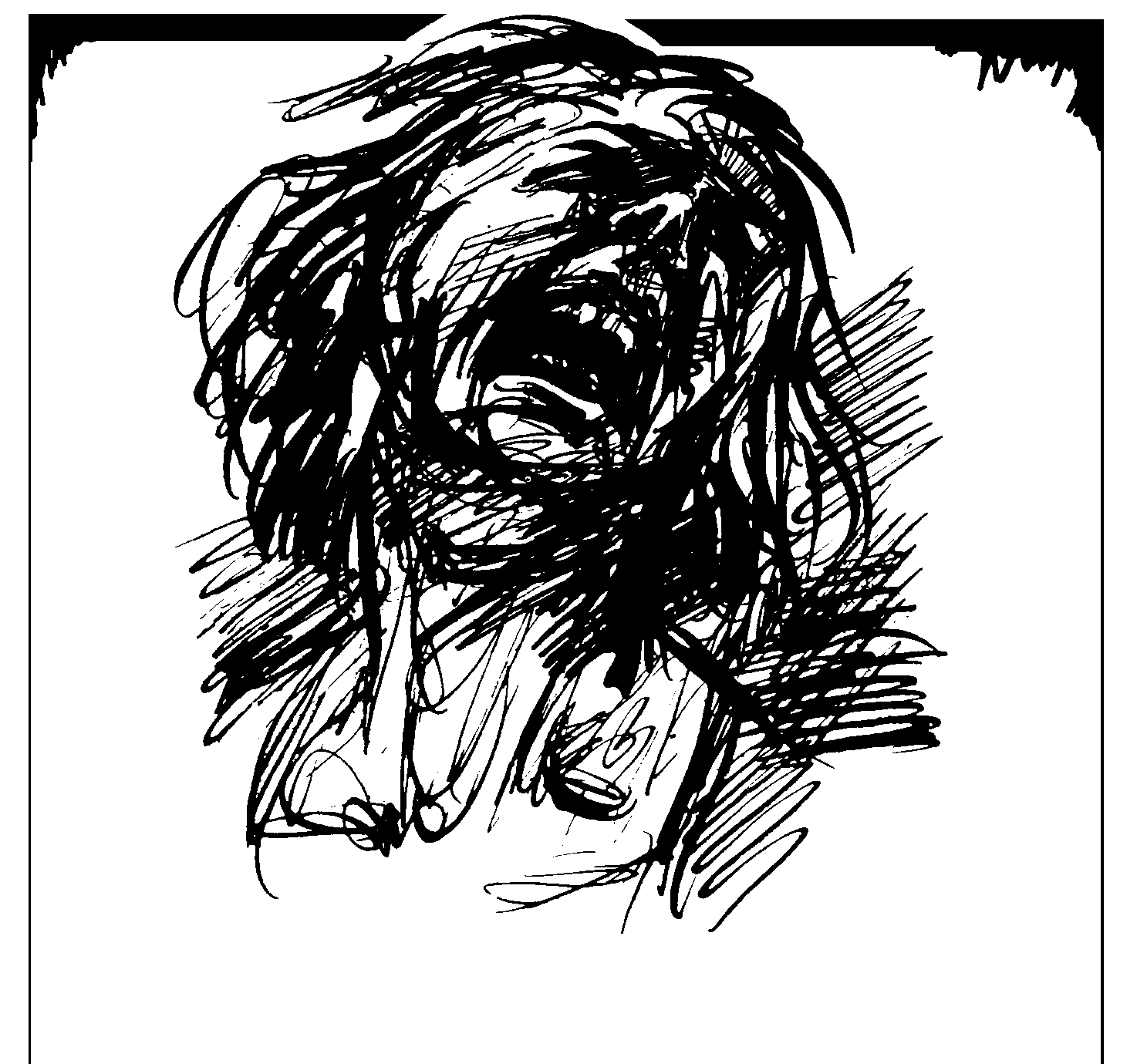 I cried out to you in my night...
---
4-A1405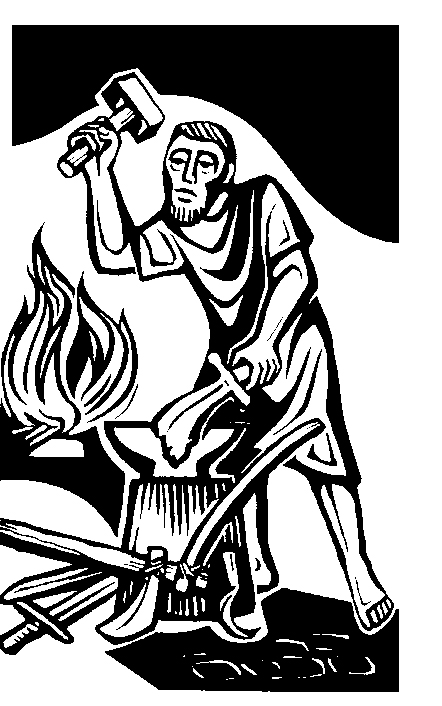 They shall beat their swords into plowshares, and their spears into pruning hooks; nation shall not lift up sword against nation, neither shall they learn war any more. Isaiah 2:4
---
4-A1544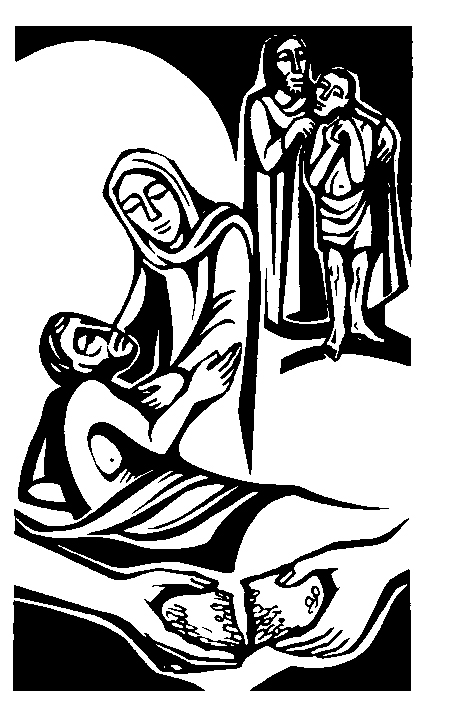 Sharing your bread with the hungry, sheltering the oppressed and homeless. Then your light shall break forth like the dawn. Isaiah 58:7-8
---
4-A1599
I will be non-violent, because in non-violence I see the answer to mankind's problems. --Martin Luther King, Jr.
---
4-A1605
Building bridges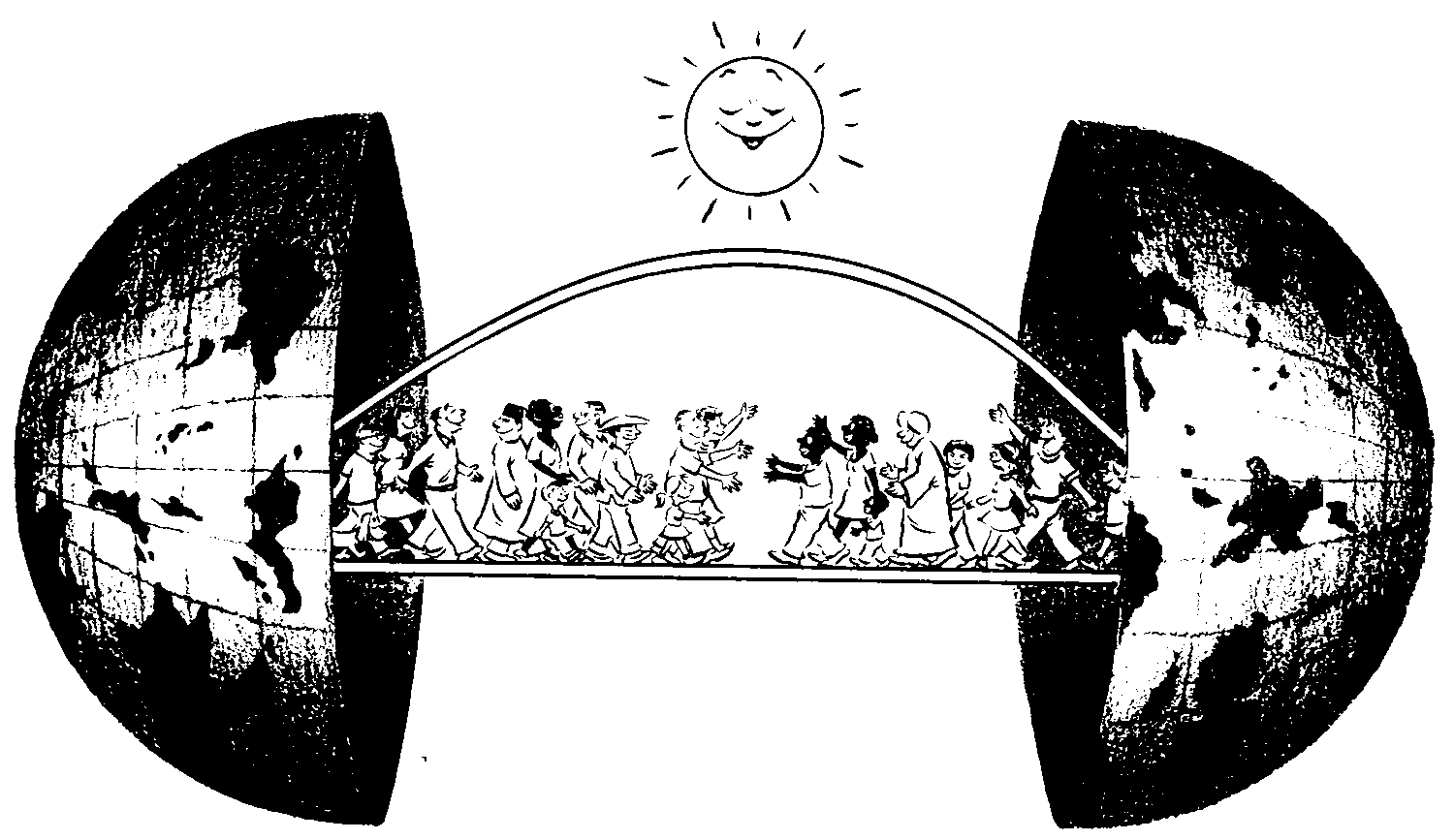 ---
4-A1661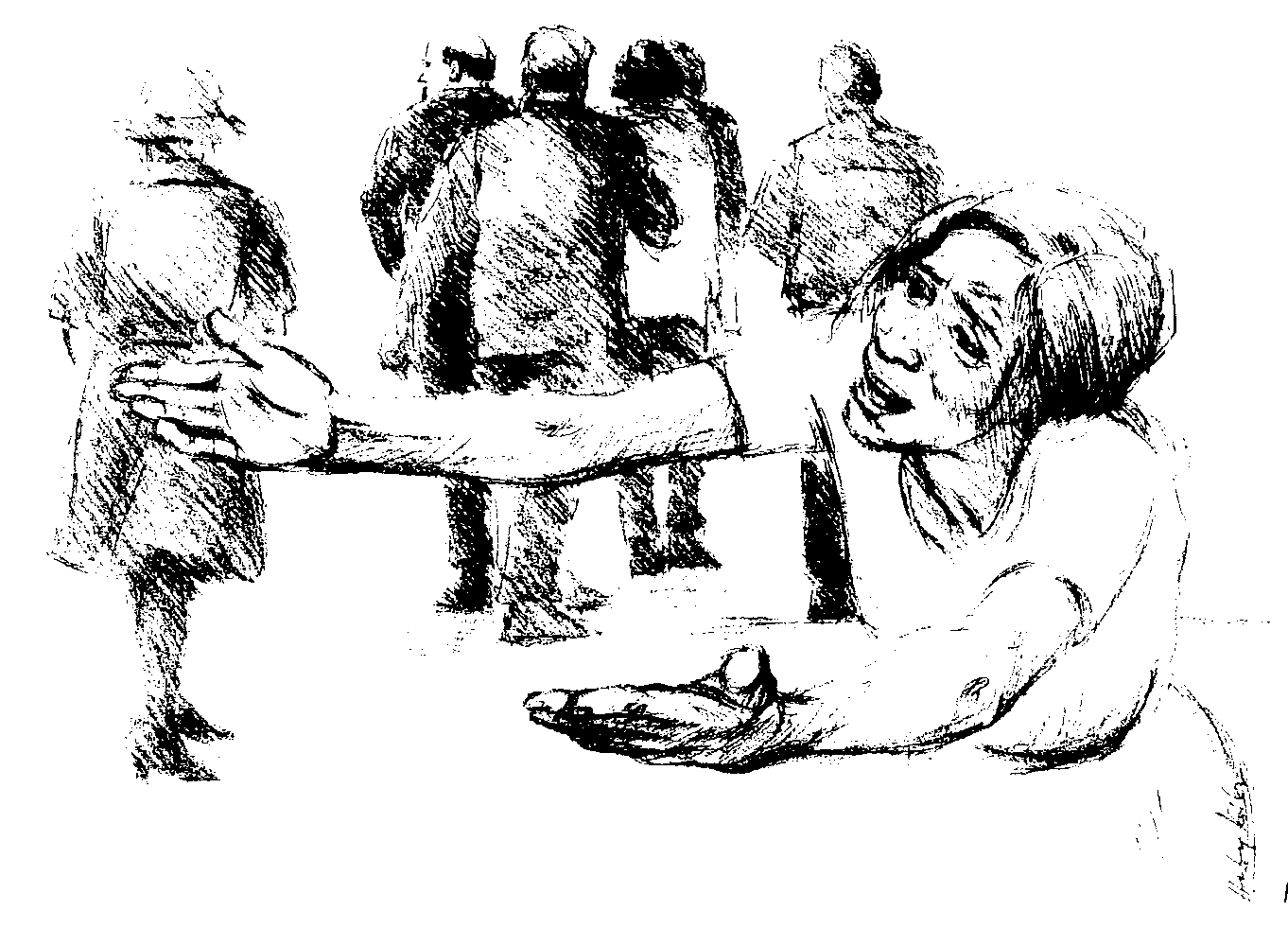 ---
4-A1896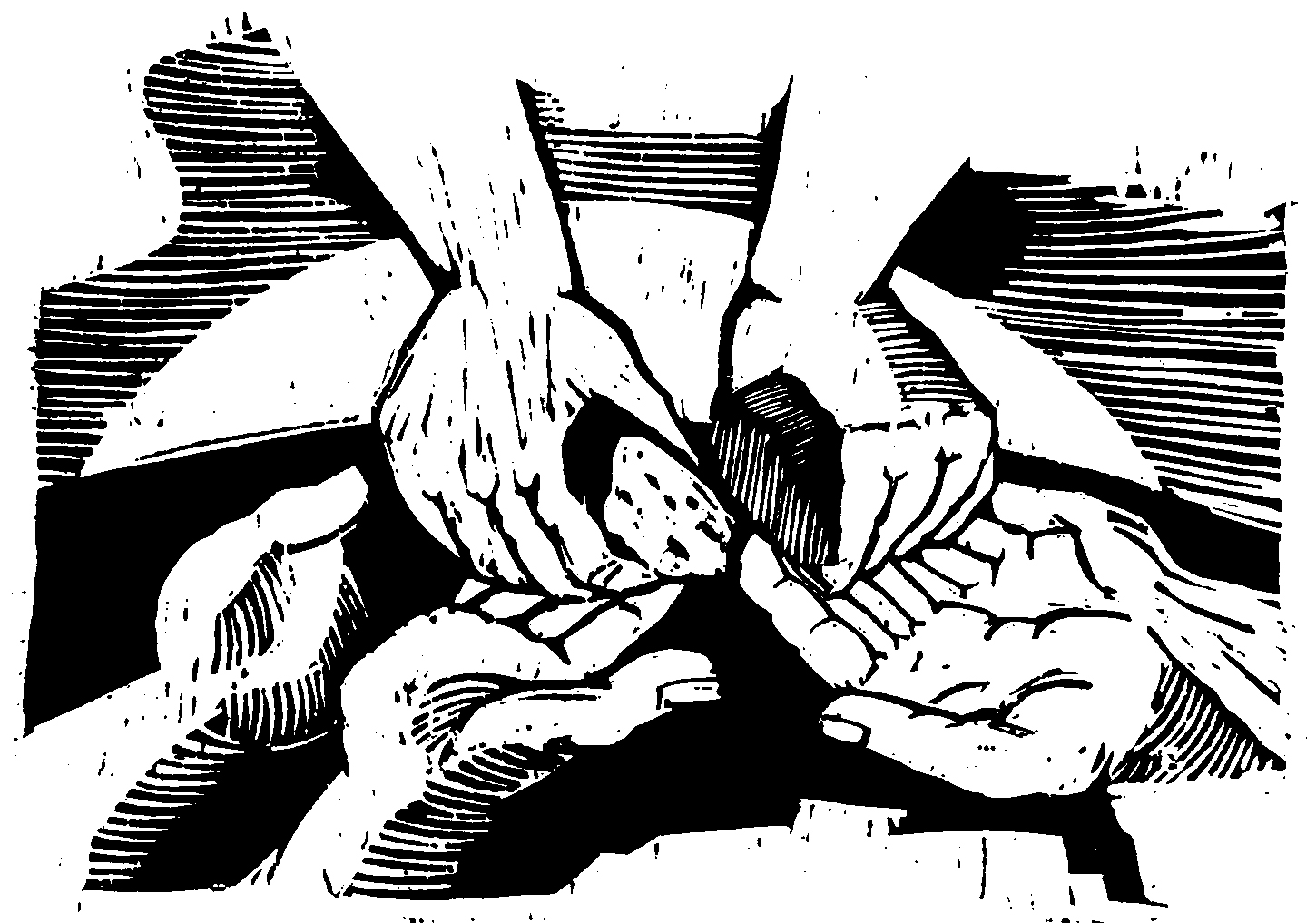 You give them something to eat... and in the end, all were filled.
---
4-A2051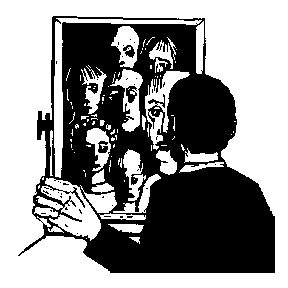 In the mirror of your quiet moments you see the faces of the people far and near who need your love.
---
4-A2141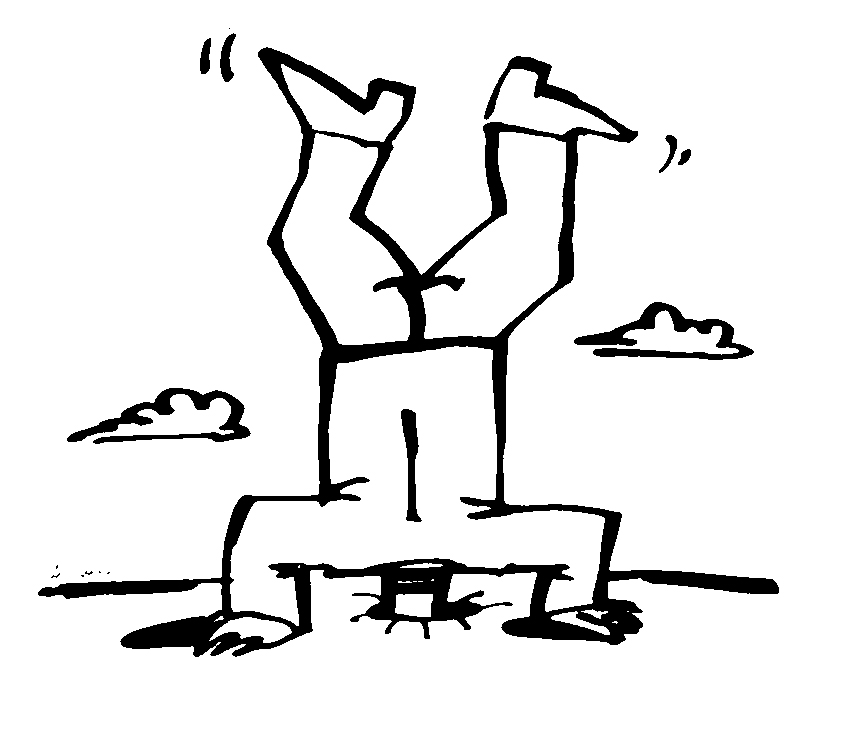 Don't bury your head in the sand.
If you do, your eyes will water, your teeth will grate on the sand, and your hands will be empty tomorrow.
Let Advent come. Let God come to you.
---
4-A2302
Without Prospects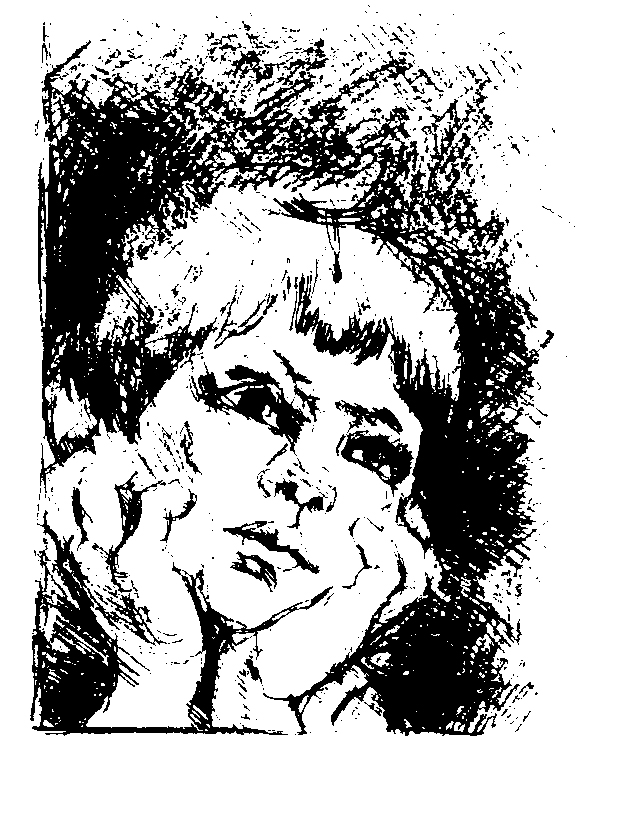 When other children go on vacation, many children have to stay at home. When other children play with their new toys, many children stand by and watch.When other children proudly display their new clothes, many children hope that nobody notices their rather worn, second-hand clothes. When other children always seem to have everything, this thought passes through the mind of many: "Then I'll just have to take what I need...."
---
4-A2317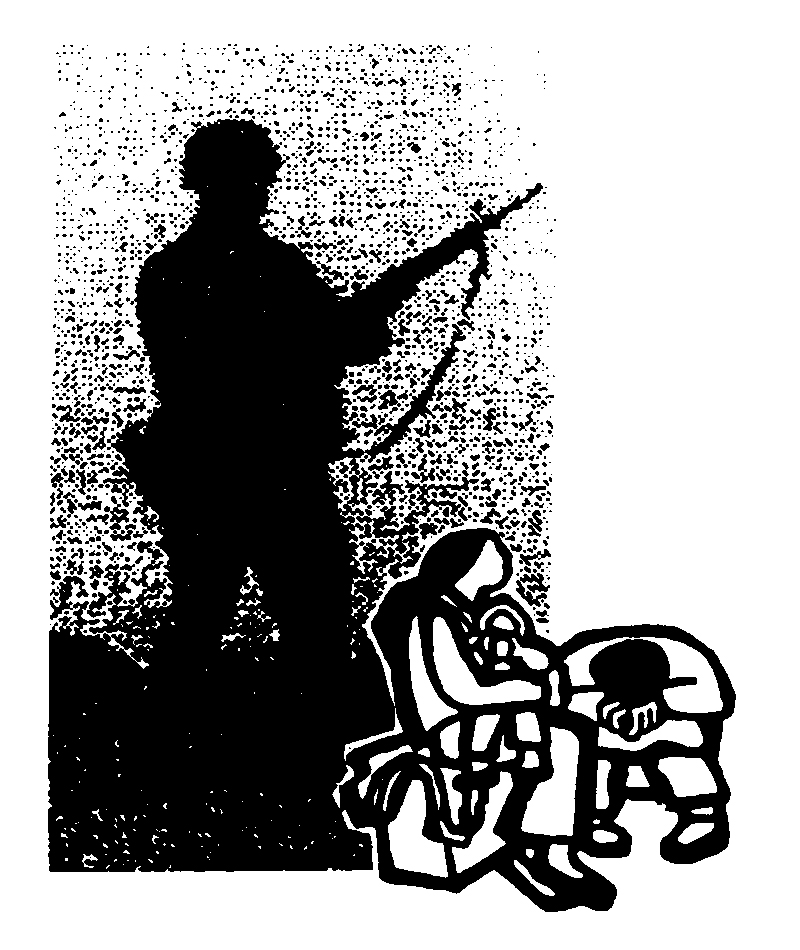 Raise your eyes with hope, not to the sights of guns.
Sing a song of love and not of war. Don't say, "A day will come."
But bring that day to us.
For it is no dream, and in every place, sing for peace.
--from "Song for Peace" sung by Israeli President Yitzak Rabin immediately before he was assassinated at a peace demonstration
---
4-A2435
On Looking Away and Moving On...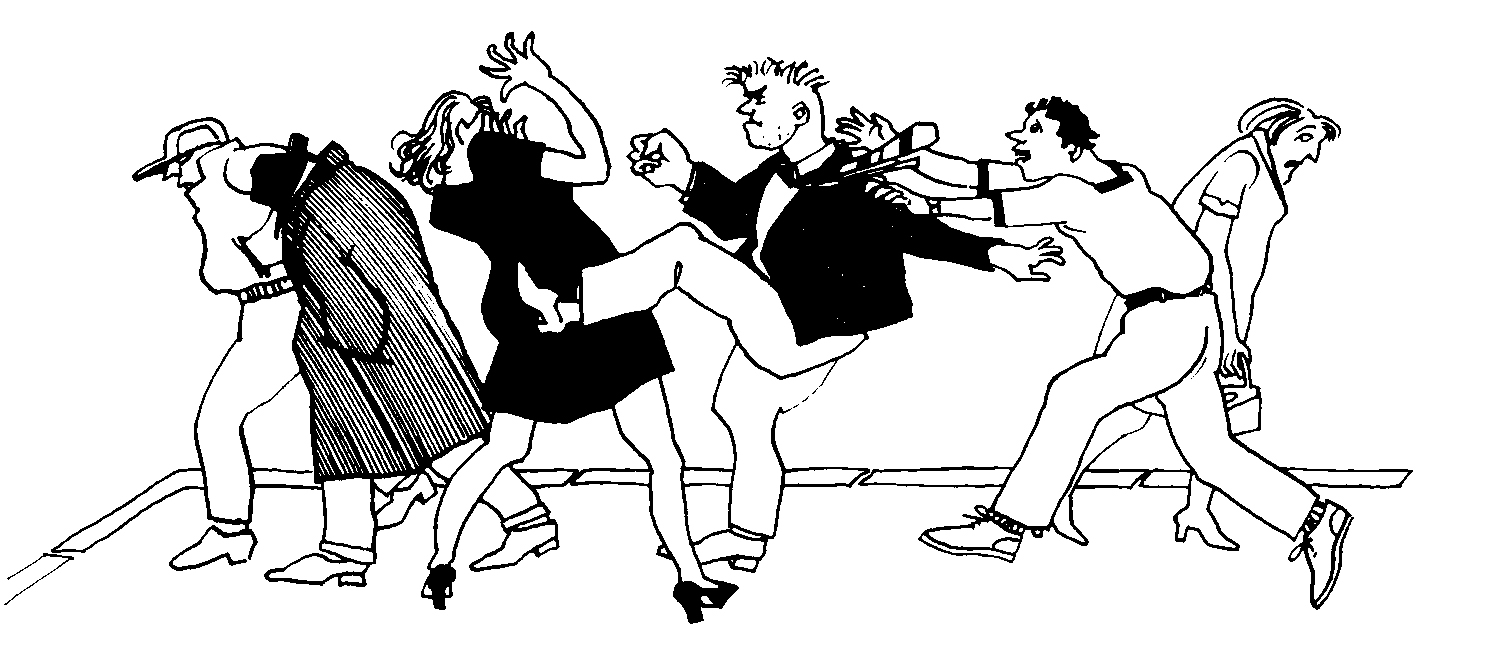 "I simply had to get involved. The man was beating and kicking the woman brutally. If I hadn't gotten between them, he would have half killed her. If I was scared, I only noticed it later."
Opportunities for heroism, unfortunately, are common. To the degree that we care about people and the natural environment, we'll rise to the occasion.
---
4-A2716
Giving Others A Voice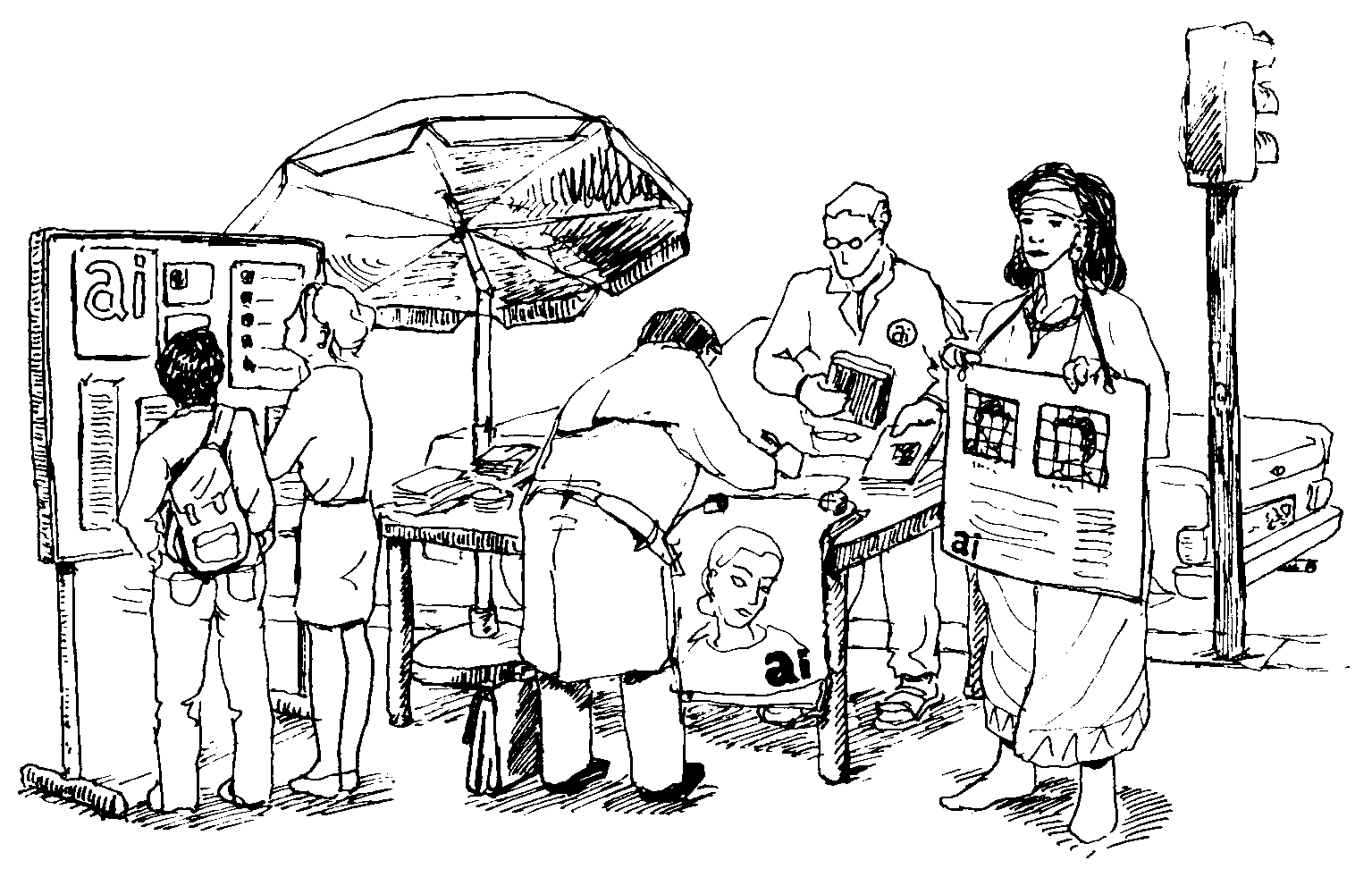 Advocating for the weak, fighting to keep the memory of political and religious prisoners alive, spreading information about injustice and exploitation. People who become publicly active about causes in which they believe may become vulnerable, but it's worth it. This "giving a voice" creates human bonds.
---
4-A2734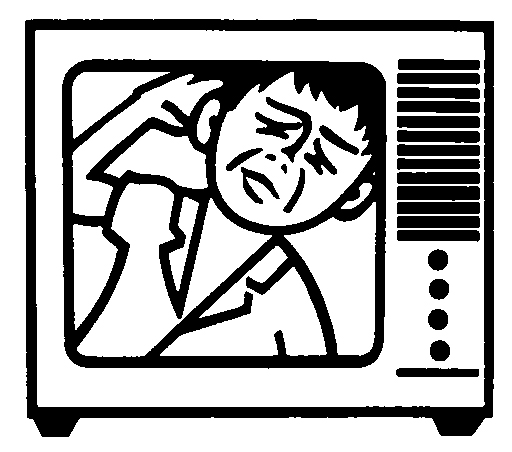 ---
4-A2735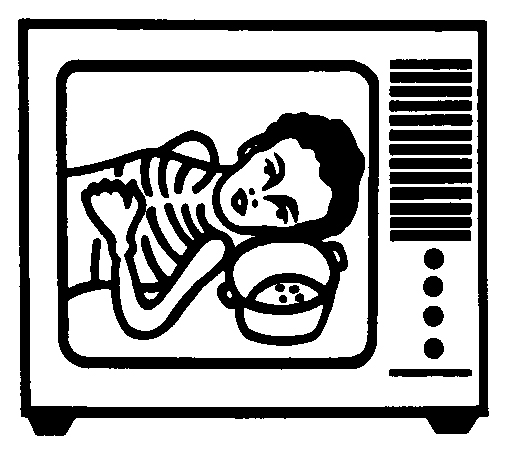 ---
4-A2874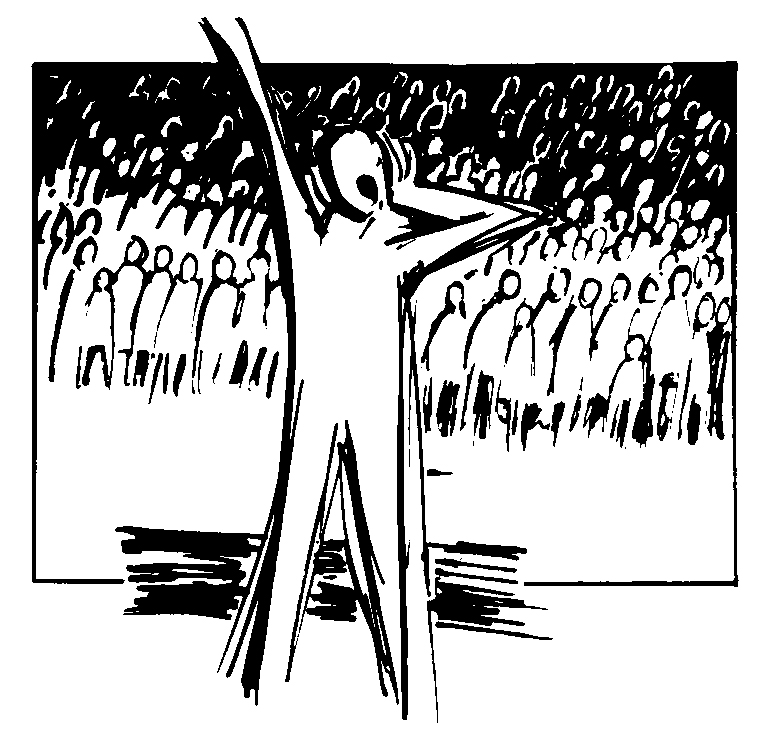 ---
4-A2979
We Are Just Following Along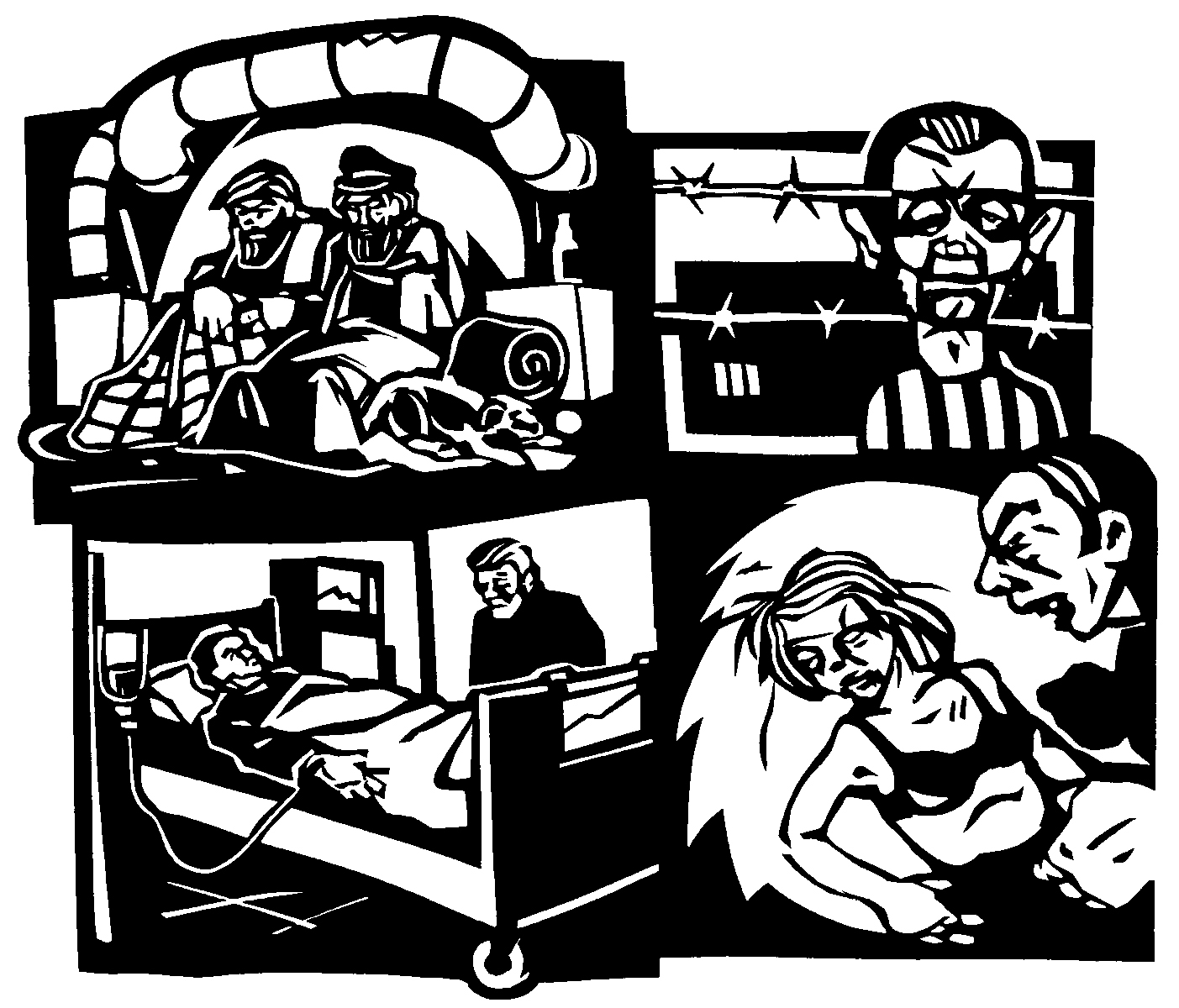 God sent Jesus to the poor, the prisoners, the sick and the oppressed. However, that did not complete Isaiah's prophecy. It is still going on. Only now, Jesus is sending us.
---
4-A3002
I'm Fine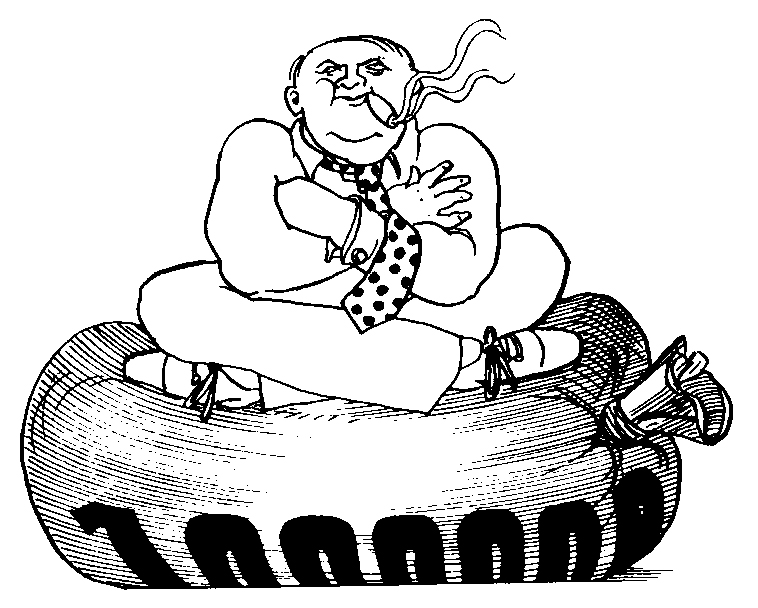 When one's well-being is gained at the cost of the poor, it will only last as long as the money lasts. The one whose happiness is gotten at the expense of those who weep, can expect no deeper joy than the toothpaste grin which he plasters on his face. The one who snubs those around him will soon be completely alone.
---
4-A3505
August 6, 1945 -- When the clocks stopped
HIROSHIMA AND NAGASAKI

---
4-A3541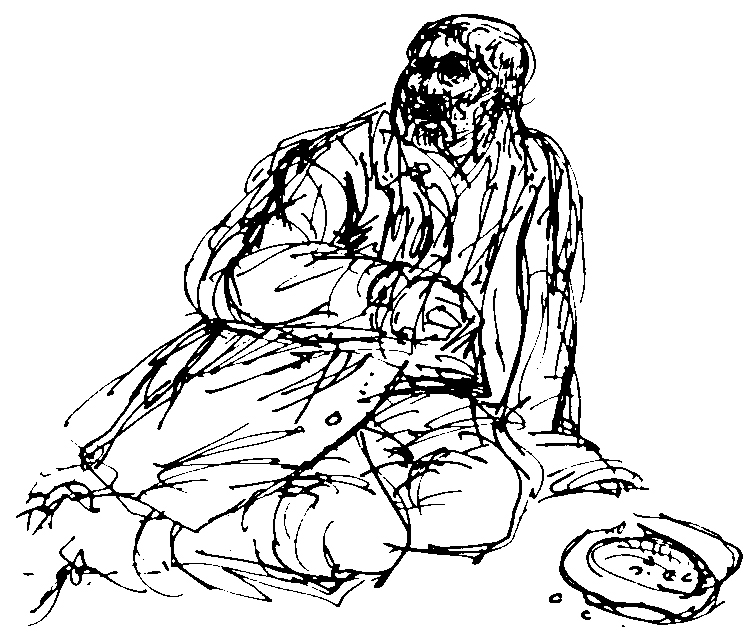 The bread which you hold back belongs to the hungry;
the clothing which you store in your closets to the naked;
to the bare-footed the shoes which are rotting;
to the needy the silver which you have buried.
--Basil of Caesarea
---
4-A3606
Reconciliation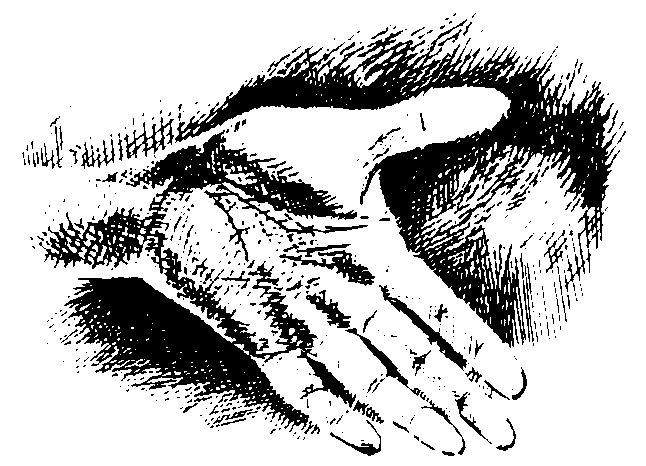 ---
4-A3882
January 18 -- Dr. Martin Luther King Day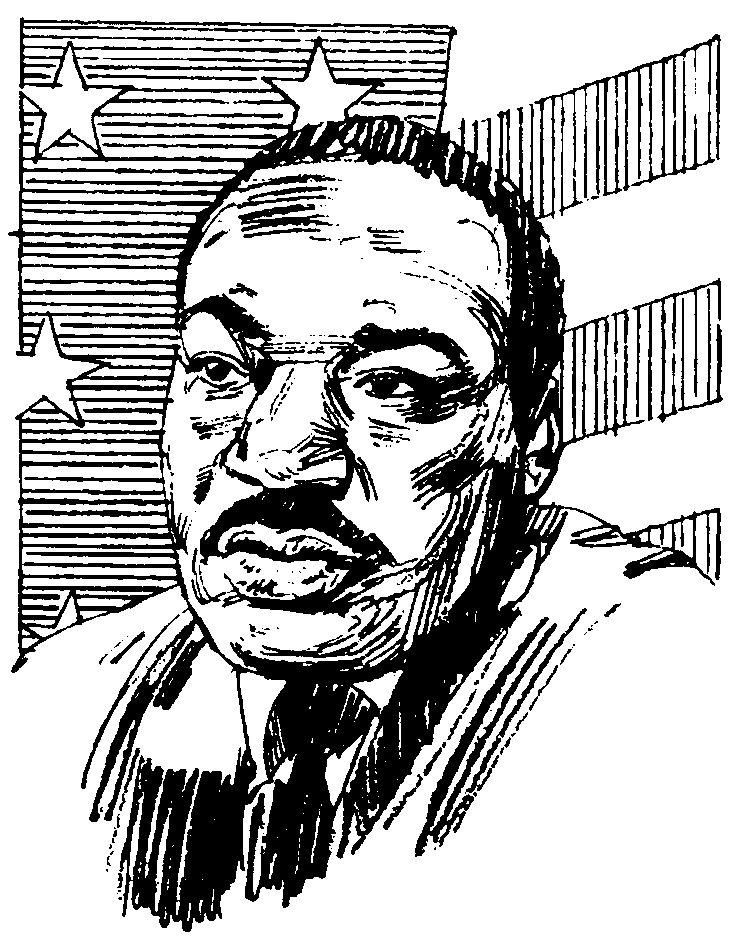 Born on January 15, 1929, Martin Luther King made his mark on American society as a leader in the Civil Rights Movement who acted out of a religious conviction for social justice.
Born second oldest in a pastor's family, he decided to follow his father's footsteps while attending Morehouse College in Atlanta, Georgia. He had been profoundly influenced by the president of the college, Benjamin Mays. After being ordained a Baptist minister and graduating from Morehouse, he went to graduate school at Boston University and earned a Ph.D. in Theology. Then he became a pastor of the Dexter Avenue Baptist Church in Montgomery, Alabama.
As a pastor, he was asked to serve as president of a group organized to protest the arrest of Rosa Parks. He insisted that the protest be nonviolent. For the next 13 years he continued as a leader in the struggle for civil rights until he was violently killed on April 4, 1968.
In 1964 he received the Nobel Peace Prize for his leadership in promoting peace in the world.
---
4-A3884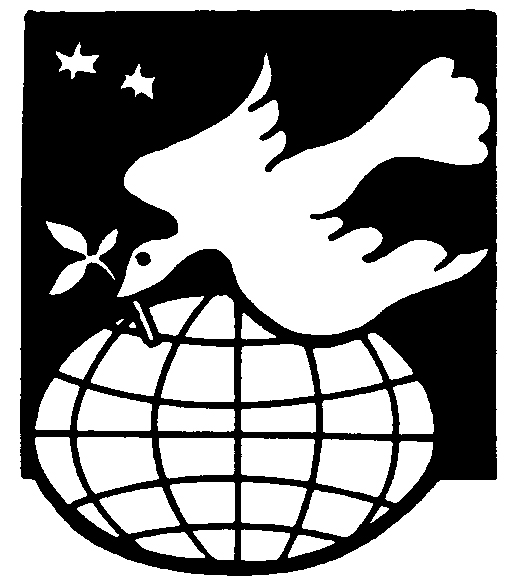 "I heard the bells on Christmas Day... Peace on Earth, good will toward all."
As the song goes on to recognize, there is no peace on Earth.
Let us pray for peace. Let us live for peace.
---
4-A4003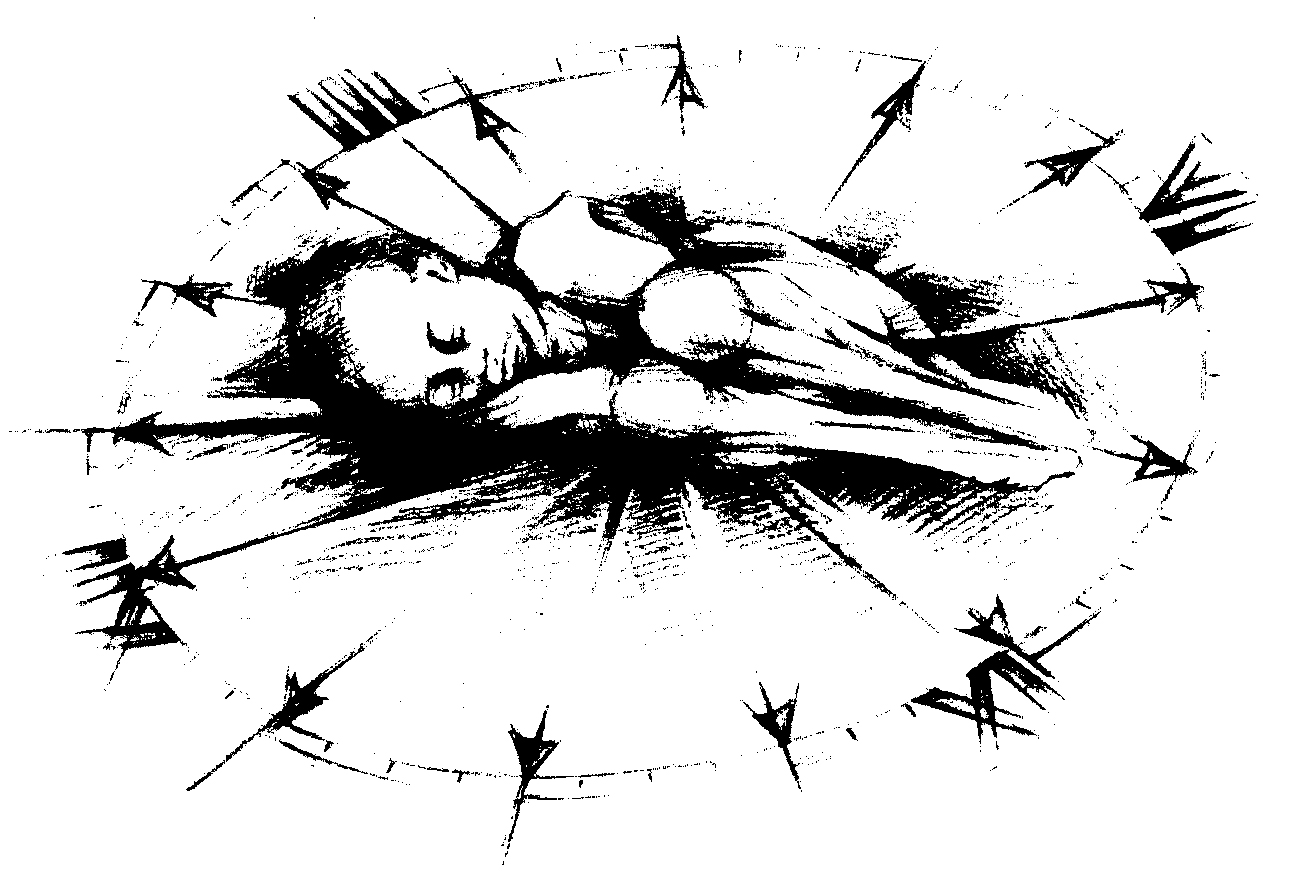 Every four minutes somewhere in the world a child dies. With these words, a missionary once began his sermon. So that another child wouldn't die while he was preaching, he kept his sermon shorter than four minutes.
---
4-A4008

Fasting for Justice -- Have you already chosen?
---
4-A4049
The Exalted One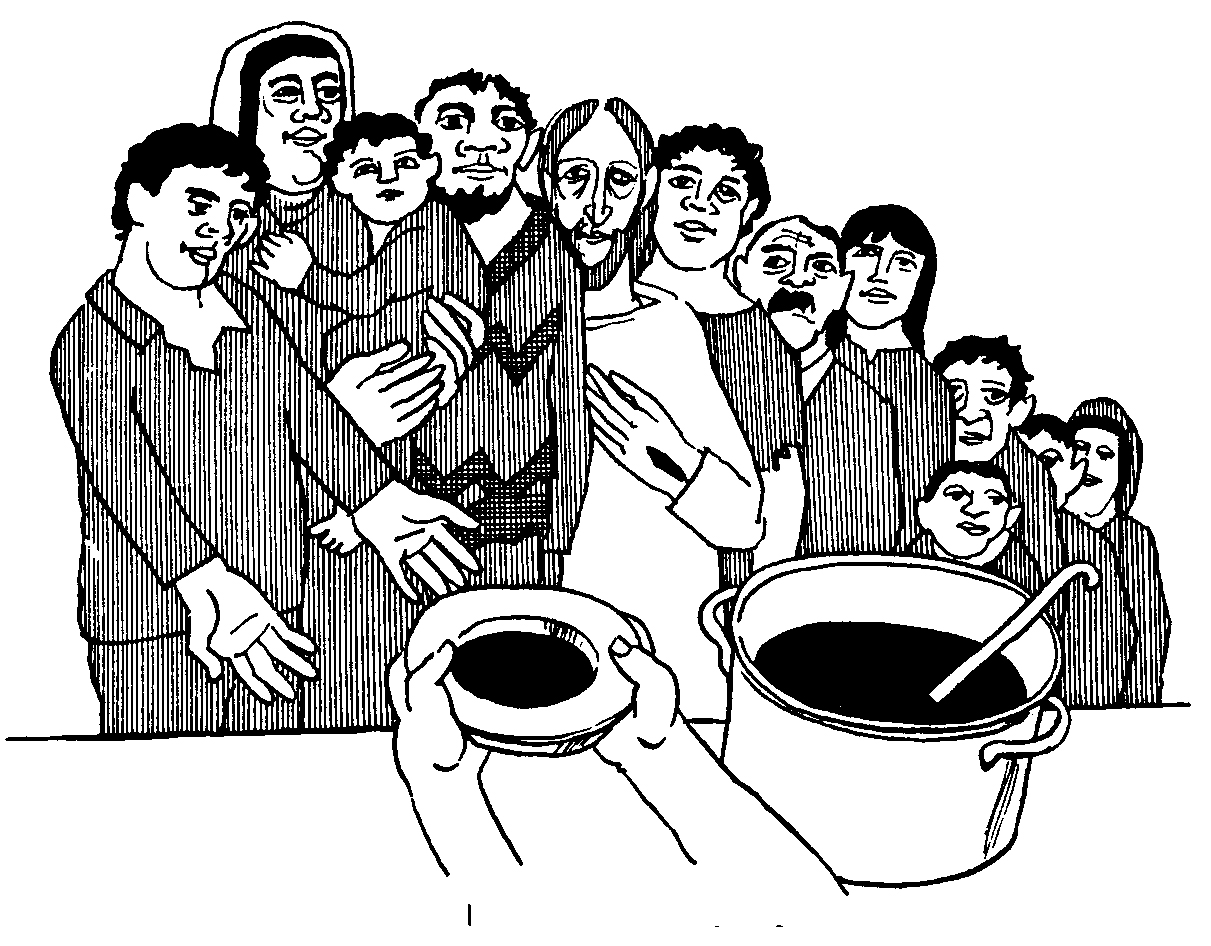 The ascension of Christ is the most peculiar triumph in the world. The Resurrected One returns to stand among the dropouts, the Victor among the failures, the Exalted One among the rejected. The Kingdom of God is present in our midst.
---
4-A4056
Every hand can be a dove of peace.
---
4-A4226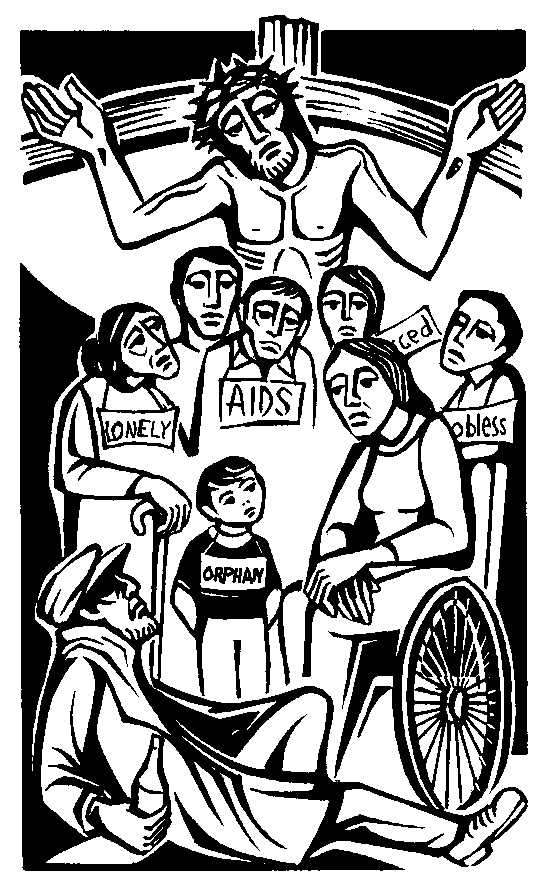 Come to me, all you who labor and are burdened, and I will give you rest. Take my yoke upon you and learn from me, for I am meek and humble of heart; and you will find rest for yourselves. --Matthew 11:28-29
---
4-A4273
Homeless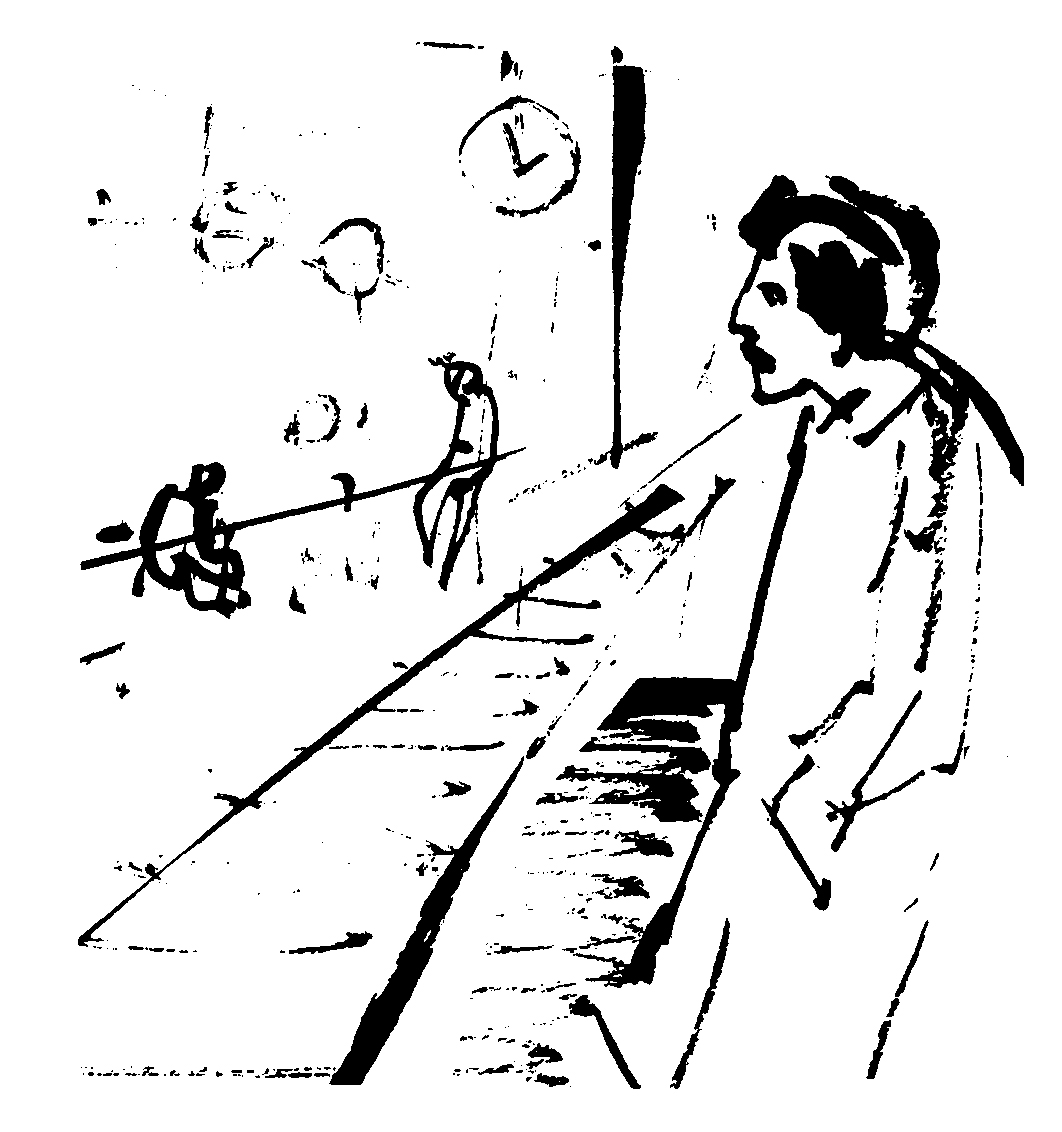 Throughout the world people camp out around various transportation routes, dreaming of going home. But they can't go home. The borders are closed. They aren't welcome. They can't earn a living. People are out to kill them. Refugees. Homeless.
---
4-A4344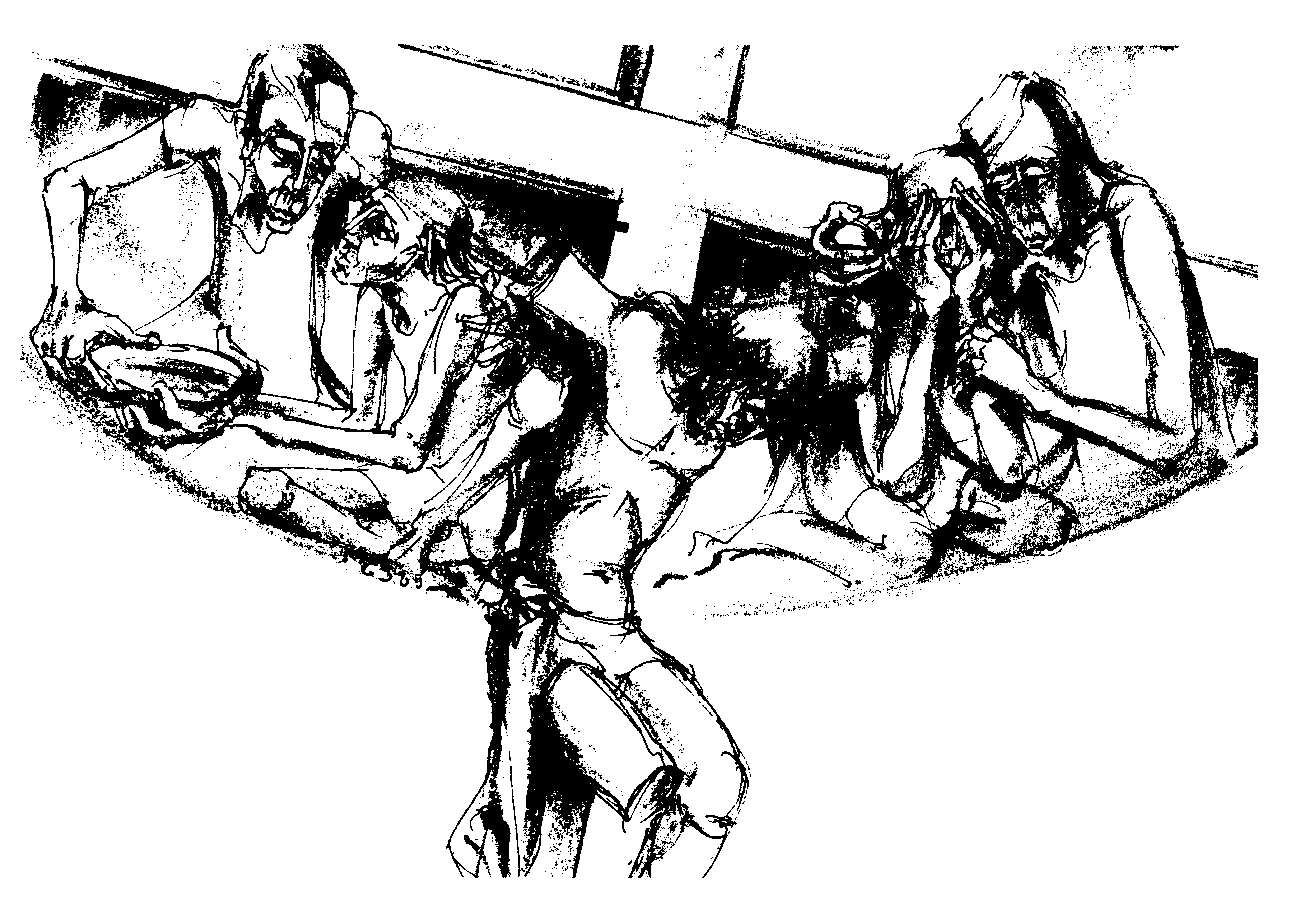 Give God hands which help the suffering.
Give God feet which go out to others.
If we love God, we love your neighbor
and only those who love their neighbor can love God.
---
4-A4363
Misunderstanding (a dream)

I saw an angel selling something and said, "Angel, what are you selling?" "Whatever you want!" replied the angel, smiling. "If that's so," I said, "let's get started! Let's wipe out human rights violations. I'd like to see the world at peace, orphans in good homes, the lonely having the fellowship they need, and the hungry with plenty of good food-and, for myself..."
Then the angel interrupted, "I'm not sure you completely understood. I'm not selling ripe fruit. I'm selling seeds."
---
4-A4397
The Good Samaritan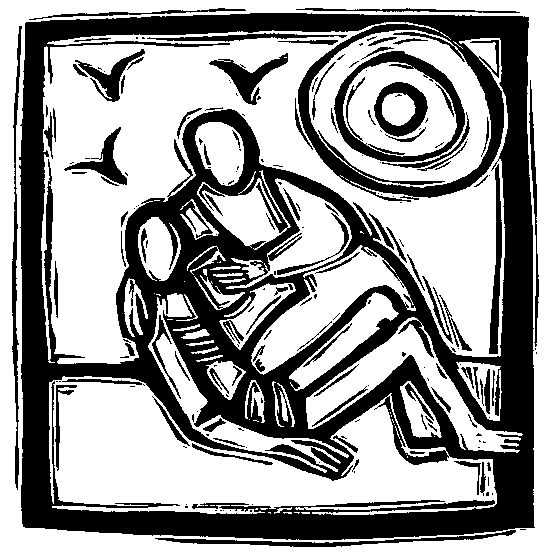 ---
---
Archives Index | Home | Short ART Tour
Go to Spirit of Simplicity MAIN Page | Go to QUOTES
TEST AREA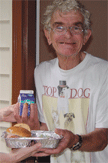 Hungry Man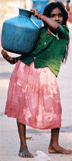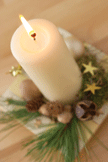 Simple Living Works! * SimpleLivingWorks@Yahoo.com
BLOG: SimpleLivingWorks.WordPress.com | Blog INDEX
PODCAST | Podcast INDEX
VIDEOS: YouTube.com/SimpleLivingWorks
MISSION: Equipping people of faith to challenge consumerism, live justly and celebrate responsibly // An all volunteer educational organization.