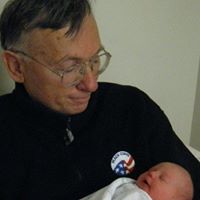 Jerry with newborn granddaughter Eliana Rose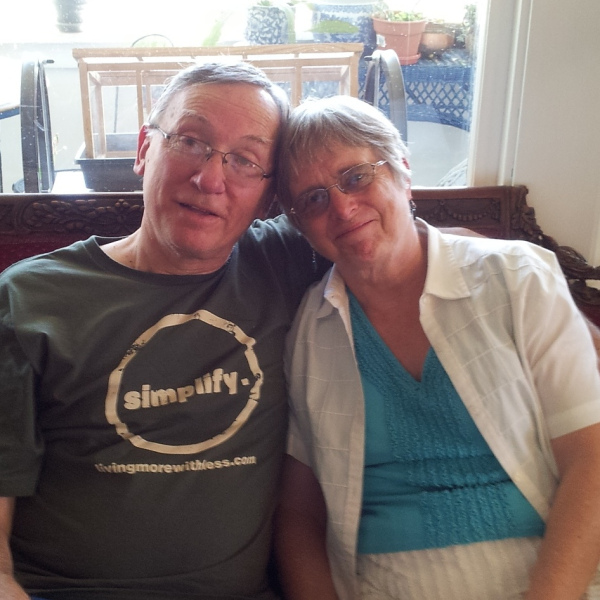 // Jerry and Rita
---
Simple Living Works!
SimpleLivingWorks.org
Media Release
May 16, 2016
Release at Will
Retiring on the Internet
Some senior citizens like to pass the time playing games on the internet. Not retired ELCA Associate in Ministry Gerald 'Jerry' Iversen. Yes, he spends time every day on Facebook, but as a ministry. "Besides," Iversen says, "My doctor says there's no proof that internet games keep our aging minds any sharper."
Instead, Iversen runs Simple Living Works! -- all online, all free of charge. It includes a weekly blog, twice monthly podcast, monthly eNews, group coaching, and over 100 personal and educational resources. "SLW! extends the spirit and resources of Alternatives, which has been promoting faith-based voluntary simplicity since 1973," he said.
Brueggemann Podcast Guest
His latest guest on the podcast is renowned Biblical scholar and author, Walter Brueggemann, Episode 69 (May 15). They talk primarily about Brueggemann's recent book "Sabbath as Resistance: Saying NO to the CULTURE of NOW."
"Sabbath is so much more than a day off!" Iversen said.
His guests range from the well-known to grassroots activists, such as Frank Cordaro of the Des Moines, Iowa, Catholic Worker House.
A podcast, by the way, is similar to a radio program that you can listen to at your own convenience, through our computer, iPad, iPod, smart phone, etc. Over one billion people around the world subscribe to podcasts, of which there are over 100,000. They range from the serious to the silly. A few are video podcasts. The vast majority are free and produced by enthusiasts. Some are actual radio programs that are released in the podcast format to reach a larger audience. Such is the case with Episode 68, Ed Fallon's 'Fallon Forum,' an independent talk program that comes by podcast from Des Moines, Iowa. Most podcast are archived on the producers' websites so that past episodes are available anytime, as are Iversen's.
Part of Prophetic Ministry
As a Minister of Music for 25 years, Iversen served as a pastoral minister. In 1995 he was called as head of Alternatives, which began his prophetic ministry. While pastoral ministry deals primarily with worship, education and outreach, prophetic ministry helps people see the consequences of their actions. Alternatives served prophetically by producing inspirational and educational resources, the best known the Advent/Christmas resource, "Whose Birthday Is It, Anyway?" The first 25 annual issues were produced on paper and distributed by several mainline denominations. Iversen continues to publish it online.
Now message shirts are part of Iversen's ministry. "I never leave the house without some important message on my chest," he said. "I don't have time to talk to everyone I meet but I can leave them with a thought." It may be Thrivent Financial's new 'Live Generously' shirt. Or 'More Fun. Less Stuff.' Or something overtly political, such as 'Trickle Down Doesn't,' referring to failing 'trickle down' economics. Or one for Simple Living Works! that has the mission statement on the back: 'Challenge Consumerism, Live Justly, Celebrate Responsibly.'
"I started wearing message shirts as props on my extensive speaking tours," Iversen said. "I'd change shirts for each section of my talk. I had a different shirt for each of the Five Life Standards of 'Living More with Less.' I didn't want to chance electronics failing and the shirts held the audiences' interest quite well, even kids.
"Shortly after retiring we joined Bethel ELCA in Templeton, Calif. I wore my 'Wikileaks' shirt to worship and a parishioner asked the pastor, 'Who is that guy?!' Turns out he was a retired CIA agent," Iversen joked.
"When the ELCA Western Iowa Synod Assembly honored the anniversaries of rostered leaders, I had the privilege of leading the procession as the longest serving AiM. We were told to 'vest,' so I proudly wore my 'Danish Grandpa' T-shirt."
Other SLW! Services
SLW! weekly blog is a dense digest of what others are doing to promote voluntary simplicity, or 'minimalism' as it's widely called now, especially by young adults. "Some people call my blog 'text heavy.' It contains some 50 links." The digest goes automatically to internet subscribers. Many blogs, podcasts and sites are previewed. "SLW! eNews" is the first digest of each month. It also goes to some 5000 subscribers by email.
All of SLW! services can be accessed on the Home Page of SLW! site -- SimpleLivingWorks.org. A site search engine is in window #4, along with SLW! videos. Also, a seasonal/thematic index in window #1 includes Advent/Christmas, Lent/Easter, Non-seasonal, Music and more topics.
The twice monthly 30+ minute podcast is in window #3; the blog in #2.
Over 100 personal and educational resources on SLW! are mostly classics from throughout Alternatives' 45-year history.
SLW! new service is a daily Nudge -- a one idea, one quote, one link -- simple living encouragement available by email or Twitter. For those who want to plan ahead and share with others, monthly and weekly editions of the Nudge are available by Linked-In, Google+, and in the future by Pinterest and Instagram. Subscribers to the Weekly Digest also receive the monthly and weekly Nudges.
The Common Good Podcast
Iversen became interested in podcasting when he was appointed co-host of The Common Good Podcast, produced monthly by Jubilee OneEarth Economics at Jubilee-Economics.org. He was mentored by the young producer and took over as producer when the younger man moved on.
After heading Alternatives from 1995 to 2007, Iversen revived Alternatives when his successors released it in 2011. He immediately started the monthly SLW! eNews and then in 2013 added the blog and podcast.
Although he speaks to audiences face-to-face only a few times a year now, in his prime he averaged over 100 presentations a year covering 40+ states. His travel journals with photos are available online.
"Internet activism is a wonderful way to retire," he said. "Voluntary simplicity is a faithful, effective, satisfying, comprehensive lifestyle. It encourages relationship building face-to-face and online. Simple living is so much more than a hobby, so much more than growing a few tomatoes and wearing old clothes. And it's so rewarding not have to raise any money, to do it all for free! (Our budget is under $25 per month)," he whispered.
This is a fitting epitaph for Alternatives' founder, Bob Kochtitzky, who died May 5, 2016.
--30--
Editors: For a history of Alternatives with photos, 1973-present, visit http://simpleliving.startlogic.com/indexoth.php?place=what.php#TableCont
For interviews, contact Gerald 'Jerry' Iversen, Chief Activist, Simple Living Works!
ELCA Associate in Ministry, M.A. journalism, M.Mus. church music
805-400-0182 - cell
SLW! also collaborates with Jubilee Economics Ministries (JEM) - Jubilee-Economics.org - to produce a weekly blog and a monthly podcast at TheCommonGoodPodcast.com.
"All our services and resources are free of charge on the internet. We print nothing on paper," said Iversen, the Chief Activist of SLW!
SLW! also produces a free monthly eNewsletter. And Alternatives' numerous videos have been up-dated at YouTube.com/SimpleLivingWorks.
Contact SLW! at SimpleLivingWorks@Yahoo.com. Visit SimpleLivingWorks.org
######
Editors: For more information, contact Gerald Iversen at SimpleLivingWorks@Yahoo.com.
You may REPRINT excerpts without further permission. You may REPRINT complete resources or articles on a not-for-profit basis under the Creative Commons non-commercial attribution share-and-share-alike license. NOTE: All Alternatives' current media releases are available for easy downloading at
SimpleLivingWorks.org
. Click on ABOUT US >> NEWS.
---
Home | Media Release Index | Resource Archives Index
---
This page last updated 20 May 2016
Simple Living Works! * SimpleLivingWorks@Yahoo.com
BLOG: SimpleLivingWorks.WordPress.com | Blog INDEX
PODCAST | Podcast INDEX
VIDEOS: YouTube.com/SimpleLivingWorks
MISSION: Equipping people of faith to challenge consumerism, live justly and celebrate responsibly // An all volunteer educational organization.