About | How to Listen, Subscribe, Share (no Show Notes)
(Jerry's other podcast with Jubilee OneEarth Economics)
Media Release
---
Tony & Shane Uncut series Show Notes | Champions of Simple Living*
---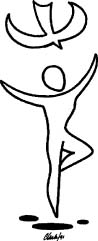 Simple Living Works! Podcast
Individual Episodes
Audio and Show Notes
2013 // 2014 // 2015 // 2016 // 2017 // 2018
2013
---
SLW! Podcast: Preview/Back-up
Audio + primary links only (See above for Show Notes.)

2013 // 2014 // 2015 // 2016 // 2017 // 2018
2013
---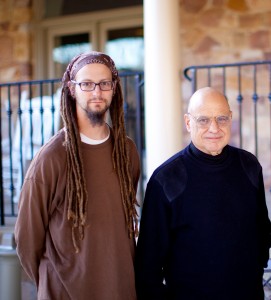 MORE PHOTOS below
Show Notes
To LISTEN, scroll up to the episode(s) [20-27] of your choice in the Episode Index.
Listen to several episodes or to all of them at Preview/Back-up.
TOPICS
The Show Notes are the same for each episode, though the topics are different.

Prequal-Ep.3: The Saga of 'Simply Enough'

PART 1-Ep.20: St. Francis and clothes; the Bible and lifestyle (Mark 10); discipleship, hospitality, freedom, marriage and sex; alternative health insurance: Christian Health Care Ministries; speaking and travel, carbon footprint fast, home stays and Tony's jacket

PART 2-Ep.21: Moving in the direction of a Christian lifestyle (Philippians 3:13-14); the continuum of radicalism and travel; rescued food; EAPE; Shane's book--The Irresistible Revolution; responding to the needs of poorer churches; redistribution of speaking fees through The Simple Way community and $1 bills; Alternatives to Military Service; newly marrieds deciding their lifestyle permanently and then giving away any surplus; churches giving building funds dollar-for-dollar for water projects and scholarships

PART 3-Ep.22: Urban farming / guerilla gardening; recovering from Tony's stroke; our meat problem; integrity in farming; dangers of piety; In what way am I living economically a lifestyle as Jesus wants me to live? The lesson of Ananius and Sapphira - pretense; being close to the poor; First John 3:16; redistribution in love; free enterprise, not capitalism - meeting needs, not manufactured wants; manipulated by advertising; Who owns the pond? Stories from sweatshop kids; Where do we shop? Paul's wrestling with 'principalities and powers' (forces of evil) in church (Ephesians 6:12)

PART 4-Ep.23: Advertising continued - Cornel West and stealing sneakers, seduction of everyone; selling counter-culture; Amish peculiarness; Willow Creek - living out a concern for poor and oppressed; sharing shoes, as learned from Mother Theresa; rich folks don't KNOW poor folks; so little time to talk to our kids; problems of the American Dream; impossibility of loving global neighbors as self; Rev. 15: Babylon consumer culture collapses, contrast of merchants and angels; use of sexual imagery; toward a new society; Papa Fest - People Against Poverty and Apathy - gathering with theological and hands-on workshops

PART 5-Ep.24: Tithing (from Exodus) - 1/10th given for a party - celebration for all, a foretaste of the heavenly banquet; 9/10th's used wisely in accordance with God's will! The Simple Way's block party - a redistribution, as the Jubilee; in the relational tithe, 10% decided by the group to meet neighborhood needs. Church embezzlement when only 2-3% given outside its walls. Tony's book: The Kingdom of God Is a Party. In the Eucharist the bread (food of the poor) and wine (food of the rich) come together -- enough for everyone's needs, not greed. EAPE's beyond borders group urged to buy supplies and pay workers, not build for the Haitians; instead, spend time with them, which is unsettling, humbling and ultimately gratifying. St. Francis -- jester of God -- knew how to party, invented the marionette. The poor are sacramental, meet Jesus in them, here or overseas. Matt. 25 is about interactions (interruptions), not charity. Charity insulates us; church becomes a broker, not a community. Positive examples: hugging a bum, ice cream in Calcutta -- it's too good to keep to myself!

PART 6-Ep.25: Social Justice; creating jobs that do things we believe it. Post-oil economy, using restaurant grease, running off the waste of society, creating biodiesel co-op for recovering addicts. Graduate program creating small businesses, e.g., sandals from old tires. Bono at the National Prayer Breakfast: government, give more to help the poor; security doesn't come through the military. Cancel Third-World debt. Farm subsidies hurt indigenous farmers abroad - anti-capitalistic without an even playing field! U.S. is arming the world. Are we Christian? Ask the poor. Ask colleges questions about values, not selfish questions. A Jubilee celebration on Wall St. with the homeless holds up an alternative. We need dreams and visions beyond consumerism. Weddings: socially conscious rings are made with dignity, not blood diamonds. Hollywood is speaking out more than the church. Prom for senior citizens. Extravagances of Christmas.

PART 7-Ep.26: The three gifts at Jesus' birth urge give-away's; manure helps focus on the way Jesus was born, not decorations; non-material gifts or hand-made gifts, such as tree ornaments and their memories, counter gift-giving obscenity. Give stories. If we hate it, why do we do it? Developing a willingness to say No. Santa says good kids get gifts; if you don't, you're bad. Distributing alternative ideas outside a mall on Buy Nothing Day. Buy things that last and at Thrift Shops (Tony's $6 suit). Simple is not ugly; an attractive home is not expensive. Emil Durkheim: importance of family rituals; eat together, stay together; share values at meals. Rituals create a sense of security, well-being, belonging.

PART 8-Ep.27: Feeding people at The Simple Way - an open table was against zoning regulations. Practice Sabbath with a day of rest. TSW annual calendar is not the same as the secular American calendar. Every three months TSW has a love feast, a big dinner with communion that moves. We've made the church boring; it needs to be crazy and fun, not sad and sacrificial. Stories from Shane's Irresistible Revolution include Shane occupying a political convention and being arrested for feeding the homeless in Love Park wearing his 'Jesus was homeless' shirt. Tony's Letters to a Young Evangelical. Tony got arrested reading Is. 10 at the Capitol over the welfare bill. In Scotland a young politician handled the investment for the Parliament's retirement portfolio to leverage investments for justice.

ABOUT the VIDEO PROJECT

Going on the road; meeting Tony & Shane: Travel journals and photos. Scroll to Post #197.

Order the new DVD Choose Justice from The Simple Way, $10US. TheSimpleWay.org/store

The adventure of making the original video

ABOUT TONY

EAPE.org -- Evangelical Association for the Promotion of Education

TonyCampolo.org -- The Positive Prophet of Red Letter Christianity

Curing Affluenza video series

Tony's Podcast -- Across the Pond

ABOUT SHANE

MORE MENTIONS

SLW! Recommends Literacy Service

Alternative Giving 'Year Round

Canadian TV interview of Tony and Shane about Choose Justice (15:00+/-)

SLW! Podcast Episode #3 -- Saga of Simply Enough DVD

WorldVisionCanada.org -- DVD

Simply Enough -- Bonus segments, more

Choose Justice blog

World Vision Canada -- home page

Each episode of the 'Tony & Shane Uncut' series, including the podcast and the Show Notes, were released to iTunes, Stitcher and the other podcast directories about the 1st and 15th of the month, May-Aug., 2014. However, if you want to hear more of the 3-1/2 hour dialog, go to SimpleLivingWorks.org window #3, click the Episode Index. Go to the Preview/Back-up section. Click on the episode(s) of your choice.

Sorry, you can only download episodes into your iPod or Smartphone as each episode with its Show Notes is released to iTunes, Stitcher, etc.

NOTE: For technical reasons, the audio quality of the DVD is better than the audio on the podcast.

Share your thoughts on this podcast and this episode. Email Feedback AT SimpleLivingWorks DOT org [or SimpleLivingWorks AT yahoo DOT com or SimpleLivingWorks2 AT gmail DOT com], leave a message on our Facebook page or on the SLW! blog.

To learn more about SLW! -- our MISSION, for example -- listen to episodes #1 and 2. We produce a half-hour podcast twice a month, to educate and inspire you, your family and your congregation or group. We blog several times a week.

Like SLW! on Facebook. | Follow us on Twitter. | Read & subscribe to the SLW! blog. | Follow us on Pinterest.

To LISTEN, click the player at the top or the bottom of the Show Notes. To SUBSCRIBE to email notices, click Comments in the Show Notes, then check Add a name and email address.

SUBSCRIBE for free through iTunes, Stitcher.com or your favorite podcast service. Please rate us in iTunes and leave a review. Send us your email address to receive the free monthly SLW! eNews. Remember to like us on Facebook. Urge your friends to do the same.

Peace, Gerald 'Jerry' Iversen, Chief SLW! Activist

*GRAPHIC: Shane and Tony - World Vision Canada and Eastern Univ.

We do not solicit or accept donations, nor do we sell anything. All our resources and services are free of charge. We're an all-volunteer organization. Instead, we urge Alternative Giving. Give away 25% of what you spent last year on all celebrations -- Christmas, birthdays, etc. -- to local, national and international causes.

Copyright: Creative Commons non-commercial attribution share-alike license. The audio of this series is owned by World Vision Canada.
---
MORE PIX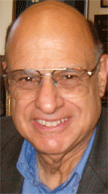 Tony Campolo is an educator, author, humanitarian and speaker. He is the founder and president of EAPE - Evangelical Association for the Promotion of Education. Visit TonyCampolo.org.


Shane Claiborne is an author, speaker, activist and co-founder of The Simple Way community. (photo by Becky Garrison) Visit TheSimpleWay.org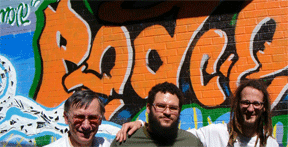 Jerry Iversen, Executive Producer; Jason Fileta, Alternatives' board member and camera operator; and Shane
Tony & Shane's DVD Shares Simpler Living with Young Adults
Two of the most important voices of the 21st Century church. This is a conversation you do NOT want to miss.
- Jim Wallis, Author of God's Politics & President of Sojourners/Call to Renewal
This video should challenge anybody with a heart.
- Aiden Enns, Geez magazine, BuyNothingChristmas.org
In an ocean of self-indulgent consumerism, an island of sanity and realism. A powerful resource in the move toward well-being.
- Walter Brueggemann, Columbia Theological Seminary
Theologically sound, intellectually enlightening, and morally engaging.
- Justo L. Gonzalez, Author of The Story of Christianity
Practical, creative ways you can live more simply in ways that make a real difference for our poorest neighbors and God's good creation.
- Tom Sine, Author, The Mustard Seed Conspiracy
Profound and humorous, full of touching stories, compelling testimonials and prophetic music.
- John de Graaf, Co-Producer and Co-Author of Affluenza: the All-Consuming Epidemic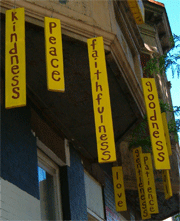 Signs at the original Simple Way community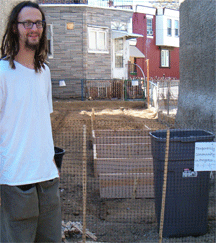 Shane at a garden at the original Simple Way community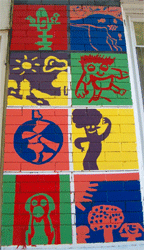 Wall art at the original Simple Way community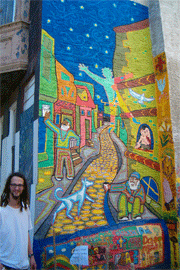 Shane with outdoor art at the original Simple Way community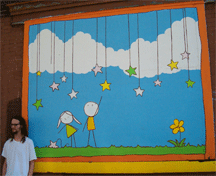 Shane with the original Simple Way community icon art
The Adventure of Making the Original Video, including Endorsements, Promotional Materials, Music Sources, Study/Action Guide + More
---
Page updated 15 Nov. 2017

Simple Living Works! * SimpleLivingWorks@Yahoo.com
BLOG: SimpleLivingWorks.WordPress.com | Blog INDEX
PODCAST | Podcast INDEX
VIDEOS: YouTube.com/SimpleLivingWorks
MISSION: Equipping people of faith to challenge consumerism, live justly and celebrate responsibly // An all volunteer educational organization.