Podcast: Play in new window | Download (Duration: 33:47 — 19.3MB)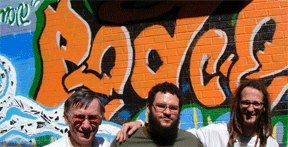 Show Notes
Tony Campolo & Shane Claiborne's complete dialog on simpler living and global justice, in eight parts.
Photo: DVD Exec. Producer Jerry Iversen, Recording Assistant Jason Fileta and Shane at The Simple Way community
To LISTEN, click the player at the top or the bottom, or visit the Episode Index.
NOTE: You can listen to each episode as it is released the 1st and 15th of the month, May-Aug. Or listen to several or all episodes at Preview/Back-up. The Show Notes are similar for each episode, though the topics are different.
TOPICS
EPISODE 5: Tithing (from Exodus) – 1/10th given for a party – celebration for all, a foretaste of the heavenly banquet; 9/10th's used wisely in accordance with God's will! The Simple Way's block party – a redistribution, as the Jubilee; in the relational tithe, 10% decided by the group to meet neighborhood needs. Church embezzlement when only 2-3% given outside its walls. Tony's book: The Kingdom of God Is a Party. In the Eucharist the bread (food of the poor) and wine (food of the rich) come together — enough for everyone's needs, not greed. EAPE's beyond borders group urged to buy supplies and pay workers, not build for the Haitians; instead, spend time with them, which is unsettling, humbling and ultimately gratifying. St. Francis — jester of God — knew how to party, invented the marionette. The poor are sacramental, meet Jesus in them, here or overseas. Matt. 25 is about interactions (interruptions), not charity. Charity insulates us; church becomes a broker, not a community. Positive examples: hugging a bum, ice cream in Calcutta — it's too good to keep to myself!
ABOUT the VIDEO PROJECT
Order the new DVD Choose Justice with beautiful 40 page Conversation Guide for $10US from The Simple Way store. The six-part DVD captures the heart of the dialog. Perfect for group discussion and action.
Going on the road; meeting Tony & Shane: Travel journals and photos. Scroll to Post #197.
Share the adventure of making the original video.
ABOUT TONY
EAPE.org – Evangelical Association for the Promotion of Education | TonyCampolo.org — The Positive Prophet of Red Letter Christianity | RedLetterChristians.org | Curing Affluenza video series | Tony's Podcast – Across the Pond
ABOUT SHANE
MORE MENTIONS
Alternative Giving 'Year Round
Canadian TV interview of Tony and Shane about Choose Justice (15:00+/-)
SLW! Podcast Episode #3 – Saga of Simply Enough DVD
Saga of Simply Enough – blog
WorldVisionCanada.org – DVD
Simply Enough – Bonus segments, more
Choose Justice blog
World Vision Canada home page
Each episode of the "Tony & Shane Uncut" series, including the podcast and the Show Notes, will be released to iTunes, Stitcher and the other podcast directories about the 1st and 15th of the month, May-Aug. However, if you want to hear more of the 3-1/2 hour dialog, go to SimpleLivingWorks.org window #3, click the Episode Index. Click Preview/Back-up. Click on the episode of your choice.
Sorry, you can only download episodes into your iPod or Smartphone as each episode with its Show Notes is released to iTunes, Stitcher, etc.
NOTE: For technical reasons, the audio quality of the DVD is better than the audio on the podcast.
Keep Current – Subscribe to SLW! BLOG.
Click "Follow" at the bottom right of any SLW! Blog post. Enter your email address and you will have each new post delivered to your inbox.
Share your thoughts on this podcast and this episode. Email Feedback@SimpleLivingWorks.org [or SimpleLivingWorks@yahoo.com or SimpleLivingWorks2@gmail.com], leave a message on our Facebook page or on the SLW! blog.
To learn more about SLW! – our MISSION, for example — listen to episodes #1 and 2. We produce a half-hour podcast twice a month, to educate and inspire you, your family and your congregation or group. We blog several times a week.
Like SLW! on Facebook. | Follow us on Twitter. | Read & subscribe to the SLW! blog. |  Follow us on Pinterest.
To LISTEN, click the player at the top or the bottom. To SUBSCRIBE to email notices, click Comments below, then check  
SUBSCRIBE for free through iTunes, Stitcher.com or your favorite podcast service. Please rate us in iTunes and leave a review. Send us your email address to receive the free monthly SLW! eNews. Remember to like us on Facebook. Urge your friends to do the same.
Episode Index: #1-3: Getting Acquainted | #4-5: Beyond a Consumer Lifestyle | #6-11: Whose Birthday Is It, Anyway? | #12: Living More with Less UPDATED | #13: Let's Get Ready for a Simpler Lent & Easter | #14: Simple Living 101 + Social Media BONUS | #15: author Cecile Andrews | #16: Alternative Rites of Passage | #17: author Vicki Robin | #18: Not Ordinary Times – Eco-Justice Ministries | #19: Alternative Summer Festivals/Simply Delicious/Hunger | #20-27: Tony and Shane Uncut
Peace, Gerald "Jerry" Iversen, Chief SLW! Activist
Click ABOUT in the menu at the top for Music and Cover Art Credits.
We do not solicit or accept donations, nor do we sell anything. All our resources and services are free of charge. We're an all-volunteer organization. Instead, we urge Alternative Giving. Give away 25% of what you spent last year on all celebrations – Christmas, birthdays, etc. — to local, national and international causes.
Copyright: Creative Commons non-commercial attribution share-alike license. The audio of this series is owned by World Vision Canada.