Podcast: Play in new window | Download (Duration: 37:53 — 21.7MB)
Show Notes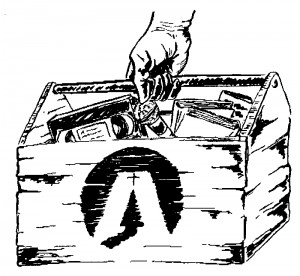 Share the Joy of a Simpler Lifestyle Through Speeches, Workshops, Events, Study/Action Groups, Simplicity Circles and Social Media
+ BONUS: Social Media Supplement – Jerry's Adventures in Social Media
To LISTEN, click the player at the top or the bottom, or visit the Individual Episode Index.

COMING next episode: Interview with Cecile Andrews, Queen of Simplicity Circles
Mentions in This Episode
Mentions Last Episode
Let's Get Ready for a Simpler, More Meaningful Lent and Easter – Click this Index and follow along as you listen.
Themes/Seasons: Collections Index: Advent/Christmas/Epiphany | Lent/Easter | Other Seasons | Anytime/Non-Seasonal | Music | Art | Audio | Video | Spanish | Living More with Less
Lent/Easter: 10 Tips for a Simpler, More Meaningful Easter | Article/ART Index: Easter | Bulletin Inserts are indexed in Articles by season. | En Español (all) | Lenten Calendars and 40-Day Guides - For the current liturgical cycle (A), use #6, 9, 12, 15, or 18. Some are not based on a cycle and can be used any year. | Sing Justice! Do Justice! New Songs & Hymns to Familiar & New Tunes: Lent/Easter, e.g. #19 | Spirit of Simplicity: Quotes and Art for Simpler Living and Global Justice ( Foreword by Cecile Andrews | Introduction | How to Use This Collection | QUOTES | ART )
Mentions in Recent Episodes
Share your thoughts on this podcast and this episode. Email Feedback AT SimpleLivingWorks DOT org [or SimpleLivingWorks AT yahoo DOT com or SimpleLivingWorks2 AT gmail DOT com], leave a message on our Facebook page or on the SLW! blog.
To learn more about SLW! – our MISSION, for example — listen to episodes #1 and 2. We produce a half-hour podcast twice a month, hopefully educational and inspiring for you, your family and your congregation or group. We blog several times a week.
Like SLW! on Facebook. | Follow us on Twitter. | Read & subscribe to the SLW! blog. | NEW – Follow us on Pinterest.
To LISTEN, click the player at the top or the bottom. To SUBSCRIBE to email notices, click Comments below, then check  
SUBSCRIBE for free through iTunes, Stitcher.com or your favorite podcast service. Please rate us in iTunes and leave a review. Send us your email address to receive the free monthly SLW! eNews. Remember to like us on Facebook. Urge your friends to do the same.
Individual Episode Index: #1-3: Getting Acquainted | #4-5: Beyond a Consumer Lifestyle | #6-11: Whose Birthday Is It, Anyway? | #12: Living More with Less UPDATED | #13: Let's Get Ready for a Simpler Lent & Easter | #14: Simple Living 101 + Social Media BONUS
Peace, Gerald "Jerry" Iversen, Chief SLW! Activist
Click ABOUT for Music and Cover Art Credits.
*GRAPHIC: Spirit of Simplicity: Chapter 1: Voluntary Simplicity #1-A508
We do not solicit or accept donations, nor do we sell anything. All our resources and services are free of charge. We're an all-volunteer organization.
Copyright: Creative Commons non-commercial attribution share-alike license.
*Treasury of Celebrations: published by Northstone, a division of Wood Lake Publications, BC, Canada, best known for its Seasons of the Spirit curriculum.