Podcast: Play in new window | Download (Duration: 10:54 — 6.2MB)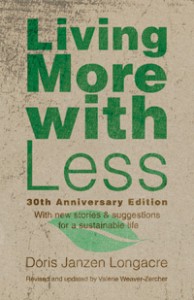 Five Life Standards from Living More with Less inform the mission of SLW!
1. Do Justice – using only our fair share of the Earth's resources
2. Learn from the World Community – openness to other cultures (World Community Cookbooks); reverse missions and Fair Trade
3. Nurture People, Not Things – focus on relationships over stuff
4. Cherish the Nature Order – caring for Creation
5. Non-conform Freely – developing spiritual resistance to advertising that pressures us to buy things we don't need
Support material for Living More with Less
TheCommonGoodPodcast.com, episode #27 with co-host Lee Van Ham, of which only an excerpt was used here, briefly presents the 5 Life Standards. The interview starts at minute 13. The conversation goes on to Practical Implications in episode 28.
Simple Living Works! web site home page | THEMES/Seasons Index
Like SLW! on Facebook. | Follow us on Twitter. | Read & subscribe to the SLW! blog.
To LISTEN, click the player at the TOP or the BOTTOM.
To subscribe, click below:
Contact us at Feedback AT SimpleLivingWorks DOT org (or our previous and still active SimpleLivingWorks AT yahoo DOT com, and SimpleLivingWorks2 AT gmail DOT com).
Peace, Gerald
Click ABOUT for Music and Cover Art Credits.