Podcast: Play in new window | Download (Duration: 32:22 — 18.5MB)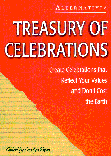 In this episode. . .
Break Forth Into Joy: Beyond a Consumer Lifestyle, part 1 + Simplifying Fall Festivals with Treasury of Celebrations
Hear the first part of Alternatives' award-winning program Break Forth into Joy: Beyond a Consumer Lifestyle, and then hear about a big resource for simplifying fall festivals, like Thanksgiving, Halloween and Advent.
Break Forth Into Joy! itself is 15-minutes. In the next episode hear three additional 10-minute bonus segments of people featured in this part. These additional sections have themes of freedom and possessions, family and children, and taking action. Though not specifically about Christmas, it is very relevant to Christmas.
Break Forth into Joy: Beyond a Consumer Lifestyle won best-of-class in Religion at the Dallas International Film Festival. It has a free study guide when you're ready to use it at the your church or in your group.  Video Version (on YouTube)
NOTE: The program begins quietly by design. The volume increases quickly.
SIMPLIFYING FALL FESTIVALS
To meet the needs of those who plan ahead, I'll make suggestions in advance and then in my SLW! blog I'll repeat them closer to the date for the "spontaneous" folks. You may want to see my blog "Work the Plan."
Treasury of Celebrations is the last edition of a long-standing Alternatives staple, The Alternate Celebrations Catalog, first publishing in 1973, the year Alternatives was founded. Here's a quick history overview. This last edition, a compilation of the six earlier editions, is called Treasury of Celebrations: Create Celebrations That Reflect Your Values and Don't Cost the Earth (published by Northstone, a division of Wood Lake, BC, Canada, best known for its Season of Creation curriculum).
QUICK OVERVIEW
• Treasury of Celebrations
• 1: Making Choices
• 2: Gifts
• 3: Celebrations
• 4: Rites of Passage
Part 1: Making Choices
• Simple Living
o From the Beginning…
o If We Sell You Our Land, Love It – Attributed to Chief Seattle
o Reverence of Life: A view from the First Nations
o Ten Reasons for Choosing a Simpler Lifestyle
o Voluntary Simplicity: Lifestyle with a Future? – Duane S. Elgin [Wikipedia] (and Arnold Mitchell)
o Fundamental Change in Values
o The Psychology of Consumption
o How to Live Better With Less – If You Can Stand the People
o What Can One Person Do? Spread the Word!
• Gift Giving
o Giving and Receiving Gifts
o Gifts in the Consumer Society
o Double Your Gift of Love
o The Hidden Price Tag
o On Creative Deprivation
o Choosing and Using Toys
o Toys ARE Us! A Parent's perspective
• Food and Celebration
o Hunger and the Lifestyle Connection
o Food and Celebrations
o Do You Serve Feelings or Food?
• Getting Started
o Family Transition is Half the Battle
o One Family's Program for Change
o Celebrations in Extended, Single Parent, and Blended Families
o Women and Celebration: The Fable of Maybe-Maybe Land
o Socializing
o Alternative Checklist: How Much is Enough?
o The Shakertown Pledge
o Conversion: A Letter from Yola
Part 2: Gifts
• Gift planning
• Different Approaches to Gift-giving
• Plants: A Gift of Life
• Give A Tree!
• Making Gifts
• Woods Treasures
• Gift Ideas
• Ideas from Kids
• Make Your Own Greeting Cards
• Gift Wrapping Ideas
• More Gift Ideas
• Some of the Best Christmas Gifts
• Holiday Gifts from the Kitchen
• Books for Teenagers and Adults
• Children's Books are Butterflies
• Beyond Disney, Toward Shalom with Books
• Storytelling
• Prime-time Storytelling
Part 3: Celebrations – We'll discuss rites of passage, like birthdays and weddings, as well as winter, spring and summer celebrations in later episodes.
I will bring some of them up again in future episodes at appropriate times. If you're eager, you can read them now or anytime for free online in the archives of SLW!
In the fall, September-December:
• Labor Day
• Autumn begins
• Rosh Hashana (Jewish New Year)
• Yom Kippur (Day of Atonement)
o At home for Yom Kippur
• Sukkot (Festival of Booths)
o At home for Sukkot
• Thanksgiving
o Observations
o Five grains of corn
o Thanksgiving in the woods
o Thanksgiving: Responsibilities of abundance
o Hunger
o celebrating Individually and as families
o celebrating As a Congregation
o Action ideas
o Study Sessions
o Cooperation
o Soup kitchen
o A garden
o A Thanksgiving Litany for a Garden
o Native foods
o Native Americans – suggestions for action
• World Food Day
o Resolution on world hunger
o Welcome to the Hunger Restaurant!
o Offering of Letters
• United Nations Day
o Telling the children
• Halloween
o Halloween Lock-In
o Community Pumpkin Patch
o All Hallow's Eve
o Fall festival
o Family Halloween celebration
o Finding acceptable alternatives
o Community-building
o Hunger project
o A note instead of candy
o Party activity
• Remembrance Day: see Memorial Day
• Hanukkah (Feast of Dedication)
o Light in the subarctic darkness
o On combining Hanukkah and Christmas
o Hanukkah: Challenge for contemporary America
• Advent promises
• Advent workshop
• Advent wreath
• "Baby" tree ornaments
• Christmas cards
• Christmas catalogue
• Christmas open houses
• The cooperative alternative
• Family cup celebrations
• Gifts of Love
• Give gifts for self-reliance
• God's idea of Christmas
• Greetings from the heart
• International Christmas
• It's hard to be merry, sometimes
• Kids and Christmas
• More alternative rituals shared by families
• New traditions
• Our alternate Christmas celebration
• Peace notes at Advent
• People's theatre
• The Shalom celebration
• St. Nicholas Day
• Stuffed ornaments
• Thoughts for Advent
Planning an Alternative Christmas Workshop
How to Organize an Alternative Christmas Community Festival
Alternatives' Legacy Resource: Voluntary Simplicity Study/Action Guide also deals primarily with celebrations.
Share your thoughts on this podcast and this episode. Email Feedback@SimpleLivingWorks.org [or SimpleLivingWorks@yahoo.com or SimpleLivingWorks2@gmail.com], leave a message on our Facebook page or on the SLW! blog.
PLANS
In episode 5, I'll present part 2, the bonus segments of Break Forth into Joy: Beyond a Consumer Lifestyle.
In later episodes you can hear the six-part adaptation of the well-known "Whose Birthday Is It, Anyway?" which includes several of Alternatives' audio shorts.
If you haven't subscribed yet, we hope you will now through iTunes (or click here), Stitcher.com or your favorite podcast service. Please rate us in iTunes and leave a review.
We'd love to get to know you as a subscriber to this podcast and to the several blogs we post new each week. Subscriptions are FREE and they keep you current automatically when we post something new. Send us your email address to receive the free monthly SLW! eNews.
Remember to like us on Facebook. Urge your friends to do the same.
We do not solicit or accept donations, nor do we sell anything. All our resources and services are free of charge. We're an all-volunteer organization.
Thanks to John Pitney for music on this episode: "Learn to Live Simply So Others Can Simply Live"  from "Walk Lightly on the Earth."
This podcast is covered by the Creative Commons non-commercial attribution share-and-share-alike license. To learn more about Creative Commons, click on its link on our web site home page.
MISSION
To learn more about SLW! – our mission, for example — please listen to our getting-acquainted episodes, especially #1 and 2.
We produce a half-hour podcast twice a month, hopefully educational and inspiring for you, your family and your congregation or group. We blog four times a week.
We at Simple Living Works! believe that simple living really does work! Voluntary Simplicity, choosing to live simpler lives, is a faithful, satisfying and effective lifestyle. Contemporary faith-based simple living is guided by the five Life Standards of Living More with Less, the classic by Doris Janzen Longacre. I discussed those standards in episode 2.
The Mission of SLW! is "equipping people of faith to 1. challenge consumerism, 2. live justly and 3. celebrate responsibly." The three parts of our Mission are elaborated in text and video at these links. We extend the mission and resources of the non-profit organization Alternatives, which served from 1973-2011.
Simple Living Works! web site home page | THEMES/Seasons Index
Submission guidelines for Whose Birthday? 2013 | Issues 1-24
Like SLW! on Facebook. | Follow us on Twitter. | Read & subscribe to the SLW! blog.
To LISTEN, click the player at the top or the bottom. To SUBSCRIBE, click below:  
Contact us at Podcast AT SimpleLivingWorks DOT org (or our previous and still active SimpleLivingWorks AT yahoo DOT com and SimpleLivingWorks2 AT gmail DOT com).
Peace, Gerald, Chief SLW! Activist

Click ABOUT for Music and Cover Art Credits.