Podcast: Play in new window | Download (Duration: 40:30 — 0.0KB)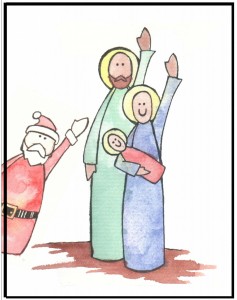 Show Notes
To LISTEN, click the player at the top or the bottom, or visit the Episode Index.
WHOSE Birthday? – an audio adaptation of SLW's signature publication Whose Birthday Is It, Anyway? — our Advent/Christmas annual for individuals, families and congregations. [Note: some of the original tracks have been lightly edited, so you may notice minor irregularities. Sorry.]
WHOSE Birthday? 2014 podcast series is taken from Edition #18 | TEXT | SPANISH text, entitled "Adviento"
INSPIRING REFLECTIONS (with discussion questions), FUN ACTIVITIES and DAILY CALENDAR based on liturgical cycle B (Gospel of Mark)
[Inside secret: If you want to hear all the episodes at once, instead of waiting for them to be released on iTunes, Stitcher, etc., go to Podcast Index/Preview.]
#32 – Igniting Simplicity Within Our Hearts
What Happened to Christmas?
Why a Simpler Christmas?
Top 10 Uses of Whose Birthday? (text only)
More Exciting, Helpful Ways to Use Whose Birthday? – Going Beyond Whose Birthday? (text only)
Alternative Giving: What Jesus Wants for Christmas
How to Use These Resources
Picture Your Child with St. Nicholas
 Igniting Simplicity Within Our Hearts: A Daily Calendar/Journal – Pre-Advent and Advent 1 | READINGS for Sundays and holidays
Reflection for Advent 1: Creating Unforgettable Christmas Traditions || Katerina Katsarka Whitley
Different Kind of Wish List – Kathleen Connolly
#33 – Susan Vogt, Meg Cox, Art Simon, Betsy Taylor
#34- Daniel Berrigan, William Sloane Coffin and more!
#35-Susan Briehl, Jill Miller and more!
Calendar: Christmas 2 – New Years – Epiphany | READINGS for Sundays and holidays
Reflection: Christmas 1 – Gretchen Denton
Carols with Justice: We Wish You a Merry Christmas – Entire collection of 15 carols (new words to familiar tunes) as text and audio || Jill Miller and DeeEtta Riley || Pageant based on these carols
Celebrating Epiphany – Barbara Howard
About Alternatives/SLW!
Bring Simpler Living to Your Group (text only)
Membership(text only)
Guest voices: Angela Iversen and Matt Rixner
WHOSE Birthday? podcast series 2013, episodes 6-11
WHOSE Birthday? 2014 online edition #26 | Looking ahead to Advent/Christmas and back to Easter season, you may have something to contribute to our on-going collection Who's Risen from the Dead, Anyway? for Lent/HolyWeek/Easter and to our most widely-read annual resource, Whose Birthday Is It, Anyway? for Advent/Christmas/Epiphany. Though it's no longer printed on paper, "WHOSE Birthday?" is published online since 2012. Some editions also come in AUDIO formats. ART | PERSONAL EXPERIENCES | FAMILY ACTIVITIES | Submission Guidelines | All past editions are available on the SLW! site. Thanks to Creative Commons licensing, individuals and congregations can reprint articles without further permission. The articles are carefully indexed —  ADVENT/CHRISTMAS |LENT/EASTER.
Welcome to the other podcast I co-host/produce The Common Good Podcast.
Coming
Nov.-Dec. – new "WHOSE Birthday?" Podcast series. Podcast Index, including "WHOSE Birthday?" 2013.
Mentions in Earlier Episodes
Episode 31: Church consultant, writer and self-styled neuroecclesiologist BOB SITZE brings decades of significant congregational and denominational leadership to his writing.  An ardent critic and beneficiary of contemporary church life, Bob lives and works alongside his spouse Chris in Wheaton, Illinois. | Bob's blog online for TheLutheran.ORG, not .com | My blog 'bout Bob's Book Simple Enough | Bob's blog series that just may be a fore-taste of his book to come: StewardShift. | Bob's Beyond Simplicity series for Alternatives | Bob's Advent Meditation for Alternatives: "Be (UN)Afraid. Be Very (UN)Afraid!"
SLW! Honor Roll of Champions of Simple Living
Also Mentioned
SLW! Mission | Ask Slim | Consumo Must Go! skit | "WHOSE Birthday?" submission guidelines | The Common Good Podcast
Responses: Simple Living Humor | Fall Festival Helps
* * *
SLW! Podcast episode #30 — Paul Canavese and spouse Ann contributed to the Wedding Alternatives Supplement. They hosted Rita and I on a speaking tour. Read the notes of that visit at Post #58.
Advent resources
Personal life: backyard garden, chickens, bees, community sidewalk garden.
Paul's message series on Gospel.Link – ways of creatively engaging people and faith communities on daily life spirituality, through a bunch of leader and participant resources, some closely related to simple living.
His new set of small group series on the Spirituality of Work, for seven different occupations; the last session of each is work/life balance.
As a Catholic publisher, The Pastoral Center loves talking about Pope Francis and Catholic social justice documents. Pope Francis has been a big advocate for living more simply and in closer solidarity with the poor — and doing so with joy!  So Paul creates resources to help get that message out. Pope Francis is working on a much anticipated encyclical on ecology. Paul will definitely have resources to help faith communities study and reflect on it once it's released.
Ann and Paul have also become the co-directors of Growing Up Catholic  which reaches out to Catholic families, also with a simplicity aspect.
Paul also heads up GospelLiving.org.
Relevant Pastoral Center links: Advent eResources, included Simply Advent by Paul, incorporating some SLW! resources | Free online series, including "Faith@Work" and "The World As It Should Be" at Gospel.link | Spirituality of Work resources from The Pastoral Center, including small group resources for seven occupations | Family and parenting resources at GrowingUpCatholic.com | Resources supporting Pope Francis' Joy of the Gospel, including "The Joy of Just Living: Living simply, sustainably, and in solidarity with the poor" | Other Simple Living and Ecology resources | Simply Advent handouts, inserts for-a-simpler-more-faith-filled-advent-eresource.
More Advent/Christmas Resources
This service contains books (paper, eBooks, audio), video (DVD, internet), audio (CD, MP3), blogs, podcasts, sites. These are somewhat current resources. For classic resources, visit Study/Activity/Action Guides.
For more ideas, go to Getting Started. Also see Champions of Simple Living and other worthwhile Links.
Simpler Living Alternative Daily Calendar – November
Tony  & Shane Uncut
The complete 3-1/2 hour straight talk between Tony Campolo and Shane Claiborne about simple living and global justice. Parts of that dialog became the DVD "Simply Enough," which has been re-issued by World Vision Canada as "Choose Justice." The complete series —
episodes 20-27
– including Show Notes.
Vicki Robin, Cecile Andrews and more!
I hope that you can see the values of the following free resources and will use them as needed, or even better, acquaint yourself with them now so that you're prepared for your next event.
Treasury of Celebrations: Create Celebrations That Reflect Your Values and Don't Cost the Earth, the last edition of the classic series Alternate Celebrations Catalogs.
We have covered much of this resource in earlier episodes. To LISTEN, visit the Episode Index.
Jubilee Economics colleague Lee Van Ham's new book Blinded by Progress: Breaking Out of the Illusion That Holds Us, part of The OneEarth Project.
In addition to this podcast and its show notes, we post new SLW! blogs several times a week. We hope you'll read and subscribe. The BLOG is the companion to our two-times-a-month podcast. The content is different, though the subject is the same. Click on blog at the top of the show notes of any episode.
Share your thoughts on this podcast and this episode. Email Feedback@SimpleLivingWorks.org, or SimpleLivingWorks@yahoo.com, leave a message on our Facebook page or on the SLW! blog.
To learn more about SLW! – our MISSION, for example — listen to episodes #1 and 2. We produce a half-hour podcast twice a month, to educate and inspire you, your family and your congregation or group. We blog several times a week.
Like SLW! on Facebook. | Follow us on Twitter. | Read & subscribe to the SLW! blog. |  Follow us on Pinterest.
To LISTEN, click the player at the top or the bottom. To SUBSCRIBE to email notices, click Comments below, then check  
SUBSCRIBE for free through iTunes, Stitcher.com or your favorite podcast service. Please rate us in iTunes and leave a review. Send us your email address to receive the free monthly SLW! eNews. Remember to like us on Facebook. Urge your friends to do the same.
Peace, Gerald "Jerry" Iversen, Chief SLW! Activist
MORE Mentions in Earlier Episodes
Simple Living 101: Tools for Activists (shy or bold) | Share the Joy of a Simpler Lifestyle Through Speeches, Workshops, Events, Study/Action Groups, Simplicity Circles and Social Media + BONUS: Social Media Supplement – Jerry's Excellent Adventure
Themes/Seasons: Alternatives' Collections Index: Advent/Christmas/Epiphany | Lent/Easter | Other Seasons | Anytime/Non-Seasonal | Music | Art | Audio | Video | Spanish | Living More with Less
Spirit of Simplicity: Quotes and Art for Simpler Living and Global Justice ( Foreword by Cecile Andrews | Introduction | How to Use This Collection | QUOTES | ART | En Español (all)
For hard copies of Alternatives' resources at nominal cost, contact ELCA Archives, 321 Bonnie Lane, Elk Grove Village, IL 60007 * (847) 690-9410 * archives@elca.org
Click ABOUT for Music and Cover Art Credits.
*GRAPHIC:  Whose Birthday? #18 cover
We do not solicit or accept donations, nor do we sell anything. All our resources and services are free of charge. We're an all-volunteer organization. Instead, we urge Alternative Giving. Give away 25% of what you spent last year on all celebrations – Christmas, birthdays, etc. — to local, national and international causes.
Copyright: Creative Commons non-commercial attribution share-alike license.
*Treasury of Celebrations: published by Northstone, a division of Wood Lake Publications, BC, Canada, best known for its Seasons of the Spirit curriculum.