Podcast: Play in new window | Download (Duration: 39:21 — 22.5MB)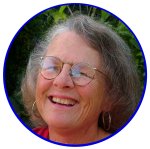 Show Notes
Champion of Simplicity Circles and Community Conversation
A community educator, Cecile is active in the transition movement in the United States. Cecile and her husband are founders of Seattle's Phinney Ecovillage, a neighborhood-based sustainable community, which has morphed into Sustainable Greenwood-Phinney.
She's the author of. . .
The Circle of Simplicity: Return to the Good Life (1998)
Slow is Beautiful: New Visions of Community, Leisure and Joie de Vivre(2006)
Less is More: Embracing Simplicity for a Healthy Planet, a Caring Economy and Lasting Happiness (2009)
NEW! Living Room Revolution: A Handbook for Conversation, Community and the Common Good (2013)

Cecile's site is CecileAndrews.com, NOT SimplicityCircles.com, which says it's about simplifying your financial life. It looks pretty suspicious to me.
To LISTEN, click the player at the top or the bottom, or visit the Individual Episode Index.
Mentions in This Episode
Shareable.net about a sharing economy | New Dream Community Action Kit: Guide to Sharing
Simplicity-Matters.org | My Travel Journal to D.C./Maryland. Scroll down to Post #198 to see their happy faces and comments.
Vicki Robin, co-author of the classic Your Money or Your Life, has a new book, Blessing the Hands That Feed Us: What Eating Closer to Home Can Teach Us About Food, Community, and Our Place on Earth.  Also, http://www.jubilee-economics.org/journal/
Champions of Simple Living Today | I interview John De Graaf, producer and author of Affluenza, on TheCommonGoodPodcast.com.
RELATED
Reimagining America: An Evening with Gus Speth & Juliet Schor | Watch these videos to hear Speth and Schor discuss innovations in collaborative consumption, ways the sharing economy is changing our country, and opportunities to define a new American Dream.
Living Room Conversations – Open your ears. Open your mind. Open your home. (from Joan Blades, founder of MoveOn.org)
Helpful Articles on SPRING Festivals
(We talked about Lent and Easter – 4/20 – in Episode #13.)
Mentions Last Episode
Simple Living 101: Tools for Activists (shy or bold) | Share the Joy of a Simpler Lifestyle Through Speeches, Workshops, Events, Study/Action Groups, Simplicity Circles and Social Media + BONUS: Social Media Supplement – Jerry's Adventures in Social Media
Mentions in Recent Episodes
Themes/Seasons: Alternatives' Collections Index: Advent/Christmas/Epiphany | Lent/Easter | Other Seasons | Anytime/Non-Seasonal | Music | Art | Audio | Video | Spanish | Living More with Less
Lent/Easter: 10 Tips for a Simpler, More Meaningful Easter | Article/ART Index: Easter | Bulletin Inserts are indexed in Articles by season. | En Español (all) | Lenten Calendars and 40-Day Guides - For the current liturgical cycle (A), use #6, 9, 12, 15, or 18. Some are not based on a cycle and can be used any year. | Sing Justice! Do Justice! New Songs & Hymns to Familiar & New Tunes: Lent/Easter, e.g. #19 | Spirit of Simplicity: Quotes and Art for Simpler Living and Global Justice ( Foreword by Cecile Andrews | Introduction | How to Use This Collection | QUOTES | ART )
 Worship Alternatives: Worship Items (Litanies, Hymns, Prayers, etc.)| Sermons | ART for Lent/Holy Week/Easter
Guides for Sharing These Resources: School of Layout | Reaching Out Through the Media
Overflow Project 50-Day Challenge | my blog SIMPLIFY + GIVE + CHANGE = WATER
Hard copies of Alternatives' resources — paper, CD, DVD — will be available soon at nominal cost from ELCA Archives (Evangelical Lutheran Church in America), 321 Bonnie Lane, Elk Grove Village, IL 60007 • (847) 690-9410 • archives@elca.org • 8:30 a.m.-5 p.m., M-F. An appointment in advance of visit is advised. NOTE: This is not the ELCA headquarters bldg.

Simple Living Works!

 web site home page

 | 

Themes/Seasons Index
10 Tips for Simpler, More Meaningful Easter | Celebrations | SPANISH: 10 puntas
For Lent/Easter SEASONAL HELPS, including links to AV and Text resources, see episode 13.

SEASONAL HELPS from *

Treasury of Celebrations:

Create Celebrations That Reflect Your Values and Don't Cost the Earth: 

 Winter Festivals: Jan.-April | LENT | EASTER
Share your thoughts on this podcast and this episode. Email Feedback AT SimpleLivingWorks DOT org [or SimpleLivingWorks AT yahoo DOT com or SimpleLivingWorks2 AT gmail DOT com], leave a message on our Facebook page or on the SLW! blog.
To learn more about SLW! – our MISSION, for example — listen to episodes #1 and 2. We produce a half-hour podcast twice a month, to educate and inspire you, your family and your congregation or group. We blog several times a week.
Like SLW! on Facebook. | Follow us on Twitter. | Read & subscribe to the SLW! blog. |  Follow us on Pinterest.
To LISTEN, click the player at the top or the bottom. To SUBSCRIBE to email notices, click Comments below, then check  
SUBSCRIBE for free through iTunes, Stitcher.com or your favorite podcast service. Please rate us in iTunes and leave a review. Send us your email address to receive the free monthly SLW! eNews. Remember to like us on Facebook. Urge your friends to do the same.
Individual Episode Index: #1-3: Getting Acquainted | #4-5: Beyond a Consumer Lifestyle | #6-11: Whose Birthday Is It, Anyway? | #12: Living More with Less UPDATED | #13: Let's Get Ready for a Simpler Lent & Easter | #14: Simple Living 101 + Social Media BONUS | #15: author Cecile Andrews
Peace, Gerald "Jerry" Iversen, Chief SLW! Activist
Click ABOUT for Music and Cover Art Credits.
*GRAPHIC: CecileAndrews.com

We do not solicit or accept donations, nor do we sell anything. All our resources and services are free of charge. We're an all-volunteer organization. Instead, we urge Alternative Giving. Give away 25% of what you spent last year on all celebrations – Christmas, birthdays, etc. — to local, national and international causes.
Copyright: Creative Commons non-commercial attribution share-alike license.
*Treasury of Celebrations: published by Northstone, a division of Wood Lake Publications, BC, Canada, best known for its Seasons of the Spirit curriculum.