Podcast: Play in new window | Download (Duration: 40:49 — 23.4MB)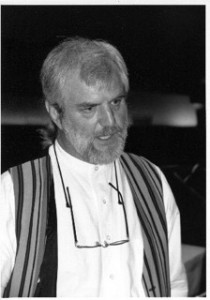 Show Notes
To LISTEN, click the player at the top or the bottom, or visit the Episode Index.
Ken Sehested, founding exec. dir. of the Baptist Peace Fellowship of North America, co-pastor of Circle of Mercy, a peace church; author of several books; and blogger at "Prayer and Politiks and Signs of the Times: At the intersection of spiritual formation and prophetic action."
Peace Primer II: Quotes from Jewish, Christian, Islamic Scripture & Tradition (free download); by Ken Sehested; Rabbi Lynn Gottlieb, founder, Shomer Shalom Network for Jewish Nonviolence; and Chaplain Rabia Terri Harris, Muslim scholar and founder of the Muslim Peace Fellowship
 Collections of Ken's writing:
Alternate Thanksgiving Resource Packet
* * *
Who's Risen from the Dead, Anyway? is a free online collection for Lent/Easter. You're welcome to assemble and copy a version that meets your local needs. All of our resources and service are now free of charge.
* * *
In addition to this podcast and its show notes, we post a weekly 
SLW! blog
. We hope you'll 
read and subscribe
. The BLOG is the companion to our twice-a-month podcast. The content is different, though the subject is the same. Click on blog at the top of the show notes of any episode.
Blog INDEX
Welcome to the other podcast I co-host/produce, The Common Good Podcast.
Earlier Episodes
SUBSCRIBE for free through iTunes, Stitcher.com or your favorite podcast service.
Episode 64: Frank Cordaro, an out-spoken former priest and now an internet activist, practices radical acts of mercy with the Catholic Worker in Des Moines, IA, and protests war and militarism at Offutt Air Force Base near Omaha and elsewhere.
Episode 63: Lee Van Ham – Convergence of OneEarth Living and Voluntary Simplicity. We co-produced this episode with Jubilee OneEarth Economics. A slightly different version was released on TheCommonGoodPodcast.com (TCGP).
The impetus for this podcast came when TCGP cohost Lee Van Ham was one of the presenters at "Seeking Simplicity: A Workshop for the Soul and the Planet," hosted at St. Paul's Cathedral in January, 2016. The search for simplicity, not austerity, can get us closer to using only the capacities of our one planet instead of several. Yet, just what simplicity is varies widely; what size fits you? And does your size fit the planet? WE UNPACK SIX IDEAS IN THIS CONVERSATION.
Get some background about co-housing by listening to my TCGP Episode 56 :: Carol Watkins: Shared Housing – a Step Toward OneEarth Living. Read Lee Van Ham's fascinating blog "2 Households in 1 House: Can Shared Housing Help You?" Harry Watkins has several entries to his Shared Housing blog.
You'll find other blogs of interest by Lee on OneEarth Living at TheOneEarthProject.com.
Blogger for the Lutheran Magazine online, Bob Sitze: Simple Enough–"Whose Birthday WAS It, Anyway?" pays tribute to SLW!
My blog Positive Signs from Central Coast Calif.
John de Graaf's Lenten sermon series
The Minimalists popular blog and new podcast
Lenten disciplines:
Prayer. Visit Prayer and Politiks (Ken Sehested)
Almsgiving. Add something positive and helpful, as well as eliminating something negative and unhelpful from our lives.
Fasting. Broaden our view of food. Listen to Lee's conversation with Mel Lions–Why Food Choices Are Our Best Portal to Making Differences Ecologically. Play the Food Swap Game.
Episode 62:  Tim Kasser, Professor of Psychology; author of The High Price of Materialism
"My primary interest concerns people's values and goals, and how they relate to quality of life. Over the last decade I have been especially focused on studying 'materialistic values,' i.e., being wealthy, having many possessions, being attractive, and being popular.
"My colleagues and I have found that when people believe materialistic values are important, they report less happiness and more distress, have poorer interpersonal relationships, contribute less to the community, and engage in more ecologically damaging behaviors. My research has recently been investigating how values relate to well-being in various nations around the world, as well as what leads some people to become especially focused on different types of values."
Kasser not only defines the problem but proposes ways we can change ourselves, our families, and society to become less materialistic.
VIDEO: The High Price of Materialism. In this short animation, psychologist Tim Kasser discusses how America's culture of consumerism undermines our well-being. More The High Price of Materialism – New Dream (Center for a New American Dream). Also MENTIONED – Campaign for a Commercial Free Childhood
This service contains books (paper, eBooks, audio), video (DVD, internet), audio (CD, MP3), blogs, podcasts, sites. These are somewhat current resources. For classic resources, visit Study/Activity/Action Guides. For more ideas, go to Getting Started. Also see Champions of Simple Living and other worthwhile Links.
Simpler Living Alternative Daily Calendar –   MARCH
Tony  & Shane Uncut
The complete 3-1/2 hour straight talk between Tony Campolo and Shane Claiborne about simple living and global justice —
episodes 20-27
.
Vicki Robin, Cecile Andrews, John de Graaf, Duane Elgin and more!
Treasury of Celebrations: Create Celebrations That Reflect Your Values and Don't Cost the Earth, the last edition of the classic series Alternate Celebrations Catalogs.
Simple Living 101: Tools for Activists (shy or bold) | Share the Joy of a Simpler Lifestyle Through Speeches, Workshops, Events, Study/Action Groups, Simplicity Circles and Social Media + BONUS: Social Media Supplement // Self-Starters Needed! // Free coaching for groups on the internet
Themes/Seasons: Alternatives' Collections Index: Advent/Christmas/Epiphany | Lent/Easter | Other Seasons | Anytime/Non-Seasonal | Music | Art | Audio | Video | Spanish | Living More with Less
Spirit of Simplicity: Quotes and Art for Simpler Living and Global Justice (Foreword by Cecile Andrews) | Introduction | How to Use This Collection | QUOTES | ART | En Español (all)
10 Tips for Simpler, More Meaningful Celebrations | SPANISH: 10 puntas
Jubilee Economics / The OneEarth Project colleague Lee Van Ham's book Blinded by Progress: Breaking Out of the Illusion That Holds Us, part of The OneEarth Project. Also, hear The Common Good Podcast, which I co-host and produce. || NEW three minute film: Ecology and Economics—Colleagues, Not Rivals || Conversation about The OneEarth Project and the book, Blinded by Progress: Breaking Out of the Illusion That Holds Us, by Lee Van Ham, including TheCommonGoodPodcast.com, episode 42 || Lee's recent Slide Show
Share your thoughts on this podcast and this episode. Email SimpleLivingWorks@yahoo.com, leave a message on our Facebook page or on the SLW! blog.
Like SLW! on Facebook. | Follow us on Twitter. | Read & subscribe to the SLW! blog. |  Follow us on Pinterest.
To LISTEN, click the player at the top or the bottom. To SUBSCRIBE to email notices, click Comments below, then check  
SUBSCRIBE for free through iTunes, Stitcher.com or your favorite podcast service. Please rate us in iTunes and leave a review. Send us your email address to receive the free monthly SLW! eNews. Remember to like us on Facebook. Urge your friends to do the same.
Peace, Gerald "Jerry" Iversen, Chief SLW! Activist
IMAGE: Ken Sehested (pronounced SeHESted)

To learn more about SLW! – our MISSION, for example — listen to episodes #1 and 2. We produce a half-hour podcast twice a month, to educate and inspire you, your family and your congregation or group. We blog several times a week.
For hard copies of Alternatives' resources at nominal cost, contact ELCA Archives, 321 Bonnie Lane, Elk Grove Village, IL 60007 * (847) 690-9410 * archives@elca.org
Click ABOUT for Music and Cover Art Credits.
We do not solicit or accept donations, nor do we sell anything. All our resources and services are free of charge. We're an all-volunteer organization. Instead, we urge Alternative Giving. Give away 25% of what you spent last year on all celebrations – Christmas, birthdays, etc. — to local, national and international causes.
Copyright: Creative Commons non-commercial attribution share-alike license.
*Treasury of Celebrations: published by Northstone, a division of Wood Lake Publications, BC, Canada, best known for its Seasons of the Spirit curriculum.