Podcast: Play in new window | Download (Duration: 35:45 — 20.5MB)
Simple Living Works! Podcast
SHOW NOTES
To LISTEN, click the player at the top or the bottom of this page, or visit the Episode Index.  SUBSCRIBE for free through iTunes, Stitcher.com or your favorite podcast service.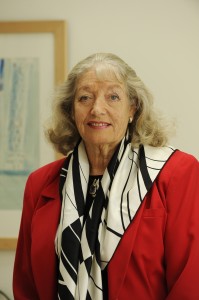 Episode 91 [Preview Ep. 92, part 2]
ETHICAL MARKETS is an independent media company promoting the emergence of a sustainable, green, more ethical and just economy worldwide.
With the motto "40 Years of Foresight, Insights and integrity," EMM researches, assists and reports on all the new organizations: civic, non-profit and for-profit, as well as individuals working for the transition to the new economies of the dawning information-rich solar age.
Hazel Henderson is the founder of Ethical Markets Media, [LLC] and the creator and co-executive Producer of its TV series. She is a world renowned futurist, evolutionary economist, a worldwide syndicated columnist, consultant on sustainable development, and author of The Axiom and Nautilus award-winning book "Ethical Markets: Growing the Green Economy" (2006) and eight other books. She co-edited "The UN: Policy and Financing Alternatives," and co-authored "Planetary Citizenship." Her books are translated into eight languages.
Her editorials appear in 27 languages and in 200 newspapers syndicated by InterPress Service, Rome, New York, and Washington, DC, and her book reviews appear on SeekingAlpha, a London–based market  e-letter.  Her articles have appeared in over 250 journals, including (in USA) Harvard Business Review, New York Times, Christian Science Monitor; and others.
She sits on several editorial boards, including The State of the Future Report, and E/The Environmental Magazine (USA); Resurgence; and Foresight and Futures (UK).
The first version of her Country Futures Indicators (CFI©), an alternative to the Gross National Product (GNP), was co-created with Calvert Group, Inc.: now renamed the Ethical Markets Quality-of-Life Indicators [(Desk Reference Manual, 2000), updated regularly at www.calvert-henderson.com.]
She created the Green Transition Scoreboard® , the Ethical Markets initiative on Transforming Finance, and the EthicMark® Award for Advertising that Uplifts the Human Spirit and Society.
In addition, she has been Regent's Lecturer at the University of California-Santa Barbara, held the Horace Albright Chair in Conservation at the University of California-Berkeley, and advised the U.S. Office of Technology Assessment, the National Academy of Engineering and the National Science Foundation.
She holds several Honorary Doctor of Science degrees and has received many awards.
She is an active member of the National Press Club (WashingtonDC), the World Future Society (USA), a Fellow of the World Futures Studies Federation and a member of the Association for Evolutionary Economics.
SERVICES
Ethical Markets Media (USA and Brazil) works to reform markets and grow the green economy worldwide, focusing on the best practices, the most ethical, best-governed, cleanest, greenest organizations and technologies so as to raise global standards.   EMM is a social enterprise, an emerging form of business putting people, planet and profit in their proper order (see case study in Earth Capitalism, with foreword by Bill Gates).
EMM's greatest resource is the vetting of information, analysis and trends focused on positive, useful, factual and unbiased content from our own global systemic perspective and research.
GLOBAL SYSTEMS ANALYSIS
EthicalMarkets.com provides news and systemic analysis on the green transition, reforming global finance, social innovations and cultural shifts toward more equitable, healthy, sustainable lifestyles through reports, articles, newsletters and the research and analysis of our editor-in-chief, Hazel Henderson.
The Green Transition Scoreboard is an ongoing research project, compiling the $2 trillion in growing the green economy globally already privately invested or committed since 2007.
The Calvert-Henderson Quality of Life Indicators is a widely celebrated project, co-created by Hazel Henderson with the Calvert Group of socially responsible mutual funds.  Hazel Henderson updates Current Issues monthly and the Indicators are regularly sited (see "Is GDP An Obsolete Measure of Progress" at Time.com).  The desk reference manual, key to baseline data sources, is available from www.ethicalmarkets.com or Amazon.
The EthicMark® Award for Advertising that Uplifts the Human Spirit and Society
The Ethical Markets Sustainability Research Group
EXECUTIVE TV PRODUCTION FOR BROADCAST AND CABLE
With more than 20 years of experience, the Ethical Markets Media professionals, under the expert leadership of Hazel Henderson, provide executive production services for documentaries and television series from idea development to final editing.
Ethicalmarkets.tv streams original Ethical Markets productions (listed below) and carefully chosen, relevant video gathered from around the world.
PROJECTS: Transforming Finance Series (2011-2014), The Money Fix (2009, 2010), Growing the Green Economy (2007), Ethical Markets TV Series (2005), Reforming International Finance (2005), Rethinking Globalization (2002), Dialogues with Hazel Henderson and global thought leaders (1995), Creating Alternative Futures (1984)
Many of these programs were aired on PBS and Discovery Channel, and are licensed and available for college and library use at www.films.com.
CURRICULA DEVELOPMENT
PUBLIC SPEAKING AND PRESENTATIONS by live, interactive videocasts worldwide
Hazel Henderson is a world renowned, global futurist, author and public speaker on topics such as alternative economics, systems thinking, corporate social responsibility, socially responsible investing, technology and innovation, and growing the green economy.  She offers a positive message of how humanity can meet current challenges and future needs to the betterment of generations to come.
For more on Hazel and to read her articles, visit www.hazelhenderson.com.
CONFERENCES AND PARTNERSHIPS
MENTIONS in This Episode
Earlier Episodes
In her Lenten disciple "love your enemy," author, blogger, speaker, coach Susan Vogt listens to conservatives to find out why they vote for regressive government.
Read her extended blog on her experiment. With her permission, I have included below her personal responses which she left out of her blog.
Susan's Site: marriage, parenting, spirituality, leadership, workshops, books, about Susan
AWARD WINNING AUTHOR
Blessed by Less: Clearing Your Life of Clutter by Living Lightly
Parenting Your Adult Child
Money in the Kingdom of God
Raising Kids Who Will Make a Difference
Kids Creating Circles of Peace, co-author, Institute for Peace & Justice (IPJ)
Just Family Nights
ENGAGING SPEAKER & ACKNOWLEDGED FAMILY AND MINISTRY LEADER
Trivia note: Susan gave away one thing a day for a year and ate on $4.50/day for six weeks.
Champion of Simple Living: profile
Testimonials/Feedback/Comments/Response to all SLW! media
References to blogs: Who's Risen from the Dead, Anyway? — Lent/Easter Resources; Susan's contributions 
Susan's Responses
WHY TRUMP?: Although this wasn't a scientific study, the primary reasons most people gave are below. Since I didn't want this to be a debate, the responses I would have liked to make (but didn't) are in italics.
CHANGE – Washington is corrupt. Congress can't get anything done. (Our government also gets a lot right, like the EPA protecting our environment.)
Trump is not a career politician. – This is related to #1 because many felt the reason Congress can't get anything done was that they were beholden to lobbyists with money to get re-elected.
Over-regulation – Many were entrepreneurs and government regulation made it harder for them to do business. (Regulation also protects us from dishonest or harmful practices.)
Abortion – "I didn't vote for Trump, I voted for the Supreme Court that would overturn Roe v Wade." (The law does not force anyone to get an abortion. Better solutions are prevention, adoption, and/or helping women with societal support to raise a child after birth.)
Big government keeps people lazy. – "Welfare enables folks to just sit around on the couch, watch TV, and drink beer." (I was once a welfare worker. It's not this simple. Supporting strong family life, education, mental health services, etc. are the building blocks of a strong society. Some will always fall through the cracks. Are we there to give them a leg up or just to judge.)
Why not! All had serious reservations about Trump as a person, but they overlooked his nasty personal life because:
*He was a successful businessman who would take action. (He also had some bankruptcies.)
*He was an outsider who could shake things up ("drain the swamp") (Many of his appointments have little experience for their job and often have ties to a different exclusive swamp.)
*Our system's checks and balances would rein him in. (With both houses of Congress supporting him, extremely conservative appointments, and use of executive orders, where are the checks and balances?) 
Ep. 89 :: Northwest Earth Institute 
Northwest Earth Institute is a non-profit organization that inspires people to take responsibility for Earth.
NWEI was founded in 1993 with a simple objective: to give people a framework to talk about our relationship with the planet and to share in discovering new ways to live, work, create and consume.
For over 20 years, NWEI has helped make change more possible, more social, and yes, more fun by helping people connect with their communities and take action, together.
A Different Way: Living Simply in a Complex World, the newest book from NWEI, offers us a chance to reconnect with what matters most, explore practical ways to simplify our lives, and reduce our impact.
Conversation with Lacy Cagle, NWEI Dir. of Learning
Mentions in This Episode
Ep. 88 :: Nancy Pearlman, Executive Director of Educational Communications, is a dedicated educator, anthropologist, environmentalist, and documentary producer who has devoted her life to protecting the environment, helping society, and improving the quality of our colleges.
Core Projects – www.ecoprojects.org
Additional Projects: Campus Greening // Eco-View // Social Justice and the Arts // Ecological Action Checklist (English and Spanish)
# # #
Champion of Simplicity Circles and Community Conversation Working with Millennials and Minimalists through local groups to Build Resistance to regressive governments.
A community educator, Cecile is active in the transition movement in the United States. Cecile and her husband are founders of Seattle's Phinney Ecovillage, a neighborhood-based sustainable community, which has morphed into Sustainable Greenwood-Phinney.
Cecile's Champion of Simple Living PROFILE
She's the author of. . .
Cecile's site is CecileAndrews.com (NOT SimplicityCircles.com)
SLW! Podcast Ep. 15 with Cecile — See the Show Notes of #15 for more interesting links.
Mentions in This Episode
# # #
John de Graaf's Champion of Simple Living PROFILE
John's recent articles:
PODCASTS – See these episodes for many interesting links.
# # #
Episode one of the two-part series is based on Walter Brueggemann's six theses about money & possessions throughout the Bible; episode two is his brief survey of the theme of money and possessions in the Bible.
Essential Reading! — Contents, Series Foreword, Foreword (Richard Horsely), Preface, Introduction (Chapter One) — available free online.
* * *
The Simpler Living Daily NUDGE
* * *
In addition to this podcast and its show notes, we post a weekly SLW! blog. We hope you'll read and subscribe. The BLOG is the companion to our twice-a-month podcast. The content is different, though the subject is the same. Click on blog at the top of the show notes of any episode. Blog INDEX
Welcome to the other podcast I co-host/produce, The Common Good Podcast.
This service contains books (paper, eBooks, audio), video (DVD, internet), audio (CD, MP3), blogs, podcasts, sites. These are somewhat current resources. For classic resources, visit Study/Activity/Action Guides. For more ideas, go to Getting Started. Also see Champions of Simple Living and other worthwhile Links.
Simpler Living Alternative Daily Calendar –  MARCH
Tony & Shane Uncut
The complete 3-1/2 hour straight talk between Tony Campolo and Shane Claiborne about simple living and global justice —
episodes 20-27
.
Vicki Robin, Cecile Andrews, John de Graaf, Duane Elgin and more!
Treasury of Celebrations: Create Celebrations That Reflect Your Values and Don't Cost the Earth, the last edition of the classic series Alternate Celebrations Catalogs.
Simple Living 101: Tools for Activists (shy or bold) | Share the Joy of a Simpler Lifestyle Through Speeches, Workshops, Events, Study/Action Groups, Simplicity Circles and Social Media + BONUS: Social Media Supplement // Self-Starters Needed! // Free coaching for groups on the internet
Themes/Seasons: Alternatives' Collections Index: Advent/Christmas/Epiphany | Lent/Easter | Other Seasons | Anytime/Non-Seasonal | Music | Art | Audio | Video | Spanish | Living More with Less
Spirit of Simplicity: Quotes and Art for Simpler Living and Global Justice (Foreword by Cecile Andrews) | Introduction | How to Use This Collection | QUOTES | ART | En Español (all)
10 Tips for a Simpler, More Meaningful Celebrations | SPANISH: 10 puntas
Jubilee Economics / The OneEarth Project colleague Lee Van Ham's book Blinded by Progress: Breaking Out of the Illusion That Holds Us. Also, hear The Common Good Podcast, which I co-host and produce. || Three minute film: Ecology and Economics—Colleagues, Not Rivals || Lee's Slide Show
Share your thoughts on this podcast and this episode. Email SimpleLivingWorks@yahoo.com, leave a message on our Facebook page or on the SLW! blog.
Like SLW! on Facebook. | Follow us on Twitter. | Read & subscribe to the SLW! blog. |  Follow us on Pinterest.
To LISTEN, click the player at the top or the bottom of this page. To SUBSCRIBE to email notices, click Comments below, then check  
SUBSCRIBE for free through iTunes, Stitcher.com or your favorite podcast service. Please rate us in iTunes and leave a review. Send us your email address to receive the free monthly SLW! eNews. Remember to like us on Facebook. Urge your friends to do the same.
Peace, Gerald "Jerry" Iversen, Chief SLW! Activist
To learn more about SLW! – our MISSION, for example — listen to episodes #1 and 2. We produce a half-hour podcast twice a month, to educate and inspire you, your family and your congregation or group. We blog twice a week as SLW! Nudge and SLW! Digest.
Living More with Less: the 5 Life Standards of Voluntary Simplicity
IMAGE: Hazel Henderson photos by Jonathan Wilson 6/7/09 St. Augustine FL
For hard copies of Alternatives' resources at nominal cost, contact ELCA Archives, 321 Bonnie Lane, Elk Grove Village, IL 60007 * (847) 690-9410 * archives@elca.orgClick ABOUT for Music and Cover Art Credits.We do not solicit or accept donations, nor do we sell anything. All our resources and services are free of charge. We're an all-volunteer organization. Instead, we urge Alternative Giving. Give away 25% of what you spent last year on all celebrations – Christmas, birthdays, etc. — to local, national and international causes.Copyright: Creative Commons non-commercial attribution share-alike license.*Treasury of Celebrations: published by Northstone, a division of Wood Lake Publications, BC, Canada, best known for its Seasons of the Spirit curriculum.