Podcast: Play in new window | Download (Duration: 42:11 — 24.1MB)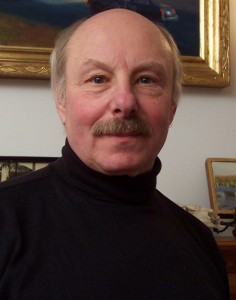 Simple Living Works! Podcast
SHOW NOTES
To LISTEN, click the player at the top or the bottom, or visit the Episode Index.  SUBSCRIBE for free through iTunes, Stitcher.com or your favorite podcast service.
James Howard Kunstler (born October 19, 1948) is an American author, social critic, public speaker, and blogger. He is best known for his books The Geography of Nowhere (1994), a history of American suburbia and urban development; The Long Emergency (2005); and most recently, Too Much Magic (2012). In The Long Emergency, he argues that declining oil production is likely to result in the end of industrialized society as we know it and force Americans to live in smaller-scale, localized, agrarian (or semi-agrarian) communities. Starting with World Made by Hand in 2008, Kunstler has written a series of science fiction novels about such a culture in the future.
He graduated from the State University of New York, Brockport campus, worked as a reporter and feature writer for a number of newspapers, and finally as a staff writer for Rolling Stone Magazine. In 1975, he dropped out to write books on a full-time basis. He has no formal training in architecture or the related design fields.
Kunstler lectures on topics related to suburbia, urban development, and the challenges of what he calls "the global oil predicament", and a resultant change in the "American Way of Life." He has lectured at the TED Conference, the American Institute of Architects, the National Trust for Historic Preservation, the International Council of Shopping Centers, the National Association of Science and Technology, as well as at numerous colleges and universities, including Yale, MIT, Harvard, Cornell, University of Illinois, DePaul, Texas A & M, the USMA, and Rutgers University.
As a journalist, Kunstler continues to write for The Atlantic Monthly, Slate.com, RollingStone, The New York Times Sunday Magazine, and its op-ed page where he often covers environmental and economic issues. Kunstler is also a leading supporter of the movement known as "New Urbanism."
Gerald's Vision of the Future
* * *
SLW! New Service: The Simpler Living NUDGE
* * *
In addition to this podcast and its show notes, we post a weekly SLW! blog. We hope you'll read and subscribe. The BLOG is the companion to our twice-a-month podcast. The content is different, though the subject is the same. Click on blog at the top of the show notes of any episode. Blog INDEX
Welcome to the other podcast I co-host/produce, The Common Good Podcast.
Earlier Episodes
The Ugly Food Project
Part 2 — Episode 77: Fighting for Clean Water with Paula Wansa (9/15)

How a small group of women cleaned up California's most toxic waste dump over 20 years and protected their water supply and school.

VIDEO — Thirsty for Justice: The Struggle for the Human Right to Water

* * *

Part 1 — Episode 76: Celebrating Ugly Food / Gleaning with Pastor Amy Beveridge, Gail McNichols-Oliver and Emily Wilson [9/1]

Exploring the intersection of food, water & faith in a time of drought.
Every Sunday in August, Bethel Lutheran Church (ELCA), Templeton, CA – Speakers, film, music, worship, fun! + Ugly Food Banquet.

Bethel Lutheran's Ugly Food Project promotion items (media releases, bulletin inserts, etc.) Plus an extended conversation with Gail McNichols-Oliver, a founder of GleanSLO, and Biblical reflections by Pr. Amy in light of Jesus' feeding the multitudes.

Ugly Food Facts

√ 40% of food in America goes to waste in fields, gardens, stores, restaurants, schools.

√ Ugly produce may actually be healthier than pretty food. Some imperfect, cracked fruit may contain more antioxidants.

√ France now requires supermarkets to give away unsold food.

Tip

√ Carrying a reusable "take home" container in our cars saves left-overs from our restaurant meals and keeps more single-use containers out of the landfill.

 Resources

√ FutureOfFood.com // NatGeoFood.com

National Geographic, March, 2016, cover story: How 'Ugly' Fruits and Vegetables Can Help Solve World Hunger

√ "Tossed Out: Food Waste in America" 29 min. video from NET Nebraska/Harvest Public Media. Site includes 3, 2-3 min. clips: "Inside a Landfill," "Food Waste in the Family Home," "Trash to Glass."

√ GleanSLO volunteers – part of San Luis Obispo County, CA, Food Bank – rescue food from stores, fields and back yards and give it to agencies for distribution. GleanSLO.org

√ 5 Things I Learned While Lobbying Congress on Food Waste

√ Lutheran World Relief and ELCA Hunger videos  http://lwr.org/videos  http://www.elca.org/Resources/ELCA-World-Hunger

MORE Resources

Making Applesauce – Gerald Iversen's blog about how working with ugly food can be a spiritual experience.

Full Frame [Link TV]: Eradicating Hunger, includes segment at end on gleaning

Why People Are Falling in Love with "Ugly Food" – TIME, March, 2015

Episode 75: Jim Goetsch, Friends of the Third World, digging at the roots of  poverty since 1972, a Fair Trade shop and training center in Fort Wayne, IN.

In addition to job-training for needy people in Fort Wayne, the house of the Friends of the Third World helps sell products made by exceptional enterprising groups in the Third World, including the Bombolulu Workshop for the Handicapped in Mombasa, Kenya, as well as trying to help Nicaraguan Medical Aid. For more information, visit FriendsOfTheThirdWorld.org.

MENTIONS:  Sharing the Dream in Guatemala // Podcast // Jim and Marion were my hosts on a speaker tour, spring, 2007. Read about my visit at Post #231. 

This service contains books (paper, eBooks, audio), video (DVD, internet), audio (CD, MP3), blogs, podcasts, sites. These are somewhat current resources. For classic resources, visit Study/Activity/Action Guides. For more ideas, go to Getting Started. Also see Champions of Simple Living and other worthwhile Links.

Simpler Living Alternative Daily Calendar –  OCT.

Tony & Shane Uncut

The complete 3-1/2 hour straight talk between Tony Campolo and Shane Claiborne about simple living and global justice —

episodes 20-27

.

Vicki Robin, Cecile Andrews, John de Graaf, Duane Elgin and more!

Treasury of Celebrations: Create Celebrations That Reflect Your Values and Don't Cost the Earth, the last edition of the classic series Alternate Celebrations Catalogs.

Simple Living 101: Tools for Activists (shy or bold) | Share the Joy of a Simpler Lifestyle Through Speeches, Workshops, Events, Study/Action Groups, Simplicity Circles and Social Media + BONUS: Social Media Supplement // Self-Starters Needed! // Free coaching for groups on the internet

Themes/Seasons: Alternatives' Collections Index: Advent/Christmas/Epiphany | Lent/Easter | Other Seasons | Anytime/Non-Seasonal | Music | Art | Audio | Video | Spanish | Living More with Less

Spirit of Simplicity: Quotes and Art for Simpler Living and Global Justice (Foreword by Cecile Andrews) | Introduction | How to Use This Collection | QUOTES | ART | En Español (all)

10 Tips for Simpler, More Meaningful Celebrations | SPANISH: 10 puntas

Jubilee Economics / The OneEarth Project colleague Lee Van Ham's book Blinded by Progress: Breaking Out of the Illusion That Holds Us, part of The OneEarth Project. Also, hear The Common Good Podcast, which I co-host and produce. || NEW three minute film: Ecology and Economics—Colleagues, Not Rivals || Conversation about The OneEarth Project and the book, Blinded by Progress: Breaking Out of the Illusion That Holds Us, by Lee Van Ham, including TheCommonGoodPodcast.com, episode 42 || Lee's Slide Show || Lee's new blog series Jubilee Is Bigger Than We'd Thought: Permeates Scripture, Addresses Today's Crises

Share your thoughts on this podcast and this episode. Email SimpleLivingWorks@yahoo.com, leave a message on our Facebook page or on the SLW! blog.

Like SLW! on Facebook. | Follow us on Twitter. | Read & subscribe to the SLW! blog. |  Follow us on Pinterest.

To LISTEN, click the player at the top or the bottom. To SUBSCRIBE to email notices, click Comments below, then check  

SUBSCRIBE for free through iTunes, Stitcher.com or your favorite podcast service. Please rate us in iTunes and leave a review. Send us your email address to receive the free monthly SLW! eNews. Remember to like us on Facebook. Urge your friends to do the same.

Peace, Gerald "Jerry" Iversen, Chief SLW! Activist

To learn more about SLW! – our MISSION, for example — listen to episodes #1 and 2. We produce a half-hour podcast twice a month, to educate and inspire you, your family and your congregation or group. We blog several times a week.

IMAGE: James Howard Kunstler, courtesy WikiPedia

For hard copies of Alternatives' resources at nominal cost, contact ELCA Archives, 321 Bonnie Lane, Elk Grove Village, IL 60007 * (847) 690-9410 * archives@elca.org

Click ABOUT for Music and Cover Art Credits.

We do not solicit or accept donations, nor do we sell anything. All our resources and services are free of charge. We're an all-volunteer organization. Instead, we urge Alternative Giving. Give away 25% of what you spent last year on all celebrations – Christmas, birthdays, etc. — to local, national and international causes.

Copyright: Creative Commons non-commercial attribution share-alike license.

*Treasury of Celebrations: published by Northstone, a division of Wood Lake Publications, BC, Canada, best known for its Seasons of the Spirit curriculum.